Enjoy these Summer Scavenger Hunt Ideas while you're on vacation, exploring places around town or just relaxing in the backyard!
If there's one thing we love, it's a good scavenger hunt !
In fact, we've been known to 'divide and conquer' in a friendly family competition on more than one occasion.
In addition to just being fun, scavenger hunts are also great ways for kids to learn -- your kids will hone their observation skills, practice new words, explore new places and many hunts also intregrate a little science and math too.
Our goal -- one scavenger hunt each week for the whole summer!
---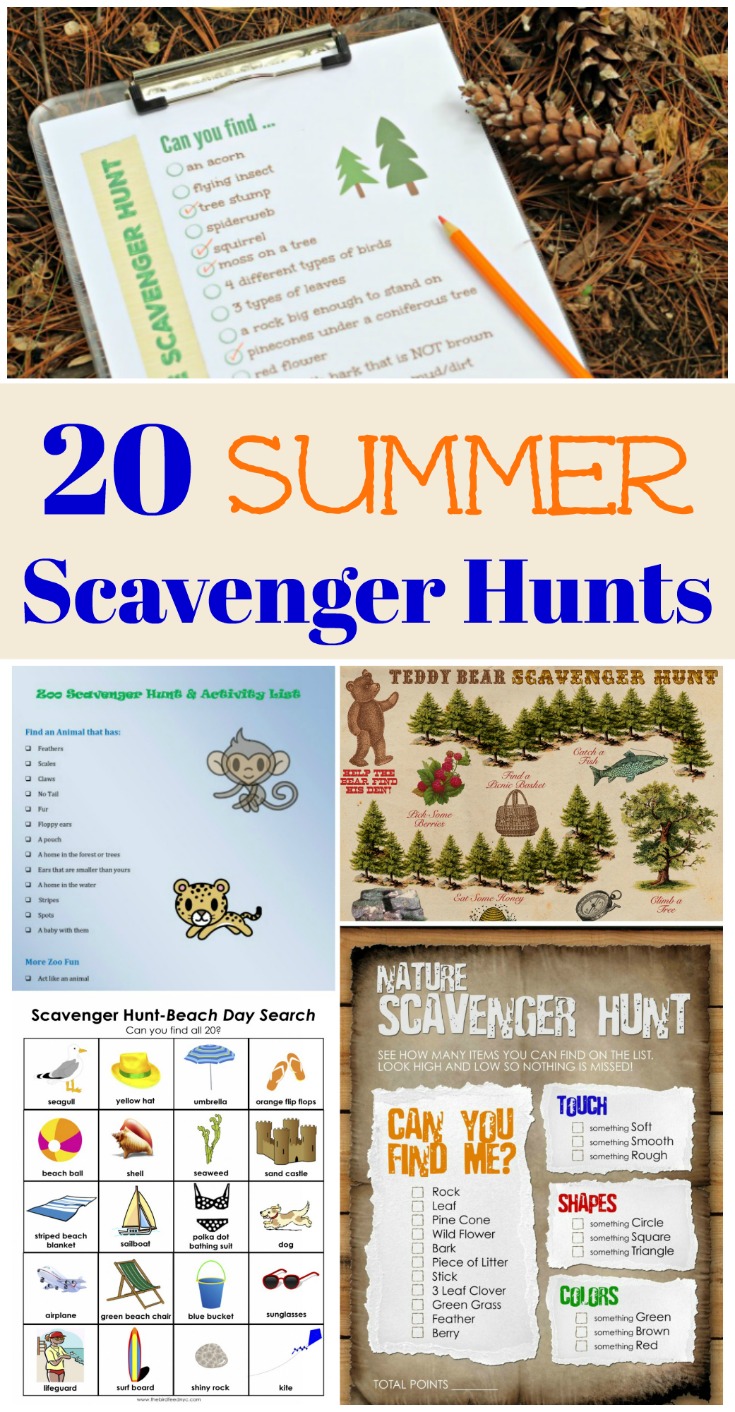 20+ Summer Scavenger Hunts
Since I've been on the look-out for some cool hunts that we can do this summer, I thought I would share some of our finds -- more than 20 awesomely fun ideas for fun ways to get out & have an adventure!
I know summer is actually only 16 weeks long but I wanted to include some extra ideas so we'd have a nice variety to choose from (and in case we ended up needing a scavenger hunt that matched an attraction we are visiting).
Most of the hunts on our list include a free printable so you can easily keep them on hand for some quick summer fun. We've also included a few affiliate links for awesome scavenger hunt ideas & items that we really enjoy!
As with all of our Scavenger Hunts for Kids, we suggest having a sturdy 9 x 12" Clipboard
to hold your hunt so you won't be running after the paper as it blows around.
And if you'll have the hunt near water (like the beach), another great hack is to put the scavenger hunt in a ziploc bag and then use a Dry Erase Markers
to check-off your finds.
If you're REALLY up for a challenge, try completing ALL the Summer scavenger hunts before school begins!
Zoo Scavenger Hunt -- Edventures with Kids
Beach Day Scavenger Hunt -- The Bird Feed NYC
Nature Scavenger Hunt - Edventures with Kids
Scavenger Hunt for the movie "Frozen" -- My Sister's Suitcase
(should be great fun on a hot July day!)
Scavenger Hunt for Kids Tin
(great for vacations!)
Playground Scavenger Hunt -- Edventures with Kids
Explore the Outdoors Hunt -- How to Nest for Less
Road Trip Scavenger Hunts -- Mom's Minivan
(plus these 40 FREE printable Road Trip Games are great too!)
The Pocket Scavenger
for Creative Kids!
License Plate Hunt -- Laura's Crafty Life
Family Reunion Hunt -- QuickHunts
Airport Scavenger Hunt -- Inspired by Familia
Camping Bingo that can also be used as a scavenger hunt -- 30 Handmade Days
Outdoor Photo Scavenger Hunt -- Edventures with Kids
Vintage TeddyBear Picnic Hunt -- B. Nute Productions
Grocery Store Scavenger Hunt -- PBS Kids
Farmer's Market Scavenger Hunt -- Kids Activities Blog
(not a printable but great list of questions!)
Nighttime Scavenger Hunt -- Edventures with Kids
Happy Camper Scavenger Hunt -- The Creative Homemaker
Hiking Scavenger Hunt -- Make & Takes
Bug Hunt -- Mrs. Bremer's Class
Library Scavenger Hunt -- What Do We Do All Day?
(every kid should attend the summer reading activities at their library!)
It's also fun to create your own scavenger hunt with Quick Hunts -- maybe one with a pirate or luau theme?! It's free and easy to do -- also a great activity for a family BBQ, birthday or get-together!
And be sure to see our 20 Printable Scavenger Hunts, Car Games & Summer Activities for Kids too!
Happy Hunting!
MORE SUMMER ACTIVITIES:
105 Activities that Make Awesome Summer Memories
You might also like:
34 Ways to Be a Cool Parent this Summer