An awesome list of the best read aloud books for kids and families!
We've always been a big read aloud family — whether we're reading on the go (like these 50+ Free Read Aloud Books Online), enjoying stories before bed or gearing up for summer reading — we love to have books that can be read aloud.
It began when our kids were young and I desperatly needed books that would entertain them both at bedtime. They are six years apart so my oldest was outgrowing some of the picture books we enjoyed while my youngest was getting old enough to sit still for longer stories.
So today, I thought I would share some of our most loved books — a list of the "bestest" and most favorite read aloud stories ever!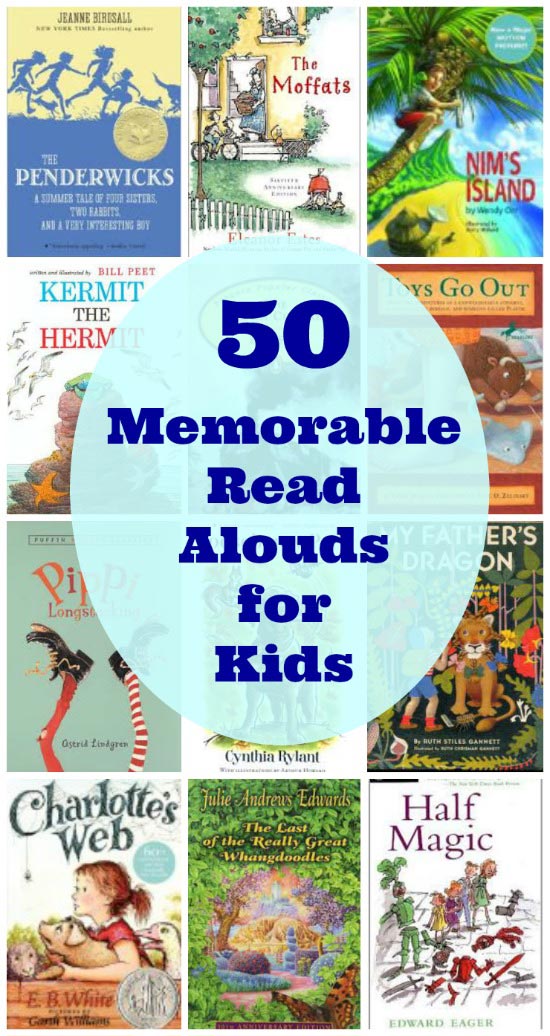 50 Favorite Read-Aloud Stories for Kids
There are so many books that we could include on this list that it was hard to choose which ones to highlight.
So, I thought
and thought
and asked the kids (of course)
and decided to go with books that had something in the story that "stuck with us"!
These are the books that weeks, months, even years later, the kids recall and say things like "Do you remember in that story …. this is just like that!"
Many of these stories and authors are also referenced in newer books too so some of the titles may be familiar to your kids. You'll find a mix of both vintage recommendations along with newer reads — books that will appeal to a wide age range. I've included affiliate links for each of our selections so you can easily check out the details and hopefully learn about a few books that are new to you.
I hope the list inspires you to curl up with your kids and a book or two this week!
Read Aloud Books for Preschool & Early Elementary

If you've ever read a book by Bill Peet, you know his stories 'stick out in a crowd'. His books have some wonderful elements – most have a moral and make you think or reflect on society. And we love his illustrations!
Bill Peet worked with Walt Disney Studios for many years as a storyboard artist. The boards done for the movie The Sword in the Stone were drawn by Peet (I really do think you can see his work when you watch the movie – something about the Merlin reminds me of his books).
Our favorites are:
Kermit the Hermit – a funny book about a crab who doesn't like others,
Farewell to Shady Glade – great environmental messages! and
The Caboose Who Got Loose – the perfect story about what happens who you veer off your regular course.
These books make great read-alouds because they are longer picture books that can be read in one or two sittings. And they always lead to many questions and great discussions. Here's a full list of all 30+ Bill Peet books.
A very good friend of mine recommended Gooseberry Park years ago when I was looking for a read-aloud for my 3-year-old and 9-year-old. With a six year split, it can be hard to find a book that appeals to both, but this story worked beautifully! The story focuses on the unexpected friendship between a dog, a squirrel and a bat that comes about due to a big snow storm. I really enjoyed reading it because there are quite a few humorous passages (really, the bat is just a hoot!) too.
A unique series of books, Toys Go Out follows the daily adventures of a buffalo, a stingray and a plastic ball. Sometimes they have very normal days and others turn out to be wildly exciting! There are three books in the series:
Toys Go Out: Being the Adventures of a Knowledgable Stingray, A Toughy Little Buffalo, and Someone Called Plastic
Toy Dance Party: Being the Further Adventures of a Bossyboots Stingray, a Courageous Buffalo, and a Hopeful Round Someone Called Plastic
Toys Come Home: Being the Early Experiences of an Intelligent Stingray, a Brave Buffalo, and a Brand-New Someone Called Plastic
Younger children will really enjoy these books and the idea of toys coming to life (so many kids do believe that there is some living element in their favorite toys). The chapters are of medium length but can be read with ease, and there's always something happening that leaves the kids asking "But what will happen next?".
Classic Read-Aloud Stories for All Ages

You can never go wrong with a classic and I'm sure you are familiar with many of the titles above from your childhood. One of the best thing about reading a classic book is that the reader is usually familiar with the story.
You might add in your own part – thoughts on what the characters might have felt, some clever voices or just your memories of when you first heard the story. Kids really enjoy knowing that the books meant a lot to you when you were a child.
Both The Velveteen Rabbit and My Father's Dragon are short chapter books that kids as young as preschool age will really enjoy. They are full of magic and dreams and the idea of friendship — perfect if you're just starting read-aloud sessions! And My Father's Dragon is the first in a trilogy (see all the My Father's Dragon books) so there's more to read if you enjoy it!
There are classic books — and then there's MUST READ classics 🙂
I'm sure you're familiar with Charlotte's Web (also made into a movie, both animated and a newer real-life adventure). The book is about the friendship of a pig and a spider and kids will love all the antics of various animal characters.
If there's one book on this list that you may not know about, I'm betting it's this one! A lesser known but outstanding adventures is The Last of the Really Great Whangdoodles. Three children travel with Professor Savant to Whangdoodleland in order to help people understand how important imagination is in the world. Lots of logic puzzles and adventure. The book is authored by Julie Andrews (yes, the one who played Mary Poppins)!
And of couse, we can't forget The Wonderful Wizard of Oz – one of the original tales of magical lands!
Two other books that have stood the test of time include Pippi Longstocking and Little House on the Prairie.
Pippi is a fun story about a girl who lives on her own in a house with a horse. She introduces her neighbors, Tommy & Annika, to her crazy life and days filled with adventure! And Pippi has quite a few books in the series so lots of adventures to take if you enjoy the first!
Little House is the famous series about growing up during Westward expansion in the 1800's. What many people don't know is that the most well known book in the series – Little House on the Prairie — is actually Book 3! Kids will enjoy this peek into history with many child characters and a series of stories that follow the Ingall's family as they grow. Here's a list of all the Little House books!
Are you a book lover? Try Audible and Get Two Free Audiobooks
Contemporary Stories to Read Aloud

Another series we adore, The Penderwicks, is the story of four sisters, adventures, friends, growing up and daily life. The books are set in modern time (the kids play soccer and take algebra) so kids will recognize many of the events that take place in their own life. Although mostly enjoyed by girls – as there are four sisters who grow up during the series — there are also some great male characters (Jeffery, Tommy and Mr. Penderwick).
There are five books in the series (Books 2, 3 & 4 are our favorites!):
The Penderwicks: A Summer Tale of Four Sisters, Two Rabbits, and a Very Interesting Boy
The Penderwicks on Gardam Street
>The Penderwicks at Point Mouette
And of course, a few newer adventures that need no introduction or summary — Harry Potter and the Sorcerer's Stone and The Lightning Thief! Both are very popular series with many kids ages 8 and up including tweens, teens, and adults. My daughter loves the 'Percy Jackson' series to much, she had a Percy Jackson birthday party one year!
If you are reading Harry Potter to younger kids, I HIGHLY recommend the illustrated series of the books instead of the chapter books — here's the illustrated version of Harry Potter and the Sorcerer's Stone. The colorful pictures throughout encourage kids to come over and look at the book in addition to listening to the story.
Excellent Sci-Fi Stories to Read Aloud

I usually view sci-fi read-alouds as books for older kids. Many times, they include some edge-of-your seat passages or things that may be scary for younger listeners. But as a read-aloud, you can also soften some of these by limiting the description as you read.
I will say that older kids really do enjoy these types of books as they introduce concepts of other worlds, different technologies and creative imaginations. Here's a few of our favorites from over the years:

Both A Wrinkle in Time and The Phantom Tollbooth are more classic reads and have been around for quite a while. I would definately recommend them for older elementary and middle school kids — even high schoolers will enjoy the grown-up details in these books.
Gregor The Overlander and The City of Ember are both the first in their series so if the kids enjoy this book, continue on! They introduce different worlds – places that exisit outside of what kids would see on a daily basis – and are highly creative with tons of adventure.
Vintage Read Aloud Books: Our 4 'E's
Four of my favorite classic authors just happen to have last or first names that begin with E. I always thought that was a little odd since E is really not such a common letter. Nonetheless, these are three AMAZING writers who have authored many well-loved and well known children's books.
Eleanor Estes is best known for a few of her series —The Moffats which tells the stories of four siblings Sylvie, Janey, Joey and Rufus as they explore their town, get into trouble and grow up. The books are set back when kids were asked to walk to the store to get the groceries on their own, and when kids were given the freedom to create their own museum. Wonderful opportunities for discussions about how kids lived then and now! There are four books in the Moffat series.
The Hundred Dresses is a classic read for all kids — yes, boys or girls. It's not really about dresses at all but about how rumors get started and what can happen when you speak unkindly about others. A Newbery Honor book, the reader learns the value of true friendship, truth and why not to follow a crowd. This story also made the list of 16 Classic Books to Read in Autumn!
The Saturdays (Melendy Quartet) is another wonderful series of stories that follows four siblings as they move from New York City to a house in the country. Again, these stories are set during a time when kids were given more responsibilities around the house and more freedom to explore. My favorite book in the series is The Four Story Mistake. I really enjoy Estes' books as they appeal to kids of all ages and are very 'comfortable' reads for families!
Edward Eager is most famous for his magical tales – seven stories where children happen to come upon magic and then need to learn how to use it properly. Sometimes it's a magic talisman or a turtle, and the magic always takes them to wonderous places — back in time or into famous book passages.
Our two favorites include Half Magic (which is the first in the series) and Magic by the Lake (perfect for summer storytime sessions!) which also made the list of 10 Best Kids Books to Take to the Beach!
Mr. Eager was one of the first and (in my opinion) one of the best authors of magical tales because the reader is drawn into a world that could easily happen to them. Kids begin to wonder if the everyday objects around them do indeed have hidden powers. These books can be read individually but if read in order, there are some clever connections to one another.
Another author who has some wonderful magical stories is Eva Ibbotson! Fans of Harry Potter will adore The Secret of Platform 13 – every nice years, a forgotten door in an abandoned railway station opens and leads to a magical land. This year, it's up to an old wizard, a hag, an ogre and a fey to rescue the islands Price — and they have only nine days to find him!
Edith Nesbit is most known for her story Five Children and It (Puffin Classics) which has also been made into a movie. In this magical tale, five children find a psammead near their new home and learn he can grant them wishes. But it seems all of the wishes have unforseen consequences (sometimes very comical in nature) and the children must learn how to get out of each predicament. The old adage "be careful what you wish for" is experienced time and again in this story.
Another enjoyable read by Nesbit is The Railway Children which is more of an adventure tale. Three children, whose father is falsely imprisoned, find ways to both help others and help their father in order to reunite their family.
A Few More Favorite Read Alouds

I wanted to mention a few others that we've really enjoyed as a family! These stories are great for kids of varying ages including both boys & girls.
Nim's Island is pretty different from the movie – the main concept is the same but the book is really fun to read. It has very short chapters and is one of those "Wow! This could happen to us!" kind of story since it's set in modern time. Kids also love the idea of having a best friend who's a seal 🙂 If your a fan of life off the grid, be sure to see these 20 Fun Island Activities for Kids too!
The Invention of Hugo Cabret may seem overwhelming (I'm sure there's more than 500+ pages) but many of them are sketches and drawings that add to the story. It's a wonderful family book but kids might not get through it on their own.
The Voyages of Doctor Dolittle is a classic story an animal doctor who can talk to his patients. Animal stories are usually enjoyed by kids and this one has some great characters! There is more than one book about Dr. Doolittle but our favorite are the Voyages.
And one of our surprise books was The Twenty-One Balloons – I had heard good things but when my son and I read it, we were blown away with the story. It's more of an adventure story and really keeps you wanting to read more. Enjoy adventure books? Browse this list of Outstanding Adventure Stories for Kids, Tweens & Teens!
Are you a book lover? Try Audible and Get Two Free Audiobooks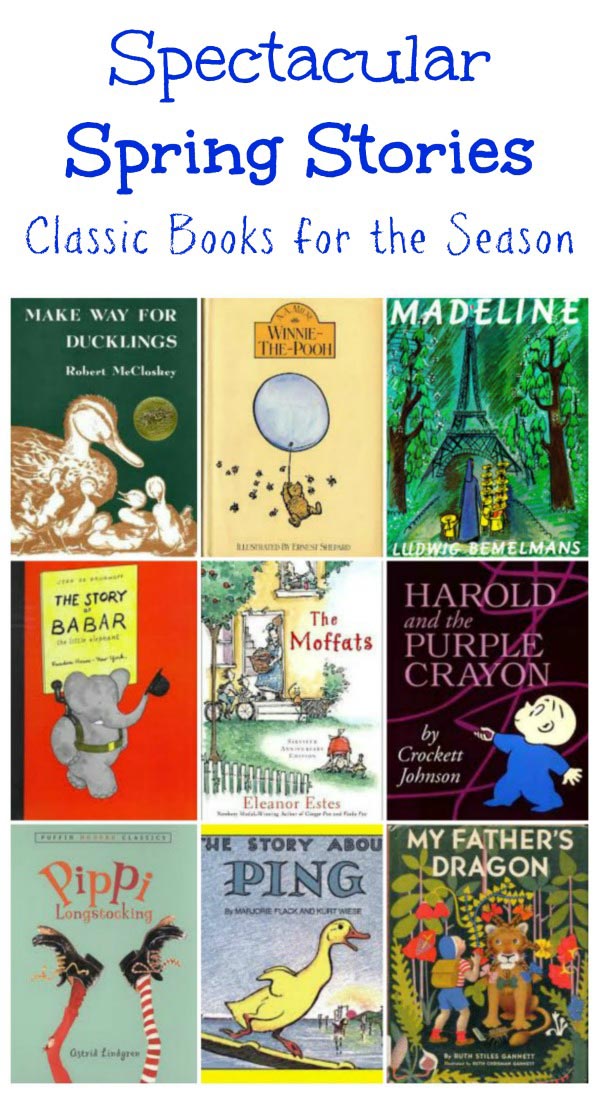 More Books You May Enjoy:
10 Books to Read at the Breakfast Table
Or you can see all of our booklists here!

Happy Reading!