Check out these FREE & frugal Summer activities, programs & workshops for kids where you'll find lots of ways to entertain your kids this summer!
Summer is coming — a time when kids & families are looking for fun Summer activities to do close to home — and us parents are hoping that it's not all tech time 😉
There are a number of FREE programs & events near you that your kids can try this summer — inspire them to learn a new skill, earn badges or pins and have a great time with other kids!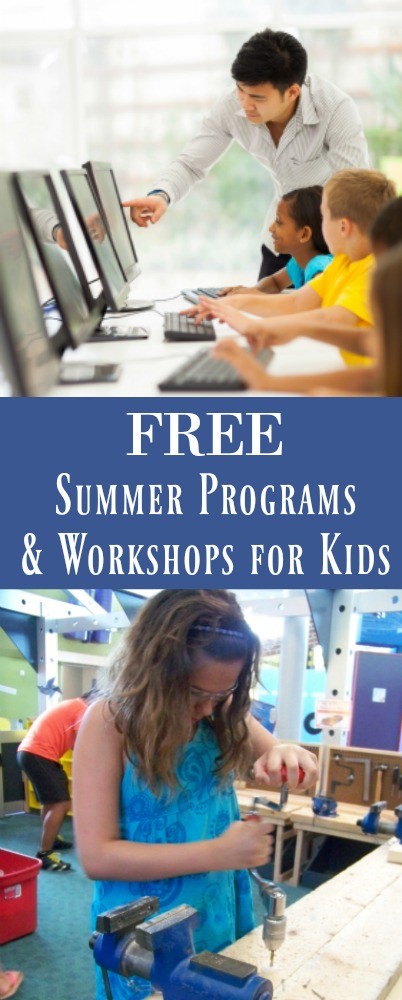 2021 Free Summer Activities, Programs & Workshops for Kids Near Me
Summer is the perfect time to try out something new — you never know what your kids will gravitate to unless you introduce them to new things!
My favorite part about these programs & workshops are that most of the activities are only a few hours a day so they give kids an opportunity to try something new without investing a ton of time (or money).
First, check out our post on FREE Summer Reading Programs & Rewards — so many ways to inspire your kids to do some reading in the coming months.
And be sure to grab the FREE printable summer activities calendar of "100 No Cost Things to do this Summer" too!
A quick warning — some of the camps and workshops will fill up quickly!!
Call ahead to reserve a spot if it's possible — don't tell your kids until you know they can get in 😉
And be sure to ask about the parent/child policy at each of the events & activities — some require a parent to stay onsite during the duration of the program.
1. Kids Bowl Free Summer Program Near Me
One of the longer standing summer programs, kids receive 2 free games of bowling every day all summer long! Search their website to find bowling alleys all over the United States & Canada that participate – there are quite a few who are opening up bowling activities this summer after being closed last year.
This is a great option for those hot days when you're looking for a good indoor activity — especially for a group of kids too. The age requirment varies depending on your local bowling alley but the website gives you details on who can participate (kids as young as 2 years old up thru teenagers can bowl at most locations)!
2. Michael's Craft Workshops
We LOVE the summer craft sessions at Michael's! Camp Creatology Workshops for Kids begins on June 20th and offers fun themed craft sessions on Mondays, Wednesdays and Fridays this summer!
Themes include: Forest Friends, Ocean Animals, Outer Space and Fantasy Fun. The crafts offered are fun for kids ages 4 – 12 years old. The sessions are also offered online too if you can't make it in person (check out our 30+ Free Online Summer Camps & Workshops to learn more!)
3. Lowe's Kids DIY Building Workshops

For building fun, make sure to check out the Free Lowe's Kids Workshops usually held on the second weekend of each month at most Lowe's stores.
We love these workshops! Projects vary for each one but the best part is that kids get to complete a cool project all on their own. And yes, swinging a hammer or using a screwdriver is usually part of the project 😉
Some stores are doing in-person workshops and others will have you pick up the project kit in the store and take it home to work on with your kids.
In our experience, these programs are best for kids ages 3 – 10 years old (especially if your kiddos haven't yet had the opportunity to use tools!) pssst … they also have awesome DIY workshops for adults too.
Register early for these – they are popular!
4. Apple Youth Summer Camps
Did you know that Apple Stores offer FREE youth workshops and Apple Camp for Kids?
Whether you own an iPhone or iPad, these sessions offer your kids the opportnity to learn about the programs and apps for their Apple devices along with opportunities to create and share. Kids & teens can learn photography, make movies, create music and how to program devices.
If you own a Sphero Robot (affiliate link to what those are!) than you'll love the Coding Workshops your kids can take here!
Register for more details on the Apple Camp 2022 sessions for kids and also check the "Upcoming Sessions" on the Apple Today event calendar to find in-person workshops near you!
5. Junior Ranger Programs at National Parks (& at Home!)

We are huge fans of the Junior Ranger program at the National Parks — be sure to read 'Why We Love the Junior Ranger Programs' for details!
Almost all of the national parks and many of the national historic sites host these FREE programs for kids, tweens & teens. To earn a Junior Ranger badge or certificate:
Kids will pick up or downlaod an activity book for each park or site (here's a list of all US Junior Ranger programs!)
Visit the park or historic site and complete the activities in the booklet,
Once you complete the activities for their age, turn the booklet in at a ranger station & kids will earn their Junior Ranger status along with a certificate, pin or patch (varies by park).
AT HOME JUNIOR RANGER PROGRAMS
One of the best things about this program is that you can complete some of the Junior Ranger activities online and at your home!
Click here to find the Junior Ranger Program Booklets can be downloaded & completed at home – which include:
All about Bats
Archeology Programs
Cave Science
Historic Preservation
Jr Paelontologist
Let's Go Fishing
Night Explorer
Wilderness Explorer
Discovering the Underground Railroad and
Underwater Explorer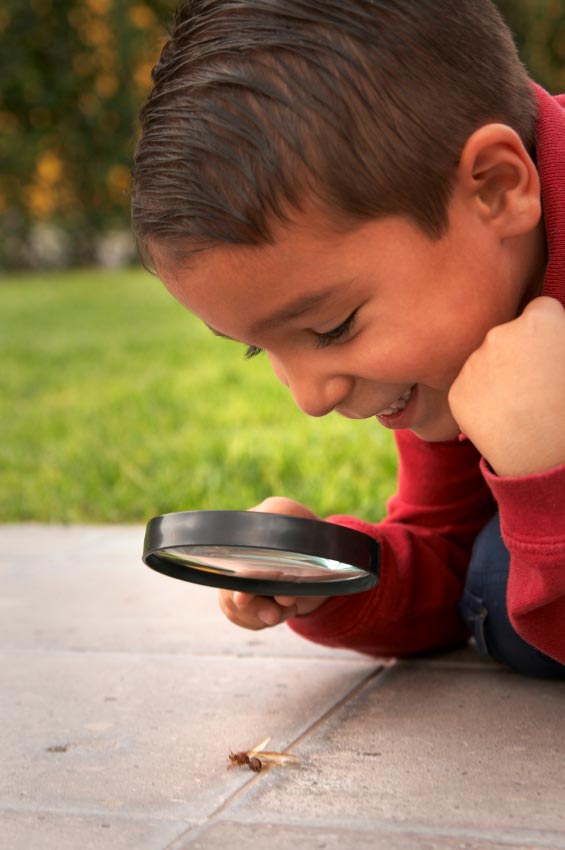 6. Free Nature Camps & Activities Near Me

Always check with your local nature center as many offer some amazing workshops for kids throughout the summer months!
We've attended family hikes, animal visits, naturalist programs, archery clinics and more programs that cover outdoor skills.
Here's how to find nature programs near you:
Check the local website for a calendar that lists summer workshops/events
Or give them a call and ask about any offerings they have for kids and families!
7. At-Home Maker Camp
We love this option for STEM camps! Maker Camps are offered through a variety of organizations usually start mid-June. Your kids can join in to build & create some really cool projects for six weeks over the summer.
Use the Maker Camp Map to find a location near you — most of the FREE camps are offered via libraries and schools.
If you're not able to find a camp in your area, check out the Maker Camp Library for activities to do at home. Kids, tweens & teens can start any of the past years' activities & projects at home — directions and supplies needed are all listed online.
8. FREE Fishing Days Near You

Teach kids a new life sport – the folks at Take Me Fishing offer FREE fishing days in all US States!
Most days are in the month of June and kids won't need a license. Many local parks and sports stores near you will have events during these days too. And check the details because some states will also waive license fees for adults on those days/weekends.
9. Nature Camps and Programs for Kids
Another great place to check for summer workshops and programs is your local nature center. Many of the county nature centers and state nature areas have outdoor workshops for kids and families during the summer months.
Topics might include: how to read trails signs, tips for hiking, identifying local wildlife, birdwatching, how to read a compass, etc. We've also attended some nighttime programs at our local nature center which are really cool since they usually involved owls, stars and flashlights!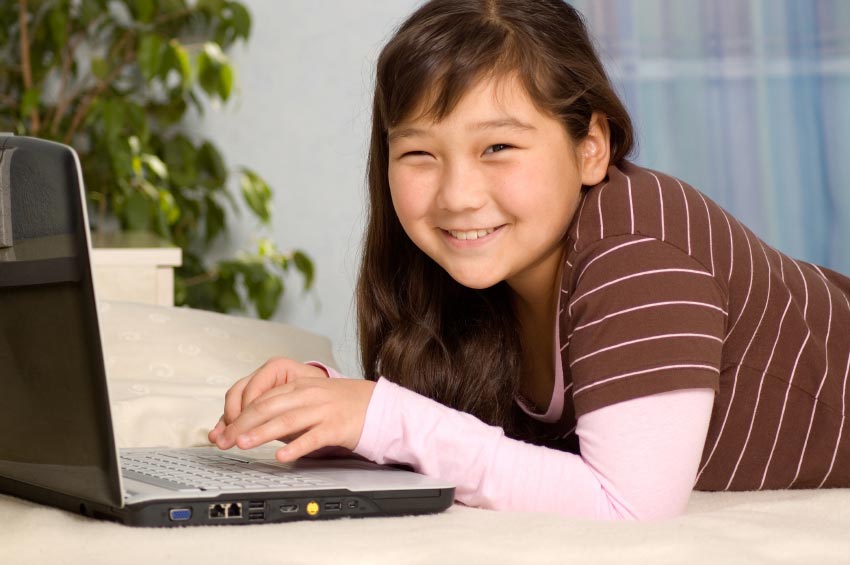 10. Free Museum Programs
Believe it or not, many art museums offer FREE admission every day — and quite a few will have summer activities, scavenger hunts and other fun programs when you visit!
First, check the Museums for All website to locate any museums near you or close to where you may vacation this summer to find special events, art projects for kids or daily activities that are offered.
Also check the Target Community website for free admission days to children's museums in some of the larger cities around the US.
More Free & Frugal Summer Activities:
100+ FREE Summer Activities {with printable list!}
Turn Your Backyard into a Science Lab