FREE Summer reading programs and book logs for kids & teens — earn free books & more!!
As parents, we know that connecting kids with books throughout the summer is SUCH a good thing.
Summer reading helps them to keep their vocab and comprehension skills strong so those first weeks back to school are much easier!
*** Find the 2023 Summer Reading Programs here!!
But honestly, keeping them reading can be a challenge with all the other fun activities they have going on — like the pool and friends and s'mores by the fire … not to mention the availability of technology and the desire to get sticky, dirty and wet any chance they get 😉
Which is why this first post in our 100 Days of Free Summer Activities series includes awesome ideas that will not only inspire your kids to read but also allow us to retain our 'cool Mom/Dad' status without constantly bugging them to pick up a book!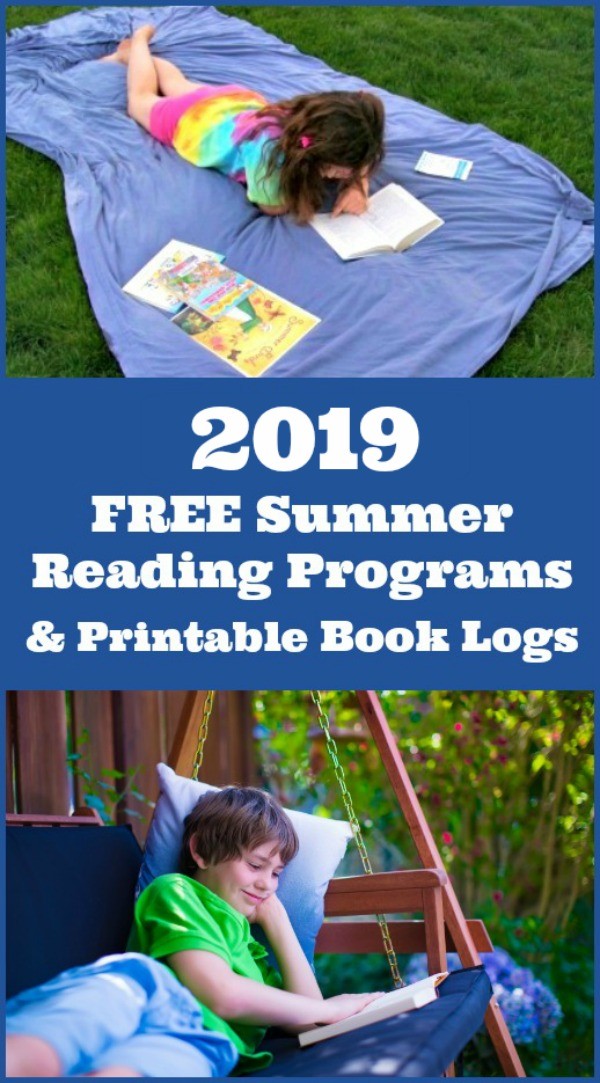 2019 FREE Summer Reading Programs & Book Logs
There are a number of wonderful businesses that offer free books & other reading rewards or incentives for kids who read during the summer.
In most cases, you'll just need to have your kids track their books on a reading log and then head to the store to exchange it for a free book or other fun things!
I often get a thumbs-up from my kids when I find them free things 😉
We're including some of our favorite summer reading programs along with FREE book logs that offer a variety of challenges & a list of cool places to read all those pages this summer! We've also included affiliate links to some of our favorite books & items for summer reading too.
2019 Library Reading Programs Near Me
First, be sure to sign them up for summer reading at your local library!
This year's theme is — A Universe of Stories! which celebrates Space & the 50th Anniversary of the Apollo 13 moon landing! So many libraries will have an overlap of reading & STEM programming for kids ages preschool thru teenagers.
Popular books like A Wrinkle in Time and There's No Place Like Space are perfect stories to add to your summer reading list this year.
And be sure to check out our 12 Spectacular Books about Space list too!
Kids & teens can read ANY book they want for the reading programs and libraries will have a paper log or online log where they can record their books (or use one of the free ones below!)
If you're traveling this summer or just like to have e-books available, download the FREE Kindle Reading app that can be used on almost any phone or tablet!
Also be sure to sign up for the Amazon FreeTime Unlimited FREE Trial!! Kids ages 3 – 12 will have access to all types of ebooks and audiobooks along with educational apps & their favorite learning tv shows too!
Our kids have earned free books, coupons for ice cream, headphones and entries into some big giveaways (gift cards to a local bookstore and iPad minis)!
All libraries offer different incentives but most really hit it big over the summer to keep kids of all ages — toddlers to teens — reading!
pssttt … many libraries also offer reading programs for adults too (with prizes!) — no reason that the kids should have all the fun, right? So sign yourself up while you're there 'cause you know reading at the pool or beach is gonna happen 😉

Summer Reading Takes You Outdoors Program
Arbordale Publishing is one of our FAVORITE publishers of kids books!!
Seriously, they have the best nature & STEM books ever — including multiple award-winning books like The Rainforest Grew All Around and Water Beds: Sleeping in the Ocean.
And each summer, they offer FREE access to 10 of their ebooks & FREE activities for each book!! One thing I adore about the books offered over the Summer is they are read aloud to your kids and they have cool features like highlighting the words while the story is read and online reading quizzes & challenges kids can do for comprehension.
Your kids will love going on a scavenger hunt, play memory games, keep a bug journal and more fun activities — plus, all the books are available online which means you can pull them up on your phone!
If you have an Audible account, you'll have FREE access to more than 50+ of these books through Audible — including both their English & Spanish titles!
And if you don't yet have an Audible account, you can start a FREE 30 day Audible trial & earn 2 books for free too!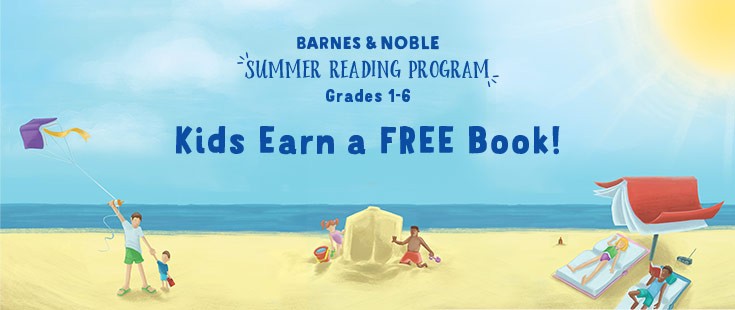 image credit: barnesandnoble.com
2019 Barnes and Noble Summer Reading Program
One of the most well known summer reading programs, kids ages 1st – 6th grades can read 8 books this summer and turn in their reading journal for a free book! The program officially begins May 7th & they have a nice variety of books including picture books, early readers and chapter books.
I love that B&N always includes both newer titles (like the Book Scavenger) along with classic books (Ms. Frisby and the Rats of NIMH is one of our all-time faves!) as some of their reading rewards! So even if your kids are set on reading the same type of books all summer, they are encouraged to 'branch out' to something new when choosing their free item.
The 2019 #BookYourSummer program runs from May 7th through the end of August – plenty of time to squeeze in some reading!

image credit: halfpricebooks.com
2019 Feed Your Brain at Half Price Books
One of the few summer reading programs for kids & teens of all ages!!
Kids ages 14 and under can participate in the Feed Your Brain summer reading program in June & July. Younger kids can be read to while older kids who can read on their own will record their reading time each month.
Teens are able to read any book they'd like and submit an online review of the book to earn their freebies!
The best part — kids & teens earn Bookworm bucks (paper money they can use at a local Half Price Books) so they can buy their favorite books at the store!
Book bucks are either collected in person when you turn in your book log or are sent to your email account and can be used at your local Half Price Books store.
SYNC Free Audiobooks for Teens
One of the few programs that focuses on getting teens to read! Kids ages 13+ can download FREE audio books from SYNC each week during the summer.
There are two books offered each week for 14 weeks (from May thru August) with a nice variety of titles. Books are compatible with IOS, Android, Kindle and Windows.
Teens need to check back weekly for new titles but you can see ALL the offerings and hear a quick snip from each book before they're realeased for the free download.
2019 Scholastic Reading Road Trip
Kids can register to log minutes & unlock rewards on the Scholastic Summer Read-a-palooza site — AND you can see if the Reading Road Trip is coming to your city too!
Last I checked, they still have the cool Harry Potter themed certificate that teachers (or parents) can print off and give kids once they reach their reading goals.
The program runs from May 6th – September 6th and has a number of recommended reading lists for kids along with their minutes being logged toward their schools' total which may win the school some prizes too!
Fun Book Lists for Summer Reading
If your kids are looking for ideas on WHAT to read this Summer, here are a few of our favorite book lists:
Books about Life in the Forest
25 Kids Books that Were Made into Movies
Amazing Books that Introduce Kids to Space
Now on to the FREE printable Book Logs for summer reading!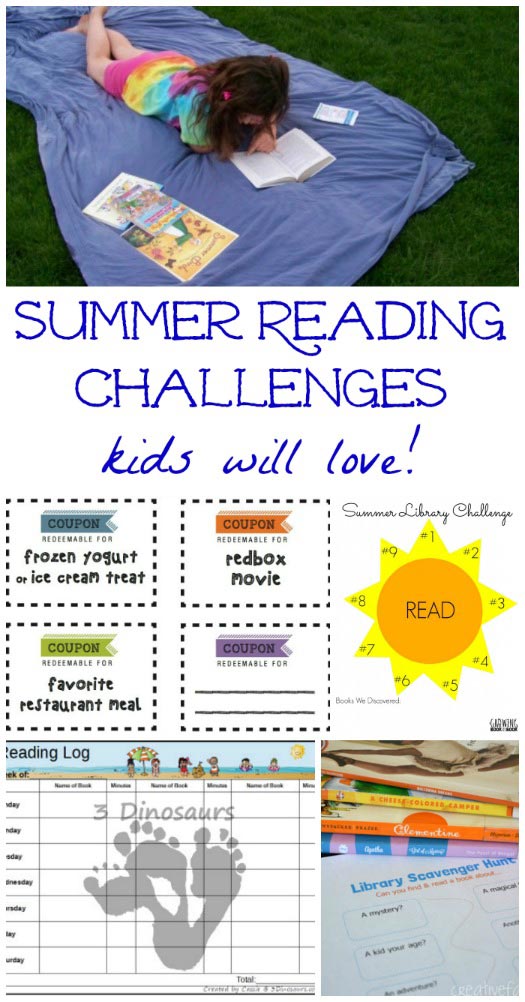 FREE Summer Book Logs & Reading Challenges for Kids
Sometimes kids need a challenge — nothing HUGE or cumbersome since it's summer. It inspires them to keep going, read a few more books or even get out of their current reading 'funk'.
These are all free printable challenges that your kids will enjoy.
Some of perfect for younger kids while others are a great way for tweens & teens to vary what they're reading.
And 3 Dinosaurs has some beautiful weekly reading logs — great if you homeschool during the summer.
If you're heading to the library this summer, try these challenges: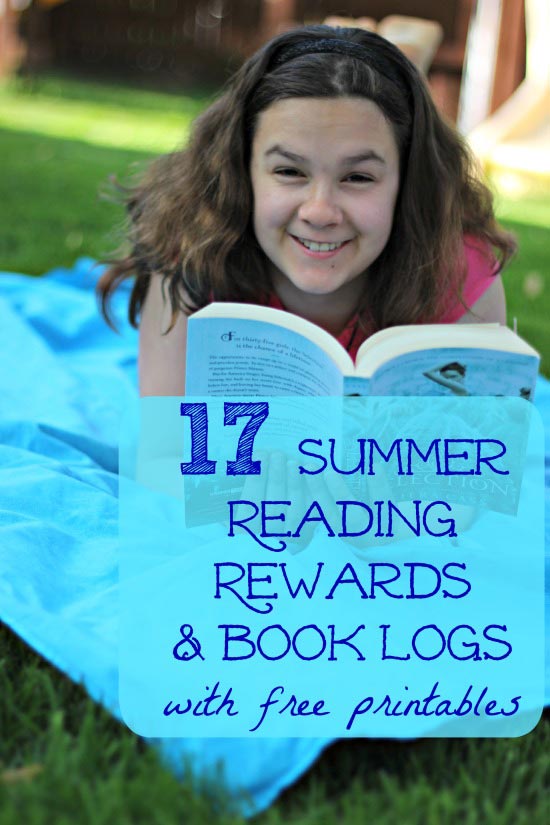 How Can I Get Kids to Read this Summer?

One of the most effective ways to get kids to read during the summer is to offer them super fun reading spots!
Here's a list of free & fun places that kids will enjoy cuddling up with a book along with affiliate links to a few of our favorite reading items:
And reading doesn't always have to be books either!
Encourage your kids to read the back of the cereal box, signs at the pool, the flavors of ice cream if you're out for a treat — reading can happen in lots of places during the summer.
Be sure to visit our kick-off post where you'll find a free printable Summer Activity calendar —
The $0 Summer: 100 Free Activities that Make Awesome Memories!
Your kids will also enjoy these free summer scavenger hunts — just print off the ones that fit your summer outings & have them read the clues they need to find 😉