Find free places to camp with your family and great books about camping for kids!
Planning a family camping trip this year? Or maybe planning to pitch a tent in the backyard?
Family camping with kids can be tons of fun — sleeping under the stars, cooking over a campfire and spending some time unplugged to enjoy one another's company.
Not to mention all those great life skills the kids learn — how to set up a tent, navigate hiking trails and entertain themselves without electricity!
Plus marshmallows and flashlights — always a big hit when you're a kid 🙂
Browse this awesome list of books to take on your next camp-out along with (FREE!) family-friendly places to pitch a tent.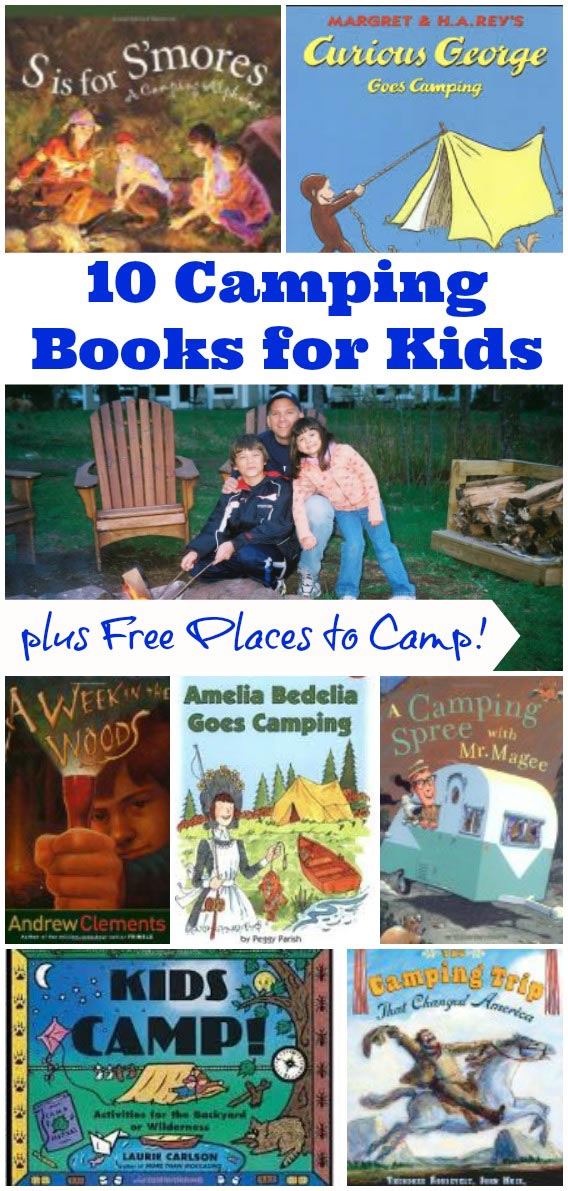 10 Camping Books for Kids
There are some excellent camp-out opportunities for families throughout most of the year. If this is your first time camping with kids, you might want to try camping in the backyard — see these 7 Family Camping Activites to get started!
And if you need help thinking through what you should bring, be sure to print a copy of the FREE Camping/Cabin Packing List!
Maybe you have more of an indoor family who likes the idea of camping or you're running into some bad weather — then try these 12 Indoor Camping Ideas!
Whatever type of camp-out your planning, this great list of books is a perfect way to get kids ready or take with you for storytime in the tent, camper or cabin! We've included affliate links so you can learn more about each of the recommended reads.
Kids Picture Books about Camping
Curious George Goes Camping by Margret & H.A. Rey
Get ready for some fun and antics as The Man in the Big Yellow Hat takes George camping! George tries to be helpful but problems arise. Young kids identify with George who is always trying to be helpful, but sometimes it doesn't quite work out.
S is for S'mores by Helen Foster James
A fun A to Z exploration of what to pack, where to go and things to do on a campout. The book is a fun read for any family planning a camping trip with many descriptions of fun activities that kids enjoy. Sidebars offer some great historical and science facts for older kids too!
A Camping Spree with Mr. Magee by Chris VanDusen
Mr. Magee and his dog Dee head out for a camping trip that ends up having some disasterous results! How will they get out of this slippery situation? Kids will enjoy the outlandish experiences that Mr. Magee must face on his campout, along with the great illustrations in this book.
Ameila Bedelia Goes Camping by Peggy Parish
Enjoy the hilarious results as Amelia Bedelia sets off on a camping trip! She tries her best to 'pitch' a tent and 'catch' a fish, but can't understand why things are going so wrong. These kids books are a great way to introduce children to popular idioms and the ways that words can be easily misunderstood.
Henry and Mudge and the Starrry Night by Cynthia Rylant
Enjoy hiking, campfires and sleeping under the stars with Henry, Mudge and Henry's parents. Early readers will love this Easy Reader adventure book that highlights some of the great (and funny) experiences of spending some time in a tent.
The Camping Trip that Changed America by Barb Rosenstock
A lesser-known story from American history, this kids book tells how President Theodore Roosevelt and naturalist John Muir take a camping trip to Yosemite in 1903. The result of the trip was the creation of the National Parks system in America. A great book that explains how the National Parks were started and why we should appreciate the opportunities they offer all who visit.
Great Read Aloud Stories for a Camp-out
A Week in the Woods by Andrew Clements
A 5th grade school class sets off for their week-long campout in the woods. When Mark is accused of breaking a rule by his science teacher, he runs off into the woods, angry that no one will hear his explanation. His teacher sets off to find him and both are forced to survive until they can be found. A great on-the-edge-of-your-chair read for kids who enjoy adventure books!
The Camp-Out Mystery by Gertrude Chandler Warner
Henry, Jesse, Violet and Benny are going on a camping trip with Grandfather. When they hear loud music in the middle of the night and their lantern disappears, they realize they have a mystery to solve. One in a series of classic kid-friendly mysteries, this is a great read-aloud for your camping trip.
Camp Out! The Ultimate Kids' Guide by Lynn Brunelle
This book contains everything you need to know before you go camping or pitch a tent in your backyard. Learn how to build a campfire, make some fun food & crafts, explore the night sky and tell spooky stories around the fire! Kids are also reminded of the 'leave no trace' guidelines along with many other useful tips.
Kids Camp!: Activities for the Backyard or Wilderness by Laurie Carlson
A great book to explore before heading on your next camp-out. Kids will enjoy learning about what to pack, crafts and games to do while camping, how to find your way on a hike and other very useful information about nature, camping and fun activities.
Free Camping Places Near Me
Not sure which of your local or county parks offers camping for families? Check out these great resources!
NATIONAL PARKS
The US National Parks offer free entrance to over 400 parks every year! Your family can visit the National Parks for free on certain days of the year but know that many of them are FREE all year round too!
Whether you choose a day visit or decide to bring a tent to spend the night, it's a wonderful opportunity to explore the outdoors. During your visit, we highly suggest having the kids do some of the Junior Ranger activities — we love these free programs and take advantage of them every year!
STATE & LOCAL CAMPSITES
Freecampsites.net is an awesome online resource where you can search for state, local and county parks along with other locations that offer free or paid camping sites. Be sure to call ahead or make a reservation so you know you'll have a spot when you arrive!
IN YOUR OWN BACKYARD
The National Wildlife Foundation sponsors The Great American Campout every June!
You can find camping resources and pledge to camp for wildlife by visiting the Great American Campout website.
And if you're not sure you want to head out in the woods for your camping adventure, just pitch a tent in your own backyard! I love this option — the bathrooms are close by and so are extra blankets if it gets cold 😉
FREE Fishing too!
Another great outdoor adventure you might want to try on your next camp-out is fishing with the kids. Take Me Fishing has a great list of free fishing days and weekends for all states in the US.
More Outdoor Books & Activities for Kids

10 Kids Books about Life in the Forest
FREE printable Nature Scavenger Hunt