The License Plate Game with printable state map is one of our favorite printable road trip activities!
It's perfect to play with kids, tweens & teens (even adults enjoy it!) The game is typically played in your car on a trip or while driving — players search for license plates from each of the 50 US states to see who can find the most!
Plus, it's a tricky way to sneak in some reading & geography learning on the trip too 😉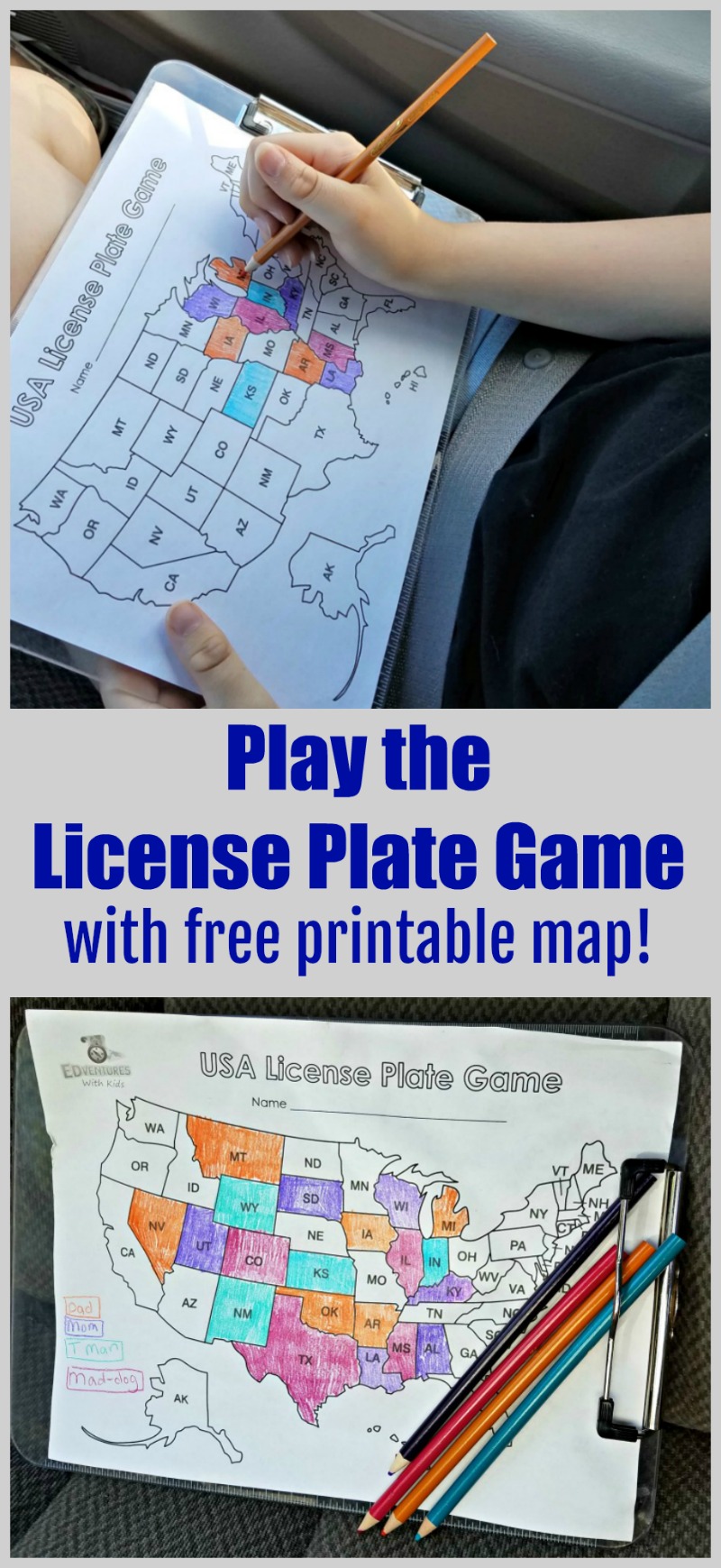 License Plate Game: Printable Road Trip Games
We are always looking for great travel tips & hacks for our road trips!
Being in the car together is the perfect time to reconnect and play a game together + do a little learning on the trip. Take a peek at some of the other fun ways we enjoy the trip with these 15 Printable Road Trip Games & Travel Activities too!
Our family started looking for license plates in our own hometown whenever we were in our car during the long summer months.
Seems that we were frequently heading to some fun local attractions, taking my oldest to golf tournaments or running errands (they are endless when you have kids, aren't they!).

So in order to pass the time, we started a friendly family competition — at the beginning of each summer, I print off a map of the US (get your FREE map for a checklist below) and we keep it in the car. Each time one of us sees a plate from another state, we 'claim' it on the map.
Then at the end of summer, we tally those 'claims' to see who has found the most license plates!
It's fun, there's some learning involved and we have a great time finding all those cars from other states who've decided to visit our area each year.
Plus it's a great road trip game for kids, teens and adults for long or short car rides! If you're hitting the road soon, check out these 50+ Road Trip Essetials and Organization Items too!
USA License Plate Game
So today we're sharing a FREE printable for the License Plate Game today along with affiliate links to others items we love for road trips & fun ways to learn those states!
Our family has 3 favorite road trip games that we LOVE to play:
1. Zig, I've Got a Horse! (I'll write this up soon since I've had some questions from readers!)
2. Mad Libs — lots of laughs! Mad libs on the Road (for kids ages 8 – 12 years) and Summer Fun Mad Libs Junior (for kids ages 5 – 8 years) are perfect for road trips!
3. The License Plate Game
We also LOVE having the Amazon FreeTime Unlimited FREE Trial – it's a perfect for kids enjoy audio books, movies or educational apps on the trip!!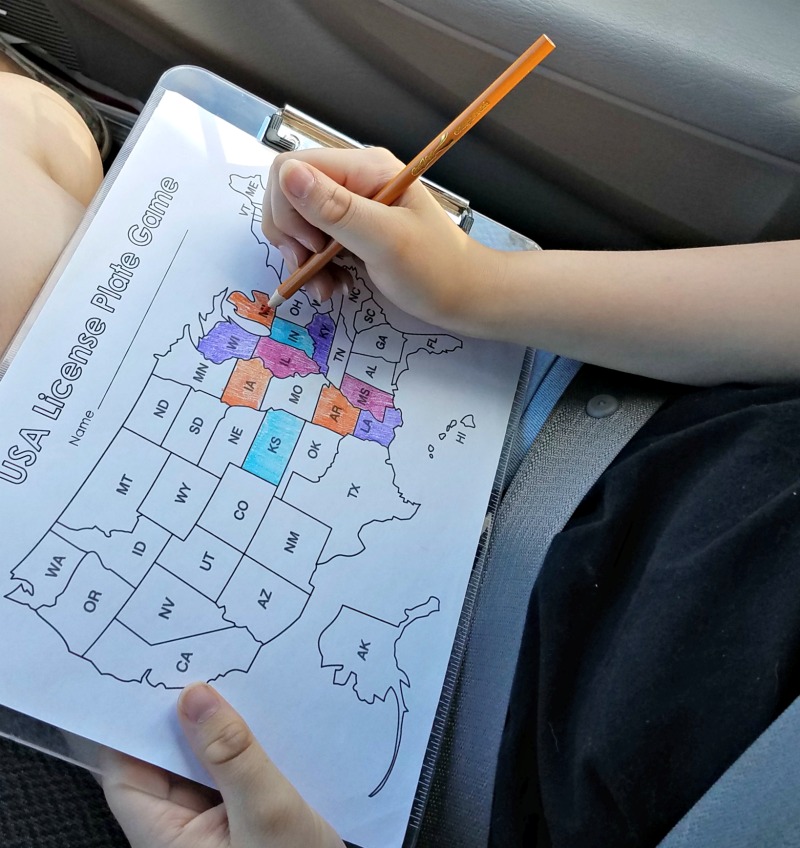 How to Play the License Plate Game
For those of you who aren't familiar with the License Plate game, it's simple and somewhat like a scavenger hunt while you drive:
When in your car, everyone who is playing the game should keep their eyes open for license plates from all the states in the U.S.
Once you see a plate for the first time, the person who identifies that plate is rewarded by 'claiming' the state on a printed map.
You can claim a plate by either coloring in the state or writing your initials on the state. We color-code our map so each person is assigned a specific colored pencil.
Another thing we love about this popular car game is that the driver is able to play too! In addition to long car trips, we also enjoy playing the game in our hometown for the challenge (sometimes it's easier to find plates when you're on a road trip). Plus it's pretty cool to see who's visiting your city!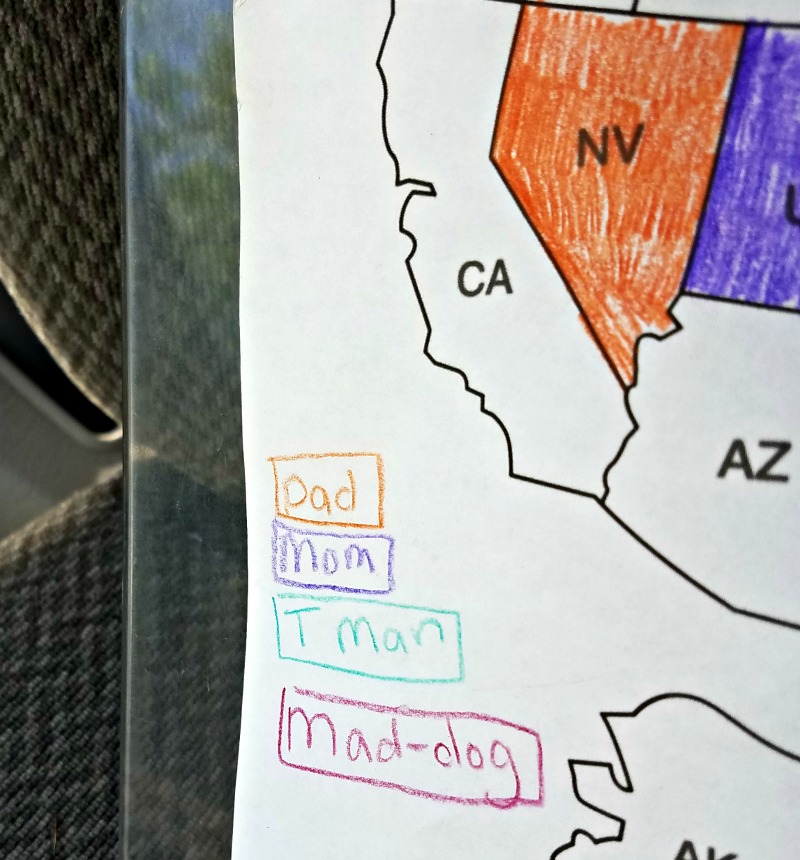 What do you need to play the License Plate Game?
Crayons or colored pencils (assign one color to each person playing the game)
A checklist or map of the United States – if you have younger kids, print a map with the names of the states; if your kids are older, print a blank map or a map with state abbreviations (you can find both in our free printable pack below!) Or if you're bringing along the 50 States Activity book, just use the fold-out map!
What Kids Learn Playing The License Plate Game
Young children can be assigned to color in the states that are found. This helps with fine motor skills and also identifying colors.
Kids between ages 6 – 9 should begin to identify the names of the states on the map – you might use words as 'in the northeast' or 'near the state Grandma lives in' to help them orient the location on the map.
Kids older than 9 years will benefit most from having a blank map; they can write in the name of each state as it's found and then color with the assigned color. You can also use a 'word bank' (which would be a list of all the states) or help them to sound-out and spell the state's name.
If you have teens, ask them to list the state abbreviation as plates are found or even CORRECTLY spell the name of the state.
You may also want to weave in some math –
Estimate how long it will take to find all 50 license plates,
Have your kids list the % of states each person in the family identified,
Ask your kids which states they think will be the most difficult to find (that may be based on how far you are from various states, or the population of various states) and the probability of finding all 50 license plates.
How to Win the Game
Choose some type of reward for the family member who identifies the most states (in our family, whoever wins that honor gets to choose where we have ice cream on the weekend before school begins!).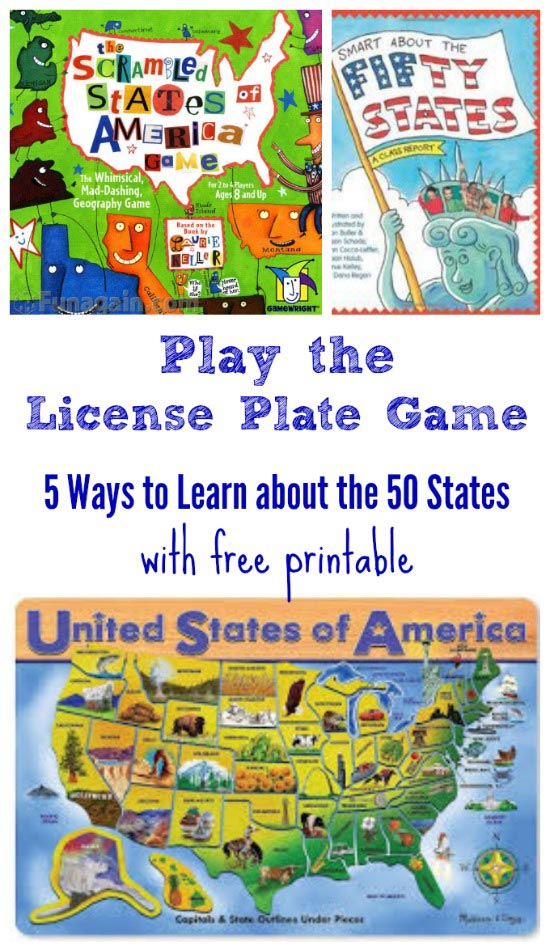 Learning Geography with the License Plate Game
One fun way to extend the game is to tie it with a book or other hands-on item! Here are a few of our favorite state books along with some fun learn-about-the-states items too. It's a great way to help your kids practice their geography on your next road trip!
Our 50 States: A Family Adventure Across America" by Lynne Cheney is a beautifully illustrated book that highlights the culture, people and attractions in each our 50 states. I love the pictures throughout the book and there are so many fun facts included that adults will even learn a thing or two!
Another wonderful book for a long car trip is the 50 States Activity Book! Kids (and adults!) will learn about the people, places, wildlife and cultures for each of the states. A great way to keep everyone engaged with puzzles, games, a fold-out map and stickers for each of the states!
What happens when Virginia and Idaho decide to switch places on the map?! Chaos begins and all the states get involved in the scramble.
Laurie Keller's The Scrambled States of America is an all-time favorite for kids (parents will enjoy the humor too)! There's also a fun Scrambled States Card & Map Game that pairs with the book and is easy to take & play in the car.
Smart About the Fifty States is perfect for ages 8 and up. The book is written as a 'state report' that was assigned in a school classroom and has a very clever format with each page looking like an assignment completed by kids!
Readers will learn about interesting facts, historical events and geography related to each of the states. There's also a full map of the country and very creative 'bibliography' of the books used to create the reports. This is a gem if you are teaching/homeschooling about the states!
Another favorite at our house is the National Geographic Kids Ultimate U.S. Road Trip Atlas: Maps, Games, Activities, and More for Hours of Backseat Fun ! Chocked full of maps, landmarks and TONS of facts, this is an excellent book to have if you're taking a trip through a number of states. We also love the photos included with each of the state write-ups!
This is a book we've used before many of our road trips so we can all learn a little more about the states we're visiting.
One item we used over and over is our Melissa & Doug Deluxe Wooden USA Map Puzzle — very sturdy, colorful and can be adapted for kids from ages 5 – 12 years. When they are young, kids like to put the puzzle together. As they get older, they begin to read the details.
I love that the puzzle helps them identify the shape of the states (they can hold each piece so it's great for different learning styles). And it holds up well! We have had ours for more than 12 years!
Of if you'd rather have one you can take with you on the trip, try the Melissa & Doug Flip to Win License Plate Game! It allows two players or teams to compete to see who can find the most plates — plus, the board also lists the state capitals.
Another awesome resource is the Fandex Family Field Guides: 50 States. These card decks are for older kids (tweens & teens) and are packed with so many details and facts you have to read them at least twice! Each card highlights information about one of the states and includes a map.
You could even use this card deck to play the License Plate Game — just place a sticky note on each card as you find a plate from that state!
Free Printable License Plate Game Map
Print a blank US map of states or a map of abbreviations for your own License Plate Game fun!
** Both map types are included in this file which will be emailed to you!
More Road Trip Games & Activities:
40 Free Printable Road Trip Activities
10 Things to do Before Your Next Road Trip {with free printable checklist!}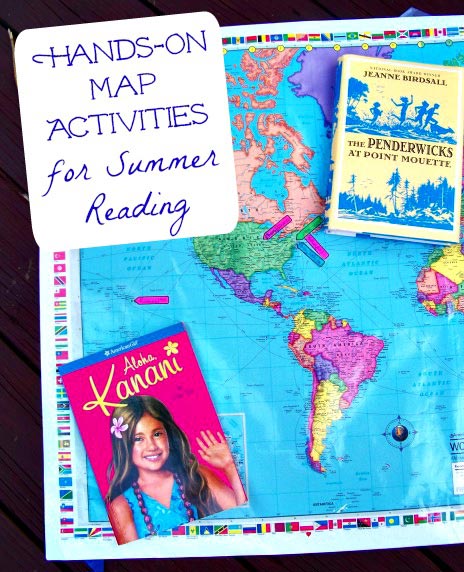 More Geography Activities for Kids:
10 Culture & Map Activities for Kids