Grab these free printable road trip games & activities for your next car trip and keep the kids busy!
We are gearing up for a HUGE family car trip this summer and I'm on the look-out for some road trip activities to keep the kids off their phones & busy en route 😉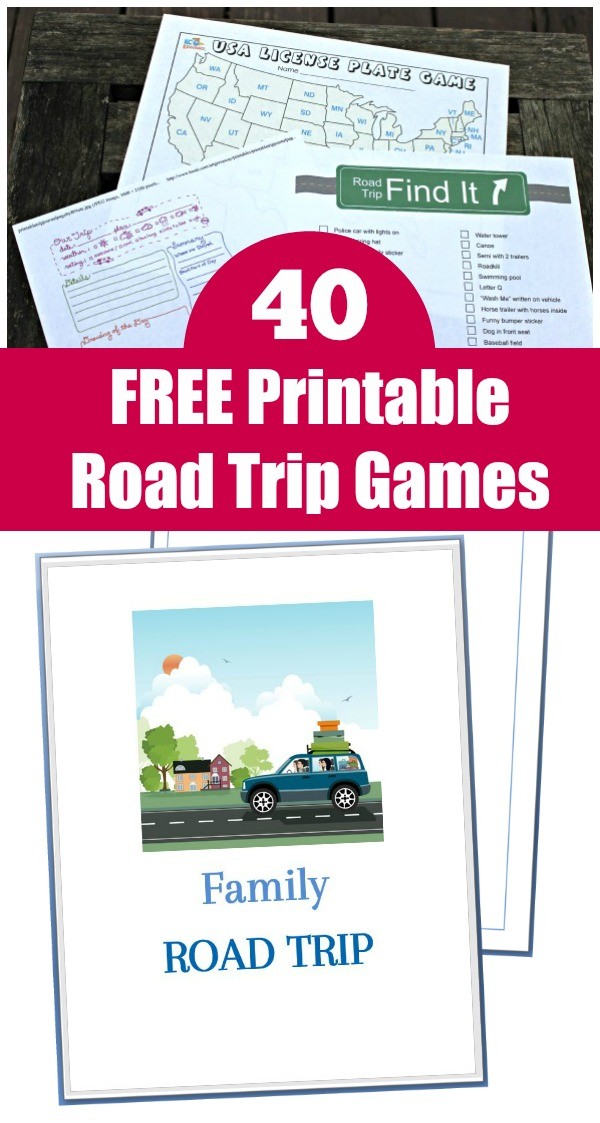 40 Free Road Trip Activities & Games for Kids
Since we love to travel, I'll be sharing a handful of posts over the next few months with lots of tips & ideas for family travel! We're also sharing many of our favorite travel items along with affiliate links to each so you can see if they're a good fit for your family too. (Be sure to see our 40+ Road Trip Essentials & Car Organization Items too!)
Here are a few of the ways we get ready for a trip:
The trip is going to be much longer than we thought — 10 days through 11 states covering 2600 miles!!
I know – crazy! But we're really looking forward to it — we believe that family travel is a great way for kids to learn all kinds of things.
It's going to be a monster of a trip with lots of overnight stops and quite a few hours in the car.
Soooo …. time to start planning on how to keep everyone busy, happy and fed 😉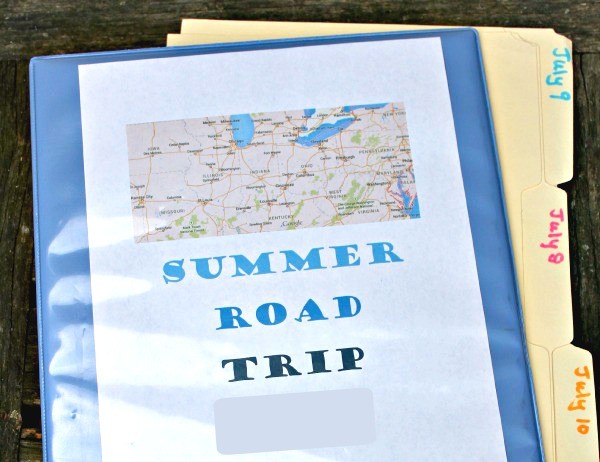 How Do You Entertain Kids on a Road Trip?
It's the age-old question — how to keep kids busy and engaged on long car rides?! The first thing I always tackle is putting together a binder for the trip that's chocked full of fun (& free) printable activities.
I'm telling you — this little binder has been a huge help on our trips!
The fact that our kids have had something to look forward to each morning when we load up the car is incentive enough for them to not drag their feet when we have to pack up. And it's been wonderful to have a way to keep them writing and reading using fun activities on our trips.
I've included links below for each of the resources we've found including affiliate links for items that will help you put together your own road trip binder.
Tips for Making a Road Trip Binder
I have three goals when I create a car trip binder for kids, tweens or teens:
1. Include surprise activities they can do both on their own & with others in the car
2. Find fun things that will keep them off the tech for a while
3. Get the kids interested in the places we're visiting on our trip — because that's one of the reasons we travel, right?!
First, print off a variety of travel games & activities!
I search for games they really enjoy (for example, Mad Libs are a big hit with us right now) and fun pages like coloring or design printables.
We also play the license plate game as a family every summer so that's a big one for us too!
I look for maps & activities that highlight places on our travel route, worksheets that share fun facts about the states we visit and anything that gets them writing — like some fun travel journal pages.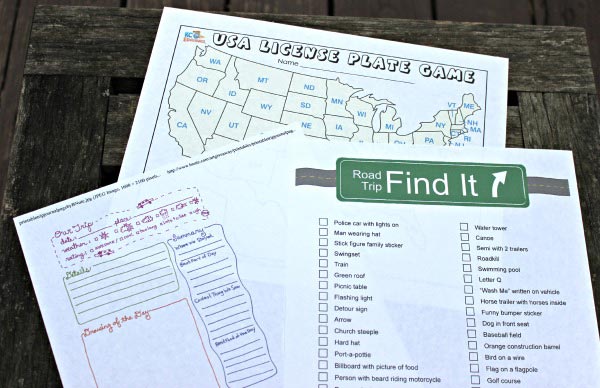 Printable Road Trip Games for Kids, Tweens & Teens

Here's a huge selection of printable road trip games & activities to make things easier for you!
Just choose the ones that fit your child's age and ability! Or if your short on time, check out the 15 printable road trip games & travel activities in our Road Trip Pack!
If you need more ideas, browse all the Printable Road Trip Activities and Games on Etsy too!!
And if you happen to be heading to Disney World or Disneyland, check out this set of printable Disney Games & Activities for your trip!!
Road Trip Activities & Travel Printables to do in the Car
Try these Kids' Travel Journal pages that are perfect for encouraging a little writing & recording the trip while on the road!
For some great state-by-state learning, visit Education.com and print out the State Puzzle Sheets for each state on your trip.
I like to include a Kids' Road Atlas or map with the binder too. We get ours free with our AAA membership and it's a great for kids to learn map reading skills!
Activity Idea: Have your kids highlight the route you're taking in the atlas and they can follow along as you drive.
Younger kids might enjoy driving a Hot Wheels car along the route as you travel. Older kids will be intrigued to see what interesting places you might be passing en route.
More Kids Activities for a Road Trip

If your kids have a cell phone or camera, print this FREE Photo Scavenger Hunt for them to complete on the trip!
Enjoy this Hotel Scavenger Hunt from Moms & Munchkins if you're spending the night on the road.
Picklebums has these cute and open-ended Road Trip Drawing Prompts.
Doodle Art Alley has a set of Summer Coloring pages that can be used individual or as a family coloring activity.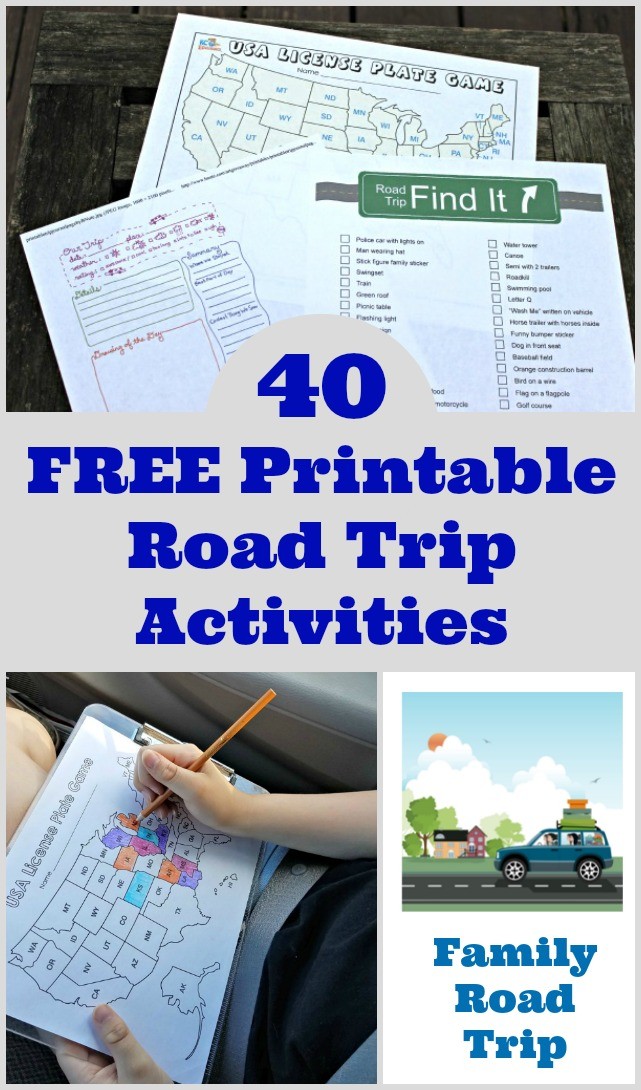 How to Organize Car Games & Activities in a Binder
Next, I organize all the printables into a Road Trip binder!
One thing that works well for us is to sort the pages by travel day. This way, I know that each morning of our trip there will be new activities for our kids to do!
I separate the printables using manila folders (which is great in case we want to pull out the items for one day). Then I use a 3 Hole Punch with all the printables & manila folders and insert them into the binder. Each set is labeled with the date so it's easy to see.
In addition, I include a 3-Ring Pencil Pouch with the following items:
We don't bring markers in the car (I learned why the hard way). And crayons tend to melt in the summer heat. So when we travel, we've found that a set of colored pencils is the way to go 😉
We also love to have these Storage Folding Lap Desks so the kids have an easy place to read/write during our trips!
I also put their summer reading logs (see all the FREE Summer Reading programs here!) in the back of the binder. We do a lot of reading & audio books in the car (grab a copy of this free Summer Reading Log to use on the trip!).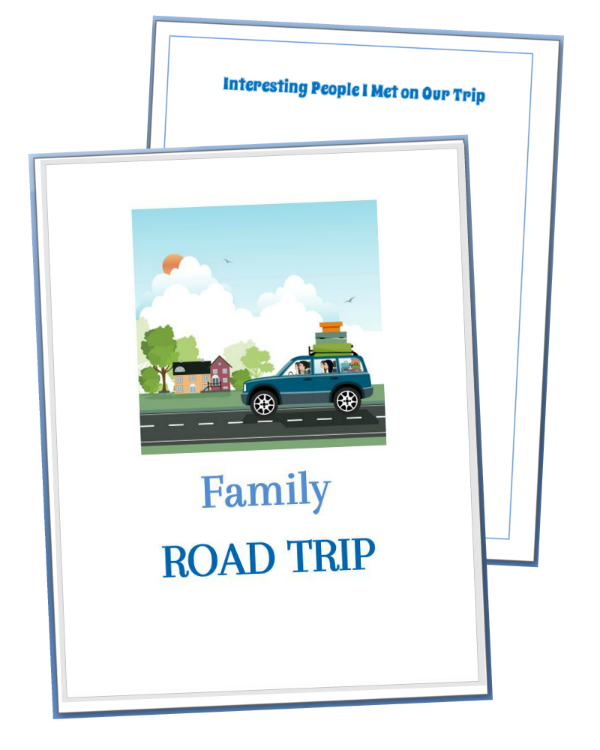 Last, I created a fun cover for the binder along with an autograph page for the back of the binder. It's fun to have when you're visiting a lot of family so everyone can sign a fun note.
Here's a front & back cover for the road trip binder you can download for FREE!
There you go — step 1 in preparing for the Ultimate Summer Road Trip!
More Road Trip Ideas:

15 Printable Road Trip Activities & Travel Journal for Kids & Tweens
The Ultimate Road Trip Guide: Why Getting There is Half the Fun
10 Things to do Before Your Next Road Trip {with free printable checklist!}
More Summer Ideas:
20 Amazing Summer Scavenger Hunts
105 Activities that Make Awesome Summer Memories