Inspire your kids with this free printable summer reading log that encourages them to read books from different genres!
Do your kids have a favorite book? I'm sure they do!
In our house, Are you My Mother? was a huge fave for a while — it was the only book my son wanted us to read each night … for weeks on end!
Sometimes kids find just the right book and it becomes the ONLY book they want to hear or read. As as beneficial as it is to re-read a beloved story (it really is a good thing!), it can get tiring to read the same book over and over again.
Summer Reading: Free Book Log
So this summer, challenge your child to listen to or read at least one book from each of the different genres!
In literature, a genre is a category of books — mystery, biography, fantasy, animal fiction. By reading books from these different categories, kids will hear and learn a variety of words, writing styles and formats. And they may find a new favorite book or type of story that they love.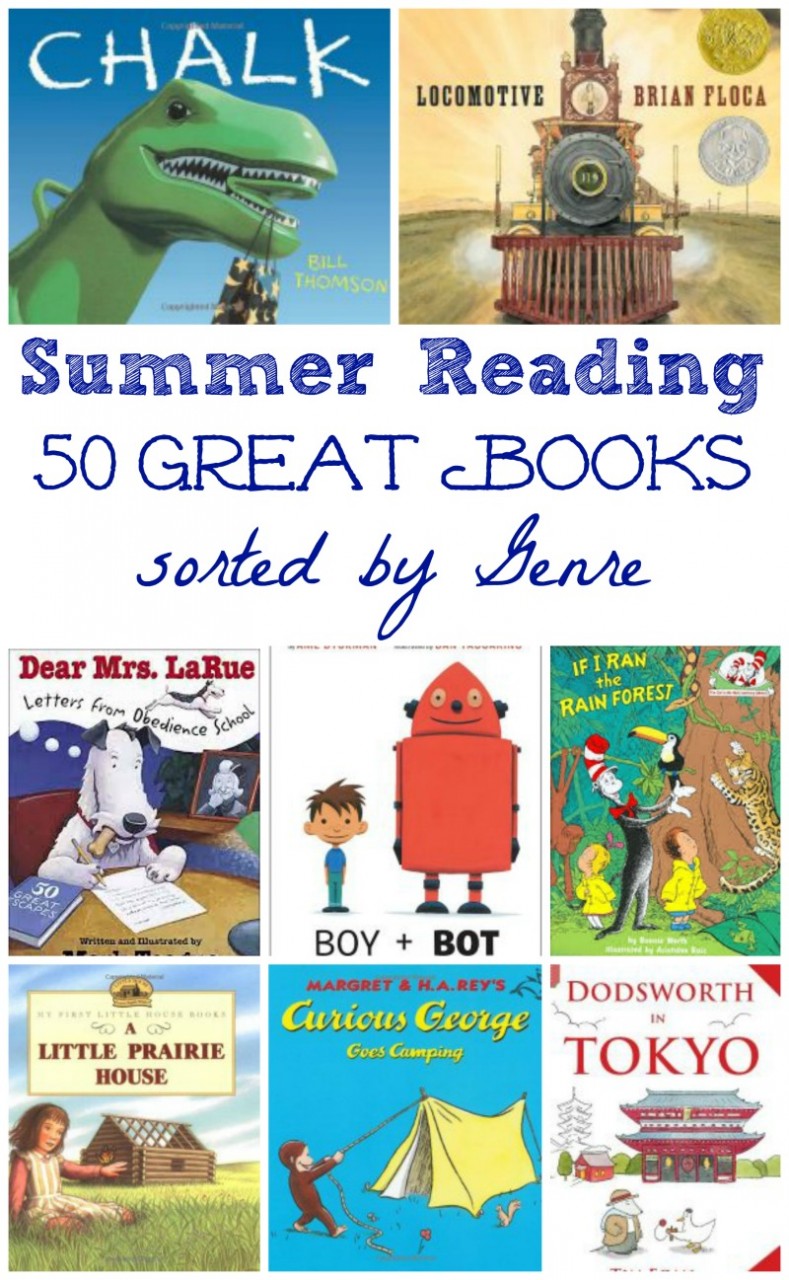 Summer Reading Book List
Here are some recommended picture books and chapter books for each of our genre categories — these are just a guide to get you started and help kids to recognize the different types of literature they enjoy reading. I've also included affiliate links for some of the items so you can easily learn more about the books on our list.
Animal Fiction
This is a genre most kids will graviate to and who can blame them – these animal friends are entertaining!

Curious George Goes Camping
Charlotte's Web
Doctor De Soto
Skippyjon Jones
Poppy (Tales from Dimwood Forest)
Geronimo Stilton Spacemice #1: Alien Escape
Biography
Yes, you can find great biographies for young children!
Me . . . Jane
The Boy Who Loved Math: The Improbable Life of Paul Erdos
The Dinosaurs Of Waterhouse Hawkins
Mystery
Not so scary reads for kids — be a sleuth this summer!

Miss Nelson Is Missing!
The Missing Mitten Mystery
Nate the Great
Cam Jansen: The Birthday Mystery
Older kids will love the Carole Marsh mystery series
and these 10 awesome Mystery Chapter Books!
Wordless Picture Book
I love that the story can change each time you read it! Have the kids 'tell' the story as you move through the pages.

Chalk
Journey
The Secret Box
Flotsam
Tuesday
Fantasy
Books that kids WANT to be true!

The Polar Express
Where the Wild Things Are
The Cat in the Hat
James and the Giant Peach
The Lion, the Witch and the Wardrobe
Inkheart (Inkheart Trilogy)
Non-fiction
Some of our favorite non-fiction books are great series! There are so many books that fall into this category so be sure to visit this area of your library and browse around!
Cat in the Hat Learning Library
is one of our favorite beginner non-fiction series! It introduces kids to history, science, nature and more great things about the world.
Magic School Bus series
is wonderful for elementary school kids (and they also have a great easy reader series and chapter books too!) — a must for your budding scientist
Ms. Frizzle's Adventures
– yes, the same Ms. Frizzle travels the world to explore cultures and geography.
25 Nature books & Field Guides for Kids
Poetry
A very hard genre to introduce but there are some excellent authors who do a great job with poems.

Where the Sidewalk Ends: Poems and Drawings
Eric Carle's Animals Animals
Outside Your Window: A First Book of Nature
It's Raining Pigs & Noodles
Humor
Laugh out loud — you're probably hear your kids using lines from these stories over and over.

Duck, Duck, Moose!
Dear Mrs. LaRue: Letters from Obedience School
Blue Hat, Green Hat
The Monster at the End of This Book (Sesame Street)
Fun list of Fractured Fairy Tales (traditional fairy tales with humorous twists)!
Realistic Fiction
So many books fall into this genre — basically if it can happen in your child's life but is not a true story, then it's realistic fiction. These are great stories to use when kids are going through a transition in their life – it helps them identify with others.

Alexander and the Terrible, Horrible, No Good, Very Bad Day
Today I Feel Silly: And Other Moods That Make My Day
Fancy Nancy and the Too-Loose Tooth (I Can Read Book 1)
Wonderful booklist for the first day of school by grade (for all ages!)
Tales of a Fourth Grade Nothing
Rules
Science Fiction
Usually set in the future or focusing on space or time travel, these are fantasy books with a science/technology theme.
Boy and Bot
Zathura
Baloney (Henry P.)
Commander Toad in Space
The Iron Giant
The Invisible Fran (Franny K. Stein, Mad Scientist)
The Homework Machine
Adventure
Set out on an adventure in the pages of a book!
We're Going on a Bear Hunt
Jumanji
The Great Alaska Adventure!
Book series that help kids explore the world right from their own backyard!
Historical Fiction
Made-up stories about real life in the past — these would include ancient cultures, events that took place and things your grandparents might remember.

A Little Prairie House
The Knight and the Dragon
Boxes for Katje
Magic Tree House series
Locomotive
Fairy Tales
Short stories about magical beings and lands. Fables are also included in this genre/group.
The Elves and the Shoemaker
The Little Red Hen
The Princess and the Pea
Jack and the Beanstalk
Reference
You may not think of reference books as good reads but I'm always amazed at how much kids love the pictures and factual information!
DK First Encyclopedia
National Geographic Kids Beginner's World Atlas
Merriam-Webster Children's Dictionary
National Geographic Animal Encyclopedia: 2,500 Animals with Photos, Maps, and More!
Folktales
Stories originating in a culture and usually passed on by word of mouth (until someone writes them into a book!)

One Grain Of Rice: A Mathematical Folktale
Paul Bunyan and Babe the Blue Ox: The Great Pancake Adventure
Strega Nona
Tikki Tikki Tembo
Use this free printable bingo-themed printable chart to introduce your child to books from across the various genres.
The printable can be used with kids of all ages (or help adults who read aloud to kids find different books to share). Whether your child enjoys picture books or chapter books, a genre challenge is a way to help them branch out to new areas of literature that they may not have read yet!
And yes, many books can fit into more than one genre — for example, the story Tuesday by David Weisner is a Wordless Picture Book and also a great example of Science Fiction for young children.
In order to maximize your summer reading, try to only list a book in one of the categories even if it fits into more than one genre. There are so many wonderful books out there that I'm sure the kids will find quite a few they are excited to read. I'm also including a fun booklist below with recommendations for each category!
This post is part of the 13 Days of Learning Printables For Kids series.
Between May 7th to May 26, 13 of us kid bloggers will be sharing a learning printable with you. There are some pretty fun printables in this series so be sure to check them out!
| Life Over C's | The Measured Mom | Preschool Powol Packets | Itsy Bitsy Fun |
| The Connection We Share | Teaching Mama | Lovely Commotion |
| 3 Dinosaurs | Edventures With Kids | This Reading Mama | Mama Miss |
| A Moment In Our World | The Mommy Talks | Ingles360 |
You might also like: