The *NEW* printables are here — road trip activities and travel games for kids and tweens!
Summer has finally arrived and you know that that means?
It's Road Trip Season!!
Yes, that's totally a thing 😉
We LOVE to get out and explore A LOT so keeping kids busy en route with printable road trip games & activities is a must!
And now we've pulled them all together for you in one AMAZING new printable set!
Whether you're getting ready for your first car trip or are a road trippin' pro, take a peek at these AWESOME printable games, activities and planning pages that will keep kids busy and make planning your next car trip a breeze!
---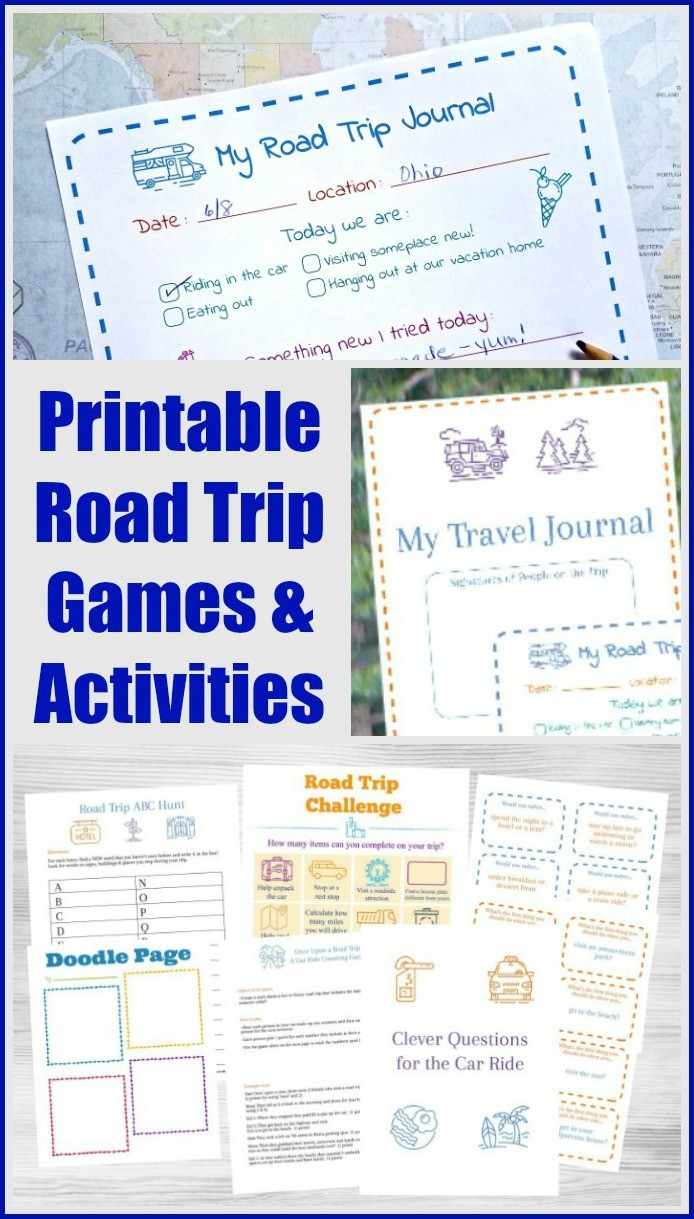 15 Road Trip Activities and Games (printables!)
We really love to travel a lot with our family, especially by car.
If you're read our 50 Road Trip Hacks & Tips, you'll know that the one thing I highly recommend is bringing along some fun activities that are sure to keep kids & tweens occupied!
So our *newest* set of printables will quickly help you keep the kids busy with LOTS of games, activities & challenges!
Fun activities for kids to play on their own and also ones for families to play together.
Traditional games like I-Spy and "Would you rather…" questions
And Unique activities like the Road Trip Challenge & "Road Trip Bucks" Incentive system which can ONLY be found in this Travel Pack!
Plus we've included some great printable resources to help you save time while planning your trip too!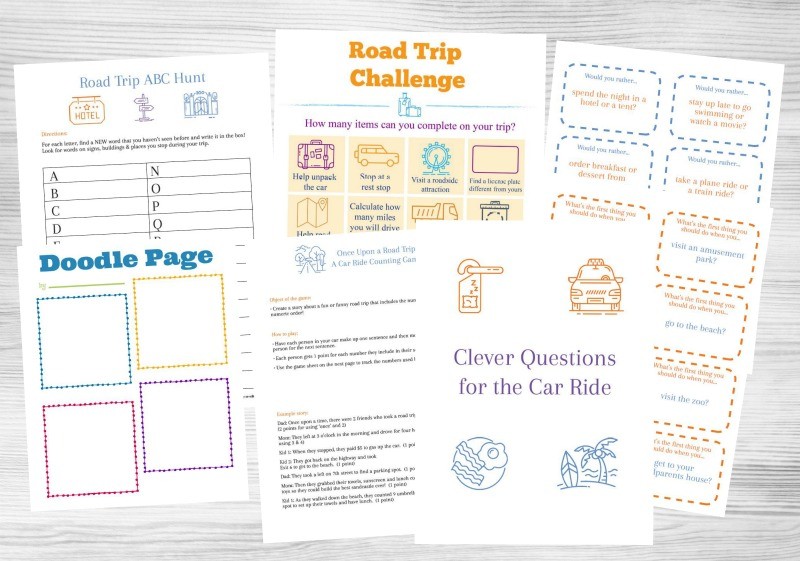 The Road Trip Activities Pack includes 36 printable pages:
an 8-page Road Trip Travel Journal,
10 Fun games & activities like I-Spy, Scavenger Hunt, "Would You Rather…" questions & MORE!
PLUS the "Road Trip Bucks: Rewards for Good Behavior" System (this is PURE gold for inspiring positive behavior on the trip!)
And planning pages for adults: a Road Trip checklist & "What to Pack" planner too!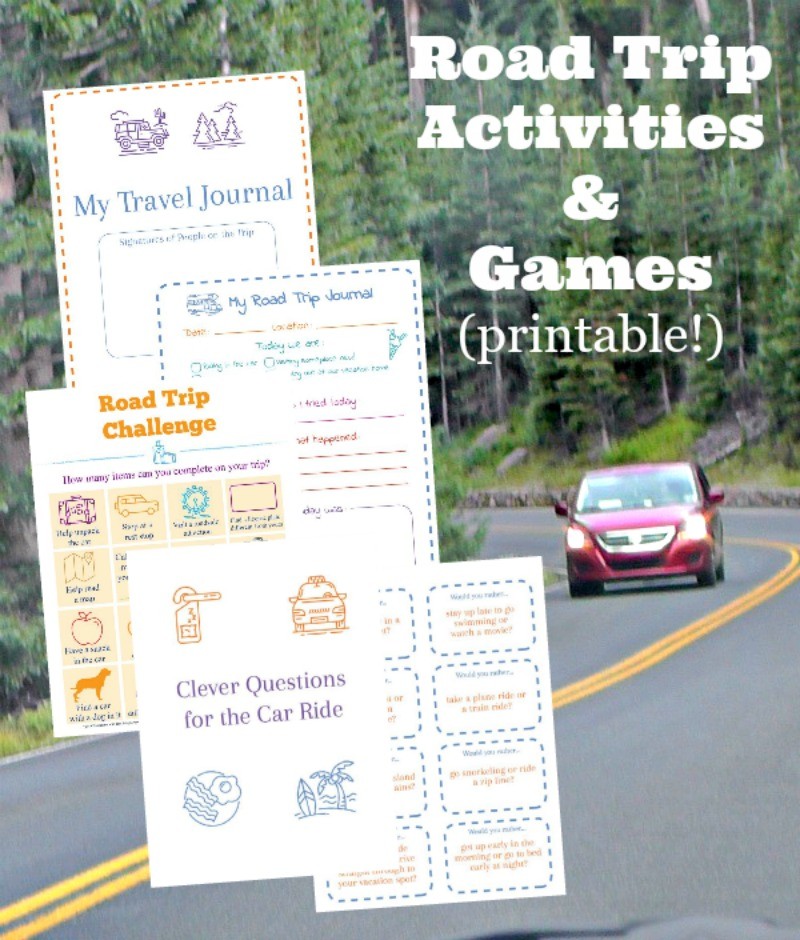 Printable Travel Activities & Games for Kids and Tweens
The pack includes independent travel activities and games for kids & tweens:
An 8-page Road Trip Travel Journal
a Road Trip Challenge game
(2) Road Trip I Spy Game (a color & a black/white version that doubles as a coloring page)
a Road Trip ABC Scavenger Hunt
a Doodle Page
"How Many Words Can You Make"? Activity
and an Autograph Page (for fun people you meet on the trip!)
Get the Road Trip Activities Pack NOW!
Road Trip Challenge: A Travel Scavenger Hunt
One of my FAVORITE activities in the pack is the Road Trip Challenge!
It's part scavenger hunt, part building life skills and part learning!!
Kids need to complete various items during the trip —
easy activities such as "find a license plate from a state that's not where you live"
life skills like "help pack the car for the trip!"
learning activities such as calculating how many miles you'll drive on the trip
and items that keep them searching — "find a car with a dog in it!"
Print the challenge off for each kid traveling with you and have a friendly competition to see who can check off the most items before you get to your destination 😉
Not only does it keep kids occupied throughout the whole trip, it's also a wonderful way to get them to chip in and help, be more observant and document their travels.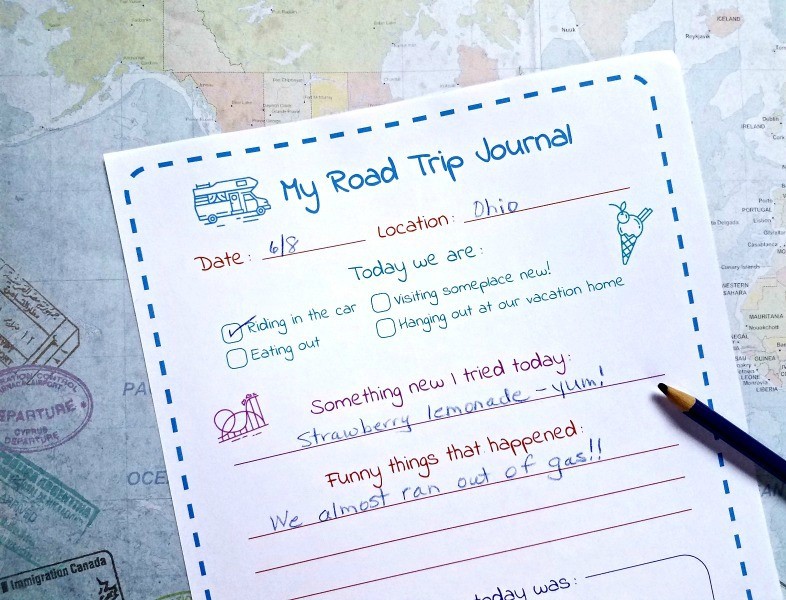 Printable Road Trip Journal for Kids & Tweens
This is an AWESOME way to make & record memories while you travel The 8-page Road Trip Journal is so colorful and invites kids & tweens can document their trip (and squeeze in a little writing during the summer months too 😉
And we've also included some super fun Signature Boxes with the pack – one for all family members to sign so you have a handwritten memory of who traveled with you and the other is an 'autograph' page for any else that you meet during your trip!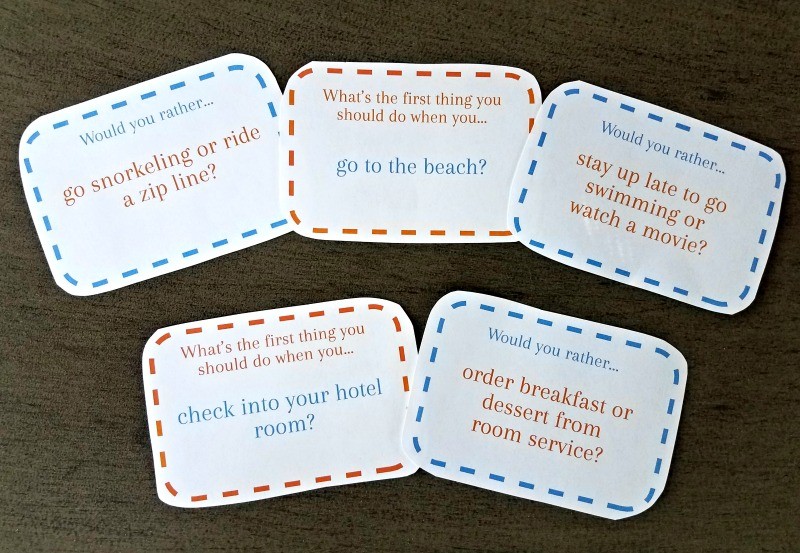 Road Trip Games for Families to Play Together
This packet includes the following road trip games for kids and adults to enjoy:
Once Upon a Car Ride Counting Game
"Would You Rather…" Road Trip edition
"What's the First thing you should do…?" Questions
and the "How Many Words Can You Make"? Activity is also a fun one for all ages!
Each of these games will inspire some fun conversations and help families to get to know one another during the long ride.
They're also great for enhancing memory & communication skills too!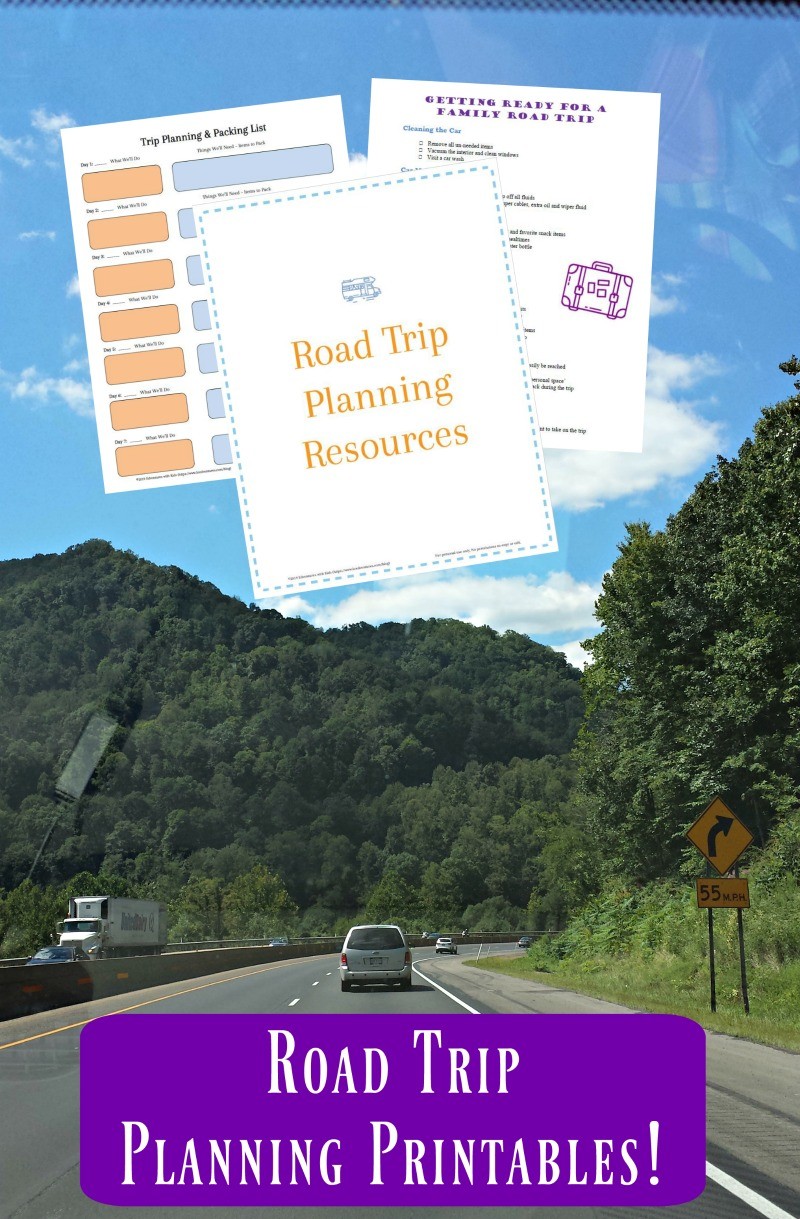 Printable Road Trip Planners
Also included are additional resources for adults planning the trip:
a Road Trip checklist
a "What to Pack" Trip planning printable
and the Road Trip Incentive Money along with Spend & Earn Charts
The Road Trip Checklist will help you easily prepare for your next family car trip!
It includes what to do to get the car ready for your trip, must-have tech items and tips for organizing the car to be sure everyone has their own space!
The Trip Planning & Packing List is a great tool to help you quickly know what items you'll need to pack based on what activities you'll do on your trip. Use it to create a master packing list of clothes, shoes, gear and other must-have necessities.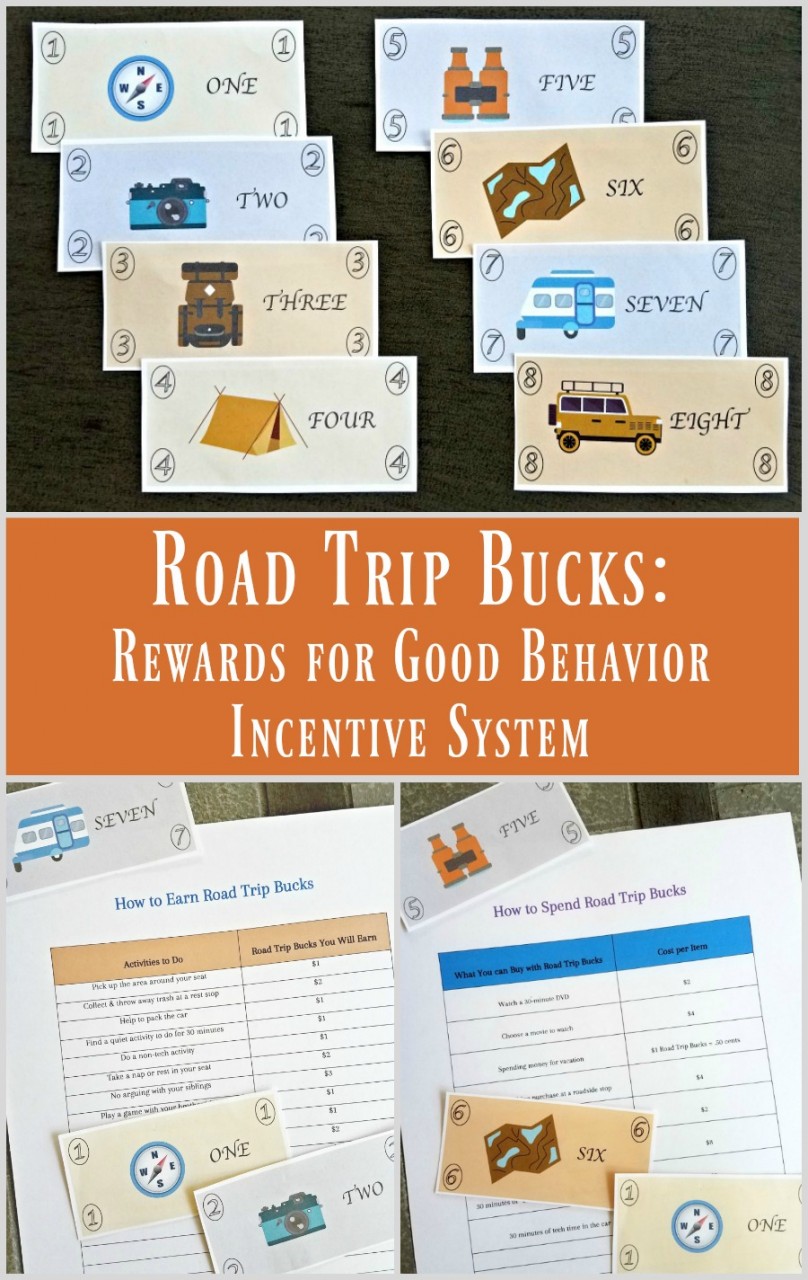 Road Trip Rewards & Play Travel Money
And I'm saving the best for last — the "Road Trip Bucks: Travel Incentives for Good Behavior" system!!
Seriously, this is so EASY to do on the trip and an AWESOME way to inspire kids to help out, find quiet activities to do and not constantly ask to be using tech!
The goal of Road Trip Bucks is to give kids options for positive behaviors while traveling, such as helping to keep the car clean, playing a game with siblings, reading a book, etc.
You choose what behaviors will earn Road Trip Bucks & how the earned play money is spent
during your trip.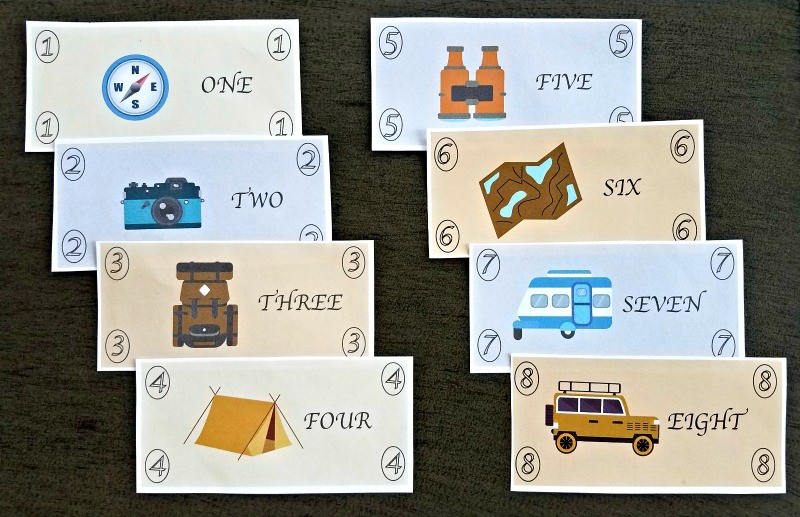 We've included ALL the following items in the printable Road Trip Activities Pack to help you get started:
Road Trip Bucks (3 pages of travel-themed play money to print & use)
A sample chart listing various "Activities" kids can do to earn Road Trip money
A blank "How to Earn Road Trip Bucks" chart you can fill in with your own activities & ideas
A list of rewards kids can buy with their Road Trip bucks
And a blank "How to Spend Road Trip Bucks" chart that you can tailor with your own incentives!
YES!! I want the Road Trip Activities Pack!!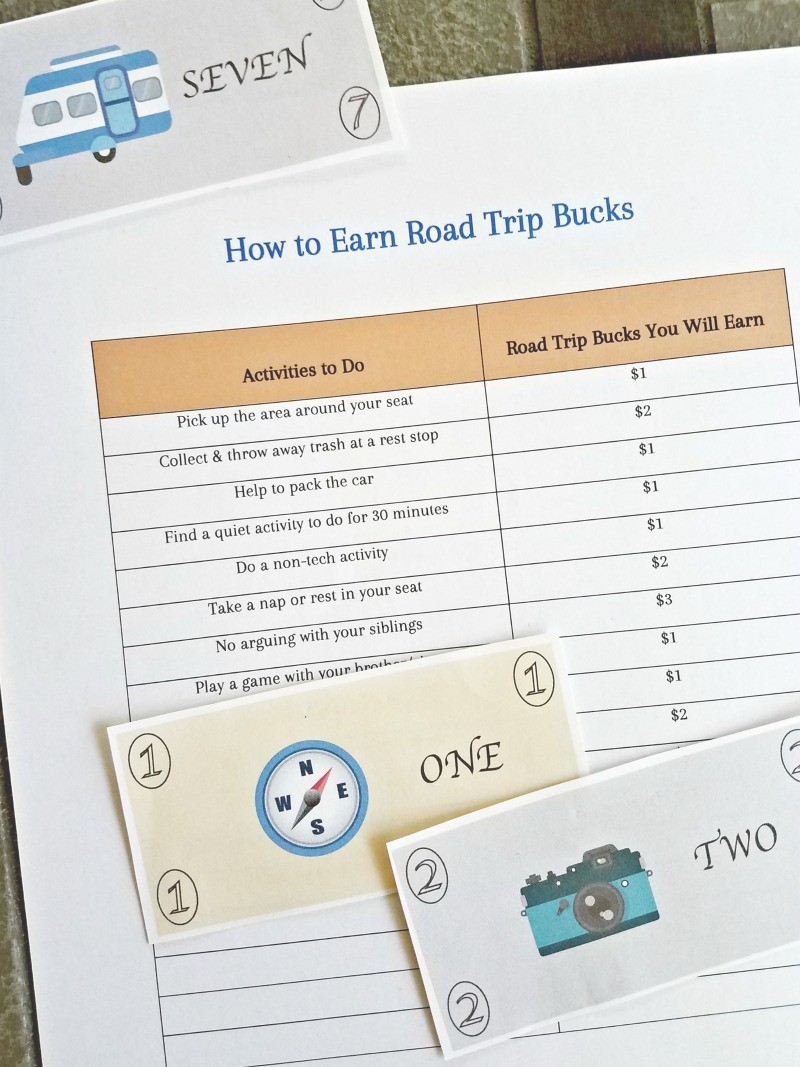 Just print off the Road Trip money, fill in your own activities & earning ideas and hang the charts
in the car when you start your trip!
I like to hand out money as it's earned – each child gets their own envelope so they can keep track
of their money on the trip. BONUS: this is also a great math activity while traveling 😉
While we've included travel-themed activities for our examples, you can also expand on those
options too.
Here are a few other ideas you might include as "Activities Kids Can Do":
Help get the dog/cat ready before the trip
Pack your own backpack for the trip
Follow our route on a map while we drive
Finish your summer reading assignment
Learn about places we'll visit on the trip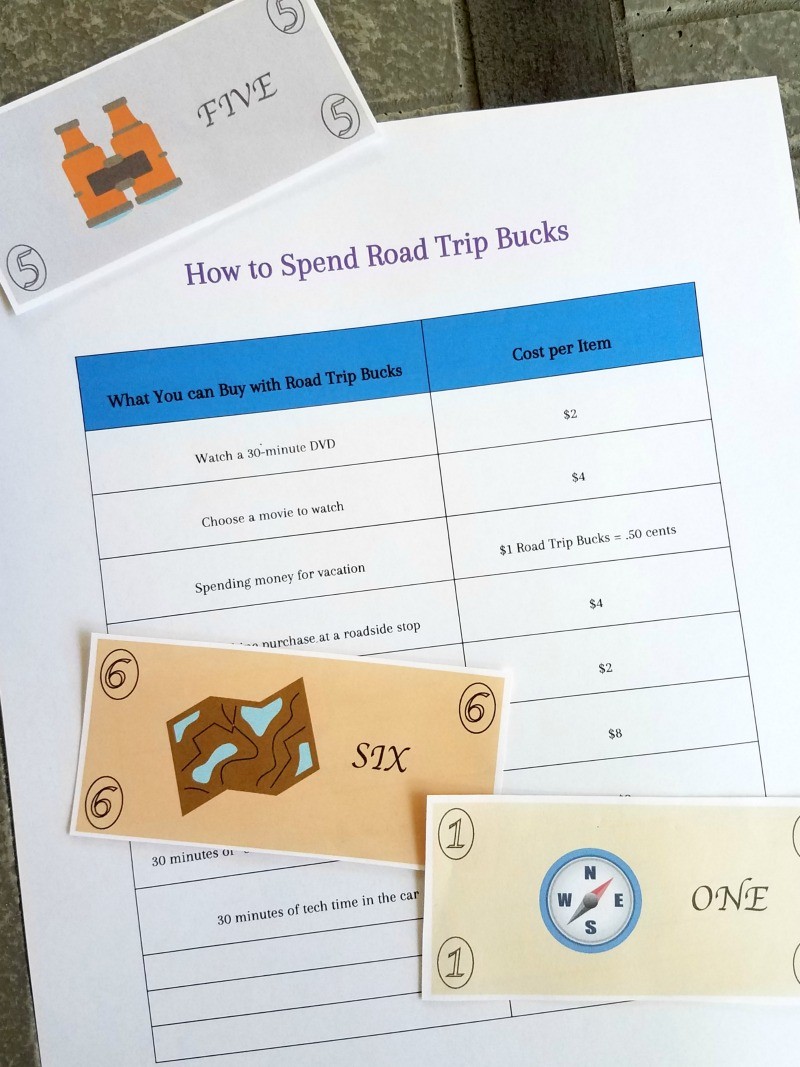 After earning all that money, kids can't wait to spend it!
I like to be sure kids are really 'earning' their reward so I usually price the rewards at $2 – $10 which means they'll need to complete at least a few of the activities to earn enough to spend their money.
A few ideas of rewards that can be offered include:
30 minutes of tech time
Money to buy souvenirs
or be the first to choose your bed when we get there (I found out this is a pretty big incentive for tweens & teens!)
Again, add in your own incentives along with purchase amounts for your trip. A few other ideas could be:
Choose an attraction to visit on our trip
Choose what snack we'll have after dinner (you can give them choices like ice cream, s'mores, etc)
or even "Ride in the front seat for the next leg of the trip" if you have tweens & teens who would enjoy that privilege.
Get the Road Trip Activities Pack NOW!
Grab your pack & spend less time planning and more time ENJOYING your trip!
Wishing you Safe Travels!
xo ~ Jacquie
More Road Trip Activities: