Customize your own 12 Days of Christmas activities with these printable countdown ideas & done-for-you holiday planners!
Is life too busy for the holiday traditions you love (like doing a countdown to Christmas with your kids?!)
I know — December can just get SO crazy so fast and before you know it, the month will be gone.
But if you're like me, enjoying those special moments and activities with family is what MAKES the season so special. Especially those small holiday moments the kids love so much!
So if all you want for Christmas is some time to relax with your family – we've got just what you need this year.
And the BEST part — you can do these activities ANYTIME in December — before or AFTER Christmas!
No trying to squeeze in MORE stuff before the holiday if life is already too busy — because spending time with your kids should be enjoyable and not stressful, right?!
12 Days of Christmas Countdown Activities
Have I ever mentioned that we don't do Elf on the Shelf in our house?
It's not because I have anything against the elf; in fact, my youngest asked Santa for an elf one year and we found it under the tree.
But our elf isn't very active 😉
The reason for this isn't the elf's fault or Santa's — it's because I can BARELY rememeber to set the coffee maker before I go to bed at night much less coordinate the daily movements of an elf on a regular schedule for 24 whole days!
And let's face it, even though Santa gets all the credit at Christmas, we all know who does 95% of the work, right?
So if December 1st passed you by and you were hoping to do an Advent or Christmas Countdown but just couldn't find the time to get it started, you'll LOVE the 12 Days of Christmas Activities!
Unlike the nightly antics of an elf which are supposed to be carried out for the WHOLE month of December – these holiday activities can be tailored to fit your family. Which means you can do them daily, or weekly, or only on the weekends, or once the kids are out of school for winter break!
Yep, you decide what fits best.
Because I know the feeling of "I really want to do something memorable with my kids but I'm just not sure if I can keep it up all month long" 🙂

The 12 Days of Christmas Activity pack is for families who would like a shorter and more manageable holiday countdown.
It's perfect to do on weekends in December, or days when you don't have too much on the calendar and it's an amazing way to keep kids busy over Winter break!!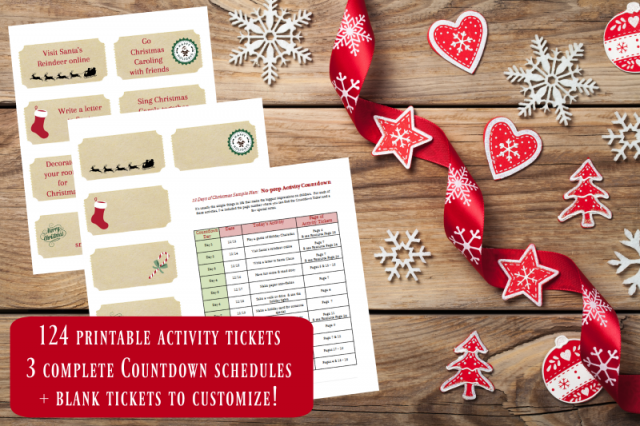 12 Days of Christmas Ideas for Kids and Family
In this full-color printable pack, you'll find:
124 printable tickets for your favorite holiday activities & traditions,

a 12 Days of Christmas Planner for recording daily activities, and

3 complete "12 Days of Christmas" schedules already done for you for the ultimate in holiday convenience!

I know life is busy and sometimes you just don't have the time to plan, so we've included three complete Christmas Activity schedules in this pack:
a list of books & activities for a 12 Days Book countdown,
a schedule for No-prep Holiday Activities for a quick & easy countdown and
a Winter Activities countdown (perfect if you'd like to start your countdown on Christmas Day and though the New Year!) which features more winter-themed activities!
The 12 Days of Christmas Activity Printables are
delivered right to your inbox in minutes!
PLUS, you'll also find a Resource Section and special set of printable holiday-themed activities.
If you want to customize your "12 Days", just choose the 12 activities your family would enjoy doing the most during the month of December and surprise your kids with those activity tickets & printables each day.

What other Moms have said about the activities:
"Time with my children is so precious and to be able to not only have these ideas but for me. to be able to print them off and put in to their calendar instead of the sweet is fantastic-THANK YOU!"

"I love how you included so many different choices…that will really help personalize it for our family. Thanks!"
"I love the fact that they are simple ways to slow down and bring the family together during what can become an unnecessarily stressful time of year. Thanks for sharing!"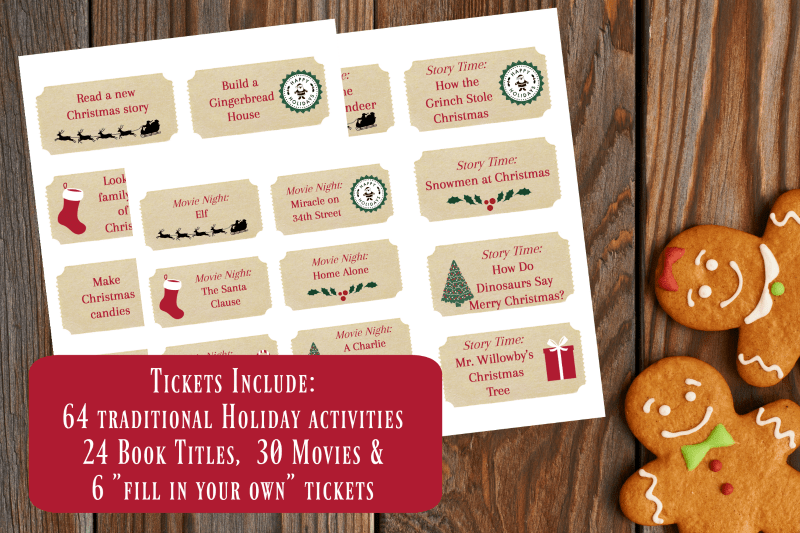 12 Days of Christmas Activity Ideas
The custom-designed tickets include:
64 traditional Christmas activities, volunteer opportunities, and outdoor & nature ideas for families to do together

24 Book Tickets if you'd like to have a book countdown,

30 Movie Tickets if you enjoy family movie nights, and

PLUS blank tickets if there are special activities your family enjoys during the holidays!
Once you decide which activities you'll do with your kids, you can put tickets in a stocking or use a clothespin to hang then on your tree each day. Or surprise kids with a new activity each morning over Winter break!
Just choose any 12 days in the month of December (yes, even AFTER Christmas is ok!)
In fact, having some activities to do after the 25th keeps the excitement of family time in the air well after the gifts are unwrapped which is why we included a Winter Activities schedule!
After all, according to the song, the 12 Days of Christmas actually begins on December 25th and lasts through January 5th.
So it's not too late to start!
We've made it easy for you to do because goodness knows, it's such a busy time of year for us parents.

Spending time with your kids SHOULD be easy so take some time to
delight in those small, memorable activities this Christmas!
Happy Holidays!
Jacquie