TONS of printable Advent calendar activities & ideas for your Christmas countdown that help you focus on making memories this season!
In November, I start intentionally thinking about what I want for our family during the holidays — peaceful evenings, time each week to connect and enjoying special traditions like our Advent Activities.
Every year, I promise myself that I won't get overwhelmed with the busyness of the season.
I don't want to be a frazzled, hurried Mom who's trying to buzz through story time because there are gifts to wrap or cookies to bake.
There's always SO much more on our plates during the holidays which is why I LOVE Advent Calendar Activities — they keep me grounded & help me to enjoy what we love most about the holidays — spending time together!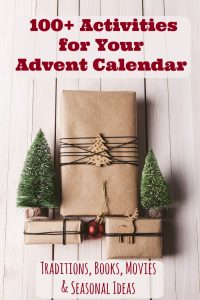 100+ Printable Advent Calendar Ideas & Christmas Countdown Activities
You and I both know what's going to happen come Thanksgiving week — we'll be cooking and cleaning to get ready for guests or packing and traveling to visit family.
Then it's Thanksgiving & I always LOVE to enjoy Thanksgiving — the food, the parade, the family!
Half the time it doesn't even occur to me that it's pretty much the official start to the holiday season. Remember, December 1st is only a few days after that long Thanksgiving weekend!
Once Black Friday hits — you begin to feel that pressure to start your shopping which leads to a bunch of unwrapped gifts in the house.
So you head out for wrapping paper which gets you thinking about the holiday cards that need to be sent, school commitments for the kids and a whole slew of other things that keep us so darn busy.
Let's take a breath and regroup for a minute…..
The holidays are about spending time with your family!
They're about enjoying favorite traditions and activities that make lasting memories!
Get your Advent Activities delievered to you TODAY!
When I ask my kids what they remember about past holidays, they never mention the gifts they've received.
They always tell me they remember things like:
going to pick out our tree and bringing it home to decorate,
wrapping up our Christmas books so they can 'choose' a surprise story to be read each night,
searching for Jingle Bells to see if Santa's elves are visiting (I share this activity in the pack)
setting up the Angels for our church's Angel Tree,
and watching our favorite Christmas movie together!
It's always the EXPERIENCES that come to mind.

It's those moments during the holidays, the yearly traditions or special experiences, that stick with us — which is why I love celebrating Christmas countdowns!
Having a set of Advent Ideas & Activities helps your family to be intentional during the holidays — it's a way to say "Hey! Let's set aside a few minutes each day this month to do something together!"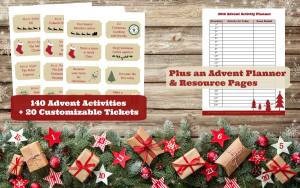 140+ Printable Advent Calendar Activities
This customizable Advent Activity pack makes it SO easy for your family to have a countdown this year!
Goodness knows, it's already such a busy time for us — we all need easy!
Use this printable set of Christmas activities to fit in all the traditions you cherish, start a new tradition this year or just to help your family focus on time together.
We've taken some of the crazy out of the holiday season – say "yes" to DOING things with your family this year!
The Advent Activity Ideas are delivered right to your inbox in minutes!
In the pack, you'll find 140 experience-focused activities that will make December memorable!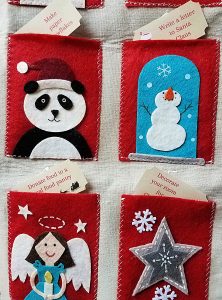 Choose items that fit YOUR family's idea of Christmas:
Favorite holiday traditions (such as Getting the Tree and Baking cookies),
Unique ideas that could become *NEW* family traditions like Going on a Candy Cane Hunt or Searching for Jingle Bells,
Volunteer activities for families & easy ideas that focus on giving to others,
Religious-focused activities (Walk the wise men, Put up your nativity)
Book titles for more than 30 wonderful Christmas stories if you'd like to start a story-a-night tradition, and
Movie titles for all your favorite holiday films (plus maybe a few your kids haven't seen yet)
You'll also find blank activity tickets that you can customize with your own traditions because we want the countdown fit your family!
AND we now have a page of fully editable Activity Tickets so you can type in your family's favorite holiday items too!

PLUS, we've included an Advent Planner where you can record what you'll do each day along with any supplies you might need.
You'll also find a special Resources Section that includes some of our most requested holiday printables –
a Christmas Geography Challenge,
a super fun Gingerbread Scavenger Hunt,
letter to Santa stationary and
LOTS of details that will help you find everything you need for your countdown (locations for Polar Express trains, how to set up a Candy Cane Hunt and where to find fun Christmas-themed online games for the kids to play!)
And we're offering a special price for a LIMITED TIME!
Save more than 35% off the regular price of $7.99 –
and get this done-for-you Christmas countdown for only $4.99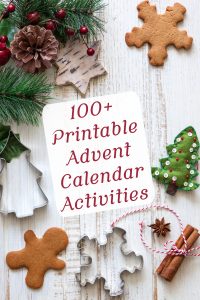 DIY Advent Calendar Fillers
We've done all the planning for you!
Seriously, it will take you less than 30 minutes to create an Advent countdown for your family with this activity pack.
Just look for the activities you would like to do this holiday, cut out a ticket for each one and record the item in your Advent Planner.
Activity printables can be used in so many ways —
add one activity to each day of your Advent calendar
hide a ticket somewhere on your Christmas tree each day and have your kids hunt for what you will do together
choose to do a book-a-day countdown using only the Christmas book tickets,
surprise your family at breakfast each morning with the activity for the day, or
place 24 activities in a stocking and choose one daily (yes! you'll find easy, no-prep activities that are perfect for this too 🙂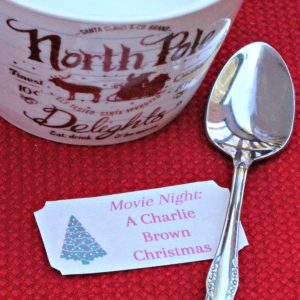 Christmas Countdown Ideas
You don't even have to start on December 1st — make the countdown fit for you!
Our oldest is in college so our countdown begins the Wednesday before Thanksgiving (when he's home for break).
Or if life is crazy & you just can't imagine counting down for the whole month of December, try these 12 Days of Christmas Activity Ideas — another wonderful way to make holiday memories together!
There are so many ideas included that you'll have enough activities for 5 years of Christmas countdowns without repeating any.
So what are you waiting for?!

Give yourself a gift this holiday — special time with your family without all the last-minute planning & hassles!
My wish for you this Christmas is
less of the 'must do's' and more of the 'love to do's'
Happy Holidays!
~ Jacquie