Get the car and family ready with this free printable road trip checklist and the BEST tips for things to do before a long car trip with kids!
This week's one of those quiet times — not too much on the calendar. But I know it won't last long — I can smell an AWESOME family road trip somewhere in the near future.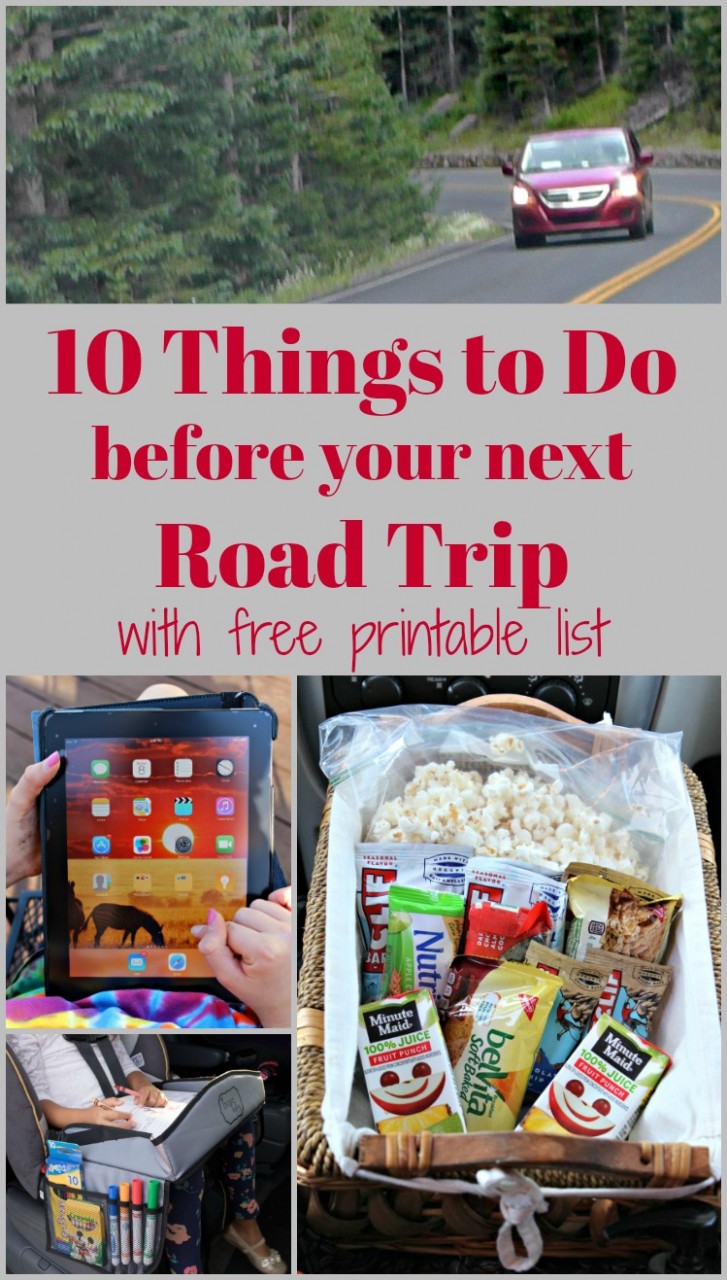 10 Things to Do before a Road Trip
with printable Road Trip Checklist!
We're waiting to hear about college acceptances, looking into a few new attractions and counting the days until our vacation (a little more than a month away for us!)
Ahh … I love the thought of exploring someplace new with our kids!
So today I'm sharing the checklist we use before heading out on our trips — whether it's a day trip or cross-country vacation — PLUS affiliate links to some of our favorite items & a FREE printable road trip planner to help you prepare for your next family car trip!
Planning for a Family Road Trip
When it comes to taking a family car trip, I'm one of those "needs to plan ahead" type of people.
I don't like to get on the road and worry about whether we might have any car problems or worse, run out of snacks before we reach our destination (heavens no!! the kids might not last until the next stop 😉
Goodness knows that we've had our share of mishaps on family road trips — two flat tires on the SAME vacation, being in the middle of nowhere without cell service or a GPS and running into bad weather which meant a longer time on the road (and without enough food!)
So my motto — it's always good to be prepared!
Like with fun ways to keep the kids busy (and quiet!) –> 15 Printable Road Trip Activities & Travel Games!
And it's also good to have the WHOLE family help with trip prep 🙂
Remember, it's a FAMILY road trip so everyone should pitch in to help get ready.
Road Trip Tip: Be sure to get the kids involved in as many of these as possible.
Try these 12 Ways Kids can Help with Trip Planning & Travel Prep.
It's a great life skill for your kids to learn because one day soon, they will have their own car and family — so they should know what goes into prepping for a great trip!
Here's what we do when planning for a road trip —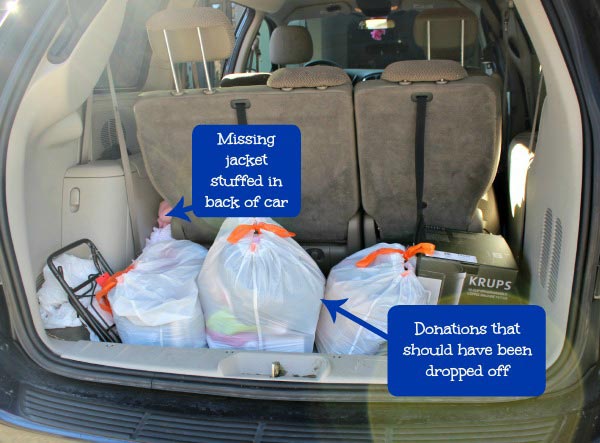 Organize Your Car before the Trip!
This HAS to be first on your checklist — I mean, how does all that stuff get into the car in the first place?!
One of the perfect places to enlist help from your kids too 🙂
Time to take out everything that you won't need on your trip.
And I mean EVERYTHING should come out — that extra umbrella, the reusable grocery bags you keep in the back, that 'lost' library book that your kids swore was returned, etc.
Open the trunk and see what's been sitting back there — for me, it was 3 bags of donation items that should have been dropped off last week *but it rained that day so I told myself I would go on the next better weather day and then forgot about it … sound familiar (please tell me it does!)
Then make a note to get a Trunk Organizer before the trip 😉
Other items that will help you keep things organized on your trip:
Do Car Maintenance before your Road Trip

Once you have the inside all cleaned out, be sure to take a swing through the car wash so the outside looks nice too.
Another place the kids might want to help 😉
And it's super important to be sure the INSIDES are all running well.
We went to the Auto Care Center at Walmart to get out oil changed because it's so awesomely convenient to be able to take care of car maintenance while also getting some of the items you need for the trip.
Grab a chamois towel & microfiber duster while you're there — kids LOVE these things and won't mind helping to clean the car with cool tools!
Be sure to have them top off your fluids, checks the tires (one was very low), vacuum the inside of the car and also check the battery — and overall car check-up brings piece of mind 🙂 Then tuck any items (like extra oil or wiper fluid) into your trunk organizer in case you need them on the road!
Healthy Road Trip Snack Ideas
We always make sure to stock up on some of our favorite snacks.
I can not say enough how important it is to pack extra food — hungry kids do not make for happy travelers 😉
I love to have the kids help choose some of their favorites — and honestly, this is where I LOVE my Amazon Prime membership!
We can shop from home, choose things like cereal bars, protein bars, breakfast bars (they make a healthy mid-morning snack) and the prices are great! I have a box on our doorstep with snacks for the trip!
Because I do enough running around trying to get ready for our trips so that free 2-day shipping feature is kinda awesome!
Special offer for our Readers: Try Amazon Prime 30-Day Free Trial
Plus we pack lots of fruit in our Igloo Cooler (with wheels!) — eating healthy on the road means that we can stop for a treat when we get there!
We also enjoy mixing up a healthy snack mix (fruit, nuts) or bringing popcorn (we pop our own at home) and a few juice boxes in addition to our water bottles.
I also love this Backseat Cooler & Playstation so kids can have their water & snacks right next to them plus a flat top area where they can play or keep items so they don't roll all over the floor!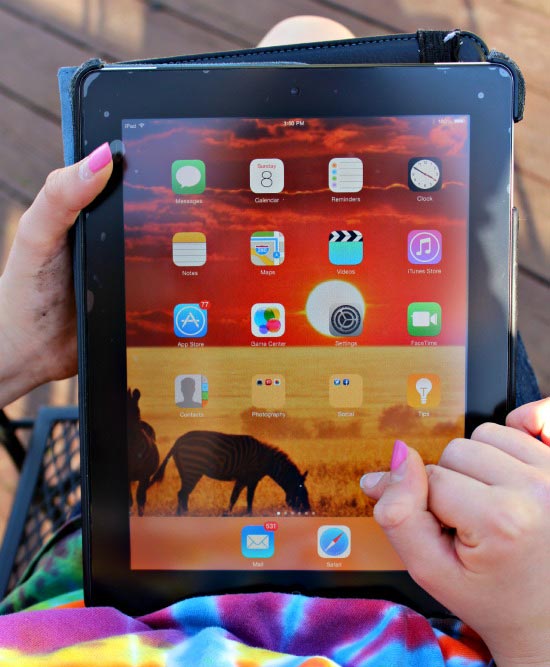 Download Travel Apps before the Car Trip

Can I tell you about the time that I said "Oh, there's too much to do before we leave. I'll just update the apps we need on the road" — it was on our trip to a theme park in Ohio.
Guess what?
When you're driving, you don't always have the best or strongest wifi signal 🙁
So I wasn't able to download any new apps which was a bummer because they had a great park app we wanted to look at before we arrived.
Lesson learned! Download the apps BEFORE the trip!
If your kids enjoy audio books, movies or educational apps, be sure to sign up for the Amazon FreeTime Unlimited FREE Trial before you go!!
And if you love having music on your trip, try Amazon Music Unlimited 30-Day Free Trial
! It has ad-free, on-demand music for the whole family.
Road Trip Essentials: GPS, Maps & Phone Chargers

In addition to downloading any apps, it's also a good idea to update the GPS maps & software and charge all your electronics before heading out.
If you have a GPS + kids with cell phones (or iPads or anything else that requires charging), this 2-Port USB Car Charger is so nice to have with you! We can plug in both cell phones and still have the GPS plugged into the second outlet in the car — so convenient!
And don't forget to grab those plug-in chargers before you head out on the trip. Do yourself a favor and invest in at least one super long charging cord for phones or electronics! Once we got these for our teens, life was so much easier when we needed to keep things plugged in on the trip 😉
Pack an Emergency Kit for the Car

You never want to think about something going wrong but just in case, it's a good idea to check your Emergency Bag to be sure you have what you need in case of any problems.
You do have an Emergency Road Kit in the car, right?
My Dad gave me a kit for Christmas one year when I was doing a lot of driving on my own (he's thoughtful that way 🙂
A few other MUST-HAVE items for the car include:
• windshield wiper fluid — plus Ice-Off Windshield Spray De-Icer is great to have for winter travel,
• a gallon of water (in case the car overheats)
• extra bottle of car oil
• and a warm blanket.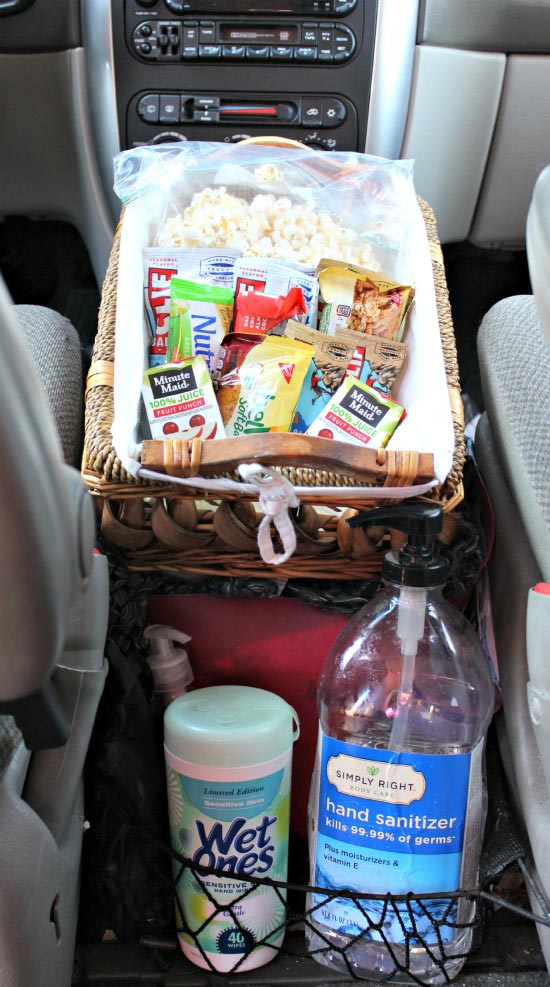 Family Packing Tips for your Road Trip

I like to do this the night before we leave — it helps me to sleep better knowing that the car is ready to go (prepared … obsessive … it's one of those things 😉
Try to have the most important items (snacks, maps, wipes) within arms reach of someone so they are easy to get to when you need them. I love that area between the front seats of our van 🙂 I always have the morning snack basket set to go too.
We also get the portable DVD players set up on the seats (try these DVD Headrest Mounts for easy set-up!)
I put all of our suitcases in the car EXCEPT for our one overnight bag that we pack in the morning once everyone is ready to go.
And I always have one canvas bag that includes:
some paper plates,
plastic forks/knives,
a few ziploc bags,
a roll of paper towels
and a box of tissues
We always seem to need these things at some point on the trip!
Road Trip Planner & Packing List
Everyone should make a list of items to bring on the trip — things like magazines, books, DVDs if you're going to watch any, a sweatshirt in case it gets too cold in the car, etc.
See our free Trip Planning & Packing list as an example.
This should include medications or any personal items that you might need if you'll be gone for a full day or longer.
Wondering how to fit everything in?
Read about our 3-step Packing strategy on how to organize all the items you'll bring on the trip! It really helps so you're not digging through bags every time you need to stop!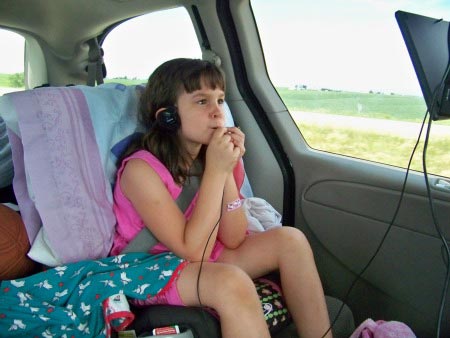 Car Trips with Kids: Assign Personal Space & Responsibilities
And we like to minimize disagreements and the whole 'I don't have enough room' type of thing.
So we have our kids each pack what they need in a backpack — if it fits, you can take it. If you don't have room, than you have too much stuff 🙂
If you want to corral the kids' clutter in the back seat, I LOVE this Organizer, Cooler & Play Station all in one which not only holds snacks but also gives the kids a flat surface they can use!
Having a limit on what they bring means less 'stuff' traveling to other areas of the car. While we use portable DVD players for long trips (more than 5 hours of drive time), we also encourage our kids to bring open-ended items such as:
• Travel Journals (you can print some FREE Travel Journal pages for kids here)
• Kids' favorite books!
• Art/coloring activities that can be used multiple times like the Crayola Dry Erase Activity Center Travel
• Fun road trip activities (see our favorites with these 15 Printable Road Trip Activities & Travel Games!)
• Small travel games/items and these Magnetic Tin playsets (which are AWESOME for travel!)
The general goal is each "seat area" becomes your 'home' for the trip. This also helps me to quickly check to see who needs to pick up their items and where to position things like the cooler (which we always put in arms reach of the oldest kid since they are the ones to help pass out food during the trip).
Road Trip Checklist Tip: Assign your kids 'jobs' for the trip (great life skills here)! For example, things like taking out the trash at rest stops, passing out snacks, refilling water bottles and keeping their 'personal area' picked up.
Free Road Trip Checklist
Get your free version of our "Prep for an Awesome Family Road Trip" checklist for your next car trip!
I hope it helps you to get ready for stress-free and fun travel.
For more tips & hacks, see our 27 Travel Tips for Your Next Car Trip post too!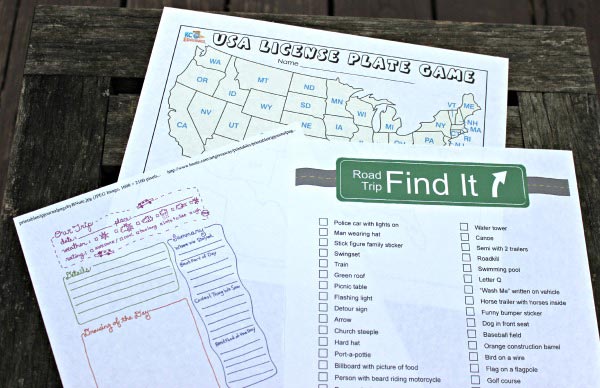 Here are a few other Family Road Trip ideas you might enjoy:
40 Free Printable Road Trip Activities
The Ultimate Road Trip Guide: Favorite Tips & Car Activities
Vacation Craft: Souvenir Travel Buckets