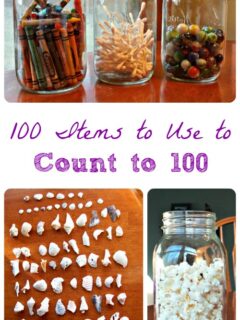 Many kids around the country are celebrating their 100th day of school this month and we are having some fun along with them!
Teaching kids to count to 100 is a big milestone and one that parents and teachers work on for a few years.
It's a long journey fraught with numbers like "fifteen-ten" and other assorted creative ways to count. And along the way, kids are also learning to count by 2's, 5's, 10's and categorize numeric values.
Read More

about 100 Things to Count to 100 and Estimation Jar Ideas