Inspire your kids to learn about geography & cultures from around the world with these awesome books and mapping activities they'll love!
I so enjoy teaching my kids about places around the world — the people, landmarks and traditions. It's important that they increase their global awareness and become 'world-literate' as they grow.
One of our most read book lists is 30 Pictures Books about Countries Around the World (honestly, it was one of the ones we loved putting together too 😉 and I received a number of requests for chapter books that focus on maps and world cultures so we went on the hunt for some AMAZING book series that are perfect to use as read alouds or for older kids & teens to read on their own!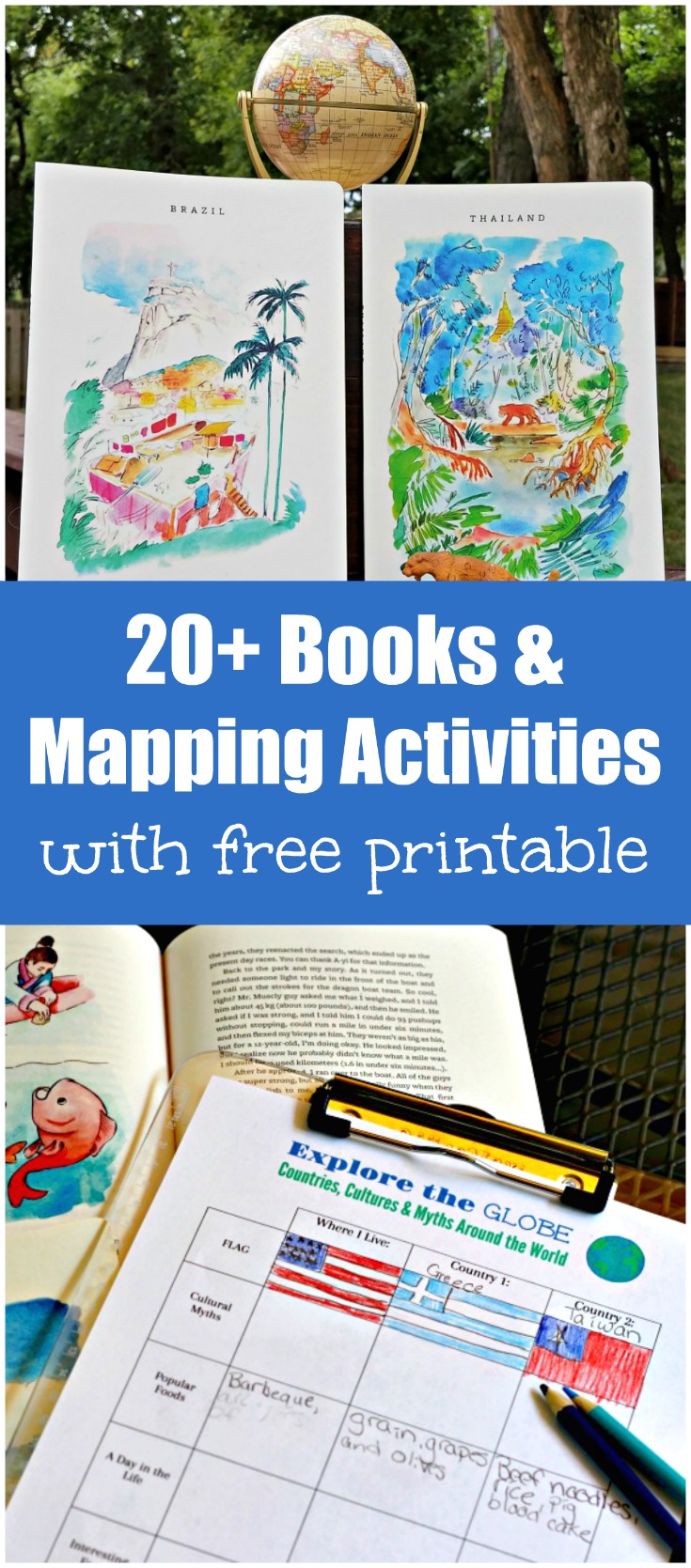 20+ Books about Cultures & Countries Around the World
Today we are combining a few of my favorite things — reading, maps and travel!
You don't have to spend a ton of money to introduce your kids to the world and these are lessons that will stay with them for years.
The activities we're introducing today are best for older kids (ages 8 – 14 ideally) but can easily be adapted if you have kids of varying ages too. We're including affiliate links to our books recommendations and geography activities so you can quickly find the ones that will fit your home or classroom!
Before we even get into the book list, I'm going to warn you that we've included a number of fun map activities you can do with the books …
… which means you'll need a map 😉
A few years ago, I asked all the folks in our Facebook community what type of map they had at home and so many told me they only had "Google Maps" — now, Google is a wonderful thing but a physical map or globe is SO much better when kids are learning!
Which is why I wrote the post on Why Every Home Needs a Map — maps are tactile, hands-on and can be dragged around with your kids from room to room — they can see the BIG picture without zooming out, and it's a fun thing to use with a magnifying glass.
So if you don't have a map or globe, take a look at a few of our favorites and consider adding one to your home this year:
The Rand McNally World Wall Map is perfect for a playroom or family room wall and clearly labels all the countries & geographic highlights of the world.
If your preference is a globe, the Illuminated World Globe for Kids is a great option and the fact that it's backlit makes it 'come to life' in the evenings too!
If you don't have a lot of wall space, try this World Map Placemat!
And be sure to introduce (or review) things like lines of latitude & longitude, the map's key, the equator and prime meridan if your kids aren't familiar with a map or globe.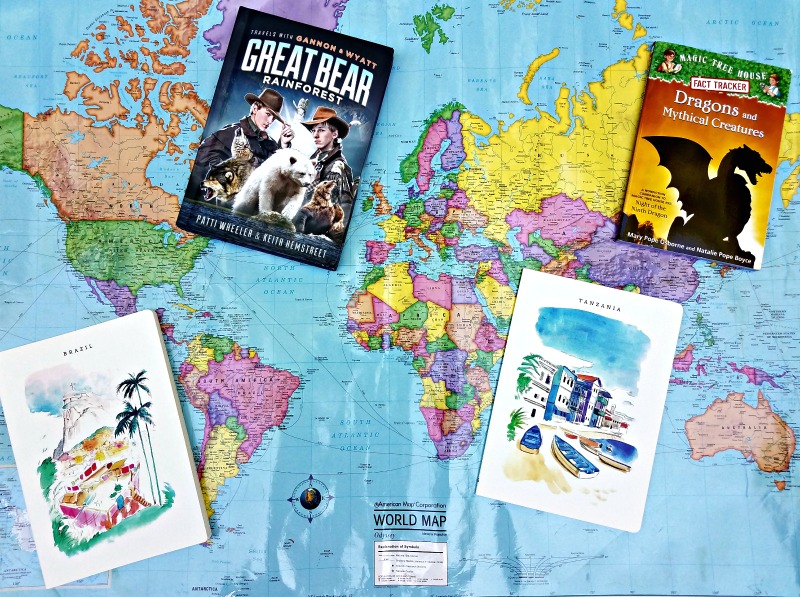 Chapter Books about World Cultures & Geography
We'd like to thank The Adventurous Mailbox for sponsoring part of today's post. We received a set of books straight from Taiwan to help us with this review along with an AWESOME discount code for all of our readers to use!
We're highlighting three book series that will take your kids around the globe!
Why a series of books?
Older kids will quickly get 'hooked' on a series and favorite characters, constantly asking to read "the next book".
And when you're introducing detailed topics such as world cultures and geographic locations, it's wonderful to have each book in the series focus on one specific area — it really allows the reader to have a deeper experience with the topic.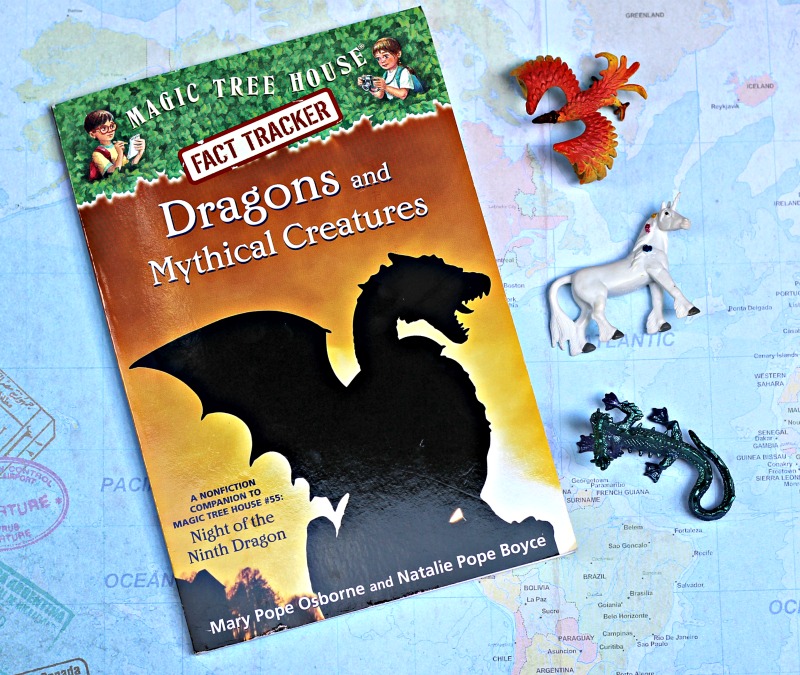 Books for History & Geography
Our next series is probably familiar — the Magic Tree House books are a wonderful way to introduce History & Countries across the world! We've used these as both read aloud books and read on-your-own.
Not all the books in this series fit the geography focus (some delve into a different time in history) — we mainly use the non-fiction side of the series but each of those are connected to a fictional counterpart too.
Here are the ones we've used for studying countries & cultures:
Although the Magic Tree House books are written for kids ages 5 – 10 years old, the Fact Tracker guides will easily fit kids through age 12 or even older if they are looking for detailed facts on a specific location or topic.
What we LOVE:
The geography tie-in with a well-known series!
The illustrations throughout all the the fiction and non-fiction books — it really brings things to life and some of the pages include black & white photos too.
The Magic Tree House website that offers additional details and games.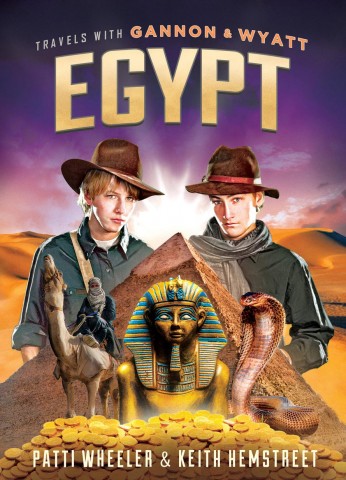 Books with a Focus on the Outdoors & Animals
Our third series is a set of fun adventure/travel books that highlight various environments and habitats, so there's an environmental theme that runs through the books too. Travels with Gannon & Wyatt include six books that visit the following locations:
Egypt
Botswana
Ireland
Hawaii
Greenland
Each book is written like a travel journal with entries from each of the two brothers. The stories are pretty fast-paced with lots of details and some humor too. These are thicker chaper books for more advanced middle grade readers (ages 8 – 12).
What we LOVE:
The photos and "real life" pictures included through-out the book really added quite a bit to the journal entries.
You'll find a glossary at the beginning of each story that lists the common phrases used at the location of the book along with their English counterparts. This is a really nice touch to weave in some of the cultural aspects of the area.
The travel map in the back of the book that highlight where Gannon & Wyatt have travelled and also other famous locations around the world.
The website and videos which share more detailed information about the various locations highlighted in the series.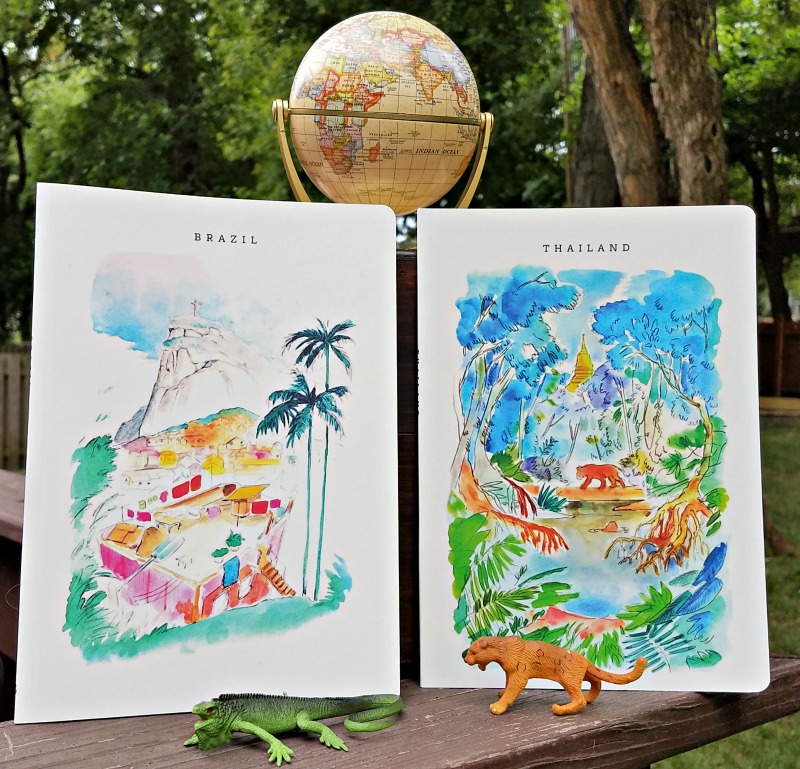 Books for World Cultures, Myths & Folklore
Our first series will be a BIG hit with kids ages 8 – 14 years old! The Adventurous Mailbox consists of 8 books from the following countries:
Finland
Taiwan
Brazil
Thailand
Greece
Tanzania
Peru
Peru too
Each book follows the main character, Crameye Junker, as he travels to a country and experiences the interesting people, folklore, food and culture. The books are thin but don't let that fool you — they are PACKED with so much detail!
Both avid readers and reluctant readers will love these — the story moves quickly and shares all those things kids love — kids solving puzzles independent of adults, mythologial creatures and beautiful, full-color illustrations.
PLUS, your child will find a secret code in their box that can be used online for Craymere's World! This interactive, kids-friendly website allows you to explore art, architecture, music, languages and games for each of the countres in the series!
What we LOVE:
The AMAZING details about each of the countries — the Appendix in each book is outstanding!
The folklore and myths that are woven into each book in the series!
The fact that these are 'grown up' reads — filled with intrigue, expanded vocabulary and passages in letter format.
The extensive resources online — both for kids at Crameye's World and for educators who want additional access to the Teacher's Lounge where you'll find lesson plans, printables and Common Core standards. Here are some examples of lesson plans for you to see.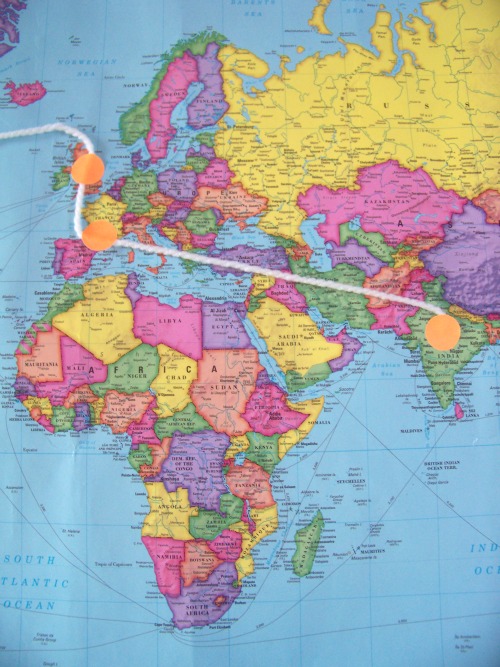 7 Mapping Activities for Kids & Teens
While you're reading these awesome book series, be sure to pull out your map or globe and try a few of these map activities:
Highlight Travel Routes: As the main character travels to various locations, use stickers to highlight each country and then connect them with yarn to see the travel route.
Fun Foods: Try different foods from each of the countries highlighted in the series — check out the Ethnic area of your grocery store or some of your local eateries.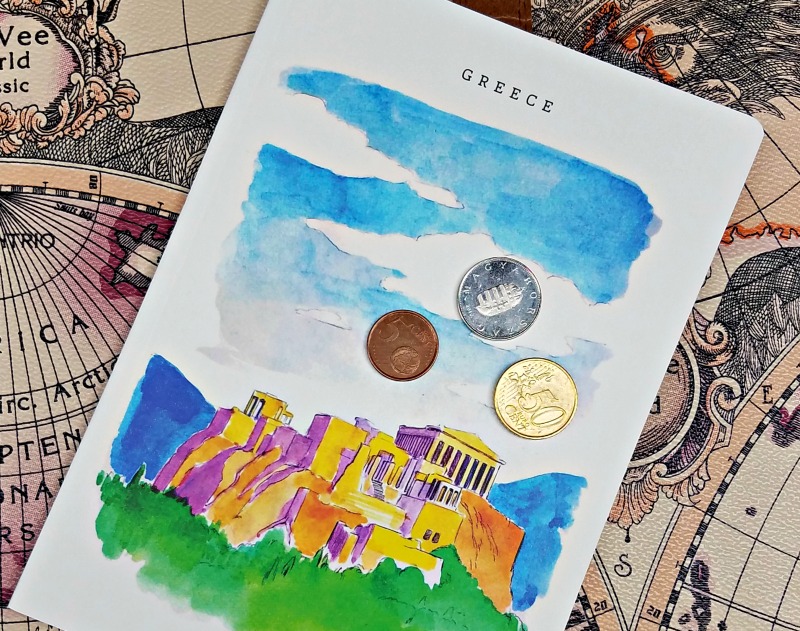 Coins & Stamps: Collectibles such as coins or stamps from around the world can be a wonderful items to use when learning about various cultures & countries.
Play "When I Travel": For each country, decide how you will get to that country (by boat, plane, train or car) and then calculate the distance from your house to the location.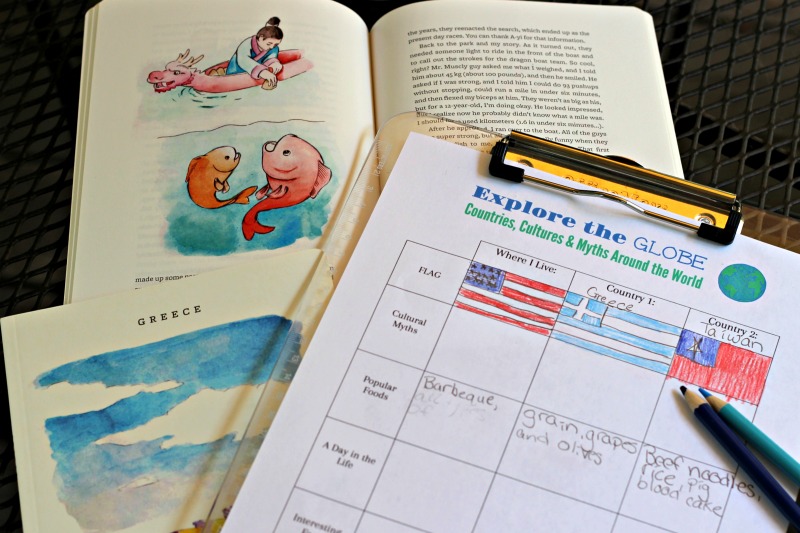 What Time is It? Learn more about the timezones across the world — determine what time it is in each country and how many hours different it is from your home.
More Geography for Kids