Enjoy these favorite children's books about summer that inspire laid-back summer days & favorite summertime activities!
Summer is the time to kick back and enjoy those long, don't-need-a-schedule type of days.
Grab a stack of classic books about summer along with a beach towel and head to the backyard for a relaxing storytime session!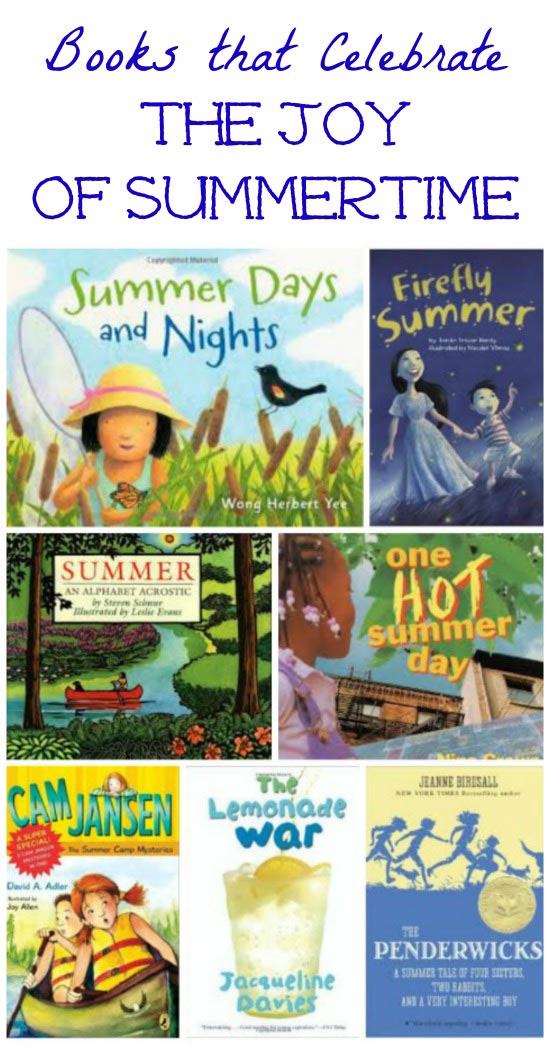 Favorite Children's Books about Summer
I'm just smitten with the books on this list!
They remind me that summer is a time for a more laid-back schedule much like the days that we enjoyed as kids.
Kids relish in having time to explore, create and head out on a few adventures.
Plus fun reading ideas always make it onto our Summer bucket lists!
This week's book list focuses on those popular summer moments & traditions — catching fireflies, visiting the fair, enjoy cold treats on a hot day, spending a day near the water and having a lemonade stand.
It's the perfect opportunity to reconnect with kids — those long summer days allow us more time together to talk and learn about one another.
We've hand-picked picture books, early readers and chapter books that all share the joy of summertime along with some fun reading & writing activities to kick-off a few get-to-know-me discussions!
In addition to a fun activity or question for each story, we've also included affilaite links for each of the books so you can learn more about why we love them!
Pair these books with the Summer Reading Programs & Rewards for Kids & Teens and inspire your kids to read all summer long!
If your kids enjoy audio books, movies or educational apps during the summer months, be sure to sign up for the Amazon FreeTime Unlimited FREE Trial too!!
Picture Books about Summer
Summer: An Alphabet Acrostic by Steven Schnur
A poetic walk through the alphabet while highlighting all the fun of summer. We love the artwork in this book series (you can see all the seasonal Alphabet Acrostic books here!) along with the wonderful words that associate with the season!
Literacy Activity: Ask your child to tell you their favorite summer word and then make an acrostic out of it using other words that remind you of summertime fun!
Acrostic poems are easy & fun to create and most kids will enjoy making their own.
First, write the word you'll use vertically on a piece of paper and then use the first letter in each line to create a poem. Each line should relate back to the word you chose — think of adjectives or descriptors for the word as you write.
The lines do NOT have to rhyme, nor do they need any specific meter or number of syllables.
Here's an example for the word SUN:
Shiny, yellow, hot and bright
Under the tree we hide for cover
Not wanting to melt in the heat!
Summer Days and Nights by Wong Herbert Yee
Follow this lovely little girl as she drinks lemonade, searches for butterflies and toads, goes swimming and listens to an owl. All the perfect activities for those enjoyable summer days and nights.
Discussion Question: Ask your kids to tell you what they would do for their perfect summer day! And then if you're brave enough — do it with them! Related Ideas: 40 Fun Day Trips to take with your Kids
One Hot Summer Day by Nina Crews
If you've ever spent a summer day in the city, you'll understand why the word 'HOT' is used to describe it! This beautifully illustrated story uses photos to share the everyday sights and sounds of summer in the city.
Writing Activity: Make a list of fun things can you do to stay cool in the summer! See who can come up with the best list & then try some out on a hot day.
Summer Themed ER & Early Chapter Books
Firefly Summer by Lorién Trover Hardy
"Can we stay up and catch fireflies tonight?" is a phrase heard by many a parent during summer. Kids love these little lightning bugs!
Enjoy this easy reader as kids explore the wonder of glowing lights at night.
Discussion Question: Have you gone out to see the fireflies this summer? What other bugs and animals have interesting features? Better yet, stay up late one night and try this Summer Science – Hunt for Fireflies activity!
Summer Reading is Killing Me! (Time Warp Trio, No. 7) by Jon Scieszka
If you have a reluctant reader, you may want to introduce them to the Time Warp Trio. These three boys travel through time and get stuck in some of the silliest/craziest adventures.
In this book, our three time travelers end up zipping through time to meet the characters from the books of their summer reading assignments!
Reading Activity: Ask your child what one book they wouldn't mind reading for a summer assignment? Then check it out from the library!
Cam Jansen and the Summer Camp Mysteries by David A. Adler
Head off the summer camp with Cam and her amazing memory. Money goes missing, the camp gets raided — it's a good thing Cam is paying attention.
This is a great series for kids who enjoy mystery books! If your kids enjoy detective or mystery books, check out The BEST Mystery Books for Kids booklist too!
Writing Activity: Have your child make a list of their favorite summer camp activities! If they haven't yet attended a summer camp, use this book as a kick-start for their list.
Summer Chapter Books & Read Alouds for Kids, Tweens & Families
The Penderwicks: A Summer Tale of Four Sisters, Two Rabbits, and a Very Interesting Boy by Jeanne Birdsall
One of our FAVORITE read alouds series!! Exploring new places and making new friends is such a great summer adventures. Tag along with the Penderwicks as they head off to Arundel (a summer cottage) to meet new friends, create a little chaos and learn that one of the best parts of vacation is being there with your family. The third book in the series is also a summertime adventure: The Penderwicks at Pointe Moutte (and one of our favorites!!)
Writing or Drawing Activity: Ask your child to write or draw a response to this question — Where would your kids choose to vacation with the family? If you enjoy books like these, be sure to check out the 50 Memorable Read Aloud Stories for Kids!
Thimble Summer by Elizabeth Enright
When 9-year-old Garnet finds a thimble in a river bank, she believes it's magic — and all kinds of wonderful things happen that summer! The story is set in the 1930's, when summer consisted of helping on the farm, hanging out with your best friend and visiting the county fair. A great read for kids and adults!
Discussion Question: Have your kids ever found an object that they thought was magic? What was the object and what magic did it bring?
The Lemonade War by Jacqueline Davies
For anyone who grew up with siblings (or any parent raising them), you know that they will argue and compete (sometimes with hiliarious consequences). Follow Evan and Jessie as they turn a tradional summer activity into a rivalry – and learn a few things about money, marketing and getting along!
Writing Activity: Ask your kids to list what items they would you choose to sell at a 'lemonade' stand. If your kids have never had one, encourage them to try this fun kid-size business this summer!
And be sure to see our 20 Printable Scavenger Hunts, Car Games & Summer Activities for more summertime fun too!
MORE Great Kids Books for Summer Fun:
10 Books for a Day at the Beach or Lake
15 Classic Summer Books Kids LOVE!
10 Books for Your Next Camping Trip