Kids of all ages will enjoy these forest animal games with FREE printables as an outdoor or indoor activity!
Woodland animals are so intriguing to many kids – in fact, one of our most popular lists is the 10 Children's Books about Life in the Forest. So I thought we'd pull together a group of fun games for kids to play with this FREE printable set of forest animal cards for you & your kids!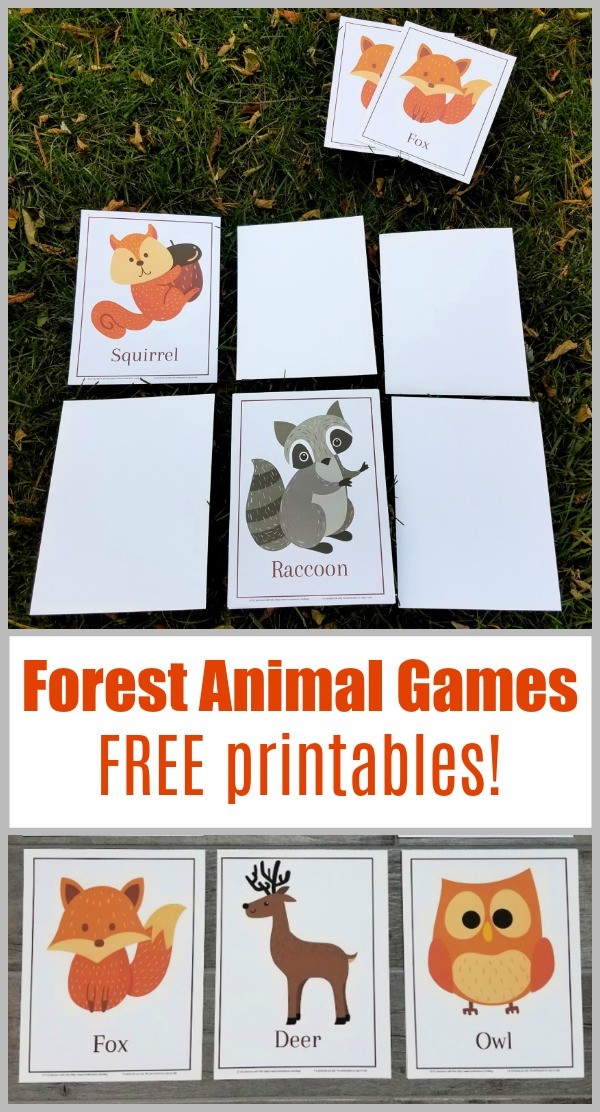 4 Forest Animal Games for Kids
We've always been fans of forest animals — whether we're hiking through a forest, story time with books about forest animals or even keeping an eye out for them in our local park!
When I came across an adorable set of woodland animal graphics — I knew I had to create something fun.
Today's FREE printables can be used for games that are played four different ways — with creative ideas for both indoor and outdoor games kids will really love! Plus, we've also included affiliate links to other favorite forest finds too!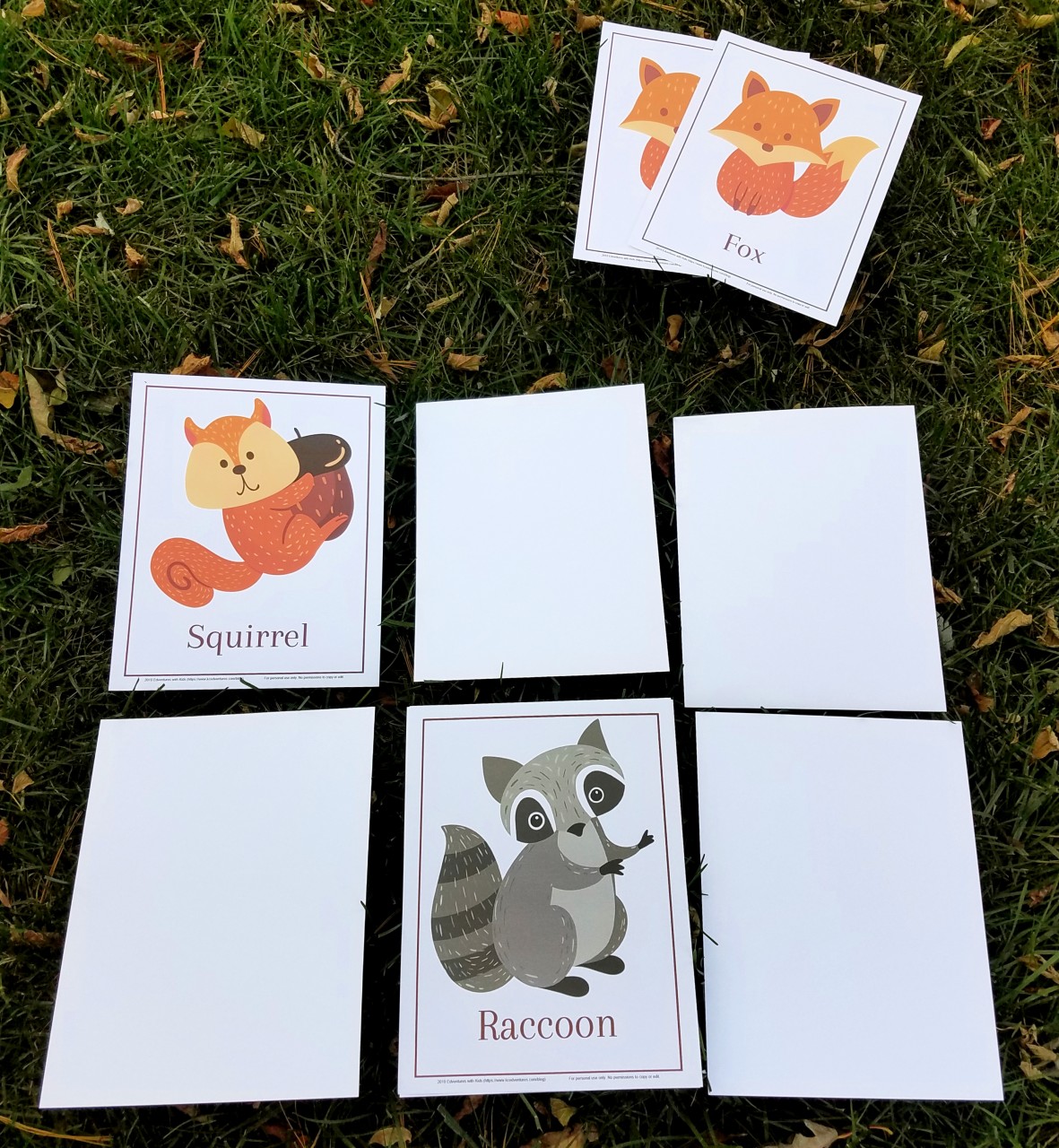 Forest Memory & Matching Game
Not only do memory games encourage strategic thinking but this one is a life-size matching game — so it also invites kids to get up & move!
To play, print off the free set of forest animal cards (get them below!) There will be 2 pictures for each forest animal. Mix the cards up so they are randomly shuffled. Turn all cards face down (so animal pictures are not viewable) on the floor or ground (we prefer to play this outdoors!)
Then have each player take turns choosing two cards and turning them over to see if they match. If it's a match, the player keeps those cards and takes another turn. If it's not a match, the player turns both cards face down (so the animal pictures don't show) and the next player takes their turn.
This is fun to play as a family, with a small group or even on your own. And if you have early readers, use the animal names on the cards for a fun educational experience by having kids spell out or read each animal they choose.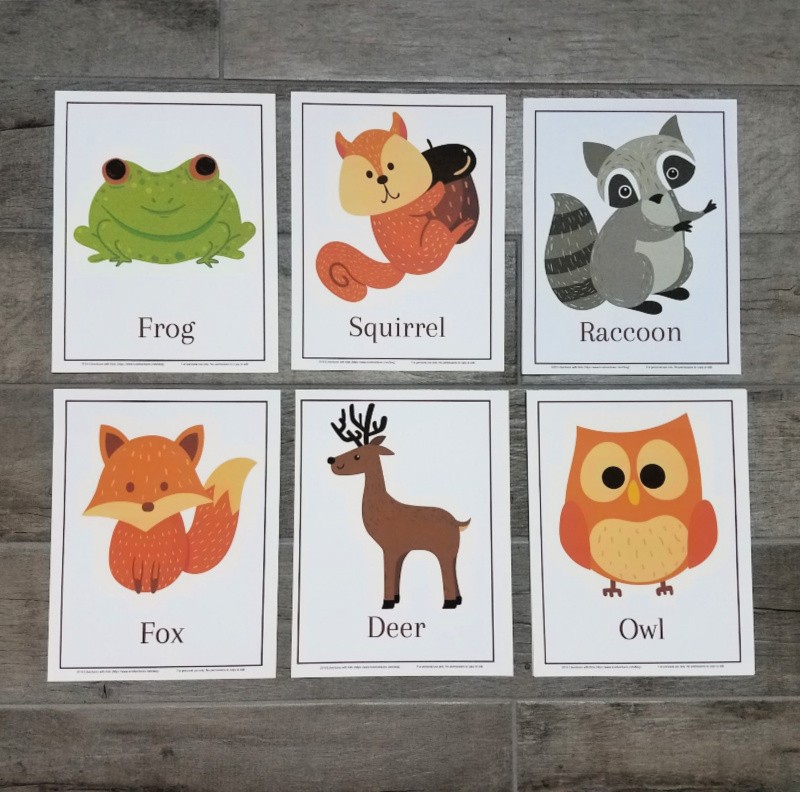 Forest Animal Charades or Drawing Game
Using the free printable cards, choose one page of each animal and place the cards face down after shuffling. Then have each person choose the top card and act our (for charades) or draw (for pictionary-type game) the animal on the card.
There are 10 woodland animals included on the printable cards:
Snail
Fox
Rabbit
Squirrel
Owl
Raccon
Frog
Mouse
Deer
Hedgehog
If you'll be drawing pictures, you can use a large easel with paper & markers — or if you prefer to play outdoors, grab some sidewalk chalk for the game. Again, this game includes some creative thinking along with movement.
This is a great indoor or outdoor game — and fun to do on a camping trip or for a woodland animal-themed birthday party too!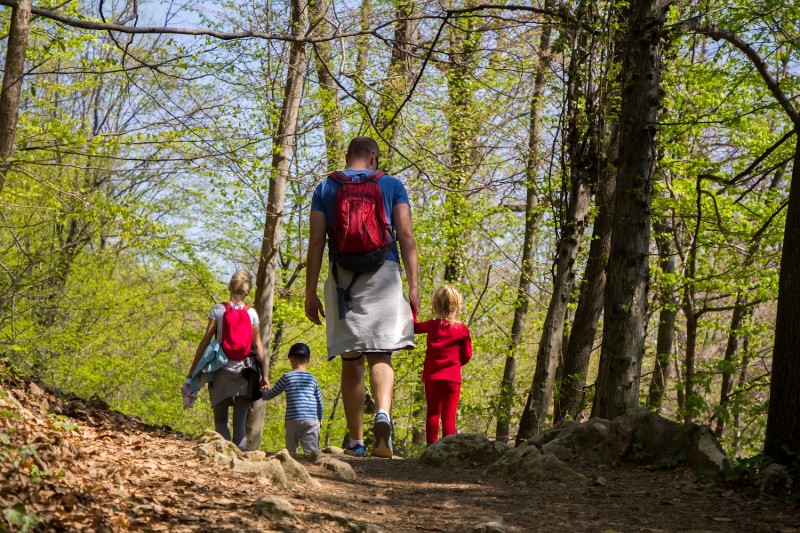 Find the Forest Animal's Habitat Game
One of the most popular questions kids ask when it comes to animals is "where do they live?" Thus, the Find the Animal's Habitat game idea! If your kids aren't familiar with forest animal habitats, try reading a few books first like these 15 Fabulous Books about Forest Animals.
Outdoor version: Take the free printable cards with you to a park or even a hike in the forest and find each animal's home or habitat. For example, the squirrel would live in a tree (maybe you'll be able to locate a squirrel's nest) and the frog would live near a pond, bog or creek (you might hear a frog while walking in the woods). This is really an awesome way to introduce kids to actual habitats!You can also take along this set of Forest Animal Tracks cards to see if you can find track in the mud or dirt.
And if you're heading out on a hike, take along this FREE printable Forest Scavenger Hunt with you!
Indoor version: If you'll be playing inside, you can grab a map or book about the forest and have kids match the animal with where they live. Or have your child draw a picture of a forest first, and then show them each card and point to where the animal would live on their picture.
If your kids are intrigued by animal homes & habitats, see these 40 Animal Habitat Projects for Kids too!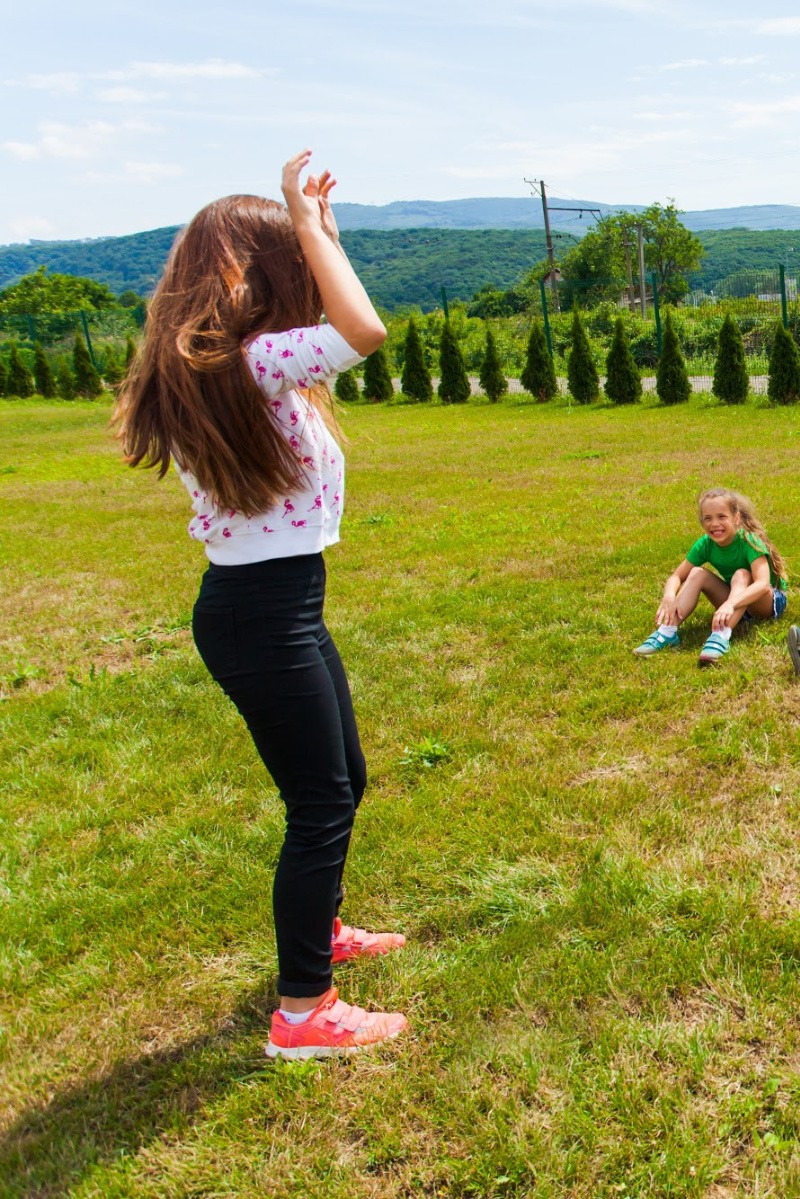 Forest Animal Educational Games
There are actually a number of ways to turn the Forest Animal Cards into an easy learning game:
Have kids put the animals in alphabetical order
Write each animal's name – either on paper or if you're outside, use sidewalk chalk or even a stick in the dirt to write the name
Teach kids how to spell each animal name
For young children, have them identify the first letter of each animal name
For early readers, teach them how to sound out/read the names of the woodland animals.
Grab your FREE set of Forest Animal Cards here!
More Forest Animal Activities for Kids
50 Free Printable Forest Crafts & Activities for Kids
Comparing Habitats: Forest vs. Arctic Animals