Gorgeous children's books about the forest life and woodland animals!
Summer and Fall are the perfect time to read these stories set in the woods & get out to explore!
You don't need a large area at all — even a small wooded area will do — in order to experience a whole new world hidden among the trees. And this FREE printable Forest Scavenger Hunt will add some extra fun!
I especially love to introduce kids to the forest in the Fall because of the changing leaf colors and frequent animal activity as many get ready for hibernation or winter survival. So grab a few of these beautiful books & let's go for a walk in the woods!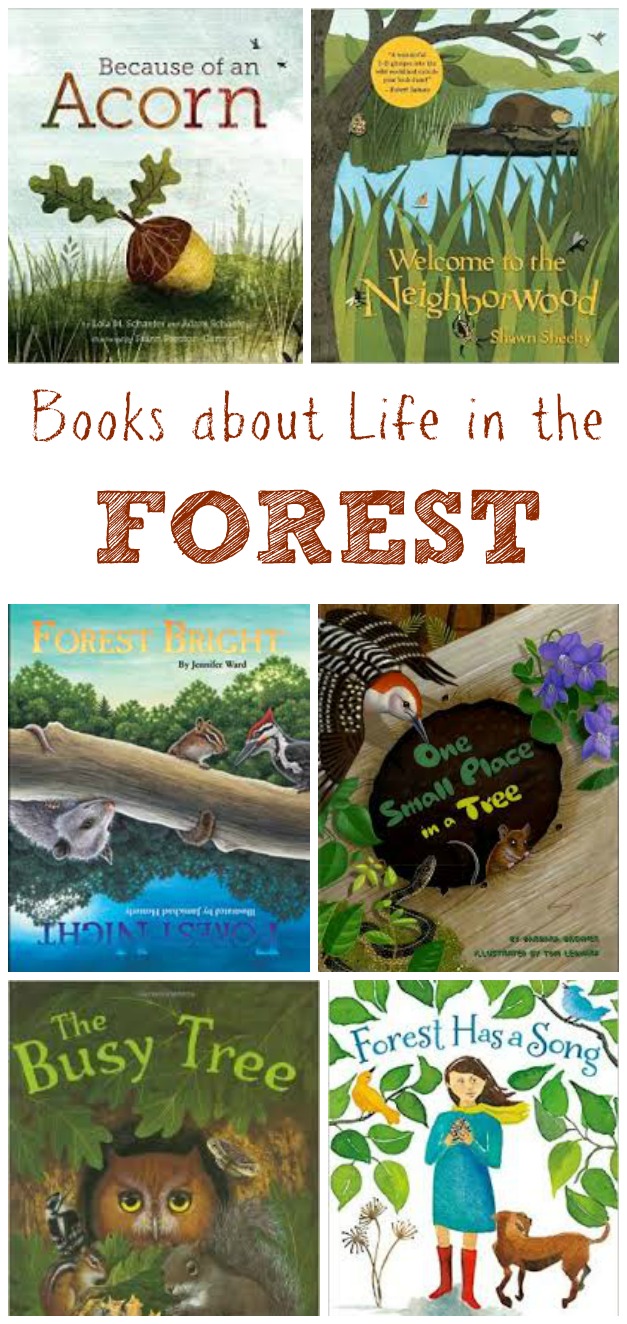 12 Kids Books about Life in the Forest
Our last forest book list focused on stories about forest animals.
Today, we are looking more at the forest habitat and how this one ecosystem is home to such a variety of trees, animals and other living things.
Even though we're including both fiction and non-fiction books, each one of them is beautifully illustrated and the non-fiction books read like a story while the fiction books provide insight and facts into science & nature — a very rare combination in a book list.
As always, we're also including affiliate links to the books and other items we love so you can quickly see if it's a title you'd like to add to your bookshelf!
And I love pairing these stories with this fun & FREE printable Forest Animal Matching & Memory Game!
This is such a simple but elegant story! Because of an Acorn tells the story of how one small tree seed can make such a big impact in the world. With engaging illustrations, the book clearly explains the cycles of life in a forest.
End-notes provide some in-depth details about the trees & ecosystem along with easy ideas on how families can help preserve forested areas. Follow-up the story with a Tree & seed FREE printable scavenger hunt to explore the types of trees that grow in your area!
I really think Welcome to the Neighborwood was one of our favorite new book finds this summer! First, it's a gorgeous pop-up book! Kids just love interactive reads 😉 And it's also a nonfiction book that shows us what life is like on the edge of the forest.
Readers will get an up-close look at the homes of a spider, beaver, bee (wait until you see the pop-up hive!) and more woodland friends. After you've read it, print off the free Who lives in the Forest? activity and see who's setting up home in your woods.
Another outstanding non-fiction read is One Small Place in a Tree!
The book introduces us to the question of "There's a hole in a tree — how did it get there & who lives there?" The story then goes on to explain the how's, why's and who's of life in the tree. With wonderful details about the variety of insects and animals that rely on this one hole in a tree, kids will quickly learn about the diversity of life in the forest!
For our youngest readers, Who's in the Forest? and also the series of mini-puppet books like In My Forest for deer and the story In My Tree for owls, each give toddlers a peek at life in the woods.
With colorful illustrations, these stories are a wonderful way to introduce common woodland animals and details about how they live and survive in the forest. If you're looking to add some interactive elements to your reading time, try this set of Plush Woodland Animals or this set of 12 Woodland Animal Finger Puppets!
The oil paint illustrations bring the woodland animals to life in The Busy Tree! The story shares the details of life in a tree from how the tree lives to all the animals that call it home. It's a wonderful way to talk about how life in a tree exists all day and night and how it changes through the seasons too.
Chances are, if you have a tree if your yard, your child will head outside to see how much of the book they can experience in real life 😉 Use these tree activities for kids as a interactive science experience after you read the book!
Another book that introduces how life in the forest exists 24/7 is Forest Bright, Forest Night — and this is a really unique book in that it's a 'flip book'! You begin reading about life in the woods during the day and then flip the book over to read about noctural forest living — another great interactive book. The text is simple while the illustrations tell much of the story.
Then print off the FREE Nocturnal Scavenger Hunt and experience life at night in your neighborhood! A great way to introduce the idea of nocturnal/diurnal animal life!
I always like to include books of different genres on our list and this one is just perfect! Forest Has a Song: Poems introduces kids to the sights and sounds of life in the woods. Each of the poems is very easy to understand and gives the reader a wonderful mental picture of the woodland experience.
Even if you aren't a fan of reading poetry, this book is sure to please & the illustrations are wonderful too! And this set of Jumbo Forest Animals is a great way to make the book more interactive for kids of all ages!
Are you a book lover? Try Audible and Get Two Free Audiobooks
More Forest Activities for Kids:
50 FREE Forest Crafts & Activities
Name that Tree: Outdoor Activity Bottles
Free printable Names of Woodland Animals game