Enjoy this free printable Forest Scavenger Hunt – a perfect list for your next hiking adventure with kids!
I'm one of those nature nerds who loves the forest — whether it's storytime with fabulous books about forest animals or heading out on a family hike, we seem to spend a lot of time in the woods 😉
Which is where I got the inspiration for this week's scavenger hunt (which includes a free printable for you too!)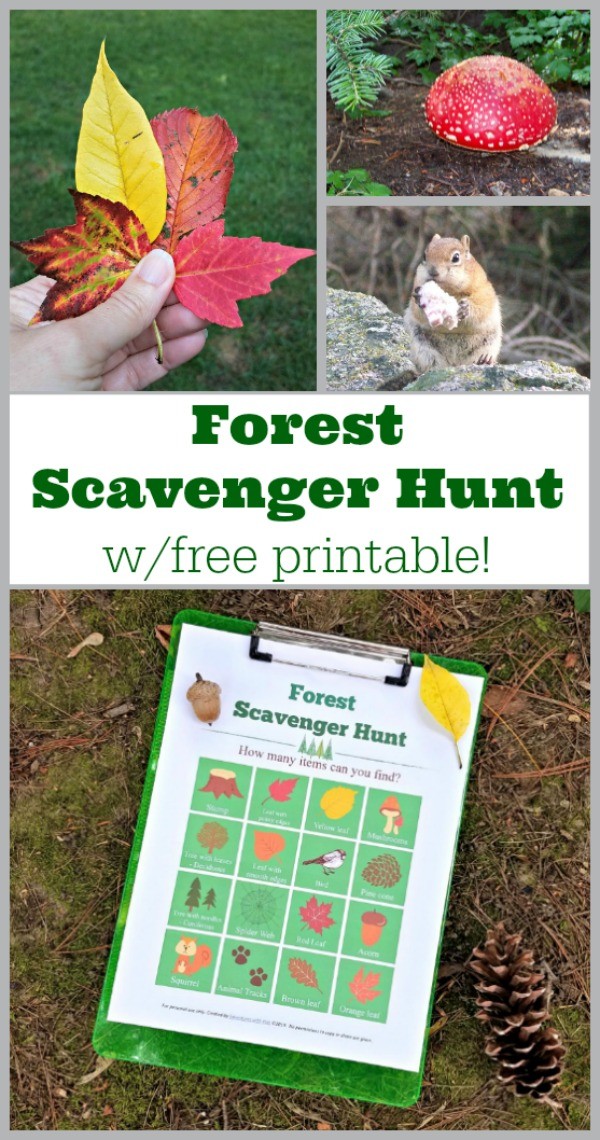 Forest Scavenger Hunt for Kids
We love to explore forested areas both close to home and when we're on vacation! There's so much to find – plant life, amazing trees and so, so many animals scurring about.
Plus there's just that idea of 'getting lost in the woods' — the quiet time away from all the noise of daily life.
We actually took a hike a few years ago and thought we actually might have gotten lost (really, we just took the wrong fork and got turned around) BUT my oh-so-funny husband told our kids that we should start looking for old logs and collect grubs "because we might need to make grub stew and spend the night if it gets too dark to keep hiking".
Have you ever told your kids something that you thought was hilarious but they totally thought you were serious?!
"What are grubs?" —— "Mom! Is he really serious?!" —– "I don't think we should eat bugs Dad!"
They were so happy when we finally found our way back to the car (and the extra snacks we had stashed there 😉 And now it's a big family joke anytime we're out hiking — the kids start to suggest new items we can add to our 'grub stew' if we end up lost in the woods.
If you also enjoy a walk through the woods, this hunt is for you! In addition to the FREE printable scavenger hunt, we're also including some great tips on hiking with kids and affiliate links to books and items we love to have with us when we visit the forest.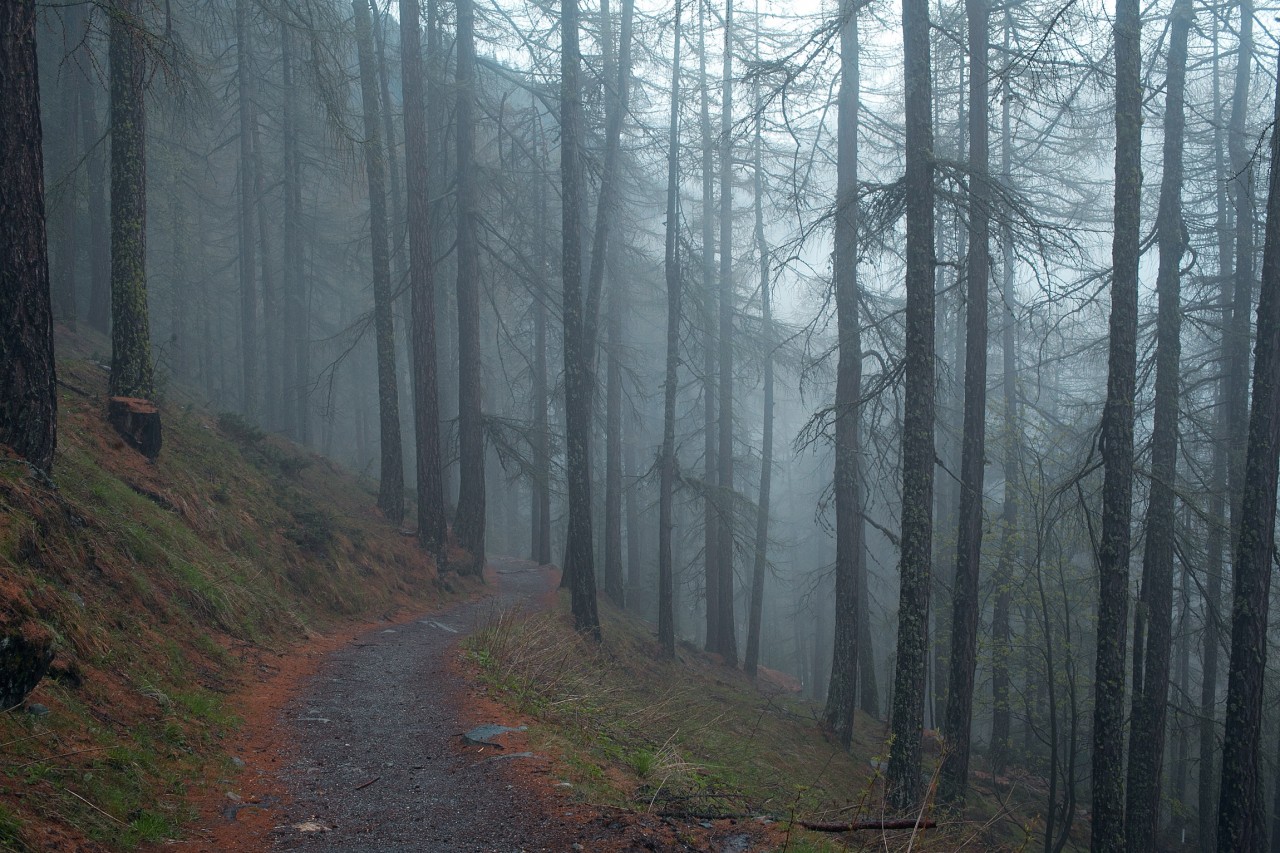 Prep for a Forest Scavenger Hunt
This hunt is a little different than most of our other scavenger hunts — you should probably do a little bit of prep BEFORE heading out into the woods (or you might find yourself eating grub stew 😉
First, read a book or two especially if you have young kids or this is your first time in the woods. It's always good to give kids an idea of what to expect.
A few of our favorite forest books include –
Younger kids will really enjoy the pop-up story Welcome to the Neighborwood! With gorgeous illustrations and interactive, pop-up pages, readers will be introduced to the homes and spaces of various woodland creatures.
One Small Square: Woods is an in-depth look at what you will find on your visit to the forest. This is an amazing series that inspire kids to become nature detectives by looking at one 12 inch by 12 inch space in the forest!
A Walk in the Woods – with engaging outdoor activities, animal track charts, fun projects and details about the trees, plants and animals of the forest! Also be sure to visit our list of 15 Kids Books about the Forest for more great titles!
Younger kids might also enjoy this FREE printable Forest Animal Matching Game before you go — it will help them learn what woodland animals they might spot on your walk/hike.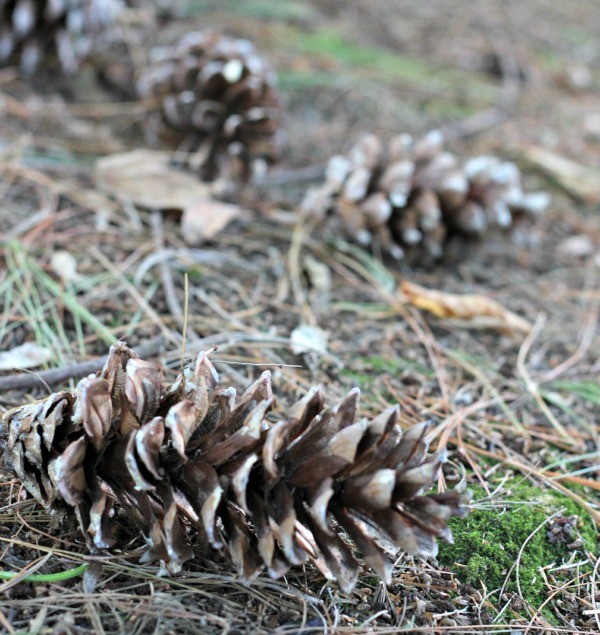 If you're not sure where to find a hiking trail or forest near you, visit Discover the Forest for an interactive map of hiking spots in your area!
And be sure to take along a few must-have items — we always pack a backpack to carry:
Water bottles for each person
Snacks!
Good, closed-toe walking shoes (plus extra socks in case the ones we wear get wet)
Jackets or sweatshirts in case it gets cool
bug repellant
any other safety items you may need depending on your area (for example, if you have bears near you, be prepared!)
the FREE scavenger hunt & a pencil to keep track of what you find
a colorful clipboard (if your kids like to carry the hunt with them + it keeps the pencil from getting lost 😉
If you're planning a day hike, check out these Tips for Hiking with Kids to see more details of how to keep everyone happy on the trail.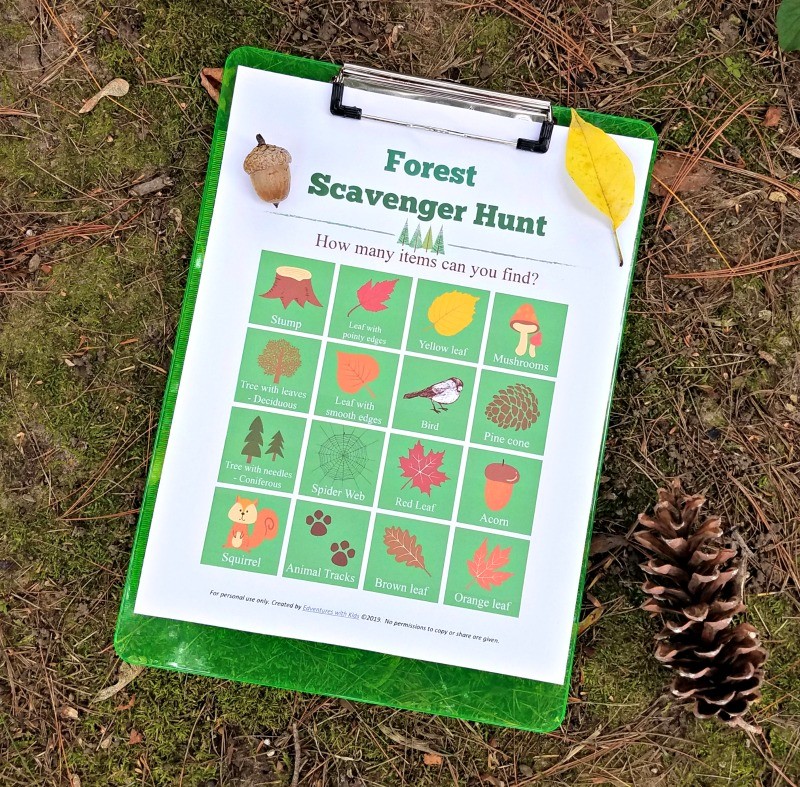 A List of Things to Find in the Woods
There are so many cool things to look for on this scavenger hunt! I included both easy items and a few challenging ones too. For example, a variety of leaves of different colors and shapes — which aren't only found in Autumn either!
When leaves fall in the woods, they stick around for quite a while (since there's no on there to rake them up 😉 so we've discovered colored leaves during the Spring and Summer in addition to our Fall hikes.
I also included a few 'advanced' forest terms — deciduous and coniferous — when referring to trees. Deciduous trees are ones that lose their leaves; coniferous trees have needles (and usually cones as seeds) so in addition to a scavenger hunt, this is also a great vocabulary-building activity too.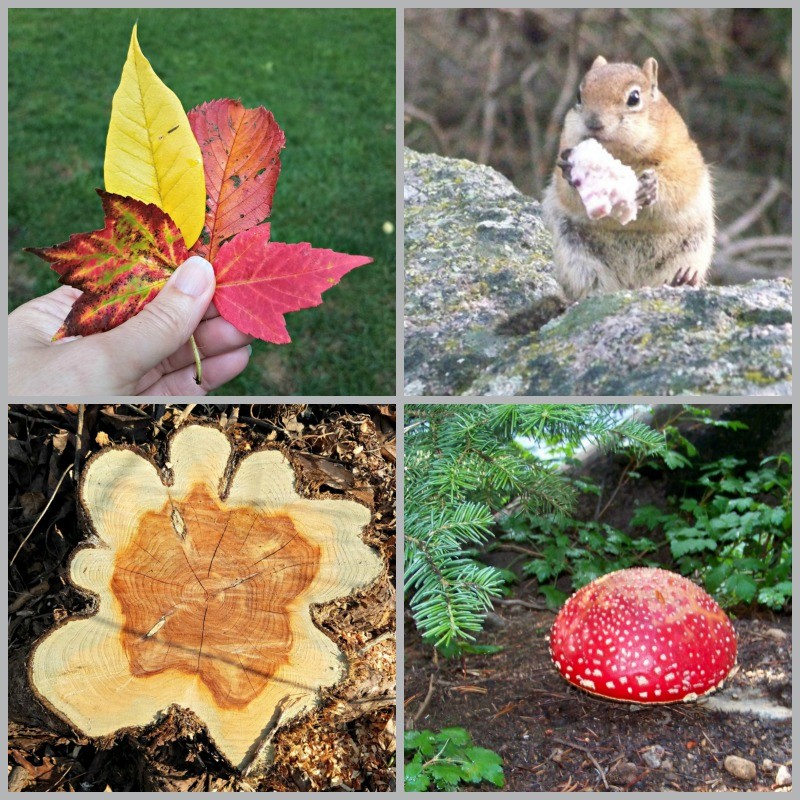 Here are the items we included on the scavenger hunt list:
a tree stump (if you find one, spend some time learning about tree rings!)
leaf with pointy edges
mushrooms
yellow leaf
red leaf
orange leaf
brown leaf
squirrel (ours was eating some weird item!)
a tree with leaves
a tree with needles
animal tracks (look in the mud for these)
a bird
pinecone
acorn
spider web (bonus if there's a spider BUILDING a web — always cool to watch!)
You can easily turn this into a photo scavenger hunt too — just snap a picture of each item on the list! Or split off into teams for a friendly family challenge and share your photos after your hike.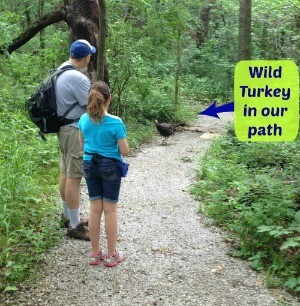 And then there are those the unexpected things you might find on your hike that won't be on the list — like those wild animals that block your path! Sometimes, you've just gotta wait it out like we did this time we can across a wild turkey — there was NO way we were going to try and walk past this guy!
We are always finding new and cool things in the forest.
Grab your FREE printable Forest Scavenger Hunt and go explore the woods this week!
More Forest Activities for Kids:
50 FREE Forest Animal Crafts & Activities
FREE printable Nature Scavenger Hunt (a great hunt for older kids & adults!)