Enjoy these gorgeous children's books about forest animals before heading out to explore the woods!
Our kids and I have always loved forest animals — probably because we live in the middle of the grassy plains 😉 which is why we love reading books about life in the forest!
So seeing a moose doesn't happen so often in our area 🙂
But when we head out on vacation — trips to the Rocky Mountains or hikes through the Black Hills of South Dakota — we spend time seeking out and observing the amazing wildlife in the forest!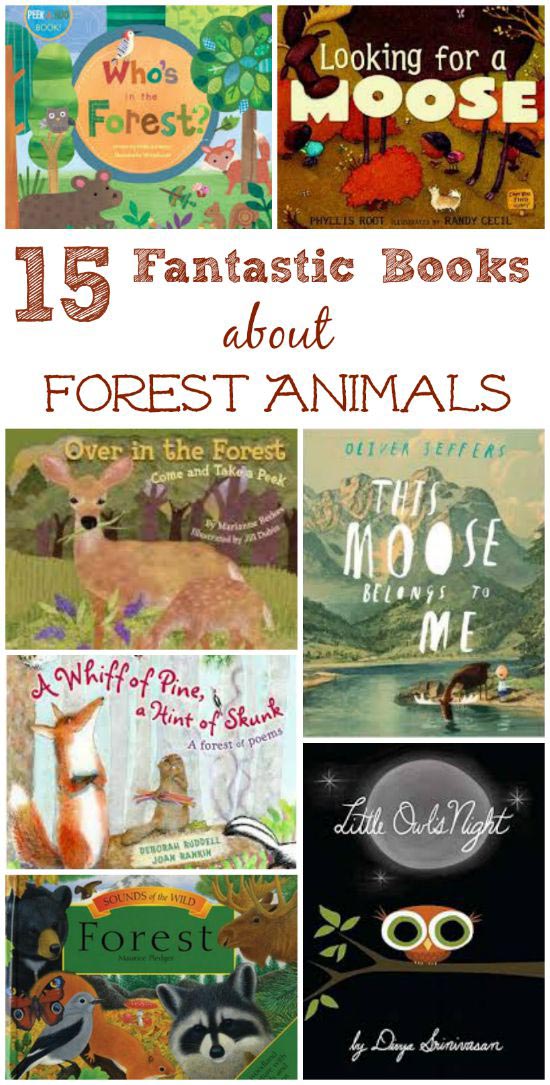 15 Books about Forest Animals
We've been so lucky in our sightings — moose, owls, bison, elk, even bighorn sheep!
One thing we always do is read a few books about the wildlife we may encounter before we set off on a forest expedition — because how would you know how to spot a moose unless you've seen one in a book, right?
We also have a super fun FREE printable Forest Animals Matching Game for kids too!
I wanted to share our favorite forest stories! So many of these books will transport you to the woods as you read and learn about woodland animals and wildlife with your kids. These picture and non-fiction books have beautiful pictures and will introduce kids to animals they may not have seen in real life. I'm also including affiliate links for each of our selections so you can learn more about each book too.
Picture Books about Forest Animals
Babies and toddlers will enjoy peeking through the holes to see who they spy in the forest. Birds, squirrels, fox, an owl — this colorful read is a fun introduction to forest animals.
Over in the Forest: Come and Take a Peek
I love the paper cut illustrations in this story! Kids will enjoy learning what forest animals do, counting animal babies and searching for hidden animal friends.
Five kids really want to see a moose — "a long leggy moose" — but no matter how hard they look, they can't seem to find one. Although if the reader looks closely, they will be able to find quite a few. This is a fun and funny book and kids will enjoy looking for one of the most elusive forest animals as they read.
As little Owl wakes, he sees his friends enjoying the night. The story goes on to describe what animals do in the dark. Little Owl wants to see what it's like during the daylight but it's so hard for him to stay awake. Children will love the simple but gorgeous illustrations in this book.
This fun book not only introduces kids to what forest animals look like but also what they SOUND like! Hear the bellow of a moose and the call of a cukoo. Plus, the book also does a wonderful job of introducing the various types of forest environments across the world. And a bonus — there are many pop-up pages with gorgeous illustrations that bring this book to life!
I just adore this story! One day, Wilfred finds a Moose and declares that it's his. So he creates a big set of rules for the moose to follow so he can be a good pet. Needless to say, since the Moose is a wild animal, he's not so great at following all the rules. Not only does the story remind me of kids who have that 'take charge' personality, it's also a great discussion about the difference between animals that should remain wild and those that can become pets.
This book is not exactly about forest ANIMALS but I really wanted to include it since I feel that introducing kids to people that have an influence in the lives of animals is important. Learn how Jane Goodall began as a naturalist and how her interests as a child shaped who she became as an adult. This is an amazing book that's won many awards!
A Whiff of Pine, a Hint of Skunk: A Forest of Poems
A wonderful way to introduce some poetry to the kids! This book of forest poems highlights some great forest facts as various stanzas explore the lives of animals in the woods along with playful verse that will definately entertain and bring a few laughs. Some of the poems are so descriptive you might not even need to look at the illustrations (but they're so darn cute that you'll want to!).
I had to include this story because the who premise is just so darn funny! A park ranger who is tired of stinky animal poop decides to install an outhouse so the animals can stop smelling up the forest. Older kids will laugh out loud at this 'potty' humor (and parents will chuckle too). There's also a fun map of the forest with the animals located in their own habitats which can lead to some intelligent conversation too.
Jan Brett is one of my favorite illustrators — her pictures are always so warm and lively. When Annie's cat Taffy disappears, Annie goes looking for a new animal friend. She attracks many different forest animals but none stay for very long. Will Annie ever have another pet? Be sure to follow the side illustrations too for a surprise at the end of the story (Jan Brett is famous for the 'side stories' in her books!).
Forest Animals in Non-fiction Books
Photographs of a doe — priceless! The pictures share the story of a young doe who seems to be lost in the forest. Many of the other animals keep an eye out for the doe as he wanders through the trees. But the reader learns something very interesting too – the doe is not really lost! So why is he alone? A unique way to introduce the customs of deer.
Forest Explorer: A Life-sized Field Guide
With full-color photos of life-sized forest friends, this book is sure to be a hit! The book shares tons of details about the animals and insects you'll meet during various seasons and then shares seek-and-find photos where kids can search for each one.
Whose Tracks Are These? A Clue Book of Familiar Forest Animals
There's nothing like being an animal detective during a walk through the woods. Readers are able to learn how to identify the tracks of common animals that can be found in small, wooded areas or even in your own backyard. Follow-up with a walk through a local park to see if the kids can find any tracks!
I've said it before — we adore the DK books! Bright and gorgeous photos, tons of great details and all in an easy-to-read format. Kids can learn about trees, animals, the various levels of life in the forest and even a few things that will surprise them. And there's a great glossary in the back of the book too.
A Walk in the Deciduous Forest (Biomes of North America)
Older kids will enjoy learning how the animals and plants in the forest depend on each other to survive. Kids will learn a lot of new vocabulary (biomes, deciduous) as they explore changes in the forest.
More Forest Activities
Comparing Animal Habitats: Forest and Arctic
Nature Scavenger Hunt (with FREE printable)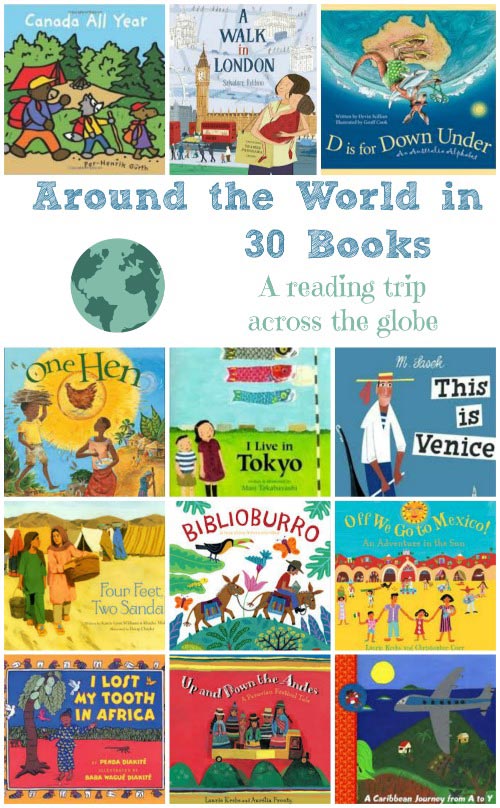 More Book Lists for Kids