Awesome road trip movies for kids & families to watch on car rides or family movie night!
We're continuing on with one of our "Best Movies for Kids & Families" lists today.
Just in case you missed the previous posts, here are the other movie lists in the series:
The 25 Best Kids Books Made into Movies
9 Totally NOT Boring History Movies
12 Movies that Inspire Kids to Tinker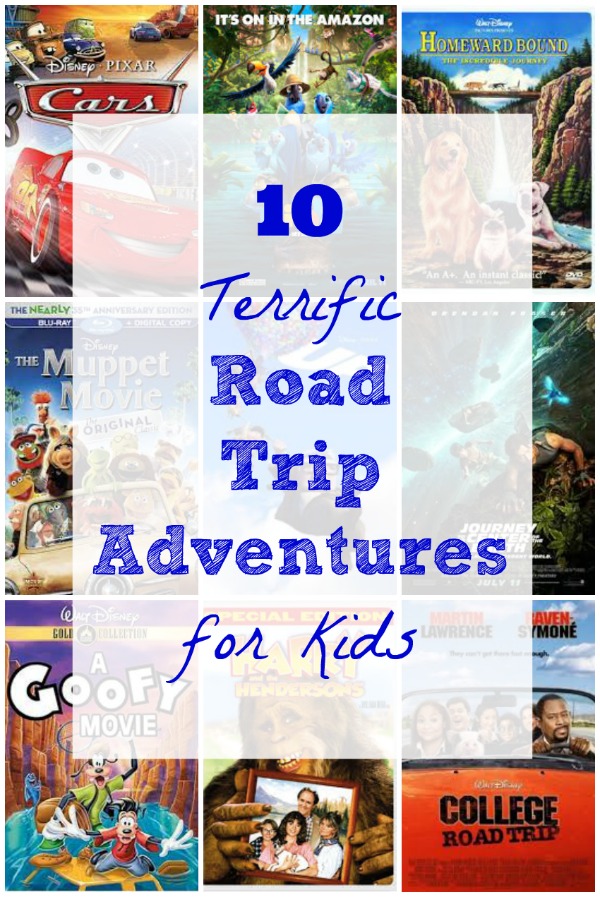 10 Best Family Road Trip Movies
Family car trips are always a great way to head out on an adventure and explore the unknown!
Even if the unknown is only 30 minutes away and the adventure only lasts for a few hours, kids really benefit from visiting new places & having new experiences.
Since most families will venture out on a road trip at least once in their lives, I thought it would be fun to feature some of the more famous kid-friendly road trip movies. Whether you watch these films before you set off on vacation or pop them in during your trip, I'm sure you'll identify with more than a few of the antics and escapades that accompany a memorable family road trip 🙂
I'm betting that you'll recognize a few of these titles from your childhood in addition to some newer movies that kids will really enjoy! For each of the films on our list, we've included affiliate links and a brief summary so you can determine if it's a good fit for your family.
Nothing says 'road trip' like the original The Muppet Movie which was released 35 years ago! I know — can you believe it's been that long?! Kermit and his friends (most who are new and many they meet along the way) travel across the country to Hollywood so see if they can make it in show biz.
Tons of laughs (of course!) in this film which is great for kids & parents alike.
WATCH NOW: The Muppet Movie
I love the Disney movie Cars as a road trip film for two reasons: first, it's all about cars 🙂 and second, it features one of the most famous roads in America, Route 66. Kids will enjoy all the personalities of the various cars, along with the colorful sites!
Parents (and grandparents) will like the vintage feel of the small towns and wide open road. And everyone will enjoy the soundtrack — which in itself is great for a road trip!
WATCH NOW: Disney's Cars
Ok, I give you that the award-winning movie Disney's Up isn't really a road trip in the traditional sense, but since it's an awesome travel adventure, it made our list. Carl is an elderly gentleman who decides he is going to live out his deceased wife's travel dreams — and Russell is the young scout who becomes his unexpected travel companion.
My kids will be the first to tell you that I cry any time we see this movie (they'll get it once they grow up and fall in love 😉 but they LOVE the humor and gorgeous color in the film. I also love the messages the film offers us — 'you're never too old to live a dream' and 'you will find friends in the most unexpected places'.
WATCH NOW: Disney's Up
And if your road trip is taking you to Walt Disney World, be sure you see the list of 23 Movies to See Before Your Trip to Disney World!
Blu & Jewel (blue macaw parents) take a flying 'road' trip in Rio 2 to the Amazon jungle with hopes of introducing their three children to other blue macaws. Amazingly, they end up finding family they never knew existed!
We chose this film for our list because of all the quirky family moments — many of which can be common when you travel with loved ones — along with the idea that travel can bring a family closer together.
WATCH NOW: Rio 2
Older kids and Disney fans will really get a kick out of this father/son road trip adventure, A Goofy Movie. Dad (Goofy) decides he and his tween son (Max) need to bond by taking a cross-country road trip like he took with his father. As any of us who have raised tweens know — anything we do is bound to embarass them 😉
Needless to say, this is a trip of awkward, embarassing and downright funny moments that allow father and son to understand and appreciate each other a little more by the time they head home.
WATCH NOW: A Goofy Movie
It really doesn't matter which of the Madagascar films you choose, the animals are always trying to get somewhere! In Madagascar: Escape 2 Africa, the animals board a plane to try and return to their zoo home in New York City, only to crash land in Africa. Once there, they each meet other animals like themselves (along with a few family members — which is why we chose this version for our family road trip list). These films are always a big hit with kids!
WATCH NOW: Madagascar: Escape 2 Africa
Based on a book by the same name, Journey to the Center of the Earth (2008) is the story of a young boy who's father dissappears when he's 3 years old. Ten years later, the boy & his uncle find secret papers that take them on an amazing trip to locate their lost father/brother. Unfortunately, the around-the-globe trip turns into one that takes them into places they could never imagine.
TONS of adventure, some great one-liners and a fast-paced film that the whole family will enjoy!
WATCH NOW: Journey to the Center of the Earth
If your kids enjoy action & adventure, browse this list of 12 Adventure Books & Read Alouds!
Another movie based on a book (and soooo much better than the original version they made us watch in school), Homeward Bound: The Incredible Journey is a road trip from a pet's point of view. When their family goes on vacation and leaves their pets with a friend, the 2 dogs and cat think they've been left for good — so they set out on a journey back to their home in order to find their family.
We really enjoyed this movie along with the sequel, Homeward Bound: Lost In San Francisco, and the places they visit are just so beautiful!
WATCH NOW: Homeward Bound: The Incredible Journey
You never know what could happen on a road trip — you could run out of gas, get a flat tire, or (in the case of Harry And The Hendersons, hit a Sasquatch on the way home!) No knowing what to do, the Hendersons loaded 'Harry' on the top of their car and took him home — with some very outlandish results!
This fun (and throw-back) look at a family camping trip is probably one that many parents saw back in the 1980's when it was first released.
WATCH NOW: Harry And The Hendersons
If you have a camping family, see our 10 Camping Books & FREE Places to Camp post too!
If you have a teen who will be heading to college soon, you should really put College Road Trip on your must-see list — if for no other reason than the fact that Martin Lawrence plays an overbearing dad who really wants the best for his daughter and will make anything you do as a parent seem so much less embarassing 😉 Plus, it's a fun look into how the parent/child relationship changes with this big milestone.
WATCH NOW: College Road Trip
And if you do have kids heading to college soon, check out these posts on getting them ready:
9 College Prep Tips for Teens & Parents
48 Things Kids Need to Know before College
For more Movie fun, be sure to see these recommendations for themed lists too! 10 Movies for Kids about Real Scientists
More Road Trip Activities for Kids:
The Ultimate Road Trip Guide for Families
10 Things to do Before Your Next Road Trip {with free printable list!}