Grab a copy of this FREE printable Beach Scavenger Hunt – one of our newest summer scavenger hunt ideas for kids & families!
Summer means beach time – sand, sun and water fun!
While you're cooling off under the shade or your umbrella, keep kids occupied with this fun *NEW* scavenger hunt.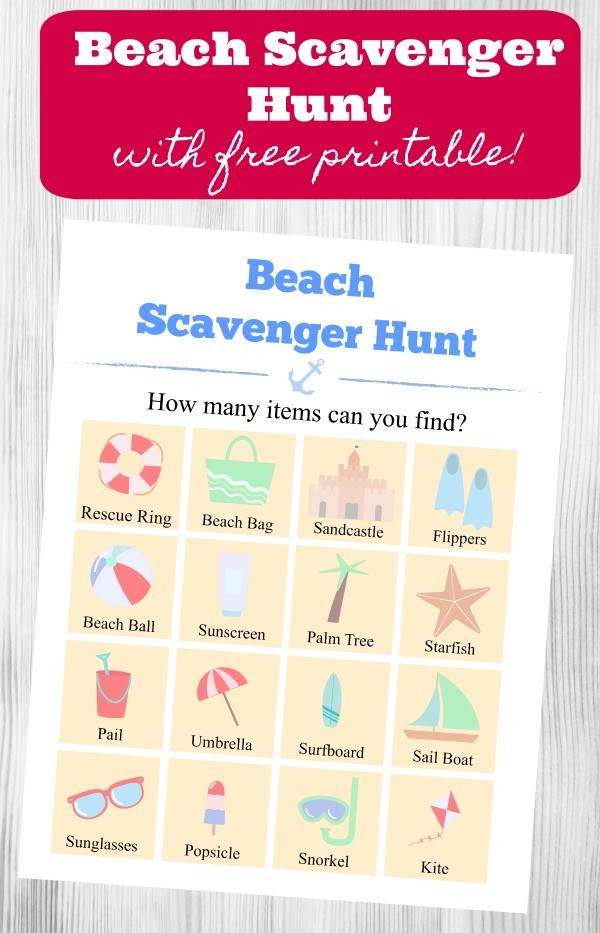 Beach Scavenger Hunt with FREE printable
We love beach days!
Building sandcastles, swimming in the cool water and searching for seashells – it's one of those activities that's always on our summer fun lists.
Now, trying to get the kids to sit down under the umbrella so I can apply more sunscreen or getting them to stay out of the water for just a bit can be a little challenging …
… BUT they can't resist a scavenger hunt while they cool off for a bit!
Like many of our scavenger hunts for kids, we allow for a lot of flexibility – this one can be used at almost any sandy location. And we've included a FREE printable copy for you below along with affiliate links to a few must-have items we take on our beach hunts too.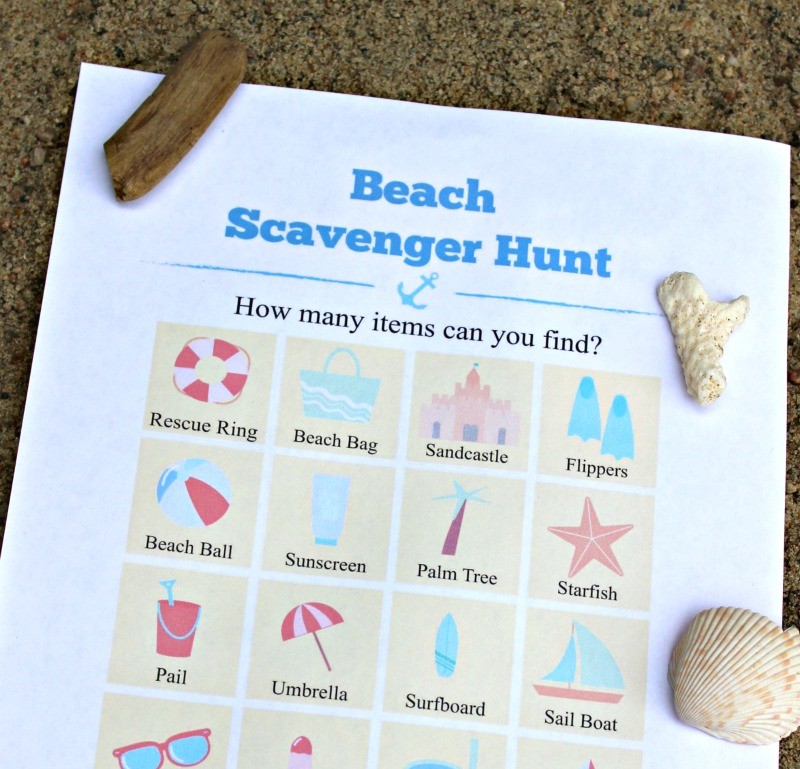 Awesome Tips for a Beach Scavenger Hunt
I know what you're thinking — "A piece of paper??! At the Beach?!!"
Don't worry, I have the COOLEST idea & set-up for this scavenger hunt!
Are you ready??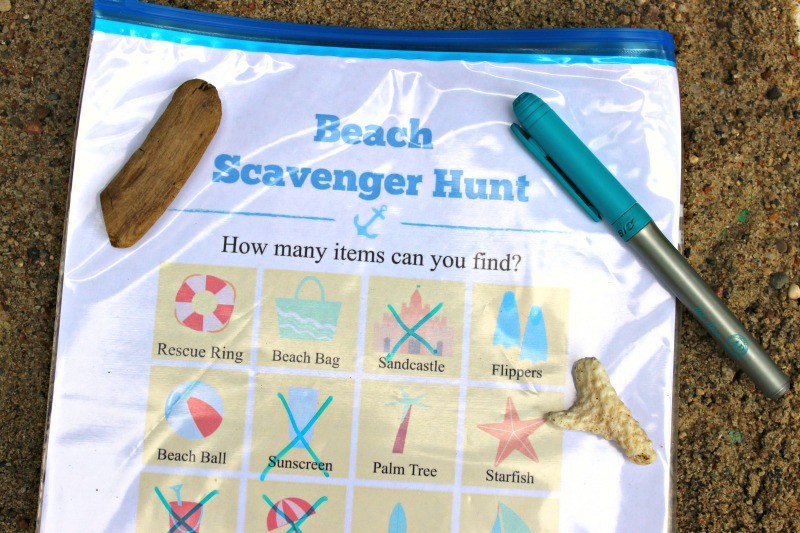 Slide the Beach Scavenger Hunt is a gallon size storage bag and take along a washable marker with you (or even different color markers if you want to assign one color to each person).
As kids find the items, have them cross of each one on the outside of the plastic bag!
The perfect solution to keeping the scavenger hunt dry and being able to track what you find — in fact, it makes it easy to use over and over.
And the plastic bag can double as a place to put any fun beach items you may want to bring home for you collection too — seashells, beach glass, drift wood, etc.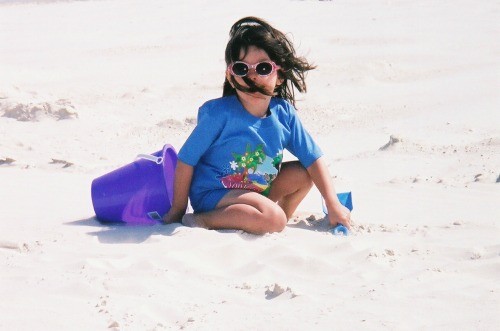 A few more suggestions for a successful hunt:
Turn the hunt into a Photo Scavenger Hunt by snapping pics of each item with your smartphone! Keep your phone safe & dry with one of these waterproof phone pouches!
And if your kids always have LOTS of questions (like mine ;), read one of these books before or after your beach visit:
We LOVE the Cat in the Hat non-fiction books! Clam-I-Am: All About the Beach is a great introduction to all the animals and items you might find at the beach! Great for ages 4 – 9 years old
National Geographic Readers: At the Beach – includes gorgeous photos and great beach-themed vocabulary for kids learning to read! Also a wonderful book for a first beach visit too. Perfect for kids ages 3 – 6 or those learning to read
And if you have a kid who loves to collect beach items, try the Seashells, Crabs & Seastars: Take Along Guide! It's a great identification resource and also inspiration to start a collection too. For kids ages 7 – 12 years and advanced readers
Or if you're looking for picture books and chapter books for reading time in the sun, try these 10 Books for a Day at the Beach or Lake!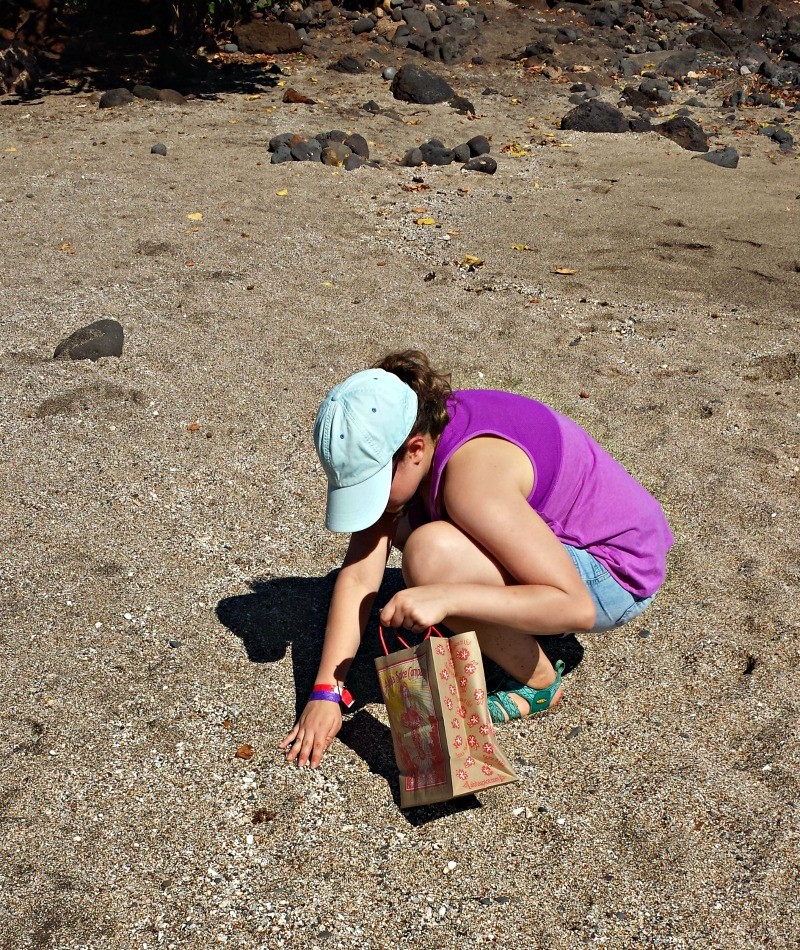 More Beach Activities for Kids & Tweens
While you're at the beach, try a few of these Beach Science Activities too — kids of all ages can learn about ocean tides, animal habitats and more!
And these 8 Fun Beach Crafts & Activities are fun to do at the beach or at home after a visit.
If you have kids who LOVE ocean animals, take a peek at these 18 Ocean Activities or grab a copy of the Under the Sea Scavenger Hunt that kids can do online using live webcams in the ocean!
Grab your FREE copy of the printable Beach Scavenger Hunt and enjoy a sandy treasure hunt this summer!
More Scavenger Hunt Ideas:
FREE printable Nature Scavenger Hunt
40 Outdoor Scavenger Hunts for Kids, Tweens & Teens