These 10 animated, feature film & documentary environmental movies for Earth Day teaching kids, tweens and teenagers about environmental themes and issues!
Our kids were born into a world of endangered animals and environmental issues. They will grow up recycling, reducing their carbon footprint and learning how to preserve natural lands and protect animal species (see our FREE printable Earth Day Scavenger Hunt for a great activity to do with kids!)
But some of the environmental issues we face — climate change, biodiversity and conservation — can be difficult to explain to children.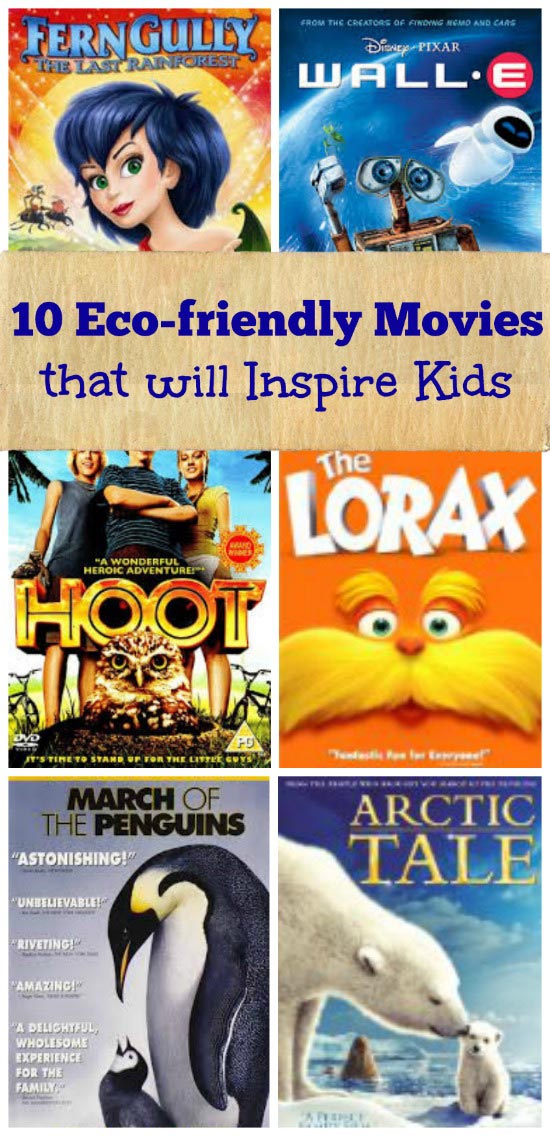 10 Best Earth Day Movies with Environmental Themes
While we can teach our children to recycle, conserve natural resources and tread lightly on the land, many of these global issues will be better understood as they get older.
However, it's important to introduce how kids can make a difference in the world at a young age. One easy way to begin the conversation is to use great kids movies – animated, feature films & documentaries – to help them learn about a variety of environmental issues.
Kids will be entertained by many of the storylines and special features in these movies. Be sure to introduce them to the underlying environmental themes and eco-friendly behaviors that are also shared in the films. We're including affiliate links for each of the titles on our list so you are able to learn more about each one.
If you're looking for activities to pair with a movie, try one of these!
Earth Day Scavenger Hunt (FREE printable activity!)
The Lorax & Ecology: 12 Outdoor Activities for Kids – includes FREE "Be Nice to Nature" printable!
Biodiversity in Your Backyard (FREE printable science activity!)
Animated Movies about Environmental Issues
In Ferngully – The Last Rainforest , join Crystal, a tree fairy, and Zac, a human, as they work together to fight the destruction of the rainforest. Kids will enjoy the excitement and get a better understading of why it's important to preserve our forests. Recommended for ages 3 – 10.
Watch NOW: Ferngully – The Last Rainforest
Although not nearly as good as the book, Dr. Seuss' The Lorax is a very colorful and humorous way to introduce kids to the idea of what could happen if we don't protect our natural resources. With lots of humor and a great message, it's definately worth a look! Recommended for all ages.
Watch NOW: Dr. Seuss' The Lorax
Spirit: Stallion of the Cimarron is the story of a wild horse who is caught by people that try to tame him. Since many kids are not aware that we still have herds of wild ponies that exist in the United States, this film introduces a new concept to many and increases their awareness that wild animals should remain wild. Recommended for ages 5 – 12.
Watch NOW: Spirit: Stallion of the Cimarron
Although kids will adore this amazingly personable robot, Wall-E also has a strong environmental message. The film portrays what could happen if all the natural resources in the world are used. It's really a unique movie — there is almost no talking during the whole first half of the movie — and one of my favorite animated Disney movies for tweens and teens!
Viewers will really get some insight into how human behavior can have a negative impact on our environment. Recommended for all ages.
Watch NOW: Disney's Wall-E
Feature Films with Environmental Messages
Based on a fictional book by Carl Hiaason, Hoot follows the escapades of three teenagers who work to save the burrowing owls whose homes are threatened by a construction project. We really enjoyed this film (and the book!) as it shows how kids can make a BIG impact in how others treat animals.
Kids will learn about animal conservation issues and some interesting facts about the species of owls featured in the movie. Recommended for ages 8 – 14. This movie also made our Top 25 Movies based on Children's Books list too!
Watch NOW: Hoot
Free Willy is the story of a whale that is captured and put in a marine park for the entertainment of humans. The story shows how wild animals suffer in a captured environment and why we should allow them to stay wild & free. It's another great film that highlights how a child can make a difference in the life of an animal.
There is quite a bit of controversy surrounding this movie and the topic is a great discussion opportunity for tweens & teens. Recommended for ages 7 – 14.
Watch NOW: Free Willy
Extremely silly but offering a great message, Furry Vengeance communicates that preserving an animal's home is important. In the film, a land developer threatens to destroy a forest and the animals decide to fight back.
The animals will make the kids laugh out loud but the real heart of the movie is in the discussion of humans and wildlife sharing resources. Recommended for ages 5 – 13.
Watch NOW: Furry Vengeance
Nature Documentaries for Kids & Families
One of the best documentaries made for kids and families, March of the Penguins follows a year in the life of the emperor penguin. Kids will learn about the hardships penguins face.
I will caution that some of the scenes (seal attacks, chicks getting lost) might be heart-breaking for younger children. Recommended for ages 6 – Adult.
Watch NOW: March of the Penguins
Another well done documentary for families, Arctic Tale follows a polar bear and a walrus as they try to survive in the arctic. Kids will enjoy the movie as it focuses on two young animals. During the film, children will learn about some of the environmental issues that impact the lives of these two animals.
I feel that the film is more targeted for kids, but adults will enjoy the amazing photography, and might even learn a few things too. Recommended for ages 6 – 12, but can be enjoyed by all ages.
Watch NOW: Arctic Tale
Planet Earth is actually 11 different episodes that focus on various places found on earth (such as mountains, water, deserts, etc.). It showcases environmental issues, including the plight of endangered animals, and poses questions about how life on earth will change in the future.
The filming is absolutely beautiful!! There are some of those life and death nature issues that may bother younger children so watch with them. Recommended for all ages.
Watch NOW: Planet Earth (choose the episodes you like best!)
More Earth Day Ideas for Kids:
Exploring Habitats: 40 Science Projects & Activities
Teaching Kids to Conserve Water
Earth Day Scavenger Hunt (free printable!)