Check out the FREE 2022 Summer Reading Programs for kids!
It's that time of year again when we break out the list of free summer reading programs. Since research shows that kids who don't read over their summer break actually lose some of the skills they've learned, it's important to find some creative ways to get kids connected to books. Join a few of these wonderful programs that offer fun & free incentives for summer reading!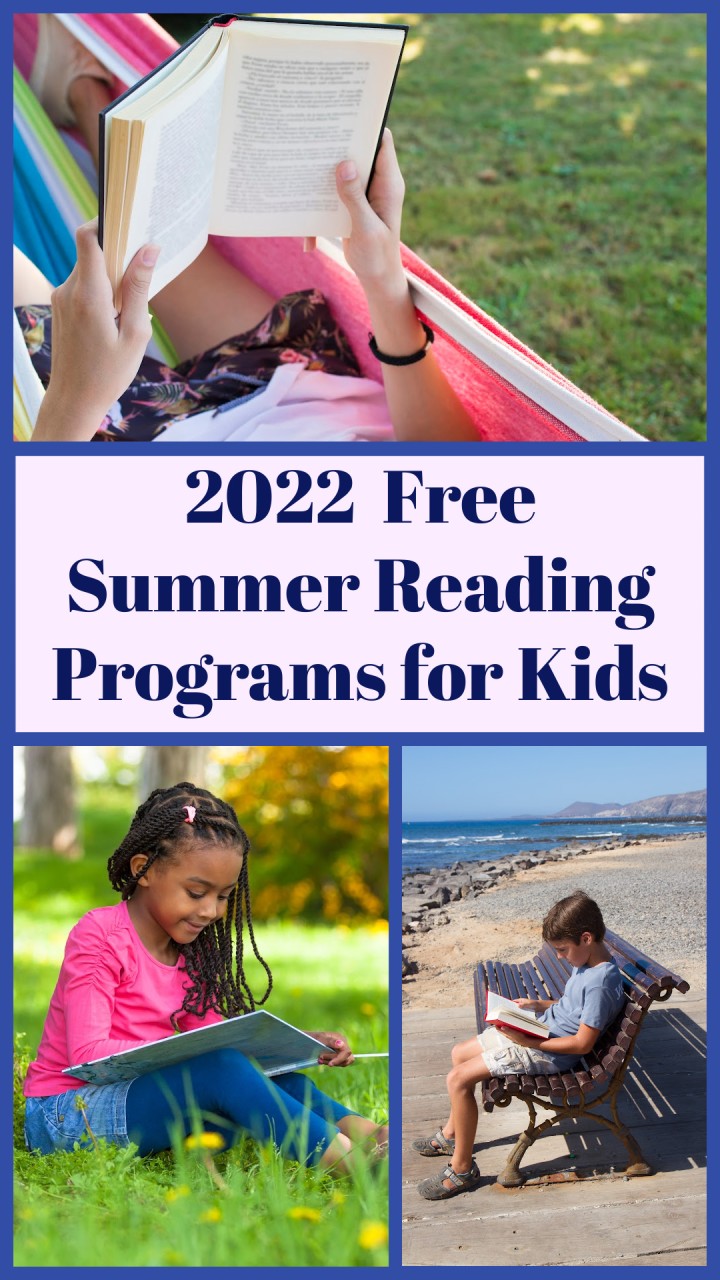 2022 FREE Summer Reading Programs for Kids
It's time to start thinking about summer which means book lists, activities and fun ways to keep kids busy over the next few months (be sure you grab a copy of the FREE printable 100+ Fun & Free Summer Activities for Kids)!
I'm always excited to see what libraries and book stores have planned for kids and there are a TON of really cool ideas this summer (it's ocean-themed reading so we are SO excited for that!). Just in case you're not familiar, keeping kids reading throughout the summer is a big initiative that teachers, libraries and educators encourage so kids are keeping those literacy skills honed.
Get all the details for the popular summer reading programs, some of the most frequently asked questions and affiliate links for some of our favorite books and reading items — and be sure to search locally for summer reading programs near you for additional regional summer programs for your city or area.
Library Summer Reading Programs Near Me
First, check your local library for the 2022 summer reading activities! Many libraries will use the Collaborative Summer Reading Programs theme — Oceans of Possibilities — which focuses on all things under the sea! Libraries will offer lots of creative animal-themed activities and storytimes with this year's theme so check your local library calendar to see what might be coming to town.
All libraries offer different incentives but most really hit it big over the summer to keep kids of all ages — toddlers to teens — reading and prevent the summer slide!If you like to have e-books available, download the FREE Kindle Reading app that can be used on almost any phone or tablet!
And we have a TON of fun activities that pair with ocean-themed reading too:
We'll have a lot more ocean fun coming this summer too!
Also be sure to sign up for the Amazon FreeTime Unlimited FREE Trial!! Kids ages 3 – 12 will have access to all types of ebooks and audiobooks along with educational apps & their favorite learning tv shows too!
Barnes and Noble 2022 Summer Reading Program
Kids in 1st – 6th grades can read 8 books this summer, download the 2022 reading journal & turn it in for a free book with the Barnes & Noble Summer Reading program!
I love that B&N always includes both newer titles like Insignificant Events in the Life of a Cactus and The Bad Seed Goes to the Library along with classic books like Pete the Cat Goes Camping and Percy Jackson and the Olympians(a few of our faves!) as some of their reading rewards! So even if your kids are set on reading the same type of books all summer, they are encouraged to 'branch out' to something new when choosing their free item.
Kids can turn in their 2022 reading log between July 1st and August 31st to receive their free book.
2022 Half Price Books Summer Reading

Half Price Book stores has shifted it's summer reading to a great page — visit the Summer Reading Camp to see how kids can earn $5 in Bookworm Bucks to spend at the stores. Kids turn in logs during June & July. Younger kids can be read to while older kids who can read on their own will record their reading time each month.
The website also has some fun free printable camping-themed activities that kids can enjoy this summer too!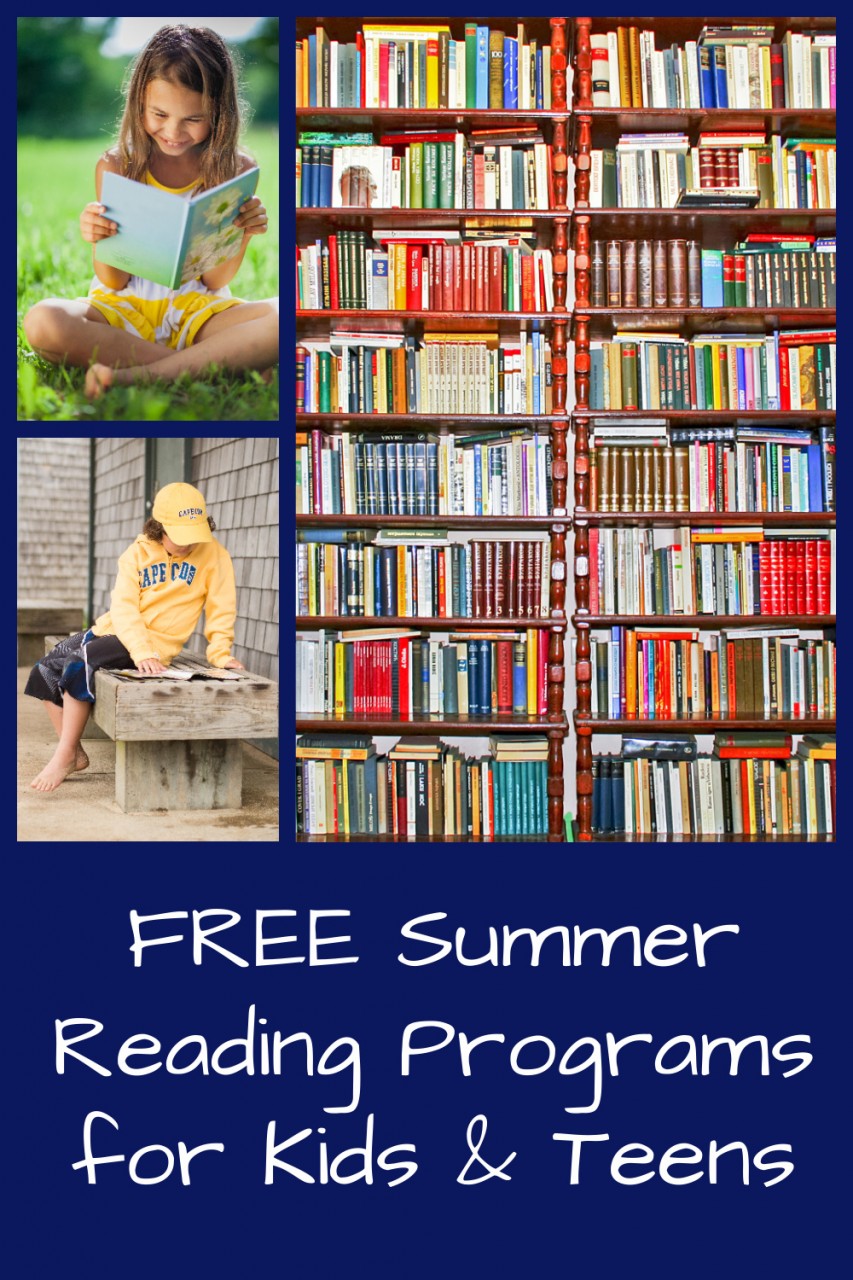 SYNC Free Summer Audiobooks for Teens
Once again, SYNC isoffering FREE audiobooks for teens beginning in May! Kids ages 13+ can download FREE audio books from SYNC each week during the summer – two titles are offered each week.
There are a wide variety of audiobooks available across different genres and themes so everyone should find something they enjoy listening to this summer. And Yes! audiobooks are considering 'summer reading' too — they help to increase vocabulary, comprehension and confidence! The books offered are compatible with IOS, Android, Kindle and Windows. ** Remember, these are YA titles so even if you have an advanced reader in the house, be sure to review the content so you know it's appropriate for your child.
Teens should check back each week for new titles but you can see ALL the offerings in the "Sync Season" tab on the right side of the main page.
2022 Scholastic Summer Read-a-palooza
Kids can register on the Scholastic Summer Reading program Home Base to record their reading hours (this is a popular program with teachers & librarians who want to inspire kids to keep reading). Kids who read and record their hours will help to donate books to children living in areas with limited access to libraries so it's a great cause too!
The 2022 program is also offering live online author events, daily online activities and free printables so check out the schedule to see if your child's favorite author is featured!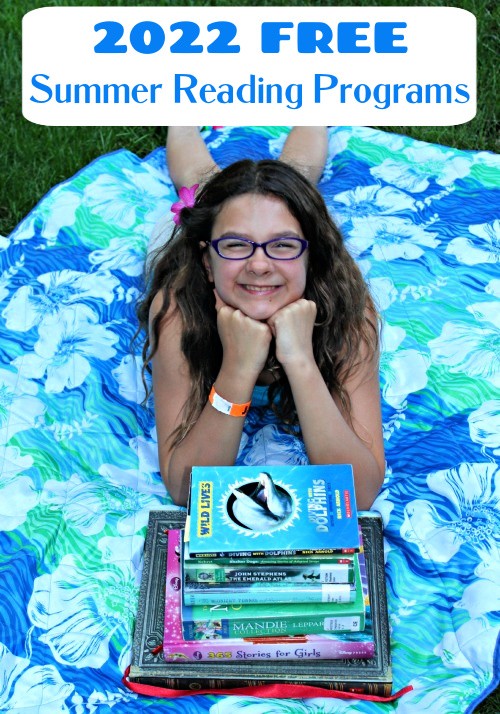 Free Online Books for Kids and Teens
Summer slide is a BIG issue — kids who stop reading over the summer months have a much harder time getting back into the swing of it (along with classroom learning) once school starts back up in the Fall. So we've rounded up some wonderful places to find FREE ebooks and read alouds online for kids & families!
Audible.com has some AMAZING free books to listen too as they continue to offer a great variety of audiobooks for all ages. Choose from picture books, classics, chapter book series like Harry Potter and more!
If you're an Amazon Prime member, be sure to use your Prime Reading benefits for FREE books each month & to check-out books this summer!
Prime First Reads also offers members early access & one FREE book each month on Kindle (including children's books!)
PBS Kids has picture book read along videos each week with favorite authors & celebs – great for ages 3 – 6 years!
Storytime from Space has astronauts reading kids books with a great variety of STEM stories!
More Summer Reading Ideas
10 Books that Celebrate the Joy of Summer
10 Books for a Day at the Beach or Lake
10 Books for Your Next Camping Trip