Grab a copy of this free printable cabin or camping packing list to help you organize your camping supplies, know what fun things to bring & out the door quicker for your next family camping trip!
As I've mentioned before, I don't do tents (not a fan of bears & snakes 🙂 But when I married my husband, I was well aware that he came from a camping-type family.
The whole tents-in-the-woods boys-peeing-behind-the-tree type of thing. I prefer a door on my bathroom and a bedroom where I know I won't be visited by wild animals in the middle of the night!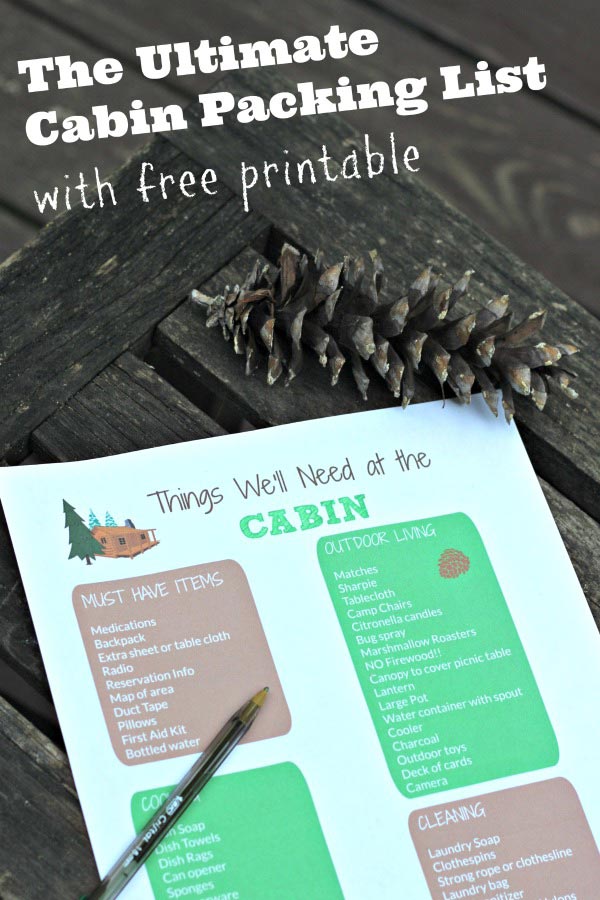 Cabin (or) Camping Packing List (printable pdf!)
Being such an outdoor family, I knew that we would be planning quite a few vacations in the woods (like our Rocky Mountain Park vacation and this trip to South Dakota with kids) – so we compromised and started looking at cabin rentals and other vacation home rentals when we travel.
And we have LOVED the experience — all the benefits of the great outdoors with comfy indoor digs for a family! It's perfect for both sunny & rainy days and we really enjoy having a space to call our own without feeling too cramped like you would in a tent.
Packing for a cabin vacation is a little different than camping (you don't have to bring your 'home' with you) and it's VERY different from a hotel stay (there's usually no front desk clerk to help with things) so today we're sharing some of our tips, tricks, affiliate links to our favorite items and a FREE Cabin Packing list for all those families who love to 'rough it' with a door between them and the wild 🙂
Many times, we don't have "neighbors" close to our cabin so it makes it harder to borrow things. And I can't tell you how many times we've gotten to a location where they don't have one of items we use every day!
Like a can opener!
Seriously, who doesn't have a can opener, right?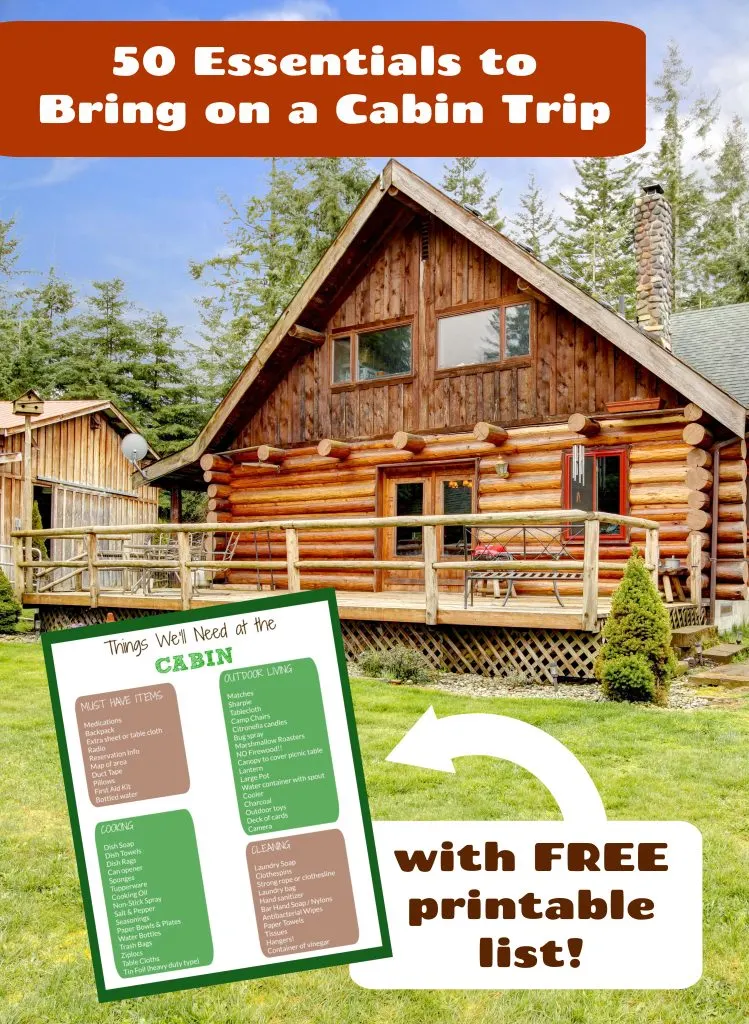 Cabin and Camping Prep Tips
I have 3 BIG pieces of advice before you head out to the cabin:
1. Pack what you know are your MUST HAVE supplies for the cabin and don't take a chance that they won't be available.
For example, if you have kids who think s'mores are the BEST thing about the vacation, I would be sure to have long campfire roasting sticks. We've been to more than one cabin/campsite where the grounds crew keeps the area SO clean that you can't find a good roasting stick just lying around.
Think about things like:
What are our kid(s)' bedtime routines?
What do we need to bring along to replicate that?
What's the weather forecast? I can tell you that NONE of our rentals have had an umbrella available so getting to/from the car can be a tricky thing on rainy days.
2. Read the online reviews to see what others items can be found at the cabin
Anytime we rent a cabin or vacation home, we always check TripAdvisor, Airbnb reviews, the park's website, etc. to find detailed reviews from others who have stayed at the same place.
I LOVE those detailed people who can leave a review listing all the fun items that are already there (family board games, deck of cards, life jackets, puzzles, books, etc)! You should also see tips on whether cell service is good in the area and ideas for what families did on rainy days.
Many times, you'll find out that the pillows are musty or that there are no outdoor chairs provided. And look at all the photos that are online too so you can see —
is there a coffeemaker on the counter? Does it only hold pods or is it a drip machine?
is there a toaster or toaster oven?
is it a full size stove/fridge or smaller one?
If you don't see what you think you'll need, be sure to email the host or park office and ask if one is available.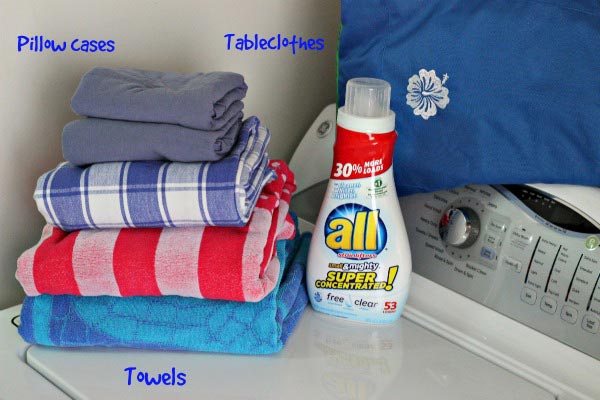 3. Do a load a laundry before you go!
Even though we LOVE being outdoors, our whole family has seasonal allergies. And my husband & kids all have eczema too — and I hate for things like that to ruin a vacation. So I wash all of our bath/beach towels, pillowcases & table clothes with all® free clear detergent before we pack up. I love this detergent for our family! It was awarded the Seal of Acceptance by the National Eczema Association for having no dyes, perfumes, certain chemicals, and irritating residues and it's really helped keep our kids comfortable in the clothes they wear!
Oh! And if you'll be driving to your cabin, be sure to check out these 15 Printable Road Trip Games & Activities to keep kids busy en route!
Must Have Supplies & Items for Cabin Camping
One of the best things about renting a cabin is that you won't need as much as when you camp but you will need to bring more items than if you're staying at a hotel. And with cabins, Target is usually quite a drive away. If there is a small store close by, it's pretty much only the necessities and can be more expensive with much less of a selection so take that into consideration when packing.
These are things that will be hard to find or expensive to buy once you're there but you'll need them every day – so pack them!
Medications
Backpacks — for hikes and getting around the area; we bring one for each person over 4 years old
Extra sheet or table cloth — to use as a window covers or make-shift room divider with clothespins and clothesline
Radio — most cabin locations won't have good cell service. Here's a great hand-crank radio & flashlight to help get updates about weather and such
Reservation Details – be sure to have a printed copy in case there's no cell signal in the area!
A Map of Area — this isn't a hotel so you won't find a display with flyers on things to do most of the time 😉
Duct Tape or Gorilla Tape — trust me, you'll need it for something!
Pillows – we always get a better night's sleep with out own pillows
First Aid Kit — here's a FREE printable list for a DIY First Aid Kit you can put together before your trip!
Bottled water — you can never tell what the water will taste like in a cabin. Many are in locations with well water) and most won't have filtered water on the fridge.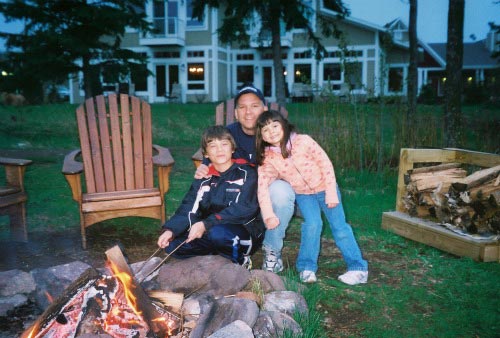 Fun Things to Bring to a Cabin or Camping Trip
My big tip for the outdoors is to be sure EVERYONE packs a pair of closed-toe shoes! Some of our cabins have been located in areas with lots of tree roots showing or rocky areas so flip-flops just aren't as safe (we've had a few stubbed toes that were not pretty).
Other items you'll need for outdoor activities include:
Matches
Sharpie
Tablecloth — you never know what the picnic table will be like so it's easy to just throw a cover over it for meals
Camp Chairs — unless you know they're provided
Citronella candles and/or Bug spray
Marshmallow Roasters – seriously, we love the telescopic roasting forks! And we also bring our campfire pie maker too.
NO Firewood –- most places will tell you to buy the wood locally so you aren't bringing any invasive insects to the area!
Canopy to cover picnic table — a small pop-up screen house so you don't have to eat with the bugs 🙂
Lantern
Large Pot
Cooler
Charcoal
Outdoor toys – especially items like a shovel, pail, sidewalk chalk, paper & crayons for leaf rubbings,etc.
Fun Kids Books about Camping – great idea for storytime around the campfire!
Deck of cards
Camera
FREE printable Nature Scavenger Hunt is also a fun option!
Another great option is to get Amazon's FREE trial 30-day Audible period with books for preschool, big kids, tweens, teens and adults! It's a great option if you're heading out on vacation & don't want to pack a bunch of books 😉
Cleaning Supplies for a Cabin or Camping Trip

You should always ask if sheets & towels are provided! Some locations only provide sleeping bags which is fine but you may want to bring along a top sheet if it's going to be a warm week.
Find out where the washer/dryer is located — all but one of our rentals had a laundry building on the premises so it made it easy to wash the sheets.
We've found that the beds (with sheets and blankets provided) are usually comfortable but I never trust the pillow situation. My kids sleep better on their pillows so we always bring our own so I know everyone will get a good night's sleep. And if you need a portable crib, I highly suggest bringing your own. We have never had good luck with finding one that I would trust.
Towels are a hit or miss — some places provide bath towels and others don't so be sure to check.
Here are some of the must-have cleaning items:
Laundry Soap
Clothespins & a strong rope or clothesline — one like this portable travel clothesline can hang up anywhere & is especially handy for drying towels or table clothes
Laundry bag or pop-up hamper
Hand sanitizer
Bar Hand Soap / Nylons – try that old trick of tying a bar of soap inside one leg of the nylons and you can hang it in the shower/tub area.

Antibacterial Wipes – we LOVE these citrus scented wipes!
Paper Towels
Tissues
Hangers!
Container of vinegar – you can use it for so many things!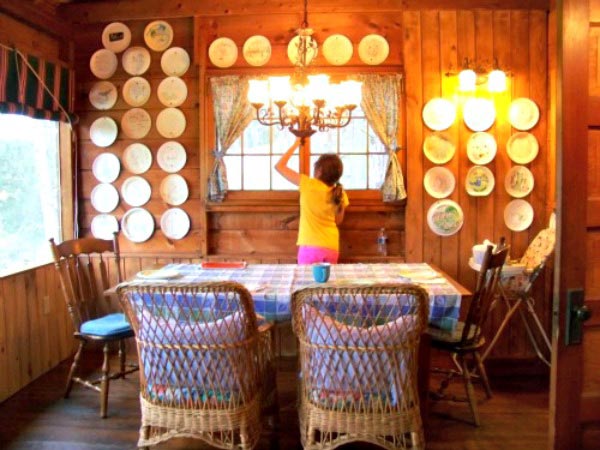 Cooking & Food Checklist for the Cabin

Kitchens are stocked with the basics (along with items others have left behind as a donation to the cabin) and there will usually be a picnic table outside.
Here's what I pack for the first night of our stay. I take a Big Kitchen pot & a large salad bowl with us and put in the following items:
Pasta + a jar/can of pasta sauce
COFFEE – be sure there's a coffee maker
Tea bags
Cocoa
PB, jelly & a loaf of bread
Marshmallows, graham crackers & a few chocolate bars
Small bottle of oil & vinegar for salads (we eat them every night)
A Box of cereal
A Snack basket (see what we put in our Snack Basket when we travel) with some cereal bars, protein bars, breakfast bars & DIY trail mix items
Fruit that travels well (packed in large salad bowl) items like apples, bananas, pears, oranges and sometimes a watermelon
Sometimes we'll pack burgers & rolls in a cooler too if we don't have a long drive.
When we get there, we make a quick stop at the store to get milk, juice and lettuce.
Yes, that's it for now! Just an in/out run for 3 things right now & here's why —
With the list above, we are set for the first 24 hours. I make a quick pasta dish with salad our first night there and we have s'mores over the fire. We have cocoa/tea if it's a cool evening and other indoor snacks if it's rainy.
Then we have cereal, fruit, juice/coffee for breakfast. And we pack a lunch of PB& J with trail mix and fruit for lunch & a hike.
So we can actually BE on vacation and having fun for a day before I feel like we need to hit the supermarket! We usually have enough with us for more than one day too. This gives us a chance to see what's stocked in the cabin and make a grocery list based on the grill/pots/pans etc that are available.
What You Need in a Cabin Kitchen
Here are the other kitchen items we usually bring along:
Dish Soap
Dish Towels
Dish Rags — believe it or not, we've stayed at places where they only have paper towels. Really hard to wash dishes with paper towels 🙁
Can opener — always bring a can opener or you could be searching for one for days 🙂
Sponges
Tupperware – for storing leftovers

Cooking Oil
Non-Stick Spray — they have non-stick grill spray for cooking over a fire or bring regular if you're planning to make pancakes etc. which will usually be in a pan and not on a griddle
Salt & Pepper
Seasonings
Paper Bowls & Plates
Reusable Water Bottles
Trash Bags
Ziploc bags
A Table Cloth – most of the outdoor picnic tables aren't that clean so it's just easier to cover them before meals.
Tin Foil — the heavy duty tin foil that you can use over the campfire or on a charcoal grill
Here's your free printable Cabin Packing list! Have a super great time on vacation 🙂
More Family Travel Tips & Ideas:

10 Things to do Before Your Next Road Trip (w/free printable list!)
Why Kids Should Travel & What They Can Learn
This post was originally compensated by Collective Bias, Inc. and its advertiser. All opinions are mine alone — we only share products we love and use in our own home.