Our summer travels took us to a whole new area of the country for our family – the Black Hills of South Dakota!
After our wonderful trip to Rocky Mountain Nat'l Park last summer, we decided that we wanted another 'back to nature' vacation.
Family Fun in the Black Hills
The kids are older so we were able to add some more adventurous outings to this trip and it was great to have some family planning sessions where we all had input into what we wanted to see and do. I highly recommend doing this if you have kids 6 years of age or older. I also share our packing tips and roadside stops in the Ultimate Road Trip Guide for Families.
And just to prepare you, we are not the 'go on vacation to relax' type of family. Our goal is to see as much as we can of the area during our visit (that's just how we roll).
A few tips before visiting the Black Hills area –
There is a TON to see & do in this area! Lots of outdoor activities to enjoy, quite a few fun attractions and some big must-do items can all be found within a 30 mile radius. So I would recommend viewing a Black Hills visitors guide and doing some planning before your trip.
One thing we were NOT prepared for was the amount of time it took to drive from one location to another. For example, our cabin was located 10 miles from Custer State Park but it took us 45 minutes to drive that distance because many of the roads have hairpin turns with an average speed of 20 miles per hour. It took us a few days to adjust to the drive times.
And here's one BIG thing that you should know before traveling to the area – cell and internet service can be very sketchy. Like, I'm talking NO service in some areas of the parks. In fact, our cabin had none (we knew this before heading out so we were prepared). If this is a big deal for your family, make sure you ask before renting a location.
Also, bring sweatshirts & blankets! The weather can change quickly and it can get quite cool. Not fun when you're out on a day hike or want to see the night lighting at Mount Rushmore.
Camping & Cabins in the Black Hills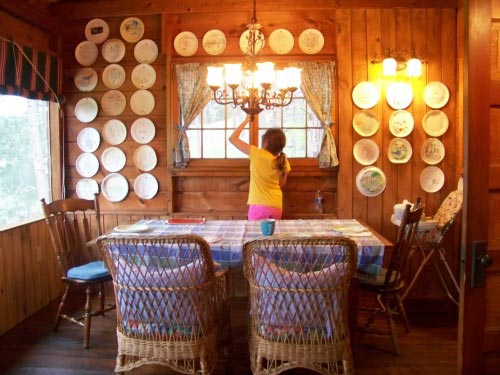 Eating & sleeping areas were out on the huge screened in porch.
We saw a few hotels in the area but the majority of visitors to the Black Hills either rent cabins or camp (in tents or campers). We were lucky to find a historic cabin built in 1925 (The Hynes Cabin) to rent for our stay which was located at the Palmer Gulch KOA Campground.
We prefer have a home-type rental on our vacations rather than just one room at a hotel. Having a cabin afforded us multiple bedrooms along with a full kitchen for the same price as renting one hotel room. There's also always something cool about places like this — for example, all those round items in the photo above are pictures drawn by previous guests. Many visitors would create memories of their stay on paper plates and then hang them on the cabin wall. It gives the place a lot of character!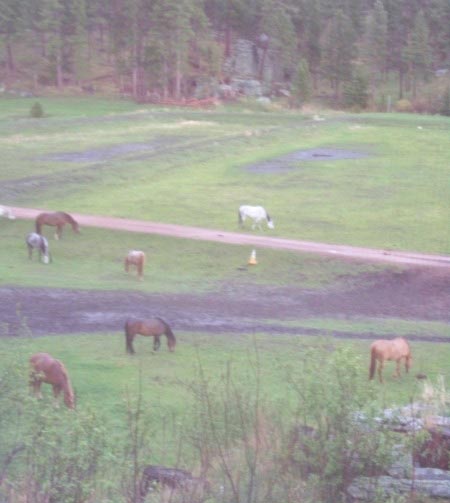 Our view from the cabin window
The cabin had no cell or internet service, nor did it have a tv. So we went 'unplugged' for the week and really did enjoy the time together, not to mention the quiet of not having constant electronics beeping and humming. The KOA has family programs (music, movies, cook-outs) during the summer along with a huge kids play area. We also had a fire pit for evening campfires and horses right outside our window.
Be Prepared to Be in Your Car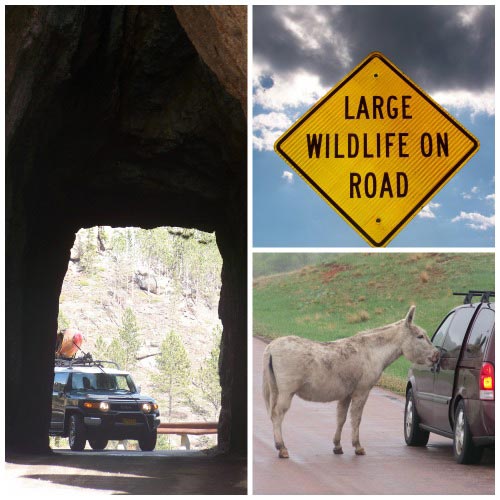 As I mentioned earlier, this was the one big surprise for us on the trip. First, the roads are beautiful but very curvy (hairpin turns and one-lane bridges) so you just can't drive fast without heading off the edge (don't even try it).
Traveler's Tip: Have books & car activities for the kids while your in the area so you won't always here "how much longer?" Also, keeping snacks in the car is another great idea — we were usually hungry after hikes and still had a long drive back to our cabin so having fruit and snack mixes made for a quieter ride.
Second, sometimes there are animals in the road and they take their own sweet time to move. This is part of the reason most people are attracted to the area so I don't think you'll be bothered by a meandering donkey or buffalo blocking your path. Other drivers who are not use to the curves or are viewing wildlife will tend to drive really slow. Thus, you'll have to adjust your time based on who you are following. Just make sure to plan ahead and allow yourself enough time to get to your location.
Hiking, Horse Riding & Hundreds of Animals
We spent quite a bit of time in Custer State Park – it's breath-taking! There are many different areas of the park to enjoy and each of them has a very distinct landscaping.

Bring something healthy to feed the burros — but I guess they also like steering wheels too!
The Wildlife Loop
This is a must see especially with the kids! It's about a one-hour drive through the lower part of the park. Along the way, you have the opportunity to see large numbers of buffalo, a huge group of prairie dogs, burros, and possibly pronghorn sheep.
One of the highlights is feeding the burros so bring something healthy (carrots, apples, etc) and they will walk right up to your car window to eat. Don't worry, they are very gentle.
And take the road less travelled too – there are some dirt roads in the park that are marked for vehicles. You'll see a whole new side of the park by taking these routes.
Traveler's Tip: Bring bottled water with you especially if you are hiking. The water in the area has a yellow color and quite a few minerals.
Mount Coolidge Tower
If you don't mind long, narrow roads, I highly recommend driving up to see the view from the Tower. It's only an old fire tower but there's a 360 degree view of the Black Hills! We were able to see the Badlands which is 60 miles away. Bring binoculars or quarters for the coin-operated binocular machine on the tower.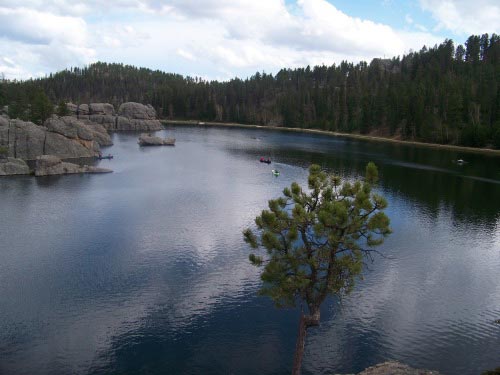 Sylvan Lake Area
Gorgeous, isn't it! Our best hike of the week was at the lake. There are a few really nice trails that are good for any type of hiker/walker, even young kids were on the trails. You can rent canoes at the lodge and take a ride on the lake. There are also some really nice climbing areas for the kids on the large boulders.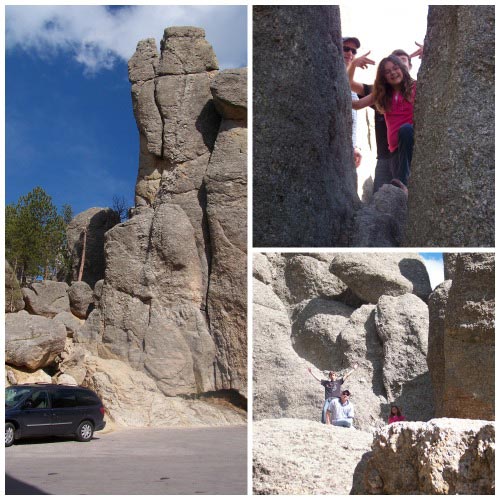 The Spires & Rock Formations
This area of the park is so different from the others and offers some outstanding look-outs and photo opps. Instead of pines and greenery, you'll fin very tall rocks and crevices, along with a one lane bridge through the mountain. Kids can climb the boulders, see Needles Eye (busiest place in the park!) and hike one of the many trails in the area to some great look-out spots.
Traveler's Tip: Follow the speed limits in the park! You will encounter hikers, bike riders and random packs of animals on the road. This is especially true on the Wildlife Loop and near the Spires/Needles Eye areas.
Hiking is great in the area although there are quite a few areas that are affected by the Pine Beetles so some of the popular trails are less than scenic due to fallen trees.
We'd recommend the following areas for hikes: Sylvan Lake, Badger Historic site, Lovers Leap, Sunday Gulch and Cathedral Spires Trails. These are all great trails for families. Another great hike is Harney Peak for those who want a longer trek. My husband and teen son traveled to the peak and it was about a 5 hour (and cold) round-trip hike. But it is the highest point between the Rockies and the Alps so something cool to do!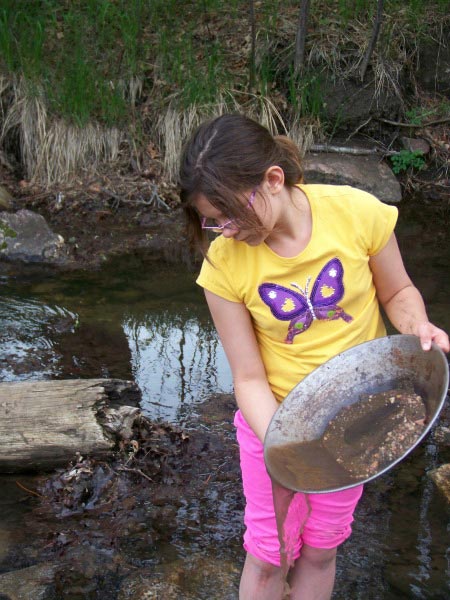 We learned how to pan for gold during one of the nature programs at Custer.
Kids can also become a Jr. Naturalist at Custer State Park. There are a variety of free hands-on nature programs and activities for kids from ages 7 – 18 years (younger kids can join the Park Pups program). Pick up a booklet at the Norbeck Visitors Center to learn more about how you can earn your certificate. We panned for gold, learned about fossils, visited the Badger Clark historic home, attended a patio talk about bugs and completed a number of activities in the booklet as we hiked and toured the park.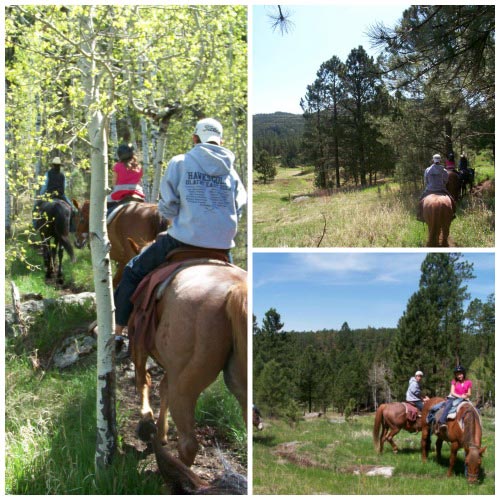 Trail Rides in the Black Hills
Horse-back riding is very prevalent in the area as there are lots of trails and quite a few stables. We chose Rockin R Rides, a family-owned stable located next to Crazy Horse Memorial. It was OUTSTANDING!
Really, this was one of the best mornings of our trip. Prices are very reasonable and trail rides are available for kids ages 6 and up. The horses have great temperaments and the staff gives wonderful instructions about how to handle the horse and what to expect during your ride. All kids are required to wear helmets on the ride for safety.
Rides vary in length (we chose the 2 hour ride) and will take you through the Black Hills National Forest in some of the most scenic areas. We followed an old logging road for part of our trail and were also treated to a few sightings of deer along the way. One of the things we enjoyed most about the ride is it's not just a 'walk along a flat dirt trail' – these rides take you through the forest, up and down some hills and switch-backs and in areas where it's just you and the horses.
3 National Parks
For a nature-loving family, this was like hitting the jackpot – not 1, not 2, but 3 National Parks all located in one area!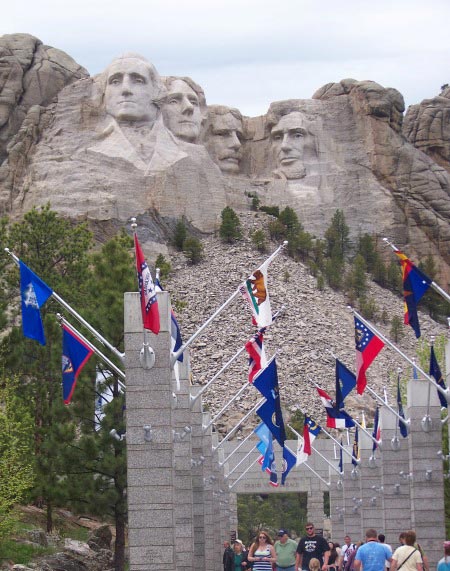 Mount Rushmore
The first one is actually a National Memorial – we were able to visit Mount Rushmore twice during our visit to the Black Hills.
On our first day, we toured the monument, art studio and hiking trail. The Presidential Trail is very short and nicely paved with quite a few look-outs along the way for different views of the Presidents. I will say we walked more steps on this day than any other. I'm sure they have an elevator (we really didn't look) along with accessible areas but I would wear good comfortable shoes.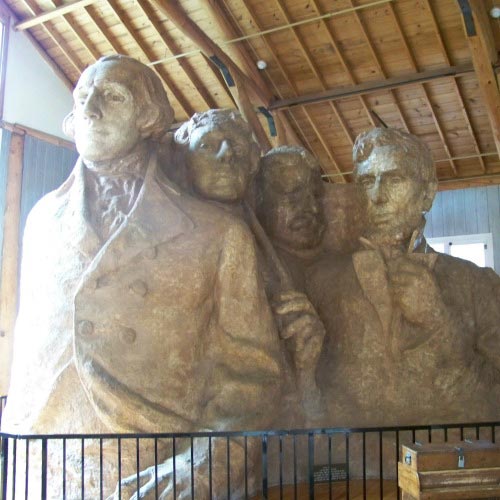 This is the original idea of what the carving was going to look like when they began.
Visit the Sculpter's studio for some great insight into how the artist created the carving, see the practice carving and learn more about the men who worked to carve the mountain. It's also a main stop if your kids are working on their Jr. Ranger booklet. This Jr. Ranger program can easily be completed in one visit and they also have a program for teens and adults (it's a crash course in American History and can be a fun family competition during your visit).
We returned on the last night of our vacation to attend the evening lighting ceremony. The evening ceremony is the movie and presentation that gives you some nice history about why these four men where chosen to be carved into Mt. Rushmore.
Traveler's Tip: Remember when I mentioned temperatures can change quickly. It was in the 40s during our evening visit and we were really happy to have a large beach towel with us along with some great cups of hot cocoa that were purchased at the café at Mt. Rushmore.
We expected some amazing lights – we were actually thinking they might light the monument with red, white and blue lights – but only regular white lights are used to illuminate the monument. This is more fitting to the area, keeping the lighting very natural.
And honestly, one of the best parts of the evening ceremony is that they invite any active or retired military to come on to the stage at the end and help take down the flag. On the evening we attended, there were more than 40 military members in the audience so it was a really moving end to a great night.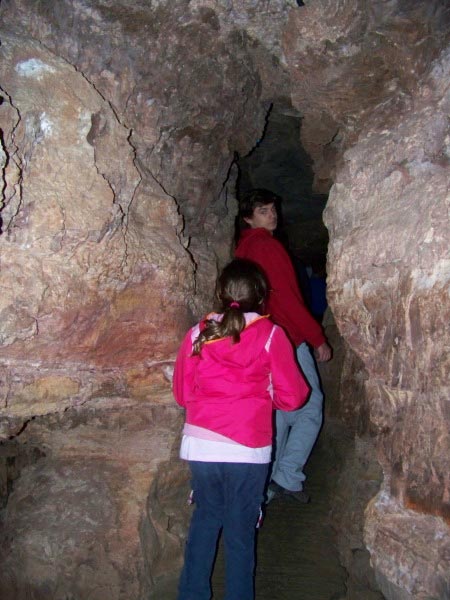 Lots of passages and tunnels to explore underground!
Wind Cave National Park
Located directly south of Custer State Park is Wind Cave National Park. This is a two-for-one experience as parks go. First, you can take a walking tour of Wind Cave, the 4th longest cave in the world. We attended the Natural Entrance Cave tour which they rangers told us was one of the best for kids. It's about an hour and 15 minutes; you travel down approx. 300 steps and through many slanted passageways to a number of rooms inside the cave.
Younger kids on our tour (under 4) did get tired and also a little scared in the darkness. Being able to see the different cave formations was very interesting. Once the tour is done, the group is brought back to the surface by elevator.
My kids had a mixed reviews – my 10 year old really enjoyed it but my 16 year old thought it was only ok. He found the history and formations interesting for the first half of the tour and then said he "felt like he was seeing the same old thing." They also offer a Jr. Ranger Program at the park. Pick up a booklet at the visitor's center, browse some of their exhibits and see a movie about how the cave was found.
After the cave visit, we drove through the huge land area of Wind Cave National Park. Many people think that the cave is the park but there are acres of wide open land with many animals. Actually, we were able to view more animals at Wind Cave than at Custer during our visits. We were thrilled to see bison, elk, marmot and pronghorn during our visit.
And a bonus: On our drive to Wind Cave, we were also able to see the Crazy Horse Memorial. If you are able, drive by the Memorial at night and you'll be able to see it all lit up! This was really a treat because the whole side of the mountain was lit with a green light of the future carving for Crazy Horse. It really helps you to visualize how amazing the carving will be once it's complete.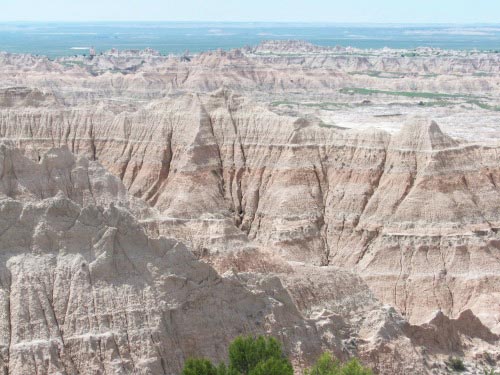 The Badlands
Although this turned out to be a quick visit, we're thrilled that we managed to fit it in during our stay. We had originally planned a hiking day in The Badlands but storms came in so we had to cancel. You do NOT want to be stuck in the middle of the Badlands during a thunderstorm from what we heard. Instead, we visited the park on our drive home.
There is one main road that takes you through the Badlands with some great pull-offs and stops along the way. We spent about two hours exploring the park, taking a few short hikes and stopping at the visitors center. We hiked on the yellow mounds (the various levels of rocks in the area have beautiful colors), found a dung beetle at work (ha! kids were enthralled with him) and saw a number of fossils on Fossil Exhibit Trail.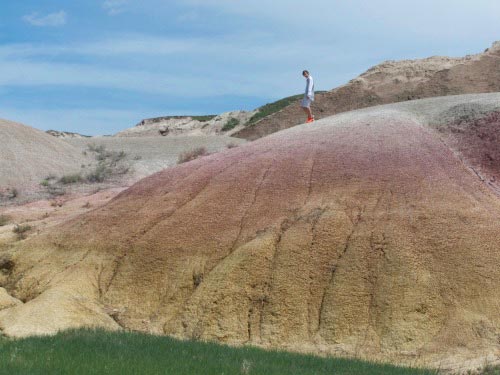 Hiking the colored hills in the Badlands
The Ben Reifel Visitor's Center is a must-see if the kids enjoy fossils and dinosaurs. The Badlands is well-known for being one of the best fossil beds in the country. They excavate and clean fossils/bones on-site so the kids can talk to scientists and see how it's done during their visit. They also have some excellent exhibits and displays!
I'll fill you in on the rest of our trip next week, including our visit with the alligators!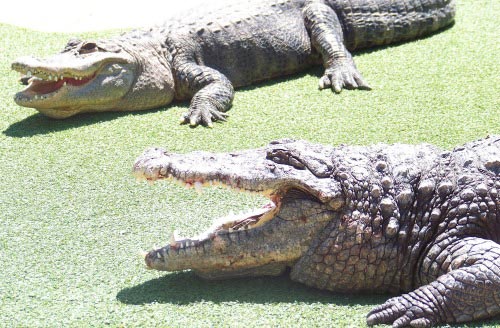 Where did your family explore this summer?