Grab the FREE printable Kindness Scavenger Hunt and inspire kids to find love and kindness around them with at home or in school!
While we already have a printable Valentine's Day scavenger hunt, I wanted to create something a little different this time around for our February activity.
It's probably because of the way the world is right now – there's so much more worry and less connecting these days.
But that doesn't mean each of us can't make things brighter for others and show how we care!
So instead of just checking off the items on the list, the *newest* FREE printable scavenger hunt will challenge kids to both find & spread examples of love and kindness!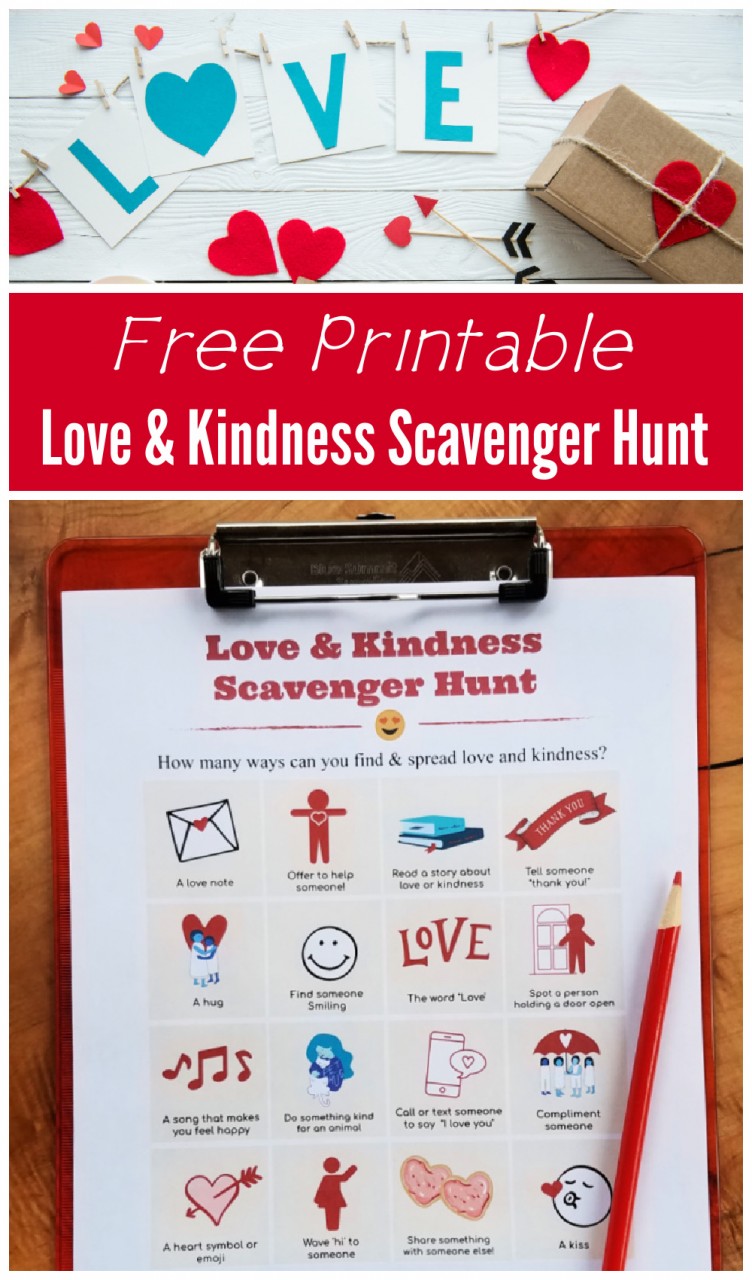 Kindness Scavenger Hunt with FREE printable
Part scavenger hunt and part "go & do" challenge, this activity will inspire kids to find or do items that express love and kindness.
Why a love and kindness scavenger hunt?
Well for one, it's a great learning game for kids! Turn any activity into a game and kids are more likely to have fun while they learn 🙂
Learning how to show love and being kind are lifelong skills that we all need to develop and February (with Valentine's Day on Feb. 14th and Random Acts of Kindness week from Feb. 14th – 20th) is the perfect time!
The goal is to help kids think big about the idea of love and kindness — it's not just a hug or kiss, not just saying something nice to others. Many of our actions show how much others mean to us each day and the more we practice these ideas, the better we get at sharing them.
And this is also a great opportunity to get kids to talk too!
Whether you do this hunt at home as a family or with kids in a classroom, it's an awesome 'story starter' idea. Each day, have kids talk about which items they found or completed — ask them to tell the story about who they saw smiling or what compliment they gave to another person. Where did they find the word 'love'? What book did they read and why was it a story about love/kindness?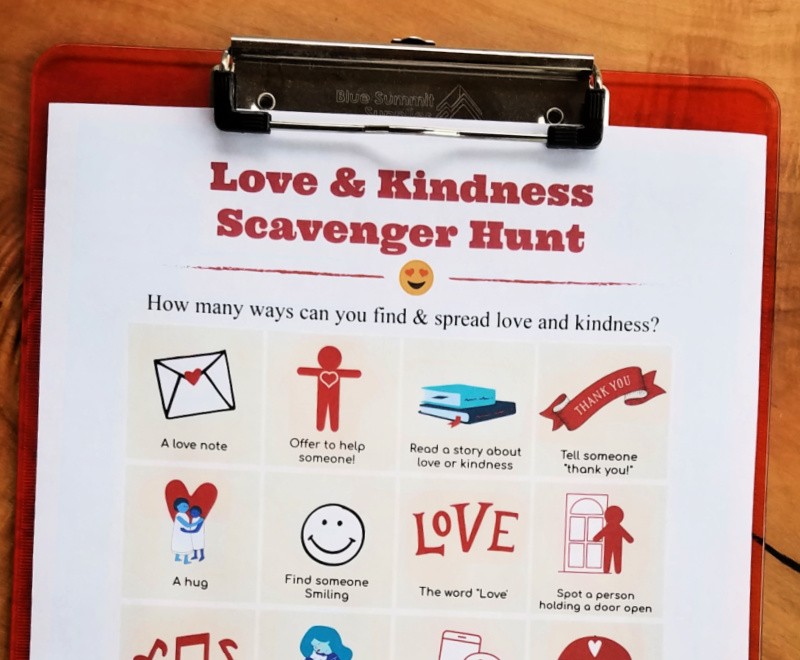 Scavenger Hunt for Valentines Day and Random Acts of Kindness Week
The following items will need to be found on the hunt:
a love note
someone smiling
the word 'love'
a hug
a person holding the door open for someone
a heart symbol
a kiss
And yes, I know given the current conditions that some of these might be very challenging to find (that whole social distancing thing can make finding folks hugging or seeing someone open a door for another less frequent these days).
But that's exactly WHY we need to do these types of activities — because it's important that kids continue to notice that acts of kindness ARE done even during the most challenging of times.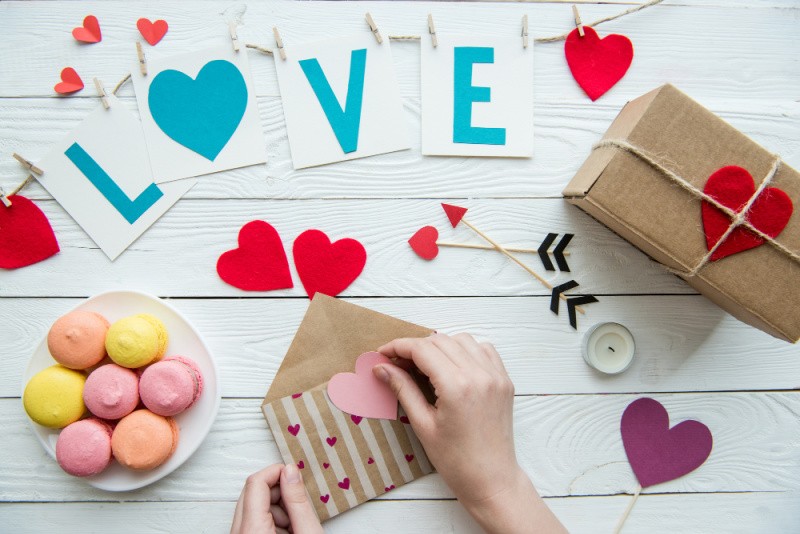 Kindness Activity Ideas for Kids
As part of the "go & do" love & kindness challenge, kids will need to complete the follow activities:
offer to help someone
read a story about love or kindness
tell someone 'thank you'
play a song that makes you happy
do something kind for an animal
call or text someone to say 'I love you'
compliment someone
wave 'hi' to someone
share something with others
Reading a story should be an easy one to complete 😉 Here are a few of our favorite books about love and kindness:
The Big Umbrella – I adore this story because of its simple messages and engaging illustrations. Plus, it's based on simple acts of kindness — if you see someone is being rained on, you should help (so many meanings go with that phrase). It's perfect for younger kids.
For older kids, read The Three Questions, a very thought provoking book about a boy who wants the answers to three questions "What is the right thing to do?", "When is the best time to do things?" and "Who is the most important one?" Readers will follow Nikolai as he considers those questions and ends up in a variety of predicaments where he learns the answers through his actions.
Offering to help someone can be a big or small ideas — for example, ideas like these service projects for families to do together are great for this one! However, on-the-spot help is also greatly appreciated by many (like carring in the grocery bags or helping a teacher to put things away after school).
A few of the items on the hunt, for example, giving a compliment, can be a challenge for kids to learn so it's a great time to practice these skills. Talk about the various types of compliments that can be given and practice giving one another compliments.
While some of the activities are simple — such as writing a thank you note to a teacher or texting grandparents to say "I love you" — they require a dedication of time to do them. Which is another very important lesson for kids to learn – setting aside time to do kind things like this is important.
That's especially true now when we can't just run up and give a hug to a teacher or grandparent — reminding people that they are still important to us and loved is a simple act that can have amazing results!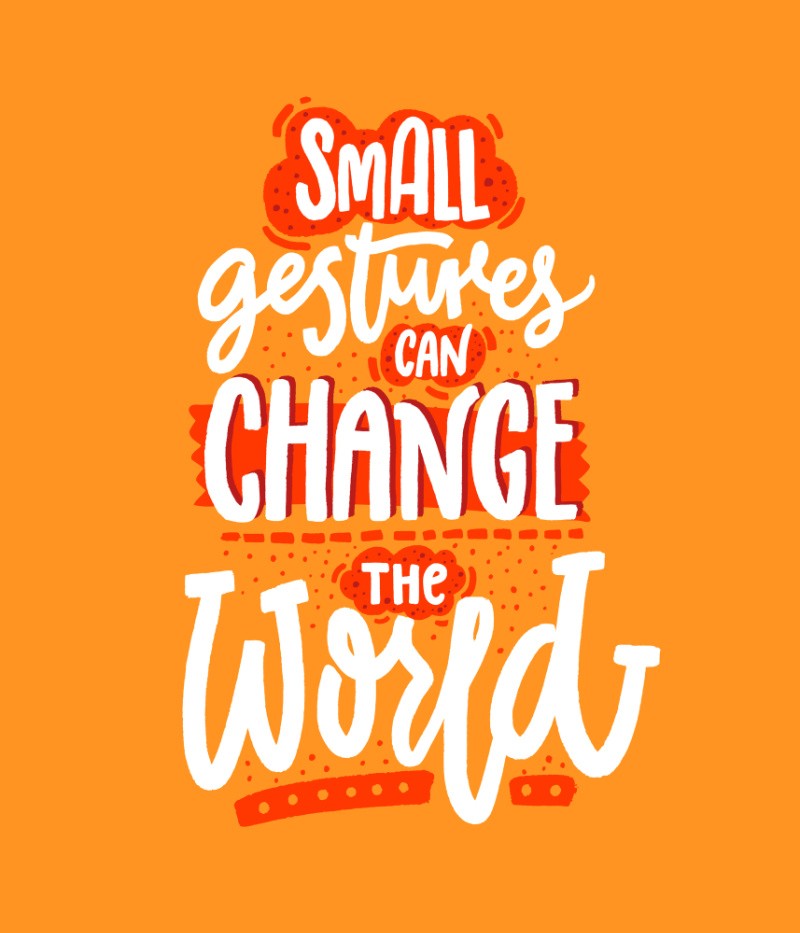 Actions such as 'sharing something with others' or just being alert & aware enough to say 'hi' or smile at someone — those actions can also really make someones day a lot brighter!
Plus, my hope is that kids will realize they would love to have others recipricate with actions like these — doesn't it make you feel good when someone compliments you or waves 'hi'?
Other items on the scavenger hunt might take a little thinking, like "do something kind for an animal". That could mean making a birdfeeder for your backyard. Or offering to walk a dog for your neighbor (dogs love to go on walks).
You could also do something for nature (see this FREE printable "Be Nice to Nature" list for ideas!) since helping to improve the environement makes the world a better place for wild animals too.
My last goal with this scavenger hunt challenge is to be sure kids recognize that being kind isn't something that you just do for others, it's also something you do for yourself too.
Thus the challenge of "playing a song that makes you happy" — the idea of self care is something we can teach kids starting at a young age. And yes, there's a balance between self care and self-ish behaviors (playing a song you like that's too loud and bothers others, for example, might help illustrate the balance).
So take the love & kindness challenge — grab the free printable scavenger hunt and set out to make the world a little brighter over the next few weeks!
More Fun Scavenger Hunts for Kids
Valentine's Day 'Secret Message' Scavenger Hunt