Enjoy these Must-Read picture books and read alouds for Black History Month!
February is Black History Month, a time celebrate the achievements of African Americans and learn about both the famous and not-as-well-known people who changed the face of history.
As parents & educators, it's our job to introduce a variety of literature into our children's lives and with February being both Black History Month & Library Lovers Month, it's the perfect opportunity to do just that!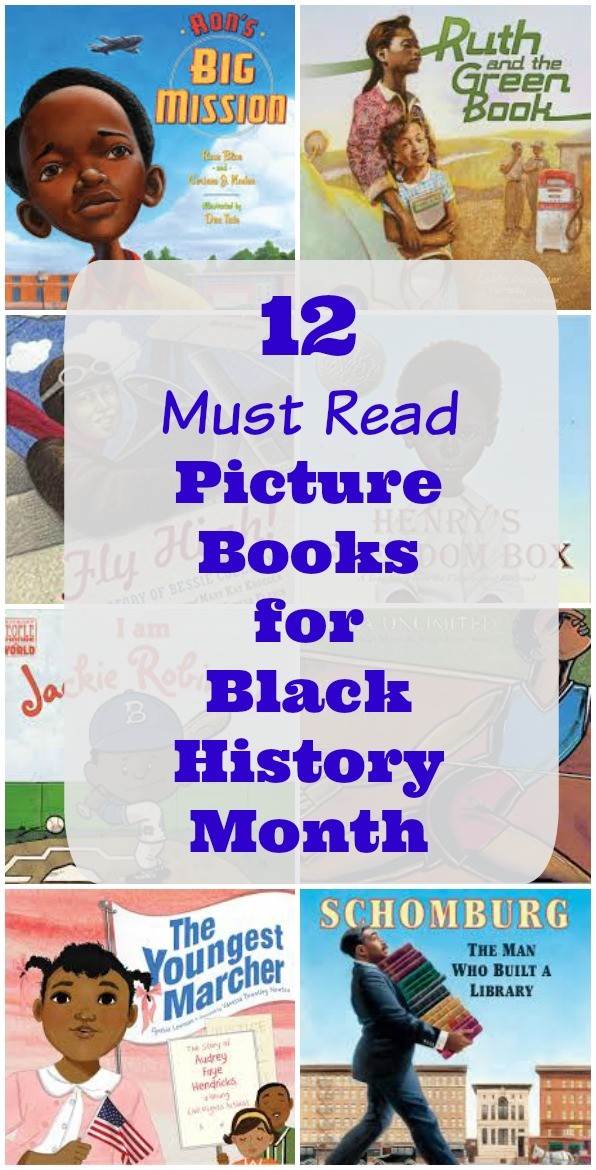 12 Children's Books to Read for Black History Month
I can tell you from experience that most kids don't read many books about history until they're older.
I believe this is due to the fact that many of these stories are biographies or non-fiction books which are shelved in an area of the library that most kids don't walk through during the first decade of their life (kids tend to stay in the "picture book" and "early reader" sections when they choose books).
Like our 12 Diverse STEM Books for Kids, today's books will be a wonderful addition to your child's multi-cultural library!
I'm not sure if you've noticed but we don't have many history-focused book lists.
In fact, this is officially our first one!
It's not because we don't read about history and do history-related activities — we actually do quite a few! But curating a history-themed book list for kids is hard!
Why?
First, history can be boring and a little overwhelming. Lots of dates, facts, things kids can't identify with because they've never experienced it.
And second, history can be scary, depressing and confusing for kids. Heck, history can be confusing and depressing for us adults too!
My goal has always been to find books and stories that will inform and inspire kids and the adults who read to them — for a history-focused book list, I didn't just want to revisit the same people and events that kids are familiar with from school social studies classes.
The books on this list include amazing stories about lesser-known historical events and remarkable African Americans that changed history for everyone! We're including affiliate links for each of our choices. And these are books that can be read year-round, not just in February — so be sure to add a few to your library list!
Picture Books for Black History Month
Wilma Unlimited: How Wilma Rudolph Became the World's Fastest Woman was such an amazing story! I actually didn't know that Wilma had polio when she was little (a disease that usually left people without full use of their legs). She not only had to overcome racism and sexism but also a major health issue in order to achieve her dreams. Definitely a remarkable woman! This would also be a wonderful book to read in prep for the 2021 Summer Olympics too.
Although the story is based on true events, I chose Henry's Freedom Box for our book list because of its' focus on an event during history (slavery and the Underground Railroad). The author does an incredible job of evoking emotions during Henry's struggle to figure out how to become a free man and his journey out of slavery. An award-winning book that includes a great Author's Note at the end with true facts about Henry's trip!
Fly High: The Story of Bessie Coleman is probably one of the most inspirational stories on our list! Besse grew up in 1892 – she loved school, math and wanted to become a pilot at a time when no one would teach a woman with dark skin how to fly. She worked very hard to earn money and travel to France because she heard that women could be trained there. Besse went on to become the first African-American to earn a pilot's license!
You can also find some gorgeous printable Black History Flash Cards & coloring pages including Bessie Coleman, Katherine Johnson & others at the Witty Wise Designs shop on Etsy!
As a book lover, I had to include Schomburg: The Man Who Built a Library on our list! Arturo Schomburg was a law clerk who realized that there was not a lot of written history for African Americans so he started collecting it! He amassed a HUGE collection of books, letters, music and art which eventually became a curated collection at the New York Public Library and is now called the Schomburg Center for Research in Black Culture. This is a longer book (so for patient or older readers 😉 and includes gorgeous illustrations!
The Story of Ruby Bridges is one that every child should know & read! I remember learning about Ruby when I was a kid and I was so inspired that someone my age could make such a BIG difference. Due to the age of the main character, I feel that kids are able to grasp a better understanding of how brave Ruby must have been and also how determined she was to get an education. The Afterword included with the story is a really nice addition to the story too.
Ron's Big Mission is based on the life of Ron McNair, an astronaut who lost his life when the space shuttle Challenger exploded. In this story, Ron is nine years old and wants to check out books from his local library; however, he lives in South Carolina at a time when only white people were allowed to have library cards! Kids will quickly get engrossed in this story, especially bookworms who couldn't image that anyone could be denied a library card. A very inspiring book and wonderful story about a man who should be remembered for more than just being a courageous astronaut.
If you have a future astronaut in the house, they would also enjoy these 12 Spectacular Books about Space.
The Youngest Marcher: The Story of Audrey Fay Hendricks, a Young Civil Rights Activist was a new story to us and a wonderful one! This is another book where kids will be introduced to an ordinary person who did something extraordinary to change history. Audrey was the youngest person to be arrested for a civil rights protest in Birmingham, Alabama in 1963. The engaging illustrations & story introduces kids to the idea of peaceful protests, being an activist and some of the segregation laws that existed during the 1960s.
Another remarkable story to read is Ruth and the Green Book! If you're a regular reader at Edventures with Kids, you know that I LOVE sharing about family road trips! This is the story of a family who sets out on a road trip from Chicago to Alabama during the 1950s when Jim Crow laws still existed. These laws meant that some gas stations, hotels and restaurants along the route would not serve Ruth's family because they were black. Readers will learn about The Green Book which is probably something that isn't discussed much in history classes but was so important for African American families who wanted to travel during the 1940s & 1950s!
Adults may be familiar with the movie by the same name — for kids, Hidden Figures: The True Story of Four Black Women and the Space Race is a great introduction to how four African American women were able to overcome a number of obstacles in order to help NASA and the US succeed in space travel. The book includes a short story section followed by a wonderful visual timeline and biographical details for each of the women. It's a must-read for any kid who's interested in space travel! And if you enjoy the story, be sure to take a peek at the movie Hidden Figures as a possible family movie night idea (we loved it!!)
The last book on our list is a stand-out for a few reasons. I am Jackie Robinson is the story of the first African American to play in the Major Baseball League. Now, there are a LOT of books out there about Jackie Robinson but this one caught my eye for a few reasons. First, it's part of a series of books called "Ordinary People Change the World" — I love that perspective for kids! It's a great message — you don't have to be in a position of power or some super famous person to change the world.
Second, the story reads like a comic book with a lot of humor woven into the historic details so readers will really enjoy as they learn about Jackie's life, the challenges he faced and his achievements.
More Inspirational Book Lists for Kids:
Around the World in 30 Books – A Trip Across the Globe