One thing I really enjoy during the summer are days out with the kids!
We like to explore almost anywhere but since we have a summer budget, finding free places to visit is always a plus since we like to get out a lot during summertime.
You don't have to travel very far for the kids to feel like they are "on a vacation".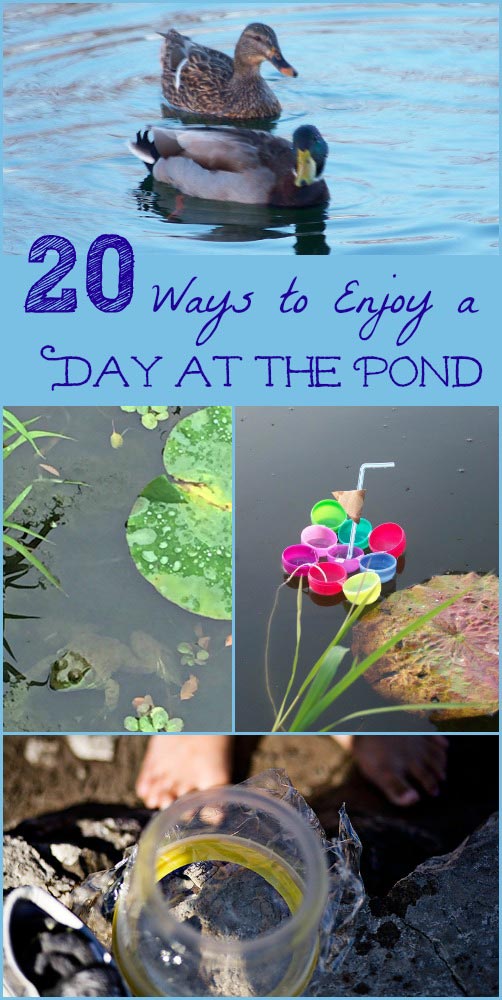 17 Fun Science and Pond Life Activities for Kids
I began to realize the benefits of days out with the kids when I took the kids to a pond one morning – we packed a picnic lunch, grabbed our favorite blanket along with a few other fun things that I had stashed in the car and headed out for a few hours.
It's amazing how much fun kids have exploring the water!
So today we are sharing all the fun things you can do on a trip to the pond, creek or lake – including a great book list, FREE printable list and some great activities everyone will enjoy.
During our $0 Summer: 105 Free Activities that Make Memories series, I wanted to be sure and highlight some fun & free outings that are perfect for summertime!
At our house, we would call these 'Friday Field Trips' because the kids and I loved to get out and explore at the end of the week. I would look for ideas of free places that were within a 1/2 hours drive and off we'd go!
Over the next few weeks, we'll share our secrets about how to find free attractions and places to visit.
Today, we're off to the pond!
A day exploring the water and all it's treasures will delight almost any child — both young and old!
I'm sure you have fond memories of wading through a creek, catching tadpoles from a pond or getting wet when your Mom asked you to stay dry 😉
In addition to adventuring, a visit to the pond also introduces kids to science — a whole new habitat with a large variety of plant and animal life.
First, a packing list for this fun adventure!
I would tuck the following items into the car before you head out:
° A Picnic Blanket
(preferably one that's waterproof on the bottom)
° An extra towel
° Picnic lunch or a snack along with water bottles
° Swim shoes (the kind with closed toes that you can get wet)
° Bring sneakers and flip flops (so you're ready for both wet and muddy areas)
° First aid kit
° Sunscreen
° A few great books about the pond (see our booklist below)
° Bucket or pail
° Some lettuce, peas, spinach or other types of veggies (to fee the ducks)
° Fishing pole (if you have one – see free fishing below)
° A WaterScope
(or see the details below for making your own)
° A Sketch Pad
and pencils if you'd like to draw
° A nature journal (see how to make your own DIY nature notebook )
° Small animal figures like this Frogs and Turtles animal set
Habitat and Science Activities for the Pond
Try not to over-schedule your time during the visit — let the kids have a chance to explore on their own and see what peaks their interest.
Here's a few things we've enjoyed: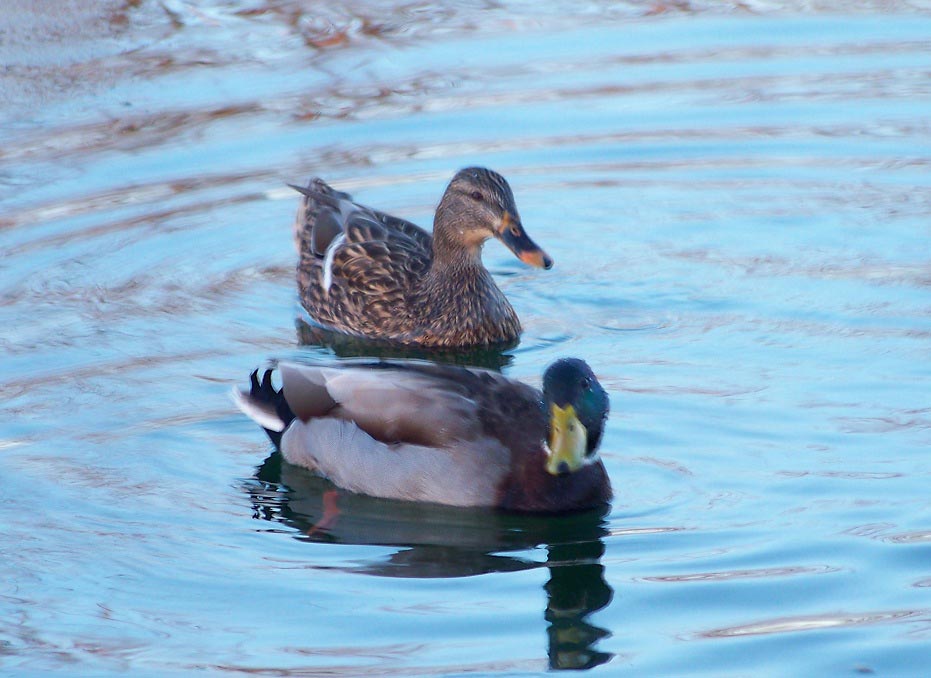 Feed the Ducks
Take along some greens and feed the ducks, geese and other water fowl. Patty, one of our readers who is also a volunteer with the Audubon Center let me know that the best items for feeding ducks include "peas, lettuce, spinach, even the green veggies that are wilting at the bottom of your fridge drawer. But no carbs, please. These are veggie eaters and shouldn't be fed bread, ever."
Gather Cattails
Something about this fuzzy plant is mesmorizing for kids.
Take a Hike
You can estimate a measure of the pond by walking the perimeter (great math lesson for older kids!) and see the plant life around the edges.
Feed the Fish
Sometimes more fun than feeding the ducks! Use the same items you would for feeding ducks (wilted lettuce, cooked peas, or spinach and watch them jump to the surface to grab a snack.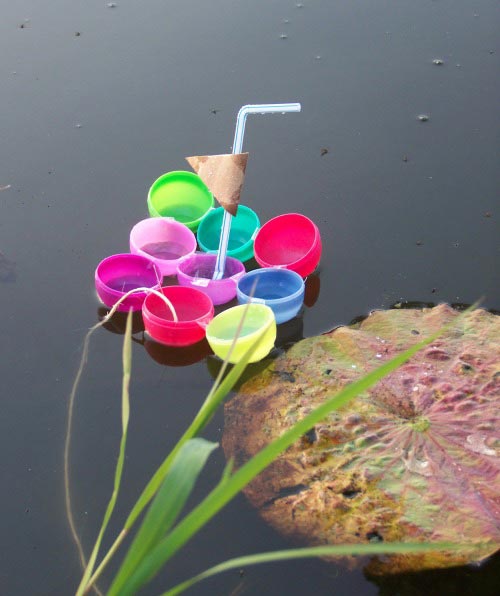 Float a Boat
Make some homemade boats and have a race!
Act out your Visit
This is a wonderful language activity for young kids! Bring along any small animal figures you might have at home and have them talk about what they saw during their visit.
Do Some Math
Count the number of frogs or fish you see or the number of lily pads. Older kids will enjoy estimating the number of fish or even the number of steps it would take to walk around the pond.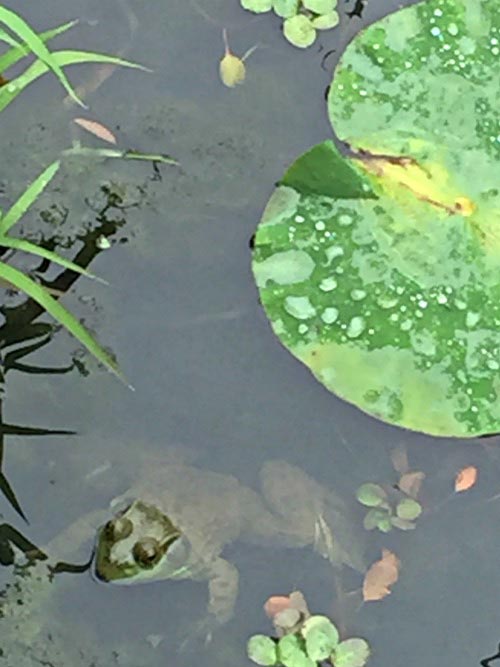 Look for Frogs
Or maybe I should say listen for frogs 😉 You will hear them croak during twilight so an evening visit will have a special 'chorus' included. You can also look for them along the rocky, shaded edges of the water during the day.
Get a Close-up Look at Things
Catch tadpoles or crawfish in your bucket so the kids can become acquainted with them up close! Be sure to return them to their home before you leave.
Go on a Treasure Hunt
Print out this Pond Scavenger Hunt from Natural Beach Living and see how many items you can find on your visit!
Go Fishing!
Free fishing days are offered in many states during the summer months. You can learn more about which days allow fishing without a permit or license in your area at Take Me Fishing.
Spy on the Fish
Make a water scope (All For the Boys shows us it's super easy!) before your visit and you'll get an awesome underwater view of the animals!
Channel your Inner Artist
Bring along sketch pad and pencils or a nature journal for some drawing or writing during your visit. You can learn how to create your own DIY Nature Notebook too!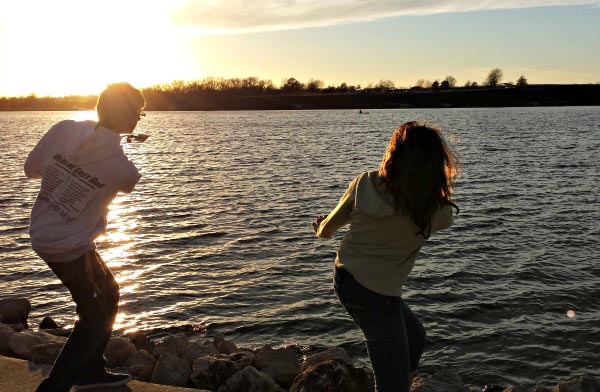 Skip Rocks
A favorite childhood activity — this takes some practice but I'm sure Mom or Dad will be happy to pass along the skill 😉 Plus it's a great way to burn off some energy too.
Take along your Camera
Snap pictures of all the animals & plants that live in and near the pond to get an idea of the large variety of life in this habitat.
Wade in!
Get your feet wet (here's where the extra towel comes in handy) for a fun & squishy sensory experience!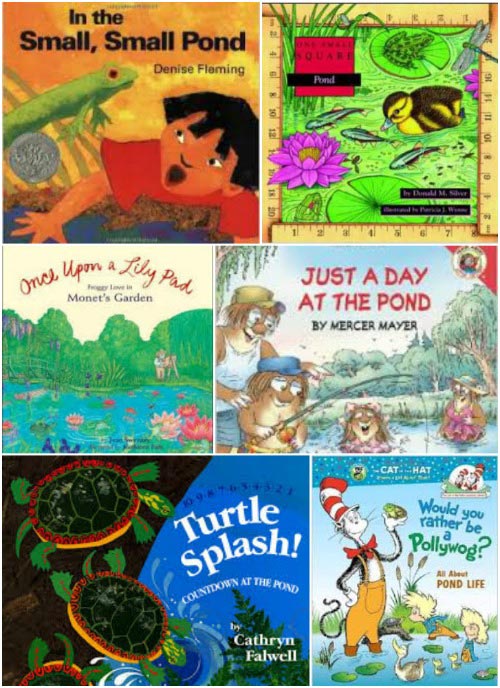 Kids Books about Pond Life

Lay out a blanket and enjoy a few of these stories! We're including affiliate links for each book so you can learn more about the stories on the list.
In the Small, Small Pond
— a wonderful look at the fun you can have exploring a pond!
Turtle Splash!: Countdown at the Pond
— turtle math that young kids will enjoy!
Pond
— this is a gorgeous book that shows the reader all the details about life in a pond habitat.
Little Critter: Just a Day at the Pond
— we love Little Critter! Read along as his family visits a pond for the day.
Would You Rather Be a Pollywog: All About Pond Life
— from the Dr. Seuss Learning Library, kids will enjoy learning lots of facts about the plants & animals that live in and near a pond.
Once Upon a Lily Pad: Froggy Love in Monet's Garden
— such a sweet story (that reads like a fairy tale) about two frogs who get married and the man who visits their pond home.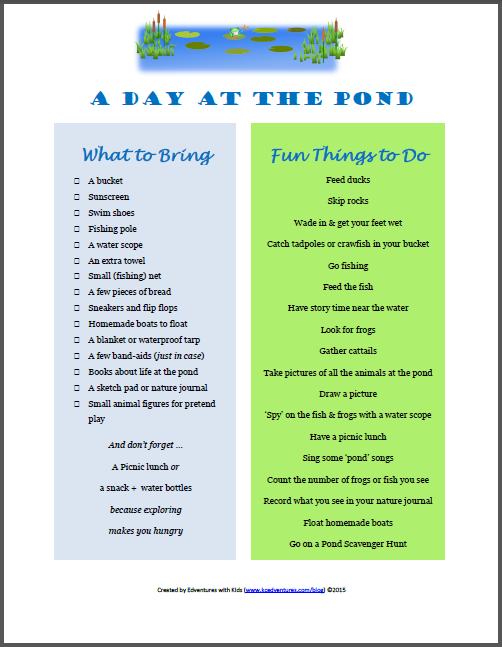 Print off this free 'Day at the Pond' list and spend a day kicking back with the frogs & fish 😉
Looking for more ideas & activities for summertime fun? Be sure to visit our $0 Summer: 105 Free Activities that Make Memories series kick-off post!