Try a few of these winter science experiments that explore snow, ice and cold temperatures!
As if the past ten months haven't been historic enough, it seems that we are making history once again with one of the most brutal cold snaps in decades!! As my grandmother always told me "if life hands you lemons, make lemonade" — so it only seems logical that if life dishes us out a snowstorm (or three!), we should create a few winter experiments along the way 😉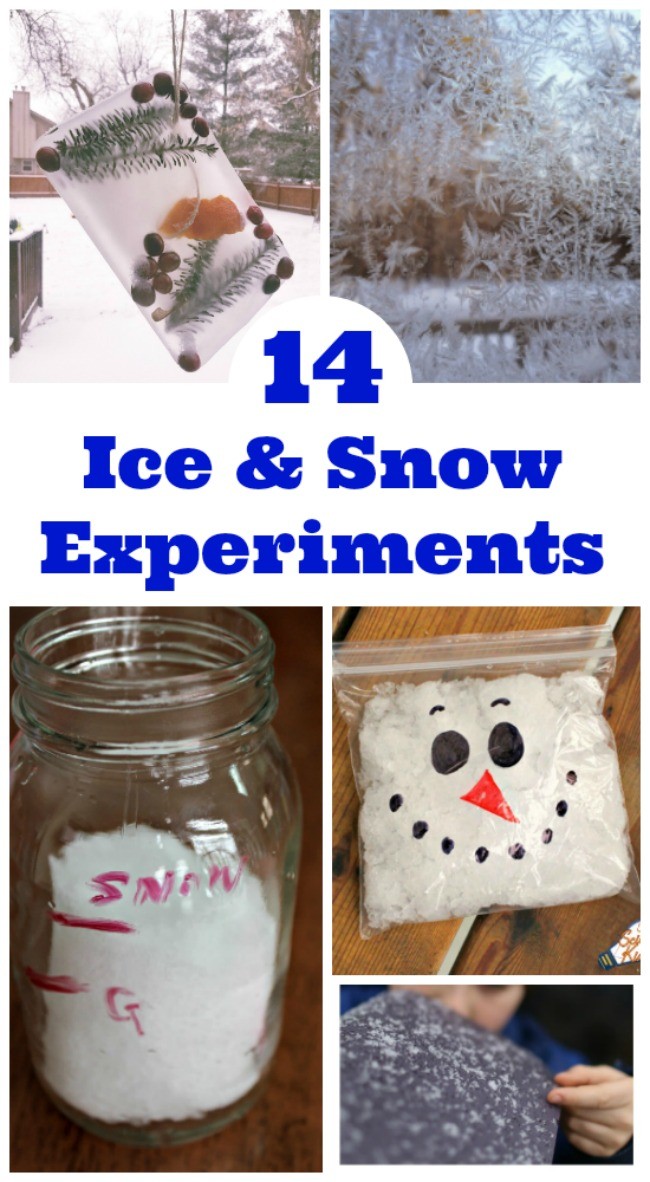 Winter Science Experiments
We've got some wonderful winter weather activities for you to try — even if you don't have tons of snow and ice right now 😉 And not to worry, most of these projects can be done (mostly) inside where it's warm with only limited outdoor time needed!
If your kids seem to have unlimited questions about winter weather (like "how cold does it need to be to snow?" or "are there really no two snowflakes alike??") be sure to cuddle up with a few of these awesome winter science books that will help to expand on the experiments and activities listed below.
The Story of Snow: The Science of Winter's Wonder — this nonfiction book reads more like a story which is perfect for younger kids. Illustrations show the process of water varpor becoming snow crystals and the book includes details about how to catch & observe your own snowflakes too!
The Cool Story Behind Snow (Level 3 Nonfiction Reader) – if kids have ever wondered about how snow forms, what happens when a polar vortex hits and how to predict a snow storm, this is the book for them! With colorful and comical illustrations and a great back-of-the-book set of resources, there's a ton of winter learning in this book.
Curious About Snow (Smithsonian)
— a fabulous book about all things snow! Kids will enjoy learning about crystalization, the types of snowflakes that form, the science behind snow and more!
Ok, time to get our winter science on!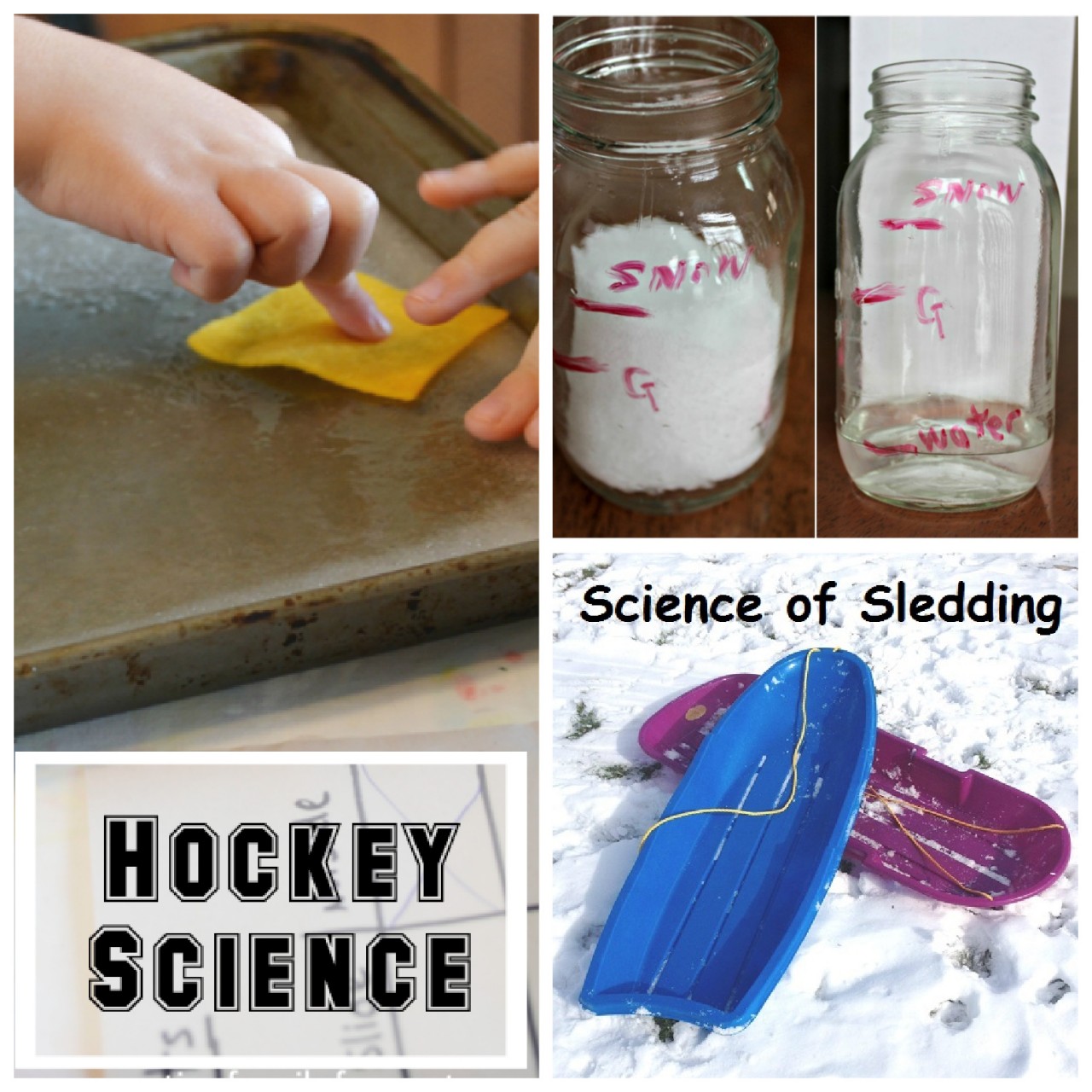 Winter Science Experiments
Explore some fun science concepts with these creative projects that use snow and/or ice!
How Much Water is in Snow? || Edventures with Kids
One of our favorite winter science projects!! All you need is a jar and some snow for this indoor winter experiment that can create some surprising results!
Freezing Bubbles and the Science of Ice Crystals || Share It! Science News
Blowing bubbles isn't just a summer activity — see what happens to bubbles when the temperature drops! And if it's super cold in your area, you can also learn how to see ice crystals on your windows too!
Exploring Animal Tracks in Winter || Edventures with Kids
A great outdoor science activity after a new snowfall — see what animals are out & about in winter!
Arctic Blubber Experiments || Kid World Citizen
Ever wonder how seals and walruses stay warm? This fun indoor experiment will show you why blubber is so important to animals that live in cold areas.
Hockey Science Experiment || Creative Family Fun
A fun experiment that takes a peek into one of winter's favorite sports — hockey!
Science of Sledding || There's Just One Mommy
If you've ever enjoyed sledding, you'll love learning more about the science behind it — how physics impact your speed and distance!
How To Catch Snowflakes || Lemon Lime Adventures
Get a close-up look at what snowflakes look like with these tips on how to catch and view them.
Expanding Snowman || The Science Kiddo
A fun and creative winter science experiment (with an option on how to do this project even if you don't have snow).
Frozen Water Magic Science || Preschool Powol Packets
Learn how to freeze water and grow an ice tower with this frozen water experiment!
Kids will also LOVE this Arctic Color Chemistry set with 18 out-of-the-box experiments and creative STEM ideas!!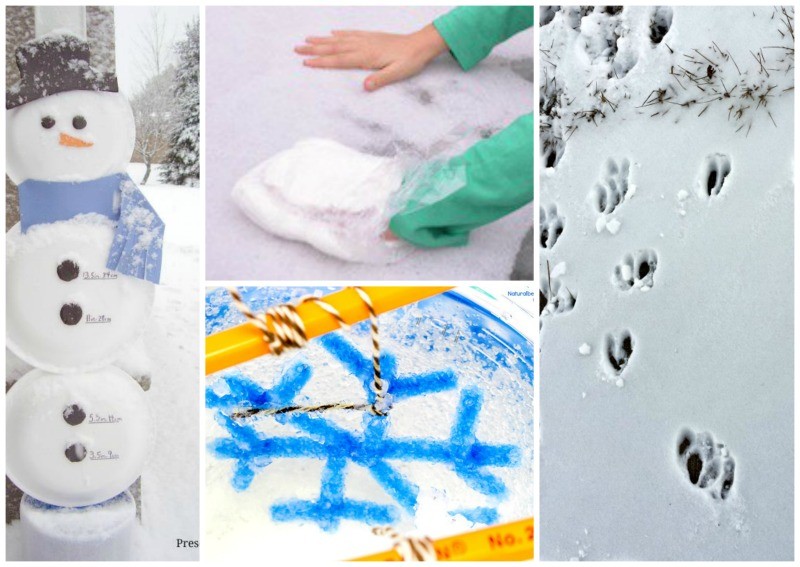 Winter STEM Activities
STEM activities include a combination of science, technology, engineering and math — add in a little art and you have STEAM projects too! Here are a few awesome ones to try out in the cold weather!
DIY Nature Ice Wreath || Edventures with Kids
Using natural items & water, kids can design their own outdoor winter wreath and learn a little about how ice forms!
Snowman Craft to Measure Snowfall || Preschool Toolkit
Create your own snow guage to measure snowfall in your area (a great combination of science, engineering & math for kids!)
Creating Habitats: Arctic vs. Forest Animals || Edventures with Kids
Build play habitats for your favorite snow-loving creatures and compare what animals live in different places.
Winter STEM Activity || STEAM Powered Family
Explore the effect of salt on ice in this indoor winter STEM activity (using a digital thermometer means you'll have science, tech and math in this project).
Crystal Snowflake Ornaments || Natural Beach Living
If you don't have snow, try this grow your own crystals experiement once you engineer a snowflake using pipecleaners!
Tastes of Winter || Preschool STEAM
Get your senses involved with this fun blindfold taste experiment for kids!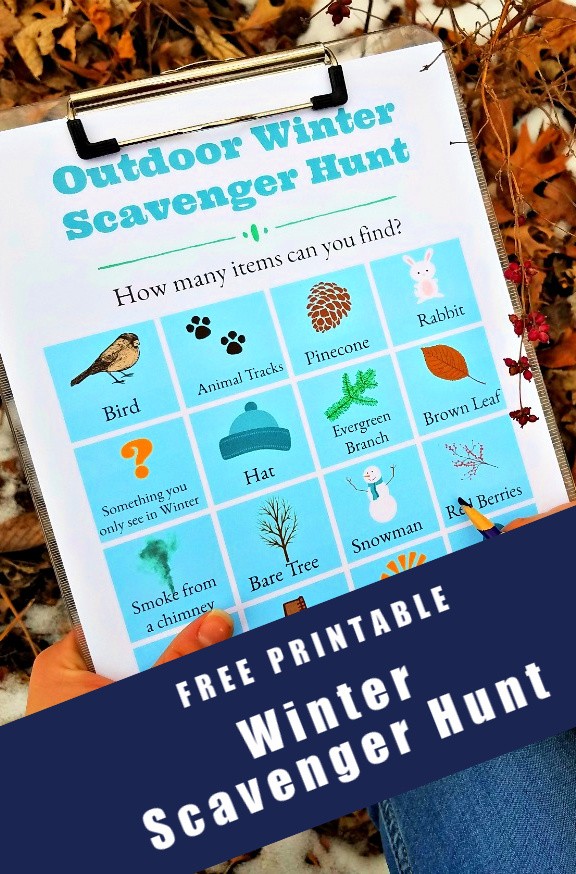 More Winter Activities for Kids
Winter Scavenger Hunt (w/FREE printable!)
14 Wonderful Winter Read Alouds