These awesome family travel hacks and road trip tips are sure to make your next car trip easier & more enjoyable!
Summer's here and that means road trips! Woohoo!
Time to break out all the Printable Road Trip Activities & Travel Games and spend some quality time together explore new places!
When I was a kid, my parents would to take us to cool places every summer and I loved getting away from the 'ordinary days' of home life. Travel allows for adventure, inspires us to explore new places and is a huge learning opportunity for your kids!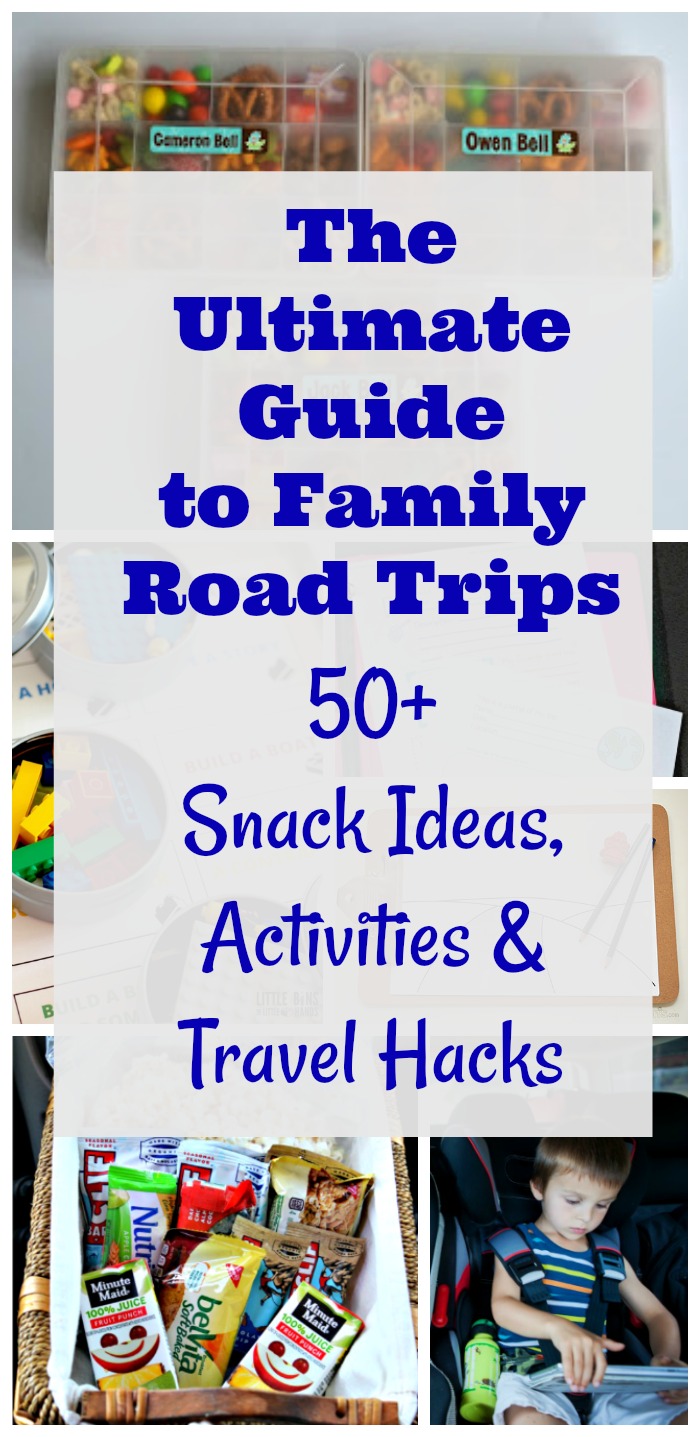 50 Travel Hacks & Road Trip Tips
Seeing new places, reconnecting with the kids, trying to keep everyone happy in a small (sometimes too hot and crowded) area 😉
Just kidding … you know I LIVE for road trips!
But man, it takes a small army to get a family ready to hit the road — all that packing, organizing, finding rest stops along the way.
So we want to help make life a little smoothier with these travel ideas you'll love!
There's this great travel quote from Eugene Fodor that I love:
"You don't have to be rich to travel well."
But you do need to be organized to travel with kids!
Remember, there's always going to be some level of chaos — missing shoes when you get to your road stop, the age-old question "Are we there yet?" that will be asked every half hour and stuff everywhere in the car 🙂
But to see the wonder in your child's eyes as they experience new things — it's priceless!
These OUTSTANDING tips and ideas are sure to help make your next trip a breeze! We're including links to some amazing activities, along with affiliate links for items we love to have on our road trips too.
Let 'Travel Season' commence!
Road Trip Hacks for Staying Organized in the Car

First, be sure to grab our free printable list of 10 Things to do Before Your Next Road Trip!
This will help with all the prep for the trip from getting the car ready to being sure you have help from everyone while you prep.
One of my BIGGEST tips: Find a car organizer that fits your family's needs!
I just can't say this enough — "a place for everything & everything in it's place" will help to keep the car NOT looking like a tornado traveled with you 😉 Here are a few great choices for car organizers:
For toys, sippy cups & toddler items: Backseat Car Organizer with kids toy storage
For toddlers & preschoolers who drop things: this AWESOME Portable Travel Tray with sides
For kids who use an iPad on the trip: High Road iPad Car Seat Organizer
For back seat snacking & games: High Road Kids Seat Organizer w/Cooler & Snack Tray
We make these fun DIY Travel Buckets & Bags to corral all the souviners and treasures our kids collect on the trip! You can bring along all the supplies & have your kids put them together in the car. And they are a great place to store things once you get home too.
Bring healthy snacks in a basket so they are easy to access & kids don't have to 'dig' through a cooler or bag to find what they want.
Also try these Tips for Controlling Car Clutter with Kids || Simple. Home. Blessings.
And institute a "5 Minutes" rule — five minutes before any bathroom break or stop you make, have everyone pack up items, put away movies and pick up trash.
Road Trip Games & Activities for Kids

This is always a challenge especially on long car trips — but there are a LOT of fun ways to keep your kids entertained in the car:
Check out road trip rest stops for play areas & stretch your legs (bring a frisbee or kick around a ball).
And Road Trip Busy Boxes are always popular with younger kids || Discovering the World through My Son's Eyes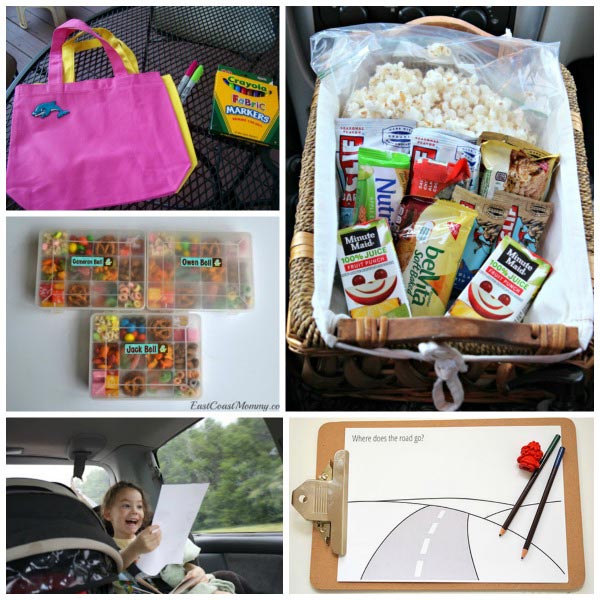 Learning Activities for Road Trips
It's amazing what a car trip can teach your child — read up on 8 Things Kids can Learn While Traveling!
Teach your kids about maps, directions and geography by using a

Kids' Road Atlas

on the trip!
Bring along

Brain Quest card decks

for your kids! We get the version that matches with their next grade level for every summer trip.
Top Family Travel Tips for the Car Trips
I love this section — it includes TONS of tips from families who have done LOTS of road trips!
More Family Travel Ideas:
Tips for Awesome Day Trips with Kids
12 Ways Kids can Help with Travel Planning & Prep