Inspire your kids to explore science with these play & learning ideas and activities!
If you've ever watch children play, you can see how much fun they have pretending.
Sometimes they are building social skills or practicing their communication and launguage skills. And other times, they are exploring new areas of the world such as science.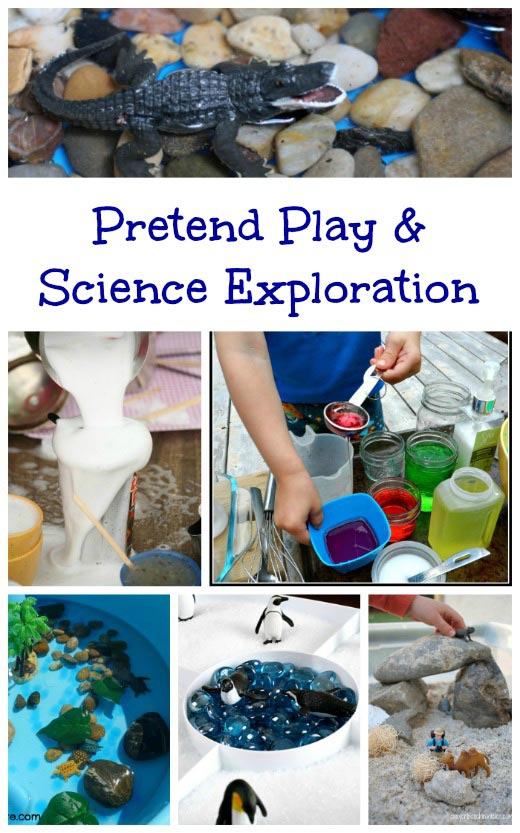 Pretend Play & Learning: Science Activities
Quite a few pretend play activities also lead to science exploration and discovery. You'll notice kids asking questions such as "why?" and "how?" as they engage in various activities.
Many times, children don't realize that they are learning about chemistry and physics while they have fun. And play like this will continue to enhance a child's curiosity as they explore new things.
And don't think pretend play is JUST for preschool kids — children ages 2 – 12 LOVE to engage in various play activities like these!
We had some wonderful ideas for science-based pretend play & learning shared at last week's Discover & Explore linky.
It's very easy to introduce different science concepts when setting up Invitations to Play or allowing kids the opportunity to be curious as they play. We're including a variety of ideas & activities along with affiliate links to some of our favorite science/play items too.
Small World Play & Animal Habitats

There are many different parts of nature that most of us don't get to see every day. In order to expand your child's interest in the world, you can bring parts of the world to them in a creative play setting.
It's easy to make your own small world at home — all you'll need is some type of container, a few nature or sensory items and animal sets like this set of Rainforest Animals.
Here are some excellent examples of science-related Small World play:
Create Forest & Arctic habitats and compare how animals live in different locations.
If you don't live near a desert, you can construct a Desert Small World like the one at Crayon Box Chronicles.
Kids will also enjoy learning about the world of reptiles with this Alligator Small World from Twodaloo or this fun Turtle-themed water table from Craftulate.
Explore ocean zones and animals with this Under the Sea Ocean in a Jar. Or learn about ocean habitats with this Layers of the Ocean Small World STEM activity.
There are even ways to take small worlds outside & explore plant science (botany) with this Small World Fairy STEM activity.
And explore the life of a penguin with this Penguin Salt Tray from Fantastic Fun & Learning.

Chemistry Activities for Young Children
Anytime they mix substances together, they are learning about things like saturation, absorbtion and soluable substances. We love to have a set of kid-size science items in the house so they can mix and magnify to their hearts content!
Kids can pretend they are 'magic' as they explore chemistry and mix household items in a DIY Wizards Lab!
Happy Hooligans shows us how easy it is by setting up this Pretend Coffee Shop where kids can mix all types of solids and liquids to make their own 'coffee or tea'. And My Nearest and Dearest set up a great Soap Factory where kids can also explore the chemistry of mixing colors!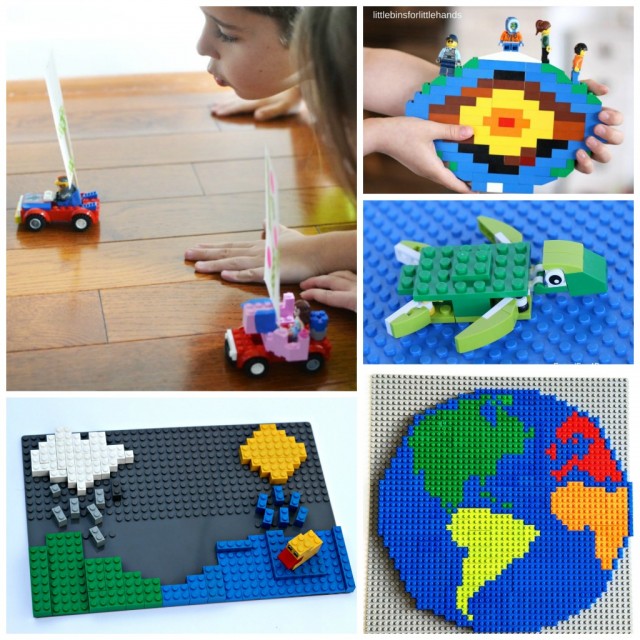 STEM Activities for Playtime
One of our favorite play items for constructing & building is LEGOs! In addition to the normal LEGO sets, they also make these awesome LEGO Architecture kits too.
These 12 LEGO Play & Learning Activities are perfect for introducing various engineering concepts.
Lemon Lime Adventures shared an awesome post on Creating a Cardboard City — such a fun way to practice building and construction.
Try engaging your kids in similar activities to encourage their interest in science this week!
More Science & Play Activities:
40 Animal Habitat crafts & activities
55 Science Activities with the Cat in the Hat
You might also like:
Create Your Own Ocean in a Bottle