Last week, we explored one of my favorite topics on the Discover & Explore linky — SCIENCE!
I love introducing kid to science – the easy, everyday questions that lead to those amazing discussions when you can see those wheels turning as they come up with more questions about how & why.
And here's the big secret — you don't always have to have an answer for all the questions!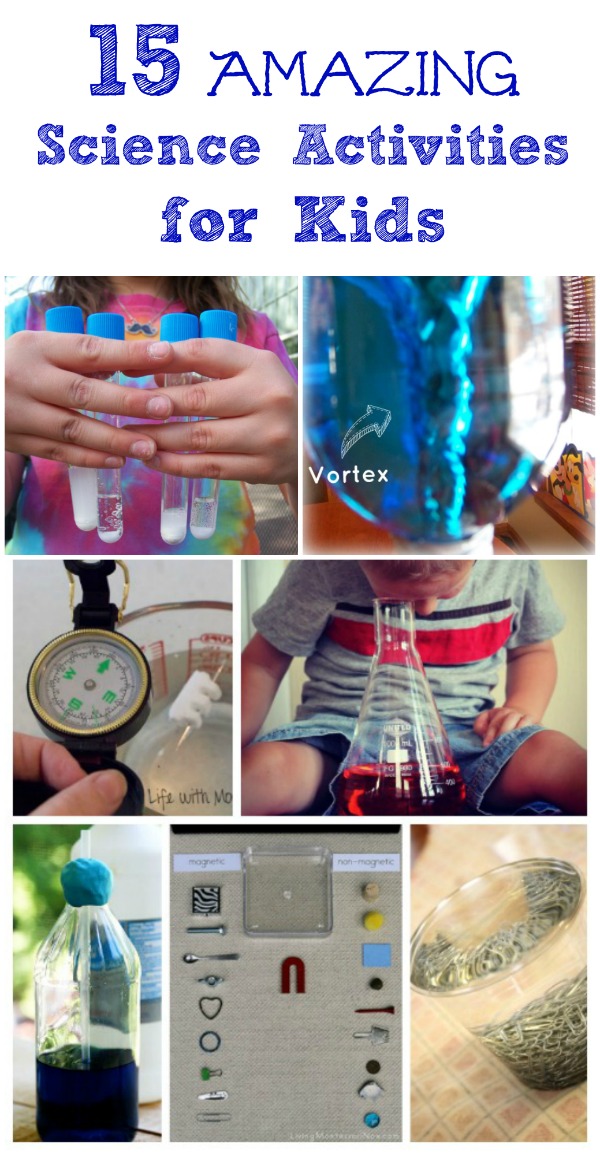 15 Amazing Science Activities for Kids
Nope, quite a bit of science is all about the process — coming up with the questions and then thinking of ways you might test out different options for answering those questions. Allowing curiosity to bloom is so important when you're raising a mini Einstein.
Of course, we also have to remember that science should be fun for kids – it's going to keep them more engaged in the process and they will want to continue to explore other questions and ideas.
So this week, I'm sharing some great ways to get the kids excited & engaged with science! These are some wonderful ideas for exploring the scientific process, and encouraging kids to ask questions & find answers while having fun.
Learning the Scientific Process — Crafting Connections
Exploring Magnetic vs. Non-magnetic — Living Montessori Now
Discover a Chemical Reaction — Afterschool with Smarty Pants
Create a Homemade Compass — Life with Moore Babies
Experiment with Light & Mirrors — Making Montessori Ours
Design a Bottle Thermometer — What do We do All Day?
Create Surface Tension — Buggy & Buddy
Explore Density — Little Bins for Little Hands
Connect Science with Nature — Powerful Mothering
Plus 5 more Ways to Explore Everyday Science! Looking at all the small ways that science is involved in daily life is a wonderful way to introduce kids to basic science principles and concepts!
More Science Experiments from the Discover and Explore Co-hosts
Fun Science Activities for Kids (KC Edventures)
Reflections in Mirrors (Buggy and Buddy)
Floating Egg Science Experiment (Fantastic Fun and Learning)
Bubbles in a Bowl Science (Teach Preschool)
Toddler Science Experiments (Twodaloo)