Learn about the stars with these FUN marshmallow constellations for kids!
This week's topic in our super Summer Science series is Astronomy — learning about the phases of the moon, star contellations and the wonders of the night sky!
Inevitably, kids will ask: "How many stars are in the sky?" or "Why do the stars shine at night?" plus a million other variations of those impossible-to-answer questions.
It's all part of the scientific inquiry process — being intrigued enough to ask the questions and then heading off to find the answers!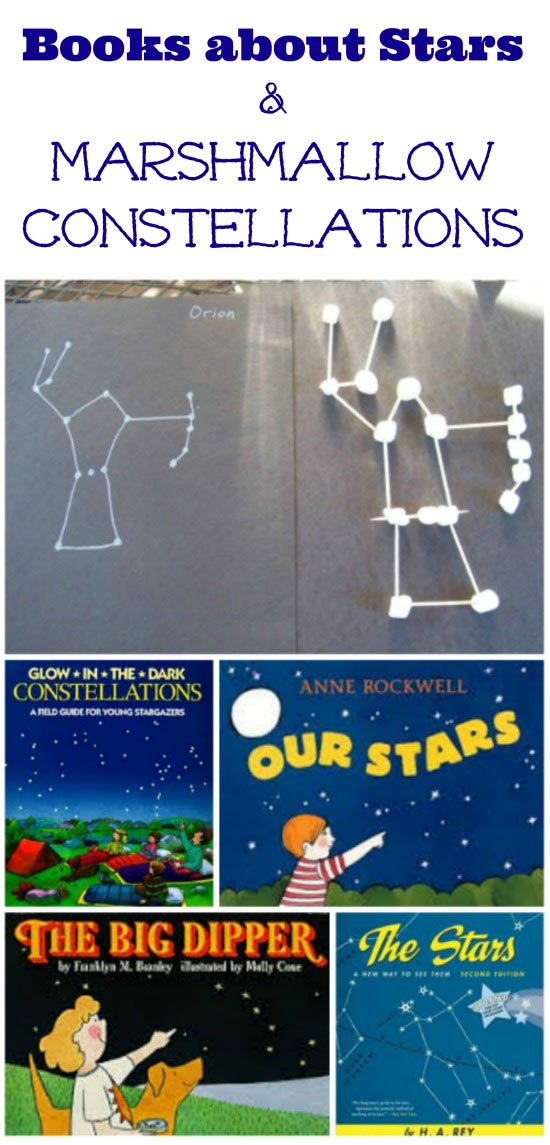 Building Star Constellation Models with Marshmallows
I love to explore Astronomy all year round. It's a wonderful opportunity to get outside for an evening walk and do some stargazing (and on some nights, finding a few planets too!)
Introduce your kids to the idea of astronomy by reading a book or two from our reading list and then construct some fun marshmallow constellations for each of your favorite star groups! We've included affiliate links for all of the books and items we used so you can easily find more information on each one.
Top it off with an evening walk to see if you can spot any of the cellestial animals or objects that you read about in the story!
Kids Books about the Stars
Our Stars is a great book that introduces the stars to younger children. The simple words and bright illustrations encourage kids to look up and give more attention to the night sky. Great for preschoolers.
The Big Dipper (Let's-Read-and-Find-Out Science 1), part of a highly recommended science series, this book does a wonderful job of introducing constellations to the youngest astronomers!
Learn how the stars 'move' in our sky, the names of the various stars that are part of the big dipper and how to find the North Star. Perfect for kids ages 4 – 8 years.
Glow-in-the-Dark Constellations is such a fun book and I love the layout! First, it discusses each constellation in detail including the story of how each was named and the stars found in their structure.
It also shows where the constellation can be found in the northern and southern hemisphere and answers some of those tough questions, such as "Why do constellations appear in different places in the night sky during the year?" An excellent resources for kids ages 6 – 10 years.
The Stars is a perfect book for older readers who will enjoy the star charts and detailed information about the constellations in this great book.
Readers will also learn about the seasonal movement of the stars, information about black holes and other areas of our solar systems and facts about each of the planets. Best for ages 12+.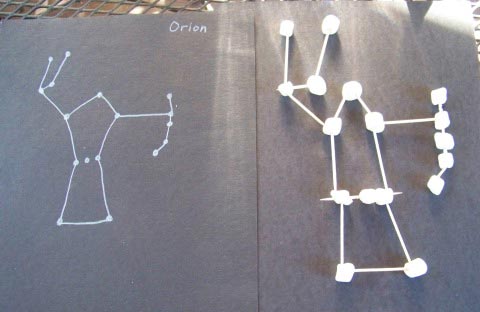 How to Make a Star Constellation Model
A fun (and tasty) way to learn more about the stars — construct a constellation model of the stars using marshmallows and toothpicks!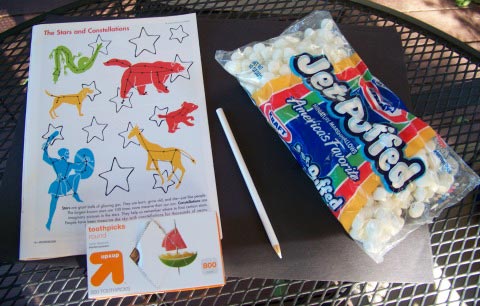 You'll need a few items to create your own constellations:
a bag of mini-marshmallows
toothpicks
diagrams of your favorite constellations (see below for resources)
Visit Mr. Printables to find a copy of the summer constellations map or use this set of Constellation Knowledge Cards
so you can see the star patterns for each constellation you'd like to build.
Either print out or draw the constellations you will create (we used black construction paper with white colored pencils to draw ours).
Use dots for each of the stars and lines to frame the constellation's shape.
We decided to build Orion, one of the most recognized star groups and also one that is visible around the world.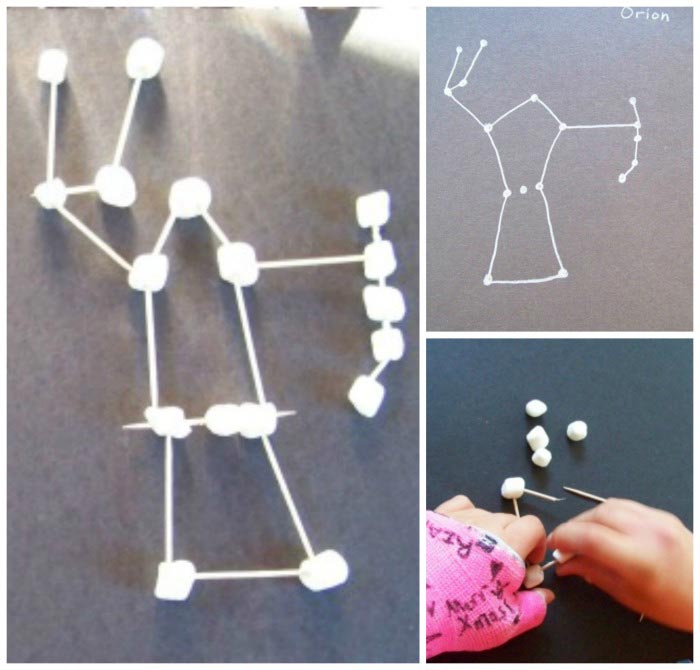 Construct the star constellations using the mini-marshmallows and toothpicks.
Use a marshmallow for each of the stars and connect them with toothpicks so they resemble the outline of the star group. You may have to break some of the toothpicks in order to make shorter star connections as you build as we did for Orion's belt above.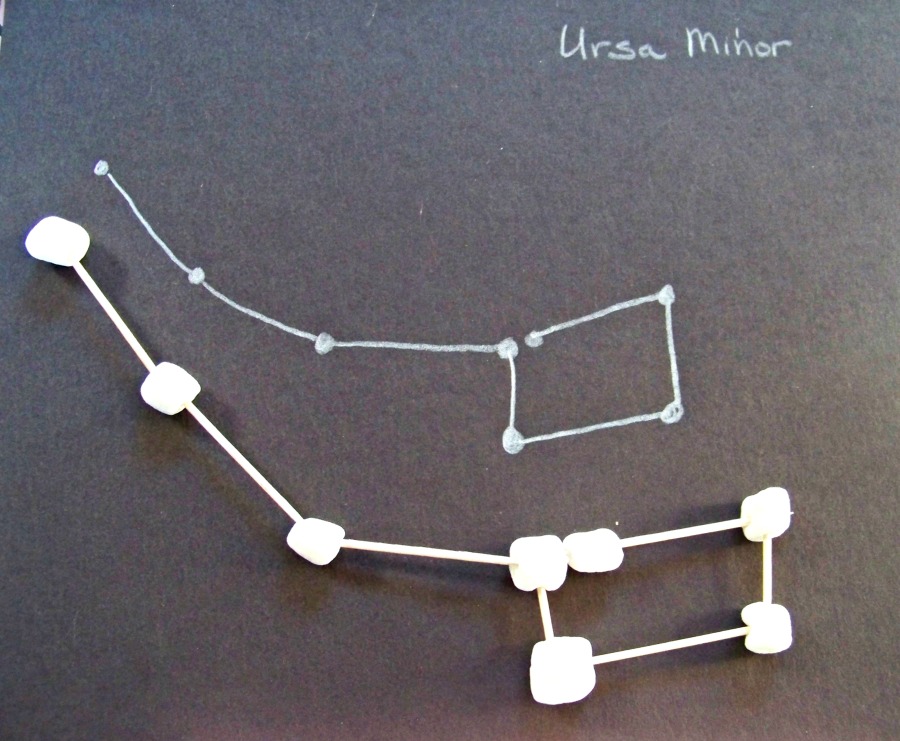 Another popular star model to build (and one that very easy to find in the sky) is the Big Dipper! Here's our marshmallow version of this constellation.
Snack Tip:
Yes, you can use mini-marshmallows to make s'mores 😉
Instead of cooking them on a stick, they can be melted over the fire or grilled in tin foil and then spread onto your graham crackers.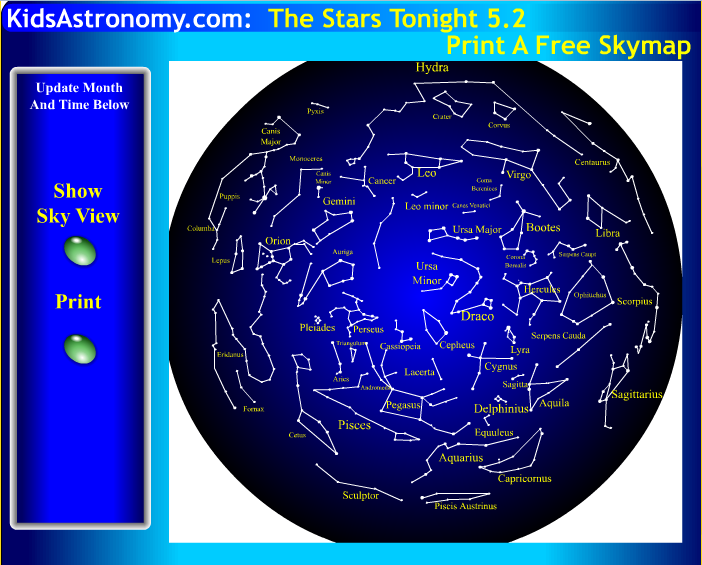 Stargazing & Star Charts for Kids
You'll probably need a star chart or an app to find many of the constellations.
Visit Kids Astronomy to print a star chart for your area.
If you'd rather go high tech (and have older kids), download an app for your phone that will help you locate each of the constellations.
These can be really amazing — you hold your phone up to the sky and it almost find the constellations for you! If you have an iPhone, try the Sky Guide app. For Android phones, look at the StarChart app (may not work on newer phones).
More Constellation & Nighttime Fun
Make your own star constellations to hang on your wall with this Glow in the Dark Stars kit
. Our kids have had their constellations hanging in their bedrooms for years and they still 'light up' each night!

If you have kids that are curious about space, be sure to see these 20 Great Books & Activities about Space & Our Solar System too!
And head over to Inspiration Labortories for a fun science activity exploring the Earth, Moon & Sun.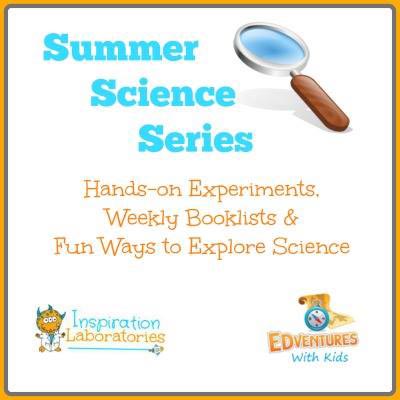 Summer Science Activities
Explore more of the awesome activities for all the Summer Science topics!
BIOLOGY
Books & Websites that explore Plants, Animals & the Human Body
Backyard Earthworm Experiments
How Long are Your Small Intestines?
GEOLOGY
The Science of Rocks, Fossils and Volcanoes
Digging for Dinosaurs — Learn to be a Paleontologist
ASTRONOMY
Explore the Night Sky – Marshmallow Constellations
Solar System Activities for Kids
PHYSICS
Fantastic Forces & Water Rockets
Exploring Color and Temperature
CHEMISTRY
Make a Cup Cake (Chemistry of Baking)
Blowing Up Balloons/Blowing Out Candles
ECOLOGY
Kids Activities that Explore Ecology
Create an Under the Sea World: Exploring Ocean Zones