Grab your favorite sidewalk chalk and do some learning this summer!
At the end of the school year, I always spend some time stocking up for Summer fun.
I like to do a quick assessment of items that need to be added based on the kids' developmental skills (do we need a bigger bike? are they ready to try a new activity like hula-hooping?) and also those outdoor supplies that need to be replenished — like sidewalk chalk!
If I could create a Summer Bag for every kid in the world, one of the first things I would put in is sidewalk chalk — it's colorful, inexpensive and there are SO many awesome ways to use it!
So play & learn with us today and explore these 27 fun ways to get creative with sidewalk chalk this summer!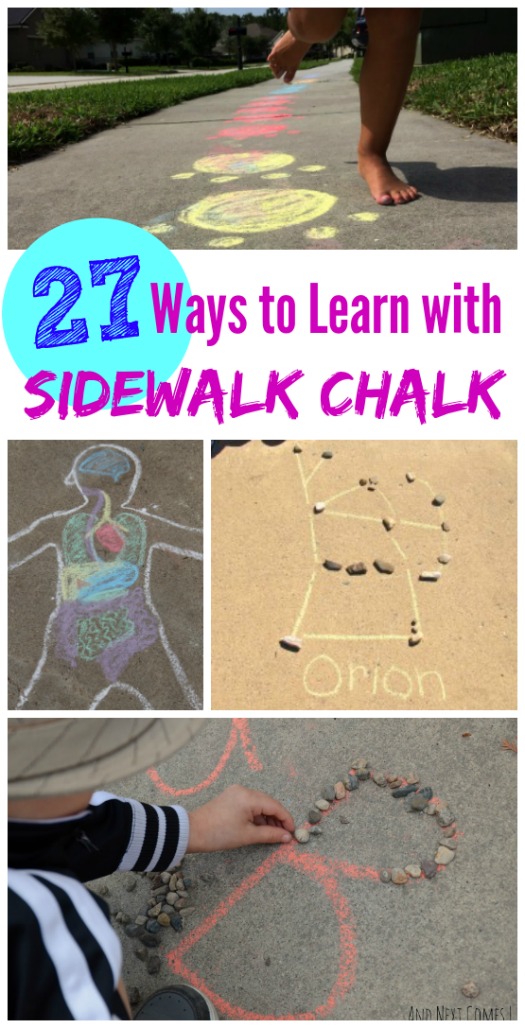 27 Sidewalk Chalk Learning Activities
The first thing you'll need is some sidewalk chalk 🙂
But not just 'ordinary' sidewalk chalk — get something SPECTACULAR this year!
There are sooo many fun chalks to choose from — each summer, we add a new type of chalk to our play area. Here are a few of our favorites along with affiliate links and details so you can see which you'd like to stock up on for summer fun!
This year we found the new Crayola Special Effects GLITTER Sidewalk Chalk! Yes, it really does glitter in the sun!
They also make Neon Sidewalk Chalk and this fun Tie Dye Sidewalk Chalk if you're looking for cool colors.
If you haven't tried the Crayola 3-D Chalk, it's SUPER! After you draw your picture, put on the glasses and your drawing becomes 3-dimensional and 'pops' off the sidewalk!
We've also had fun creating with Sidewalk Chalk templates too which are great for older kids and tweens!
Unique Ways to Learn with Sidewalk Chalk
Explore some chemistry with this recipe for easy DIY chalk paint — You Clever Monkey
Draw a life-size Whale with sidewalk chalk — Edventures with Kids
Older kids will LOVE this Sidewalk Chalk anatomy activity for learning the body systems — True Aim
Younger kids will enjoy learning the parts of the body with chalk! — Learn with Play at Home
Create constellations with chalk & rocks and explore the night sky — Creekside Learning
Teach kids the Greek alphabet with chalk — Edventures with Kids
Plus 10 more summer sidewalk chalk learning games!– Teach Beside Me
ABC & 123 Sidewalk Chalk Activities
Alphabet Learning with Chalk & Rocks — And Next Comes L
Beautiful rainbow chalk writing for letter learning — Sugar Aunts
See and Spray game for a fun number game with chalk — School Time Snippets
Go on a Garden Counting Treasure Hunt — Nurture Store
Draw chalk bugs for alphabet bug game for preschoolers — Modern Preschool
Use chalk to make a counting maze for preschoolers — Hands On: As We Grow
Make chalk letters and play water balloon letter smash — School Time Snippets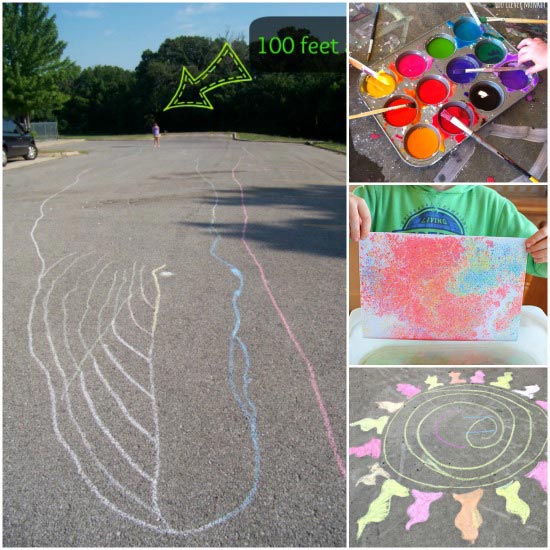 Outdoor Chalk Activities that get Kids Moving

What fun with this giant chalk keyboard! — And Next Comes L
I love this chalk giant outdoor gross motor animal track game! — Modern Preschool
A big chalk maze for preschooler for extra fun! — Hands On: As We Grow
Use chalk to make rocket hopscotch for learning about planets — And Next Comes L
And more sidewalk chalk games that get kids moving — Learn with Play at Home
Chalk Art Projects
Here's a great idea for chalk resist art outside — You Clever Monkey
Or try this beautiful indoor art with floating chalk prints — Pickle Bums
Draw with wet chalk outside! (comparing dry & wet chalk even sneaks in a little science learning 😉 — Sugar Aunts
Such a fun idea — frozen chalk finger painting activity — Mini Monets and Mommies
LOVE this idea of learning with chalk and loose parts! — Pickle Bums
Hop over & see our 20 Printable Scavenger Hunts, Car Games & Summer Activities for Kids too!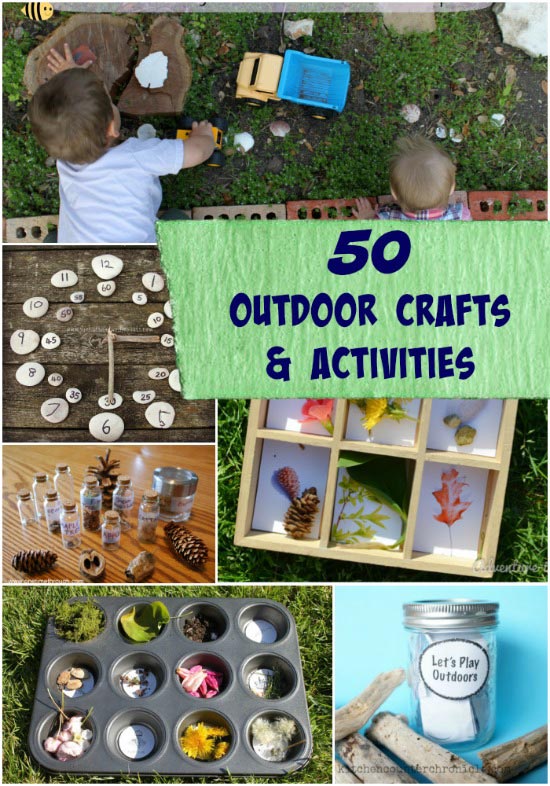 MORE FUN OUTDOOR ACTIVITIES
50 Outdoor Games & Nature Activities
Turn your Backyard into a Science Lab with these 20 easy experiments!