Introduce your kids to some amazing classic backyard games this summer!

We love to encourage families to get outside & enjoy their own backyards — whether it's doing a few backyard science experiments or having a camp-out at home, there are so many easy ways to connect — and playing a game is one of them!
You know, the way WE use to entertain ourselves when we were young before the word 'game' was synonomous with video console 😉
What lawn games did you run outside to play with your friends or family? We've got a great list of ones to try this week!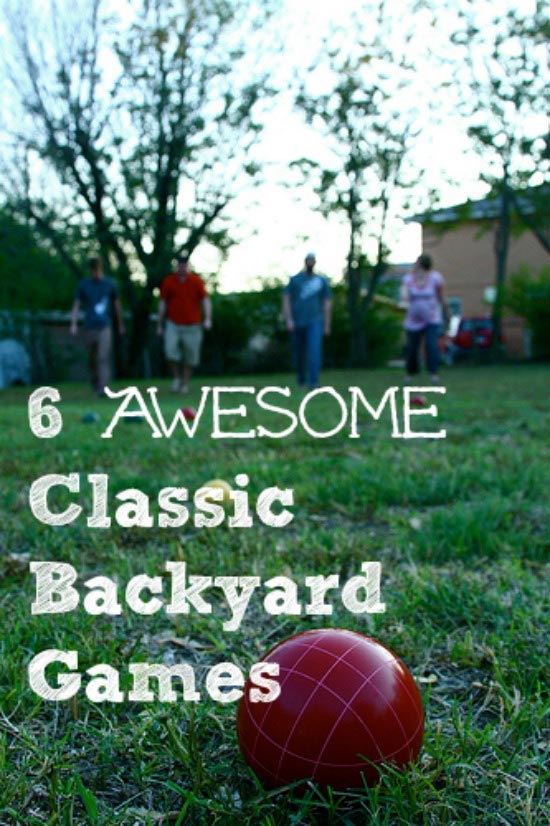 Photo by calebwilkerson via Flickr Creative Commons

Classic Backyard Lawn Games for Kids & Families
Here are a few throw-back games that should bring back fond memories along with affiliate links and a few details on why they're such a great way to spend some family time together.
I highly suggest making this an after-dinner tradition at least once a week — it's a great way to encourage outdoor time, family conversations and some friendly compeitition!
Backyard Hide & Seek
So much more fun than indoor hide and seek because you really have to be good at finding places to hide and running full tilt back to home base is a must. This is an easy game that can be played in any size yard or at the park with both kids and adults.
Teens will even get into this retro game if you play it at night — I can remember quite a few summer evenings running through the nieghborhood trying to find my siblings!
Bocce
A family favorite of ours, Bocce Ball
is lawn bowling at its finest.
This is an awesome games for all ages (preschool thru teens!) because "rolling a ball" is most of the fun. The object of the game is who can get their ball closest to the pallino (the small white ball) BUT the twist is other players can aim to knock your ball out too.
Kids not only catch on quickly but love trying to knock Mom & Dad's balls out of range. Bocce is very easy to learn and also a great game you can take with you for picnics or an afternoon in the park!
Croquet
What kid doesn't love to smack a small ball with a wooden mallet!
Croquet
is a retro game that many kids quickly associate with the movie Alice in Wonderland.
Personally, I think the wood painted hammers are best so search at garage sales and flea markets for an older set to add to your backyard items. They even make some fun Kid-size Croquet Sets of this retro game!
Flashlight Tag: After Dark Backyard Games

Loved by many, flashlight tag is even more fun than hide & seek because you get to use flashlights!
And run thru the dark 😉
Basically, assign a tree as home base and have someone count to 20. All other players will go and hide. The counter gets a flashlight and uses the beam of 'light' to tag other players trying to get back to home base.
And that usually turns into other great backyard fun such as searching for fireflies or making shadow puppets on the back of the house.
While you're out there, grab this FREE printable Nighttime Scavenger Hunt for some additional fun too!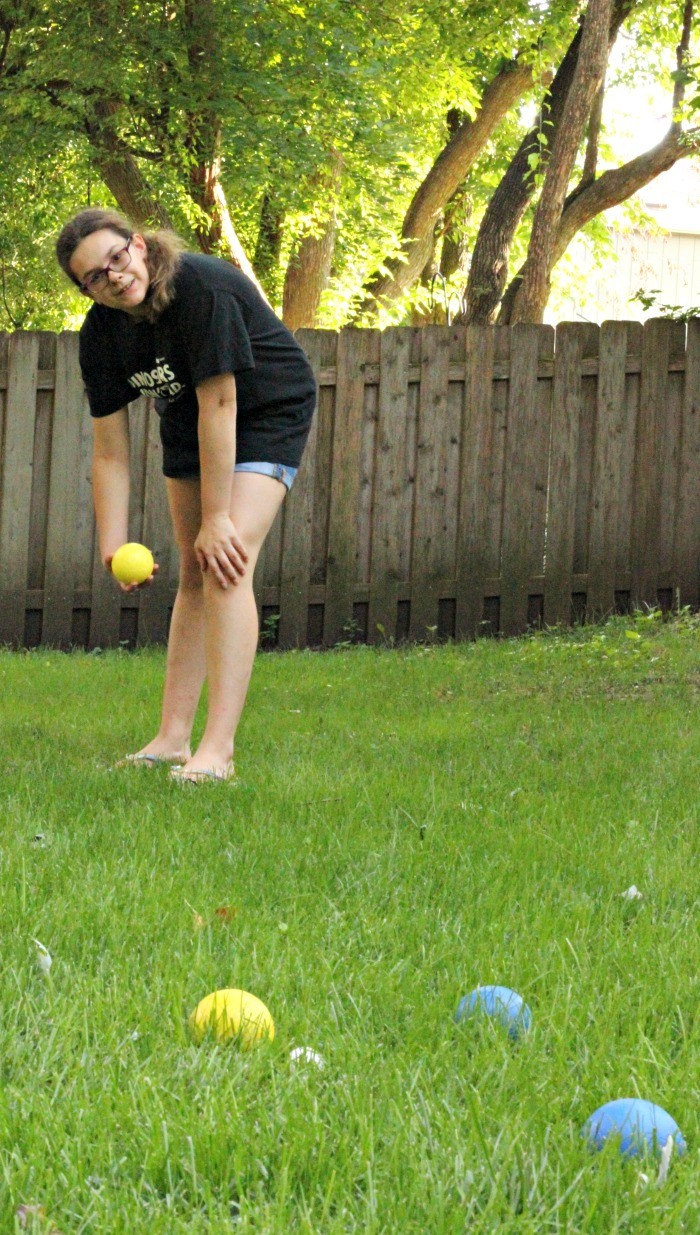 Lawn Darts or Jarts
Who remembers Lawn Darts?
(yes, they do still make the originals but you have to search yard sales & antique shops for them !) In our house, you had to be "old enough and responsible" to be able to toss the sharp, heavy objects "without killing each other" as my Mom would say 🙂
Goodness knows, there was probably more than one trip to the doctor as a result of this classic game!
The newer version, Lawn Jarts, is just as much fun without all the worry and danger (ok, maybe not just as much fun if there's less danger, right — but it comes a close second to entertaining the kids especially with an after-dark round 😉
And now they also make a set of Glow in the Dark Lawn Jarts too!
Badmitton
This one takes a little skill but Badmitton is perfect for a group of four or more!
The object of the game is to volley the birdie back and forth over the net using rackets. It's wonderful for building hand-eye coordination and a great balance activity too.
Once you set up the net, you'll have a visual reminder to get outside for some fun each evening.
Backyard Frisbee
Although this game requires a little skill, most kids can quickly learn how to toss a Frisbee.
Playing frisbee is one of those classic summer skills (like learning to hula hoop or blow a blade of grass to make it whistle). It also offers a lesson in creativity also as many frisbee players have unique styles for tossing around the flying disc.
Here are a few more ideas for backyard fun!
More Backyard Activities
Amazing Ideas for Backyard Play
Life-Size Games & Art Activities for Kids