Inspire your kids with an awesome Outdoor Photo Scavenger Hunt this week and get them outside!
This is a super easy idea that will keep the kids both busy & creative on those long "Mom, I'm bored!" days 😉
Plus, Summer is the perfect time for kids to explore something new or master a skill such as photography — those less-scheduled days allow them more time to pick up a camera and practice.
So grab a camera or smart phone along with our free printable Outdoor Photo Scavenger Hunt list and let's head outside to explore!
---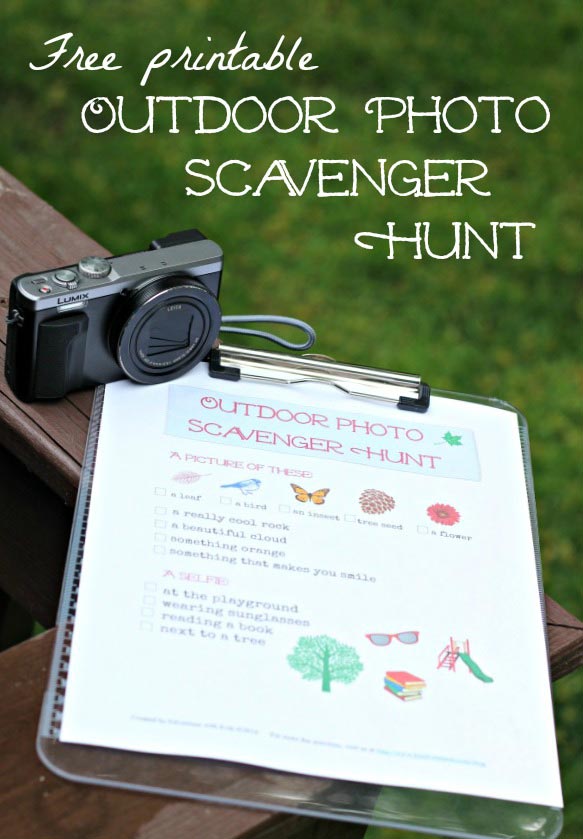 Photo Scavenger Hunt (with free printable!)
As with all of our Scavenger Hunts for Kids , we have a few tips along with affiliate links to items we love:
we highly suggest having a

sturdy 9 x 12″ Clipboard

to hold your hunt — we've spent waayyy to many hours chasing papers around when they've blown away 😉
you can use this as an individual hunt or it's also great as a team activity (for scout troops, family reunions or youth groups!) If you have more than one person doing the hunt, bring colored pencils along and assign each person a specific color so they can keep track of which items they found.
remember to bring along water (it can get hot looking for all those items) plus a bag to hold your camera so it doesn't get dropped while you searching!
There are two things I recommend when kids start to use a camera — and to be clear, I am not a photographer, just a totally practial person 🙂
First, DO NOT over-think this — let your kids experiment!
I know, you've seen a million shots on your smart phone of their latest LEGO creation or crazy poses of your dog.
BUT one of the most important ideas behind photograhy is the creative side — if you go in and try to 'prescribe' their style, you won't be giving them a chance to develop any unique style (if you know what I mean).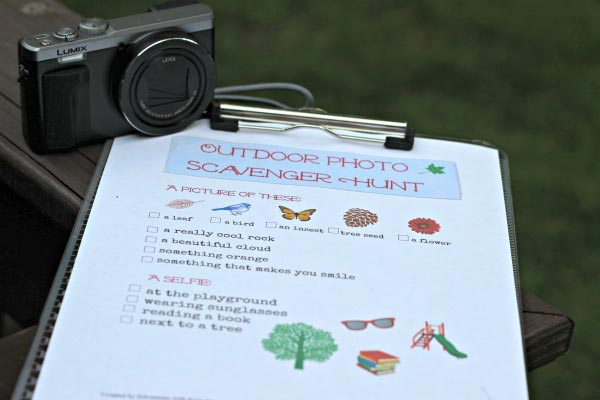 Tips for a Photo Scavenger Hunt
We've structured this Photo Scavenger Hunt to help kids stay focused yet creative —
• It's an outdoor hunt which should help since natural lighting is the best lighting you can have when taking photos. They will quickly see & learn the difference when taking photos in direct sunlight vs. in a shady spot.
• The scavenger hunt features both on specific items (such as a leaf, bird, flower) along with broad challenges (find something orange) that will encourage kids to focus their shot while also giving them the opportunity to be creative.
• The challenges incorporate fun elements (such as taking a selfie, finding something that makes you smile) to hold their attention.
And best of all, it encourages them to get some time outside when playing with technology 😉 I always like to sneak in that 'time outside' thing.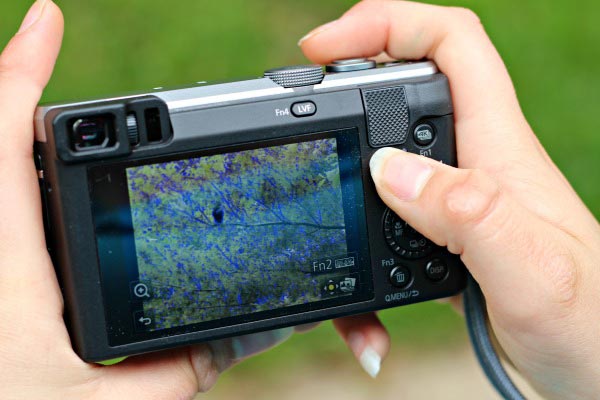 My second recommendation is to be sure you have a camera that fits your child's hands!
There is nothing more frustrating than a camera that's too large for them to handle — which is why I don't hand over the DSLR I use for blogging.
The body on that camera is way too large for my daughter's hands (she's 13) and without a good grip, it really is hard to keep the camera steady or take a good shot.
Panasonic was SO nice to provide me and other members of the TravelingMoms network with their AWESOME Lumix ZS60 Point & Shoot camera!
It's a wonderful family camera since it can easily be used by both kids & adults and has some really great features:
• It fits in your pocket! Talk about an awesome feature because when I'm heading to the zoo or on one of our many fun day trips with the kids, I don't want to have to take a huge camera with me.
• There's a great grip area on the front and back of the camera making it easy to hold
• It has a 30x zoom lens!! Another super feature for kids who want to take pictures of far-away objects and makes it a wonderful camera for nature & wildlife photos. And no, a smartphone just doesn't cut it when you see the difference with this zoom lens!
• There's a nice, large screen which is INTERACTIVE — you can touch the screen to change settings instead of messing with all the dials and buttons.
• The camera has this super cool 4K Photo Function which let's you pull an 8-megapixel photo from a video you record!
• Plus my kids quickly found the photo editing features and played with those while taking their photos.
• Want more details? See all the features for the Lumix Z60 Camera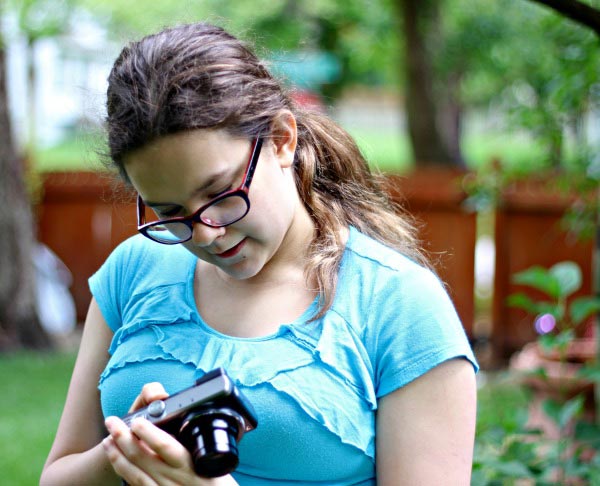 Teaching Kids Basic Camera Skills

Like I said before, don't go overboard with a photography lesson especially if it's your child's first time with a real camera.
The best way to learn is to take photos, look at which you find appealing and take more photos 🙂 Practice, trial & error and more practice goes a long way when mastering this skill.
There are a few basic photography concepts that are easy for kids to understand and incorporate:
1. Keep the camera steady when you take the picture.
This may require kids to lean on something or sit down as they practice. Life is so much easier these days since most of our digital cameras have a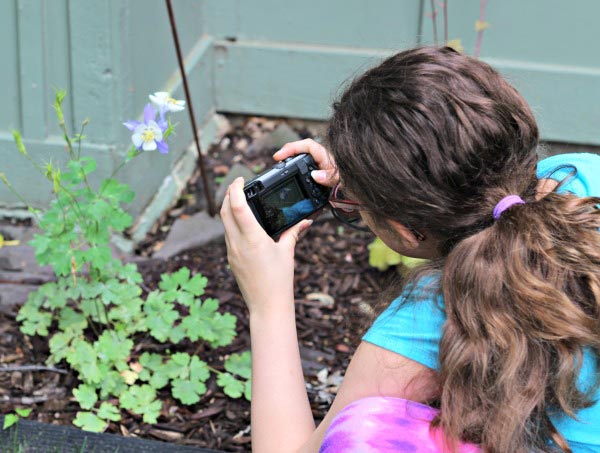 2. Talk about getting up-close with your subject.
For some reason, kids want to stand really far away from the items they are photographing — show them that getting close to their subject makes a big difference. Let them take a photo from both far away and then a close-up and compare the two shots so they can see how much more detail is captured when they move closer.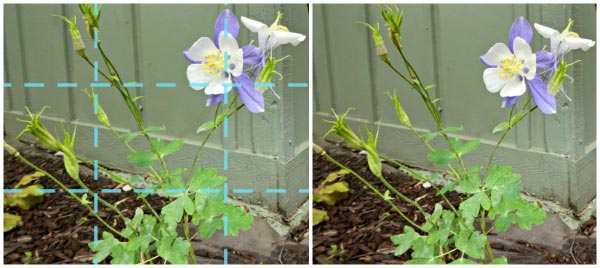 3. Show Kids the Rule of Thirds
The Rule of Thirds in photography is one of the first lessons in composition of a photo. Most beginners want to center their subject in the middle of the photo. The Rule of Thirds teaches us that an off-center shot is more visually appealing.
It's easy to teach — you just have to image a tic-tac-toe board on the viewer of your camera and your goal is to have your subject be in one of the areas where the lines overlap. The shot above would have been a little better if the flower was just a smidge lower and more centered where the lines cross.
Here's a great explanation of the Rule of Thirds.
Most importantly, just let them get out there and have some fun!
Grab your copy of the printable Outdoor Photo Scavenger Hunt and let your kids loose and see what they find!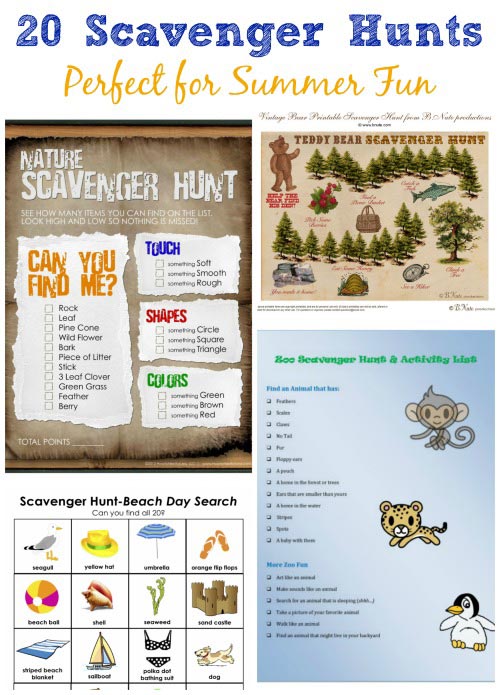 MORE OUTDOOR ACTIVITIES:
20 Summer Scavenger Hunts (with free printables!)
How to Turn Your Backyard into a Science Lab for less than $10
DIY Nature Journal for Kids (with 50+ free printables!)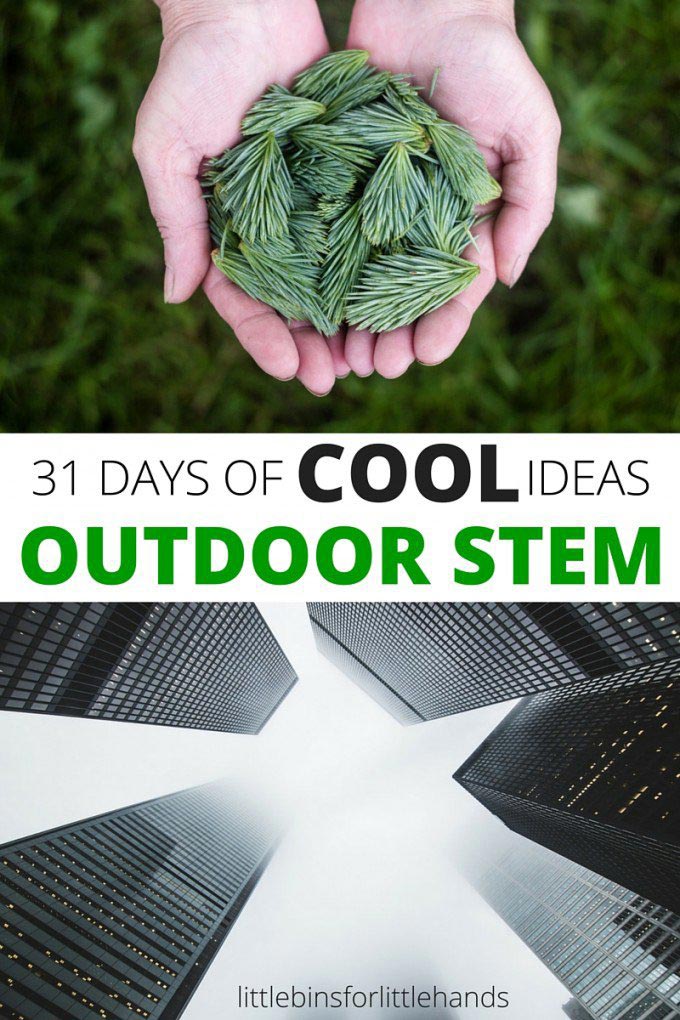 Join us for amazing Outdoor Science Activities all month long!
You can find a list of which experiments & activities we're doing each day during the 31 Days of Outdoor STEM hosted by Little Bins for Little Hands.