Find more than 100 Free Summer Activities near me to do with kids using this FREE printable planner & list!
Whether you're looking for easy backyard ideas, fun places to visit with kids near me or a *new* local adventure, we've got more than 100+ ideas for you to try over the next few months.
Fun things to do together no matter what your budget!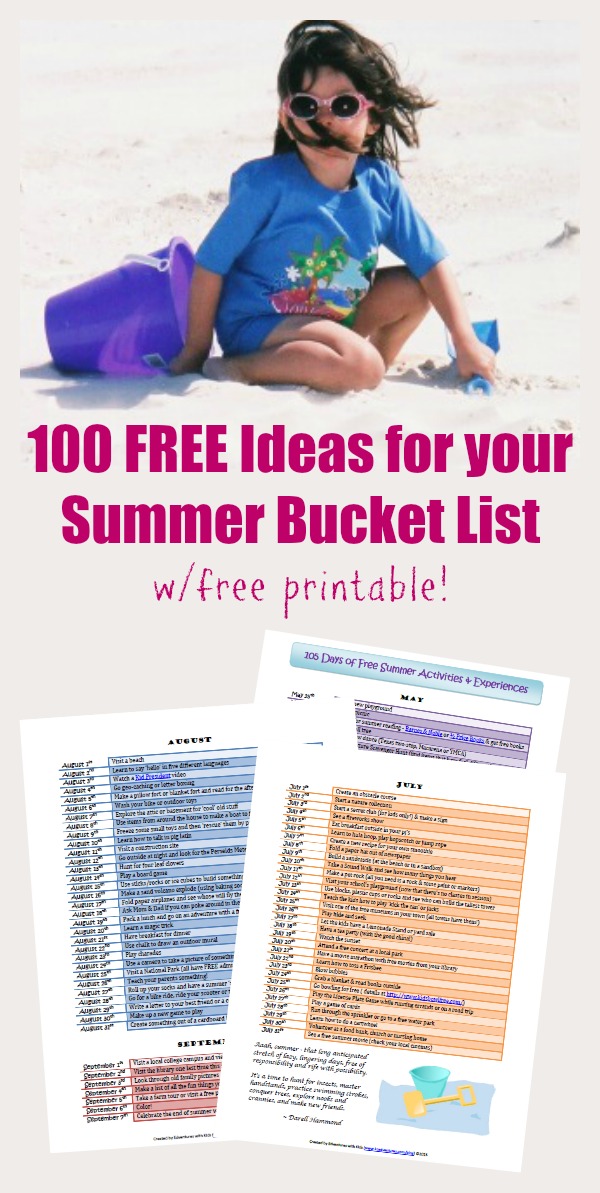 100+ Free Summer Activities for Kids & Families Near Me
I thought we'd try something a little different this summer — I'm up for a challenge, how about you?
We usually share a 'summer bucket list' on the blog with unique things to do over the next three months.
But when I went back to look at some of our most read summer posts, I learned that the 34 Ways to Be a Cool Parent this Summer was by far the most popular.
It's not surprising when I think about it — that post is a list of fun & simple things to do together to make memories with your kids.
And isn't that what we really want to do as parents.
When you get right down to it, the goal many of us have for summertime is to create memories.
Easy activities that kids will remember fondly years later.
Special moments they talk about when you least expect it.
Things that will inspire them to do the same with their kids.
Our parents & grandparents did so many of them with us —
catching fireflies,
making a blade of grass whistle,
encouraging unsupervised outdoor time,
playing backyard lawn games after dinner,
creating tin can 'phones' and
taking us on simple family outings.
There's something about simplicity and summertime that just feels right.
Kind of like butter on a warm piece of toast 🙂
So instead of sharing a bucket list this year, we're sharing ideas for making memories.
And the best part — none of them will cost you a dime!
Which can be a pretty big deal when you're raising a family & trying to save for college (not to mention retirement, right?!!)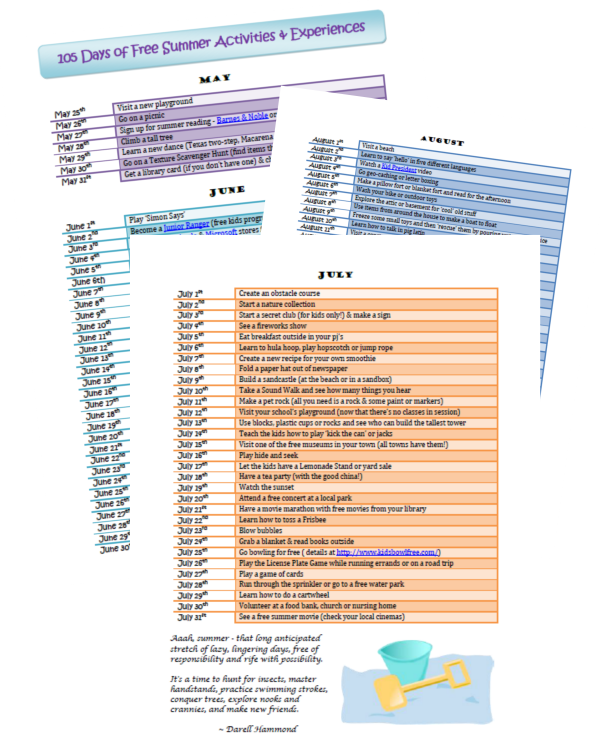 100 Fun & FREE Things to Do Near Me this Summer
Did you know there are about 100 Days of Summer each year?
That's the number of days between Memorial Day & Labor Day — lots of time to make some great memories with the kids 😉
To make it easy for everyone, I've put together a calendar of 100+ FREE things that families can do during May, June, July, August and even into September.
Our goal is to provide you with enough ideas to last you the entire summer — from now through Labor Day!
The list includes simple activities you can do at home or around your city.
Activities like:
• Visit the Farmer's Market (my kids will tell you the free samples are the BEST!)
• Have an indoor snowball fight (yep, in the middle of summer!)
• Start a nature collection
• Learn pig latin
And be sure to see the list of FREE Summer workshops & programs for kids too!
Sometimes we forget how much "FUN!" is located right outside our doorway — that whole "be a tourist in your own city" is a great way to start.
The planner pages include unique ideas for day trips or family vacation/staycation ideas too.
For example, did you know that ALL National Parks offer free entrance on certain days?!!
Choose the ideas that your family will most enjoy (many of the items on the list include activities you can do at home, in your neighborhood or places you can find in your town) and BAM!
Instant!
Summer!
Memories!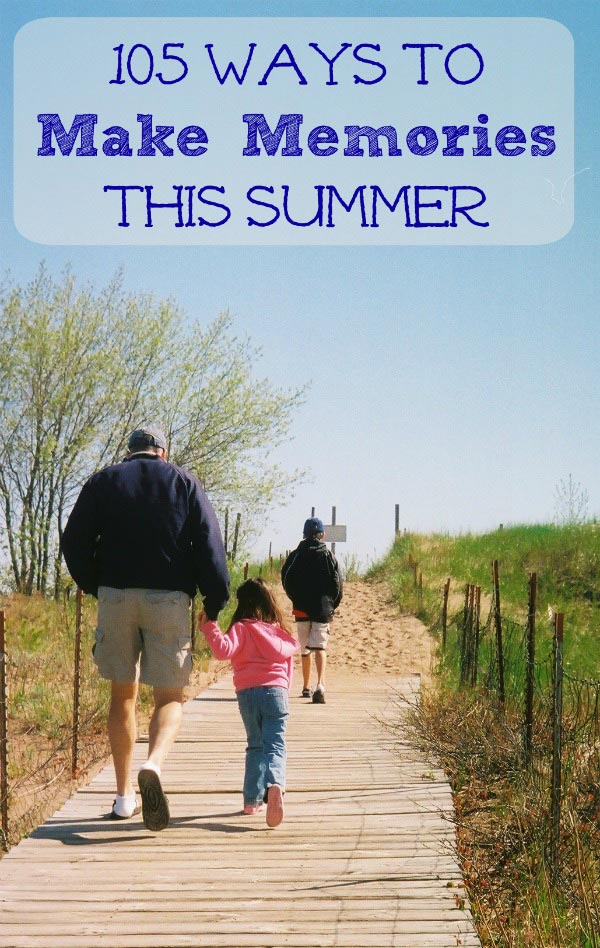 Every year I refer back to this list because as kids grow up, there's always someplace new to explore!
When they were younger, they LOVED playgrounds, night-time movies, outdoor exploring and those throw-back summer games we did as kids.
Now that they're tweens and teens, we take advantage of the outdoor concerts, visit national parks and historic sites and go geo-caching together!Some of the activities are well-known and ones I'm sure you've tried before.
Others are a little weird & wonderful.
Most require very little prep or planning (yes!)
All of them are FREE!
• Like going bowling (yes, I can tell you where to go for free!)
• Visiting a National Park (again, FREE!)
• Take your kids fishing (no license required with our tip!)
• or teaching your kids a skill they'll remember for the rest of their lives!
Use this printable list to hang on your fridge with simple things to do throughout the summer.
Subscribe to receive the100 Days of Free Summer Fun planner page printables right to your inbox!
Plus, you won't miss any of The $0 Summer: Awesome Ways to Make Memories without Spending a Dime! activities and freebies — they'll also be sent to you each week throughout the summer.
Time to kick-back and enjoy the simple life 🙂
Here's to a memorable summer!
~ Jacquie
Be sure to see our 20 Printable Scavenger Hunts, Car Games & Summer Activities for Kids too!