Kids, tweens and teens can quickly get organized for their next slumber party with these FREE printable sleepover checklists for things to pack in an overnight bag!
Having a packing list on hand (like the printable Cabin Packing List we use for vacations) makes life so much easier for everyone.
When my son had his first sleepover at a friend's house, my phone rang at 10 pm.
"Mom? I forgot my inhaler".
"No problem", I told him, "I'll run it over".
Good thing he was right next door 🙂
So I hop over to the neighbors where I'm greeted at the door by two very awake boys.
"He also forgot his toothpaste," announced his friend, "so I let him borrow mine" — it's good to have thoughtful friends 🙂
Today we're sharing the skills needed to successfully pack an overnight bag along with some FREE printables kids of all ages can use as they get ready for their next sleep-over.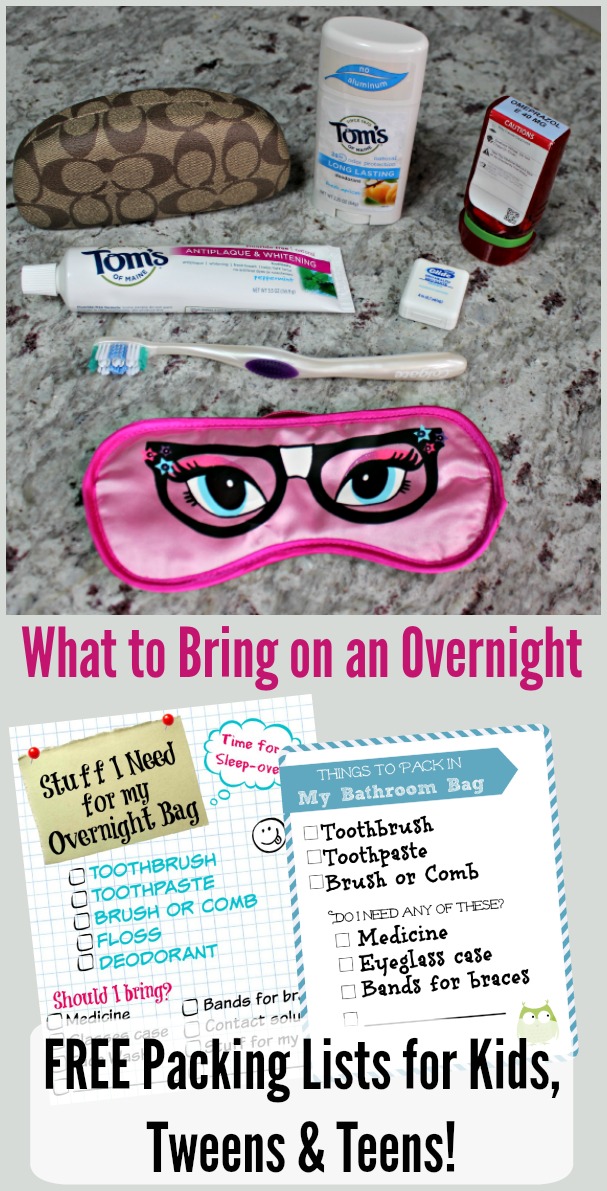 Sleepover Packing List for Kids, Tweens & Teens
I thought things might be a little more organized with my daughter since she was older at her first sleep-over. But when I got there to bring her home the next morning, I could tell a few things hadn't gotten into her overnight bag.
"Any chance you packed a brush?"
"Nope. But I remembered my toothbrush!" (score 1 for no cavities after cake & ice cream) – one of the other girls had forgotten hers and it looked like two others had also forgotten their hairbrush 🙂
Packing for a night away from home is something all kids need help with the first few times – it's a life skill that will serve them well as they grow up and once they become more proficient packers, it's a lot easier to get everyone ready for family vacations too.
I'm a BIG believer in getting kids to help with packing (do you have the FREE printable Road Trip Checklist for families yet?)
But remembering WHAT to bring can be difficult – especially when you're excited to get to a sleep-over or heading to Grandma's for the night (where I'm sure kids will get spoiled just a little 😉 So these free printable overnight packing lists are really helpful to have on hand. We're also sharing affiliate links to some of the items our kids really love to have before a sleepover too!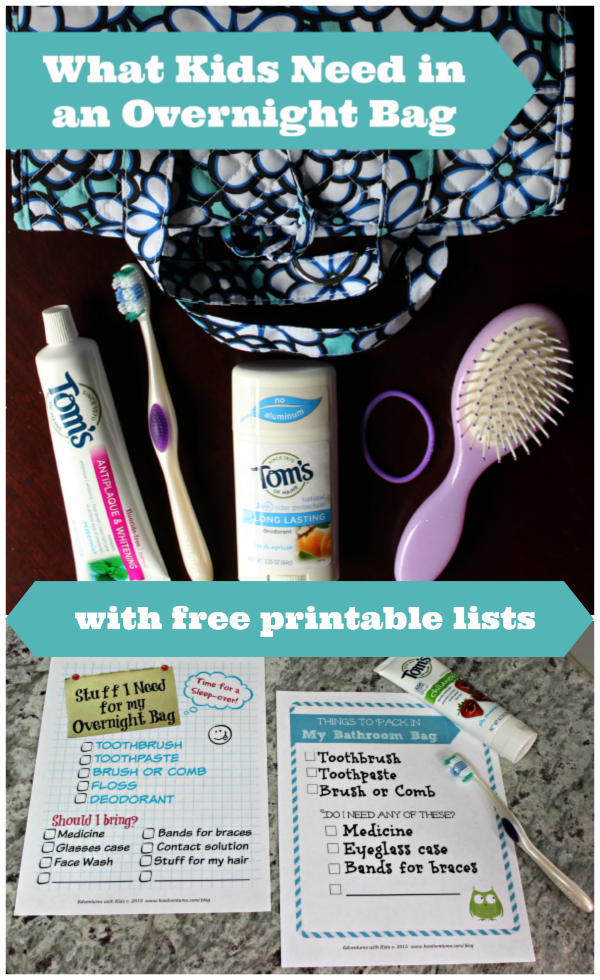 What Kids Should Bring for a Sleep-over
Packing for an overnight stay is a skill that kids ages 5 on up through the teen years should master — so Mom and Dad won't have to make a second trip back to the party – or worse yet, have to run out and buy unnecessary items when you're on vacation.
And it's definately a skill all kids needs to know before they leave for college!
Kids will need a few key items as they get ready to spend the night away from home:
a sturdy and easily organized bathroom bag (because no one wants to pack a toothbrush in with a hairbrush!)
any personal items they need to get ready for bed
and the FREE printable checklist below to help kids get organized to go and then help them check to be sure they bring everything back home again 😉
Tips for Choosing a Good Bathroom or Toiletry Bag for Kids
The first item you'll need is a bathroom bag!
Sometimes kids will want to choose their own but be sure to talk through the options — the bag with a favorite tv character may not be one they want to use as they get older and might not be the most practical choice.
My BIG push when teaching kids how to pack a bathroom bag is make sure your toothbrush/toothpaste and liquid medicines are NOT in the same compartment with your brush/comb and hair ties!
Toothpaste on your hair brush means a sticky hair mess!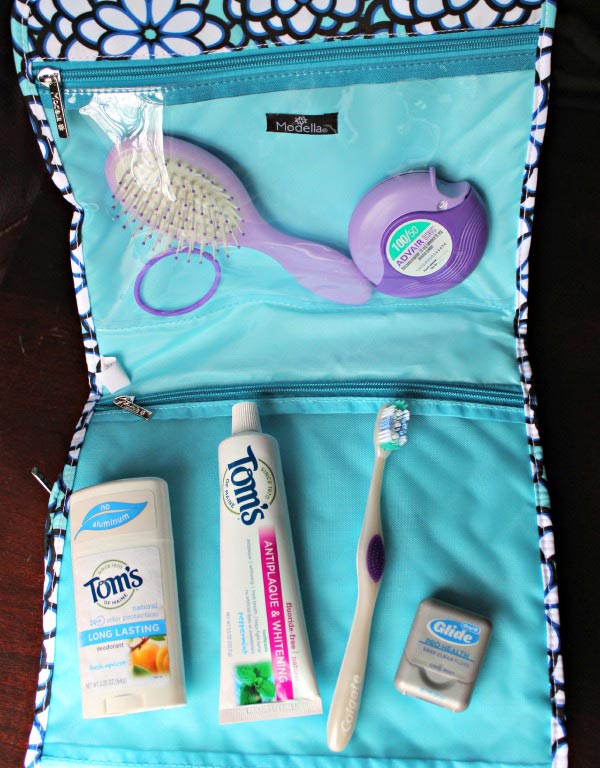 This is why we prefer a bathroom/toiletry bag that have at least 2 sections:
one section can include a brush/comb, any hair accessories and 'dry' medications (such as an inhaler if your kids have asthma);
the second section would hold a toothbrush, toothpaste, any liquid medications and deodorant (if you're kids are old enough to need it).
We've tried using the pouch bags that sit on the counter and also the bags that include a hook so kids can either hang it up or place it on the counter.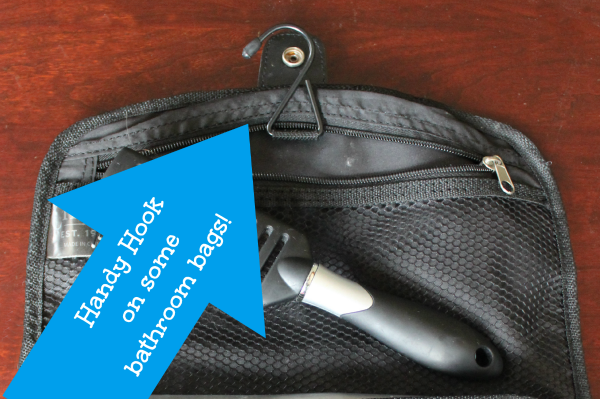 We really like the hanging bathroom/toiletry bags with a hook — it's nice to have an option to hand them up in case there's not much counter space.
On more than one occasion, our kids have needed to hang their item on a towel bar because there was no counter space and they were really glad they had that hook!
How to Pack for an Overnight
Before our kids are ready to head out for their sleep-over (or if we are going on vacation), I ask our kids to lay everything out on the bathroom counter.
The best way to do this is to say "pretend you are getting ready in the morning & then again before bed; which items do you use each time?" — those are the things that should be lined up on the counter.
As someone who has travelled a lot, this is one of the "tricks of the trade" so to speak.
This gives kids the responsibility to figure out what they need without me detailing every item.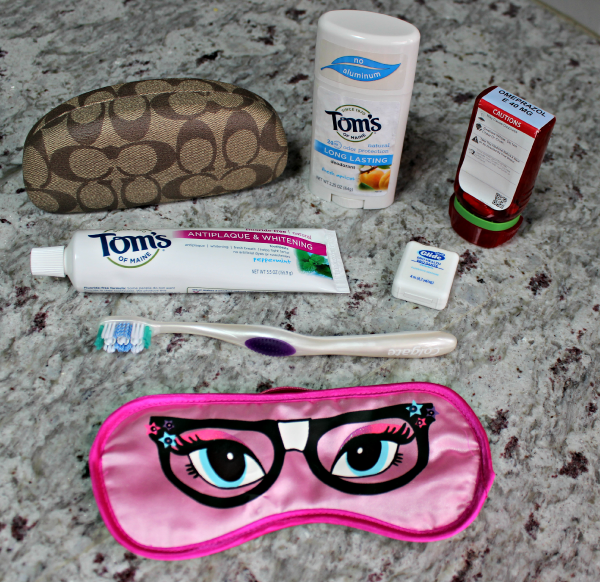 So the NIGHT BEFORE the sleep-over, as kids are doing their nighttime bathroom routine, have them place everything they use on the counter.
Once they brush their teeth, put the toothpaste and toothbrush on the counter. If they take medicine in the evening, take it and then put it on the counter.
I have them do this for each item and then they'll have a visual of what things should be packed in their overnight bag.
As you can see, my daughter thinks a fun sleep mask is a must-have item 😉
And yet, no hair brush is laid out (hmmm…)
Which is why I give it a quick once-over after they have everything laid out.
And remember to reinforce the idea that whatever you take out of your bag while you're visiting, be sure to put back IN your bag right away! It's also a good idea to tuck the checklist inside their toiletry bag and remind them to be sure they have everything on the list before they head home.
Otherwise, you might be calling a friend to see if you left your toothbrush behind 🙂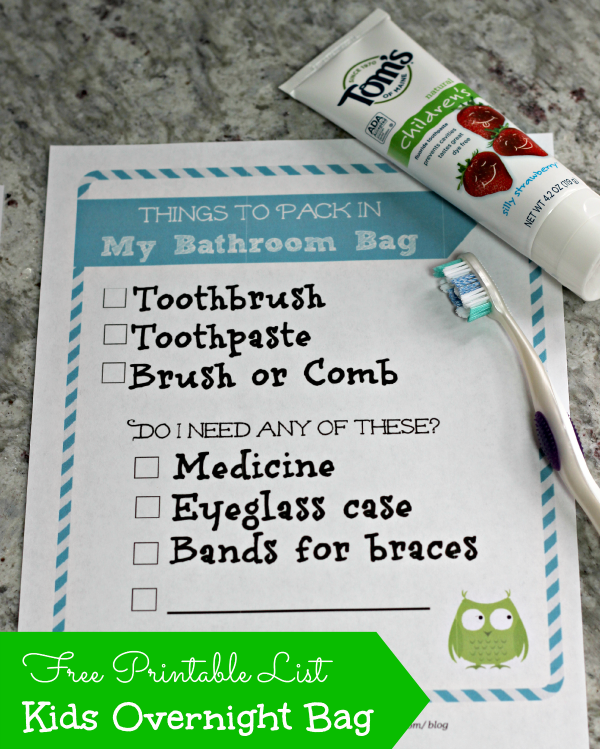 Free Overnight Packing Lists for Kids
It's always nice to have a packing list on hand so we've created one for younger kids and another for tweens & teens to use.
For younger kids, their bag might include:
Brush or comb — we HIGHLY recommend the Wet Detangler Hair Brush if you have kids with long hair or kids who brush their hair right out of the shower
Toothbrush
Toothpaste – the kids love the taste of the Tom's of Maine Silly Strawberry™ Fluoride Toothpaste and I like that it's a natural item with no artificial colors, flavors or preservatives! It's the first toothpaste we used once the kids were old enough to brush.
I've also listed a few other items along with an open spot so you can fill in your own. Print your list for young kids and keep it on hand!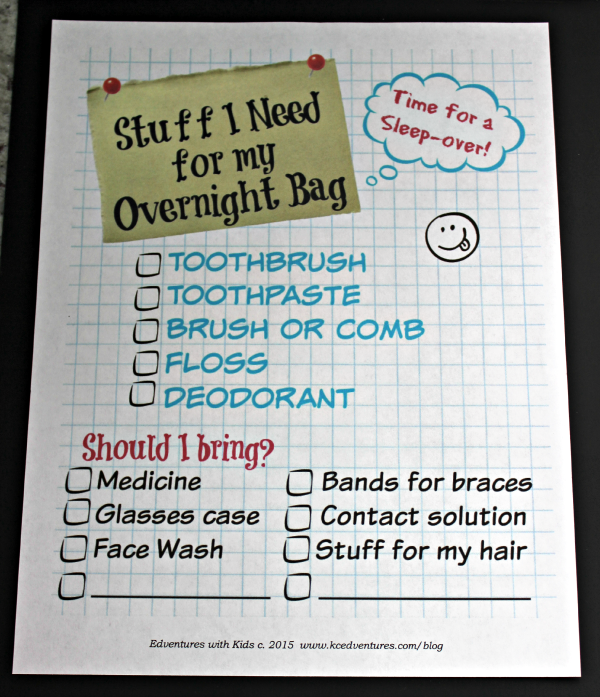 Printable Sleepover Checklist for Tweens & Teens
We also have a free printable list for tweens & teens, the list is usually a little longer for them!
Still includes some of the core items we all need:
Brush/comb
Toothbrush
Toothpaste
Dental floss — if you have kids with braces, try these AWESOME Floss picks for braces!
Deodorant — so many kids forget this! Another excellent Tom's of Maine personal care item — I've used their Unisex Long Lasting Deodorant for years and because it's a natural item (again, no artificial fragrances or preservatives!), it's what I buy for the kids when they began to use deodorant. It's especially great because my kids have sensitive skin so we really need a natural product that won't case any rash.
I also left some open spaces so kids can add some of the extras that they might need on an overnight — If your daughter is old enough to need personal hygiene items, be sure to get those on the list (otherwise, that could be "the most embarrassing moment of her life" 🙂
I would have put those on the list but then if you need to print the list for boys, THEY would get all embarrassed just seeing the words 'personal hygience items' on the packing list (lol)!
Sometimes you just can't win as a parent, right? 🙂
More Life Skills Kids Should Know:
Money Management, Map Skills & Healthy Behaviors
12 Ways Kids can Help with Trip Planning & Prep
48 Things all Kids Need to Know Before College
This post was originally published in partnership with CollectiveBias, Inc. and its advertiser. As always, all opinions & ideas are mine alone.