Enjoy time together with this FREE Printable Valentines Day Scavenger Hunt for kids and adults plus more fun activities for families to do together!
Most people think of flowers and candy on Valentine's Day – but what kids really love is spending some time together (be sure to see the fun ideas in the Valentine Scavenger Hunt & Activities Pack for Kids!)
Ok, time together and those little candy hearts 😉
But I know life can get so busy — in the blink of an eye, a week is gone! And you might be left wondering "Did we do anything as a family this week?!"
Not to worry – family time doesn't have to be complicated or planned out — try these quick & easy activities for families to do together on Valentine's Day (or any time of the year ;)!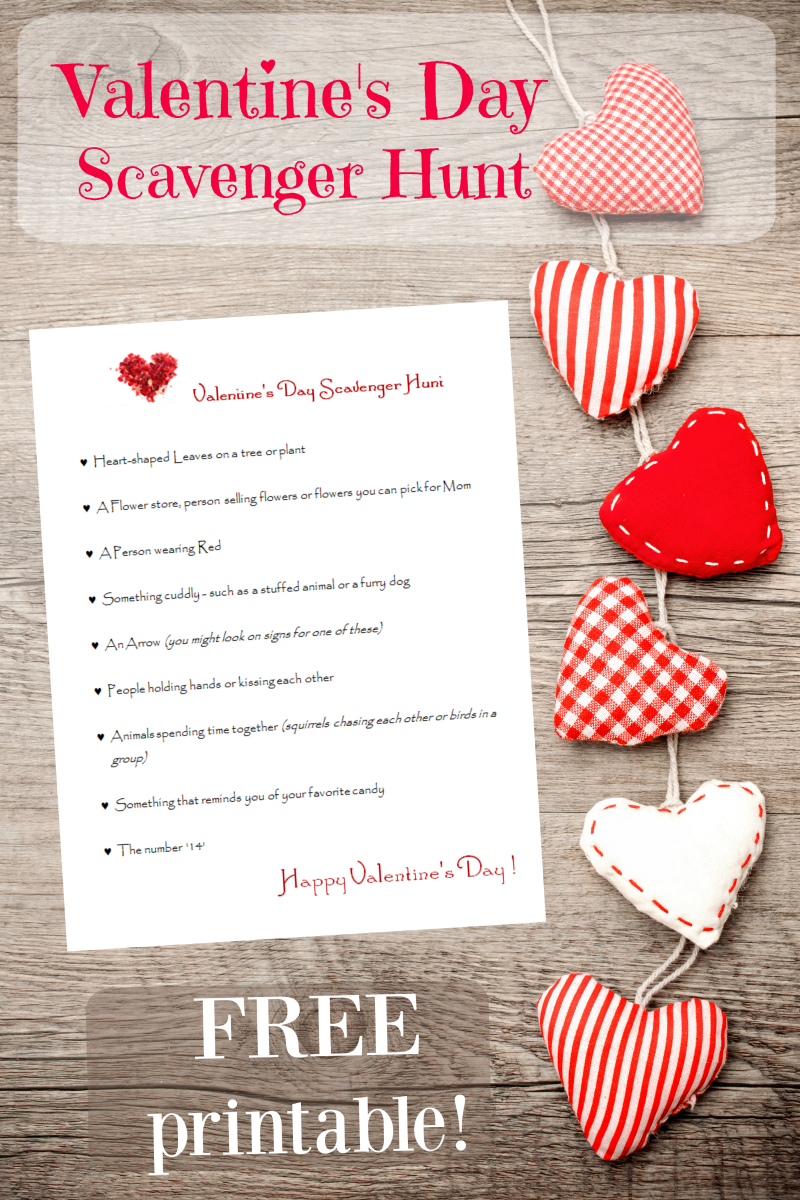 Valentine's Day Scavenger Hunt (free printable pdf) & Activities

As kids grow, it's natural for them to pull away from the family to form bonds with their friends.
But family time and relationships are SUPER important! It's what helps to instill morals, values and life skills in our children.
One of the best gifts we can give to them is time – spending one-on-one time leads to great memories and a better relationship so here are a few ideas for spending some 'love' time together this month.
1. Read Valentine Cards Together
Most younger kids who are in school will probably have a card exchange in their classroom. If you still need cards for friends or classmates, check out these 17 Free Printable Valentines!
Kids enjoy sharing their admiration for each other and they benefit by knowing that they are making friends. Take the time to read the valentines they bring home with them. If your kids are old enough to read, let them practice.
And point out some of the humor in the cards as you read them. Some kids might also enjoy sorting the cards (a great math skill). Yes, you may have to read the same Star Wars valentine card three times but I promise you, it's worth it!
pssst…. If you're looking for fun ideas to add to those cards, check out the list of Non-Candy Valentine Treats for Kids in our Amazon storefront!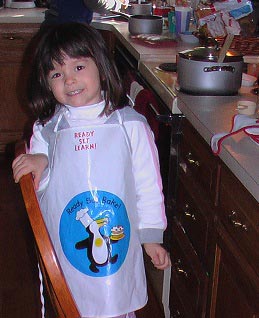 2. Cook with your Kids
Nothing says "I love you" like something yummy and it's even more fun when you can make it together! Spend some time in the kitchen together — if you aren't sure where to start, try this list of Fun Cookbooks for Kids.
Muffins, their favorite cookies, something super easy like homemade popcorn or a special Valentine's meal – just have some fun in the kitchen. And if baking is too time consuming for your family, check out these awesome Valentines Decorating Kits that kids will love (including cookie houses & mini cupcakes!)
3. Valentine Books to Read Aloud

Your kids may have a favorite 'love' story or just a favorite story that they enjoy having read to them. Books make great gifts for a holiday like Valentine's Day — you could buy kids a new book each year and write your valentine note in the front cover.
Or you might begin a read-aloud (chapter book) on Valentine's Day as their gift each year! Cuddle up and enjoy one of these recommendations — we've also provided affiliate links so you can learn more about each of the books:
Valentine's Day Picture Books for Kids

Happy Valentine's Day, Curious George
Happy Valentine's Day, Mouse! (If You Give…)
Roses Are Pink, Your Feet Really Stink
4. Share Your Worst Valentine's Day Memory
Teens & tweens are just figuring out this whole 'like/love/relationship" thing and they benefit from knowing that others had some awkward experiences (and still went on to find love).
If you have older kids, talk to them about some of the humorous and not-so-great moments you've had during your dating years.
Maybe it was the time you were turned down after asking someone to the dance. Or it could have been when you received a very nice valentine from someone you didn't realize had feelings for you.
Sharing your experiences (both good and bad) will help them to learn and grow. It also affords you a wonderful opportunity to discuss 'dating etiquette' and share your values about relationships.
5. Valentine Scavenger Hunt printable for Kids & Families
Head to a park or talk a walk through your neighborhood and scout out things for Valentine's Day together.
You may find yourself "looking for love in all the wrong places" 😉 Use this free printable Valentine's Day Scavenger Hunt as a classroom game or fun family activity!
If you're looking for an INDOOR Scavenger Hunt option, see the Valentine Scavenger Hunt & Activities Pack for Kids!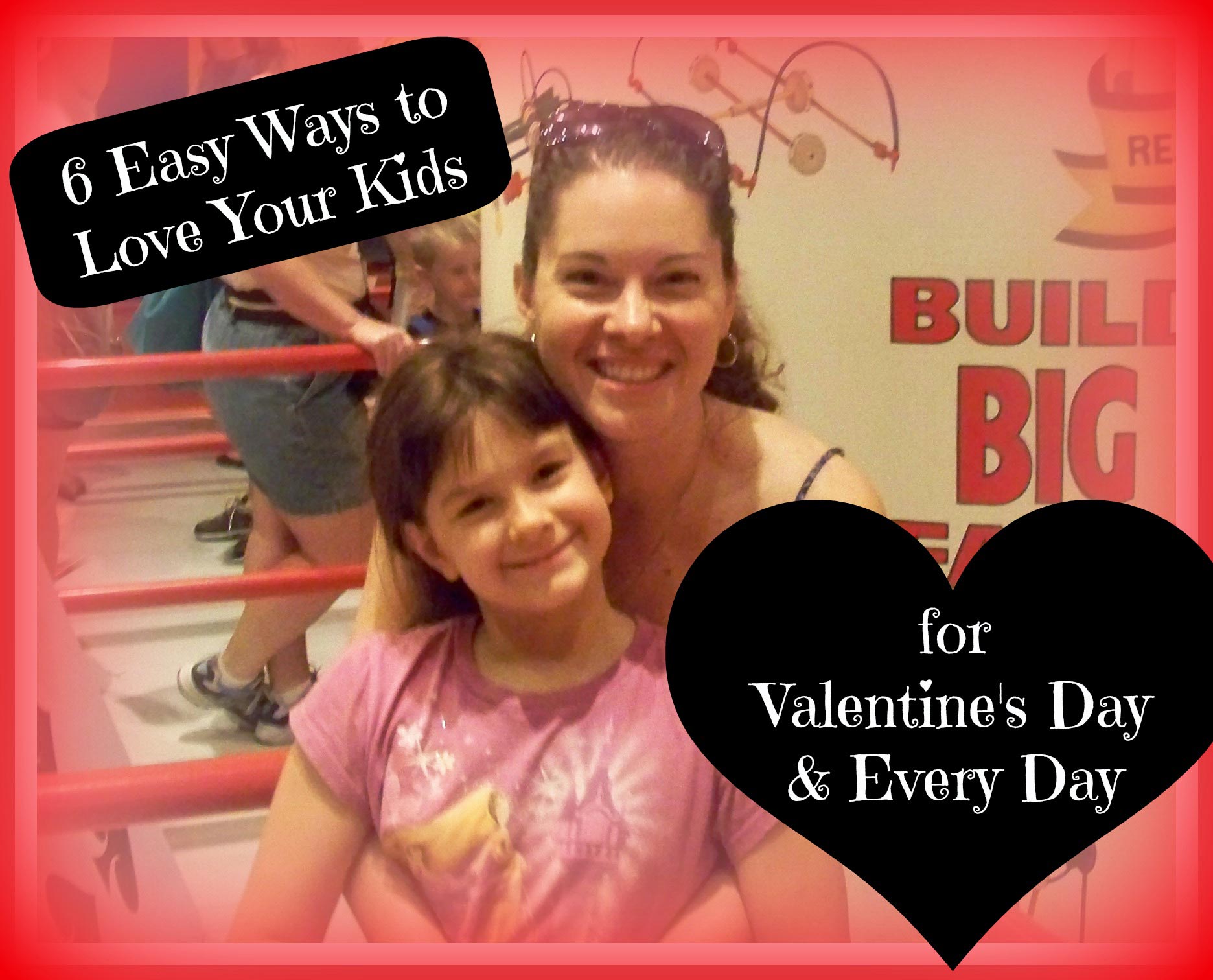 6. Talk with your Kids
I mean the put-down-your-phone-look-them-in-the-eye kind of talking!
You know, when you're not half distracted by the things going on or places you need to be or the dishes sitting in the sink. If you're in the car with them, turn off the radio. If they're plugged in, ask them to unplug for a few minutes. Just talk – about anything — families need to connect!
And, of course, hug & kiss them….today and every day!
More Printable Valentine Activities:
Printable Valentine's Day Scavenger Hunt for Kids