Enjoy this Easter Egg Hunt with free printable clues as an indoor scavenger hunt that can be used in any home!
When I was younger, Easter was a big family holiday for us — lots of people over to the house, a HUGE family dinner and new Easter outfits. But my favorite part of the whole day was the Easter egg hunt! I looked forward to it more than the cool stuff in my Easter basket!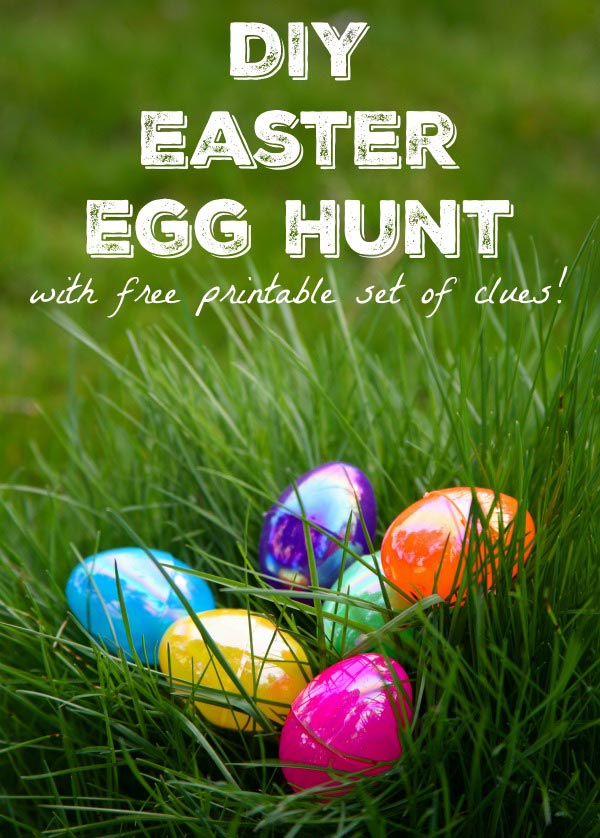 Easter Egg Hunt w/Free Printable Clues
My mom would round up a handful of pennies, nickels and dimes (+ one quarter) from my father and distribute the money into a dozen or so plastic eggs.
Then she would hide them around the house and let my sister, brother & I know they were hidden.
That was all it took — we would hunt and search like crazy!
Oh, to find the egg with the quarter (that was a lot of money for a kid way back when 😉
Now we live far away from our family so Easter is more of a quiet holiday — no big meal and it's just our immediate family but every year, I do an egg hunt for our kids.
No matter how old they are, or how cold it is or even if we attend an egg hunt at church first — we still have our family egg hunt at home because I know things like this build AWESOME memories for kids!
We still laugh about the crazy outdoor Easter Egg Hunt idea I had one year when some rogue backyard animals got involved 🙂
So I thought we'd share a super easy Easter Egg Hunt that you can do inside your house!
Making an Easter Egg Hunt Fun
The first rule to making a hunt fun is to be sure to have something cool for kids to hunt down 🙂 For example:
Put candy in the eggs with printable clues
Or add small items in each of the eggs
Have the eggs lead to their basket on Easter Morning
Pair up kids with adults who are visiting to have a multi-generational egg hunt
If you want a hunt that can be done outside, be sure to see the Printable Outside Easter Egg Hunt we have too! And we also have this super fun Glow in the Dark Egg Hunt that you can do too (either inside or outside!)
In addition to sharing the free printable list of riddles & clues below, I've also included affiliate links for items that we use in our egg hunts. There are more than 80+ Items to put in Easter eggs and use as basket stuffers!
We have the printable eggs all set up for you along with a few details on how to make it easy for younger kids or nice and challenging for the tweens & teens (or adults too! 😉 — all you need is a set of plastic Easter eggs!
Since I wanted to be sure that anyone could use this Easter Egg Hunt at home (or at Grandma's house if you're celebrating there), I created fairly generic clues. And they can easily be used more than once if you want to have multiple egg hunts or even hide the baskets on Easter morning!
How Do You Set Up a Good Easter Egg Hunt?
You can use this hunt with just the free printable clues or you can tuck those clues inside a set of plastic Easter eggs.
For a traditional Easter Egg Hunt, you'll need three things:
something to put INSIDE those eggs
I like to include the clues into plastic Easter eggs along with adding a treat to a few of the eggs for an extra bonus. Sometimes regular size plastic eggs tend to be a little small so you can try these larger plastic Easter eggs if you want to include something fun with your hunt.
In addition to money (coins), we've also used the following items as egg treats:
You can also see some of our favorite & unique Easter stuffer ideas at the Edventures with Kids Amazon Shop too!
Or try adding some of these FUN Easter Coupons in your eggs. These will make life SO EASY for you this week!!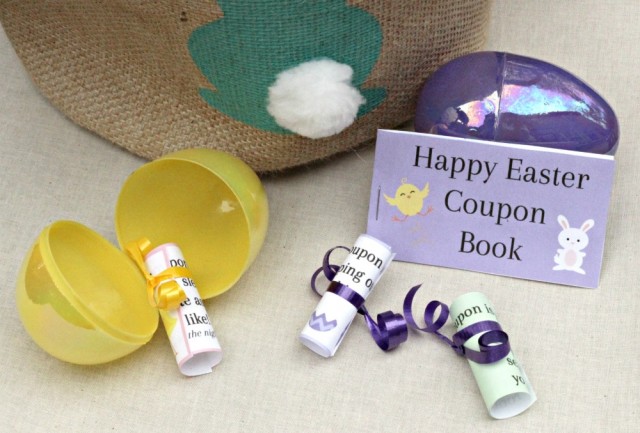 This editable set of Easter Coupons includes 24 coupons for both kids & teens — 19 pre-printed activities along with 5 blank coupons that you can personalize — PLUS 2 coupon book covers too.
These are a great non-candy option & a super inexpensive way to include things in your Egg Hunt too. Or tuck the coupons into your child's Easter basket — from you or from The Bunny 😉
Where Can You Hide Easter Eggs and Clues Inside?
I print the egg hunt clues on white cardstock paper so they're sturdy (and can be used more than once!) — if you don't have a color printer, just print then out on bright colored cardstock.
You can see from the descriptions that the Egg Clues can be hidden in plain sight or you can make it tough for your kids and really hide them!
For example, the clue for "go look in a shoe" — younger kids will go right to their own shoes so that's a great spot if you have a preschooler.
For older kids, have them hunt a little 😉
Is it in your shoe?
Dad's shoe?
We have like a bazillion pairs of shoes in our house (as I'm sure you do too) and while most of them are usually left lying around the front hallway, some are actually put away in the closet (imagine that!) so you could easily make that one a little challenging.
This hunt is even great for adults as you can make it as easy or challenging as you'd like (more details on that below)!
Why This Is the Easiest Egg Hunt Inside
The next thing I LOVE about these clues is that you can hide them in ANY order you'd like!
Just remember to put them IN YOUR ORDER before you hide them 🙂
Here's what I mean —
If the first egg you give your kids says "go look in a shoe", decide which clue will be in the shoe — let's say the one you want to use next is "peek behind a door".
Put the "peek behind the door" clue in the shoe and then head to a door to hide your next clue.
See what I mean?
So once you cut out the clues, you can arrange them in any order you like; just pretend you're doing the hunt when you hide the clues.
This also makes the hunt one that you can do multiple times because you can switch up the order of the clues so easily!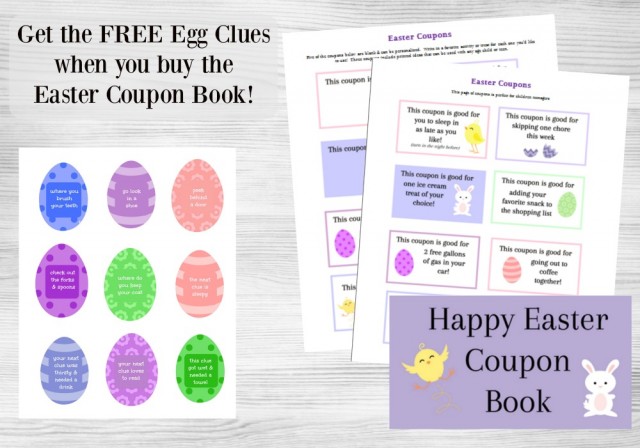 Get a Done-for-You Easter Egg Hunt!
I know life can get busy – especially around holidays like Easter.
So we've added a BONUS to our Easter Pack — a fully detailed egg hunt plan that works in any house!
The pre-done Egg Hunt tells you EXACTLY which clues to hide where! No thinking or guessing on your part (you can focus on other things like what's for dinner or just relaxing 🙂
We'll walk you through where to hide the egg clues PLUS we even give you an extra set of blank egg clues in case you want to add a few personalized hiding spots to your hunt.
The Easter Pack is on SALE for only $1.99 and you get SO much in it:
ALL 24 Easter Coupons — with age-specific ideas for both Kids & Teens
2 Coupon Book Covers
9 pre-printed Egg Clues
9 blank ones you can tailor to your house AND
the done-for-you Egg Hunt so you can easily & quickly get those eggs hidden 🙂
The coupons can be included with the clues or you can hide all the eggs and have the hunt lead to the Easter Coupon Book! See more details about the activities on each of the Easter coupons here.

Or if you would just like the free set of Easter Egg Hunt Clues, keep reading!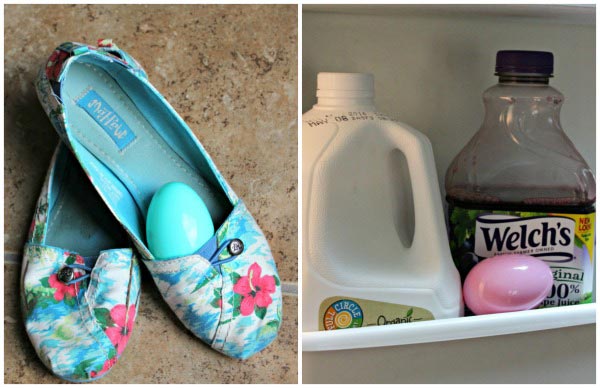 How Do You Make an Easter Egg Hunt More Difficult for Kids (or even Adults!)?

Ok, I already told you about our shoe trick (I almost never put the clue in their own shoes now that they're older ;). Since the clues are generic, you're able to use that same principle with quite a few of them.
For example, peek behind a door — how many doors do you have in your house?
This could keep them searching for quite a while! And if you want to get really sneaky with older kids, think kitchen cabinet doors, garage doors, car doors 🙂
Here are a few other ideas for increasing the challenge:
Use "your next clue was thirsty" but think about what you use when you're thirsty — a glass? a mug? Do you have soda stored in the pantry?
If you have book lovers in the house, the clue that loves to read will definitely keep them searching if you hide it BEHIND the books 🙂 or add the clue to one of these favorite Easter books on your shelf!
Another great clue (or riddle really) is "the next clue is sleepy" — for those pint-sized hunters, think about hiding it in plain sight like on the bed or resting on a pillow. For tweens and teens, I would put it in a pillow case or tuck it under the sheets of a bed. Or even in the pj drawer!
The egg that says "this clue got wet and needs a towel" — you know exactly where those kids are going, right? The bathroom! To make things more difficult, hide the clue among the towels in your towel closet. or put it with the beach towels or kitchen towels if you really want to challenge teens and adults during the hunt.
(Warning to Egg Hunters: Anything you take apart when looking for clues needs to be put back together 😉
So many ways to keep them looking for a looooong time if you need it!
Have fun with it! This is one of those hunts that your can do more than once since you can change the order of the clues. And there are usually multiple hiding places around the house.
And if you have older kids who read, they can easily set this up for younger siblings and cousins too.
Need ideas on how to use those plastic eggs AFTER Easter? See this fun list of 10 Ways to Reuse Plastic Easter Eggs!
Have a wonderful Easter!
~ Jacquie

More Easter Ideas:
Glow in the Dark Easter Egg Hunt