Enjoy these classic children's Easter books and movies with your family this year!
One of my favorite things about reading with my kids is sharing books that I loved as a child.
I especially enjoy reminiscing with Easter books – they always bring back memories of dressing up in our new Easter outfits (the ones Mom wouldn't let us wear until that day), large family gatherings and egg hunts around the house.
Plus, Easter books also make great basket stuffers to balance out all that candy (I hear the Bunny is a big reading fan too 😉
So today's list features some of our favorite vintage reads for the holiday (and a few wonderful movies too!)
---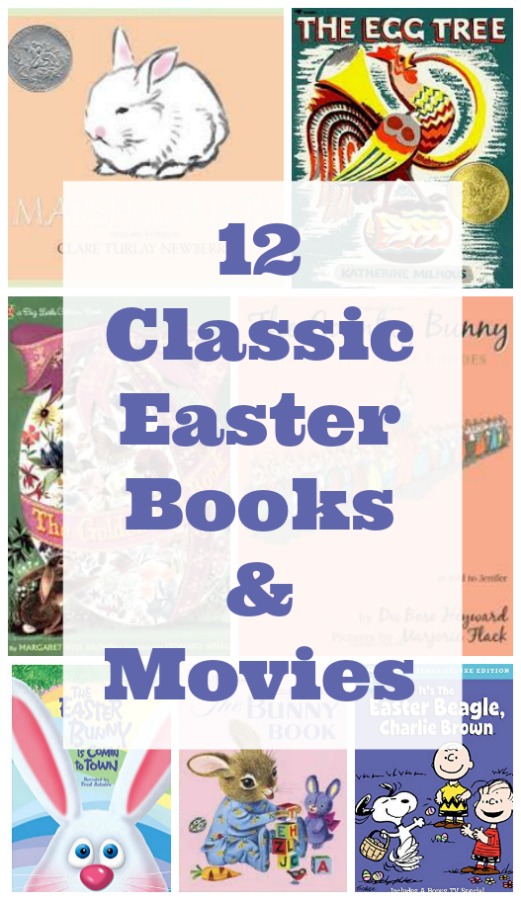 12 Classic Easter Books & Movies for Children
I always find that I'm a little more excited to read when it's a book that brings back fond memories for me, memories that I share with my kids while we read.
Our kids love to hear stories about "when Mom & Dad were little" — I think it fascinates them that we lived without cell phones, could only see cartoons if we were in front of the TV on Saturday mornings and had to use a card catalog to find books at the library 🙂
While we love to read almost any book, I really enjoy introducing our kids to classic literature — stories that have stood the test of time.
If you haven't yet seen our Vintage Book series, be sure to browse all our seasonal lists — I'm sure you'll recognize MANY of your favorites:
13 Classic Spring Books for Kids
15 Amazing Vintage Summer Reads
16 Vintage Kids books for Autumn
10 Classic Winter Books for Kids
Let me know if you remember any of these vintage children's Easter stories — they are wonderful items to add to an Easter basket (you may have found one in your basket when you were a kid)! We've also included affiliate links for your convenience in case you'd like to learn more about our recommendations.
This is, hands-down, my favorite Easter story! The Country Bunny and the Little Gold Shoes
was written in 1939 and still entertains readers today. It's the story of how the Easter Bunny gets all the eggs delivered in time for Easter morning — he chooses helper bunnies!
The first four bunnies chosen are all boys, but the fifth bunny chosen is a mother bunny to 21 little rabbits. She shows that she has the skills needed to join the Easter Bunny's team. A wonderful read for the whole family — parents will quickly emphathize with the mother rabbit as so many of us struggle with the 'balancing' act of doing it all and the illustrations are beautiful!
One of the things we enjoy most about The Golden Egg Book (Big Little Golden Book)
is the size – standing more than 12 inches tall, it brings the gorgeous illustrations to life for children!
Published in 1947, the books tells the story of a little bunny who finds an egg. He hears sounds from within the egg and imagines all kinds of animals who might hatch, so he tries to open the egg to meet a friend.
Not necessarily an Easter book but one that reads well for the holiday – Marshmallow
is a baby bunny who moves into the home of a tabby cat named Oliver. Oliver does not like Marshmallow but the bunny thinks that Oliver is his mother.
This book is based on a true story and has been enthralling readers for decades! It's a longer story but can easily be read in a few sittings with younger children (older kids will want you to finish it right away!).
Looking for items for your Easter Baskets? Try these printable Easter Coupons for Kids & Teens!
Another book worth the read at any time of the year is The Velveteen Rabbit Book. A young boy falls in love with his stuffed rabbit (as so many children do). During their time together, the rabbit is lost, missed, found and comforts the boy through a serious illness – he is truely a friend to the boy.
When the boy begins to get well, the doctor says that the rabbit must be cast aside as it may still carry the disease. So a new bunny is bought to replace the Velveteen Rabbit, who is tossed into the garbage. I won't ruin the end for you — if you read the story, you'll learn the amazing fate of the Velveteen Rabbit.
Printed in 1942, The Runaway Bunny
is the story of a young bunny who wants to run away from his mother. But the mama bunny tells him that she will chase him. If he turns into a fish, she will become a fisherman and catch him.
No matter what challenge the young bunny can think up, the mother bunny always ensures that she will find him (and the reader understands, love him). This is a story that's most appreciated by young children.
Penned in 1950 and winner of the Caldecott Medal in 1951, The Egg Tree
is a beautiful story of family heirlooms. When Katy and Carl go on a egg hunt in Grandma's house, Katy finds some special painted eggs that her grandmother made when she was a child. The eggs are hung on a special little tree called The Egg Tree and the children are introduced to a special Easter tradition.
I love that the book will inspire kids to paint/decorate their own eggs and start a new tradition in their home.
I'm a big fan of Richard Scarry so I always like to include one of his books during our holiday reading. The Bunny Book is about a Father bunny wondering what his little bunny will be when he grows up.
Everyone in the family seems to have a different career in mind, but the most charming part of the book is learning what the baby bunny becomes when he does get older. (It's also a wonderful book for Father's Day).
Probably one of the most well-known bunny stories by many generations is The Tale of Peter Rabbit!
Who doesn't love to read about all the mischief Peter Rabbit gets into when he, Flopsy, Mopsy and Cotton-tail get into Mr. McGregor's garden!
Another classic story that's perfect for this time of the year! There are many versions of the original tale — it's a great item for your Easter baskets.
Plus…
4 Classic Easter Movies for Families
I'm sure you will all remember these (especially if you are a fan of Charlie Brown or Rankin & Bass)!
Really, I don't think there are any new Easter specials that even come close to the originals.
There's something about hearing the voices of Danny Kaye in Here Comes Peter Cottontail
while Peter tries to turn back time and beat old Irontail to be Chief Easter Bunny.
In The Easter Bunny Is Coming to Town,
the famous Fred Estaire narrates as we watch Sunny, the Easter Bunny, create jellybeans and fool Gadzooks in order to cross the mountain to Kidville.
And of course, It's the Easter Beagle, Charlie Brown is family favorite. I love the scene when Peppermint Patty tries to teach Marcie how to dye Easter eggs – classic!
Believe it or not, all three of these were produced in the 1970's! Must have been a big decade for Easter as a major holiday 🙂
And how could I forget the great musical, Easter Parade
!
Older kids will enjoy this classic musical with Judy Garland and Fred Astaire (yes, the same person who narrates The Easter Bunny is Comin' to Town). This is a fun song and dance movie to watch on family movie night!
If you haven't read or watched these classic Easter tales, check out your local library. I highly recommend sharing a few with the kids this year.
MORE EASTER IDEAS:
50 Fun Learning Items for the Easter Baskets
Printable Easter Coupons for Kids & Teens