Make a bucket list of fun things to do with your kids this Summer!
My kids tell me I've been acting extra goofy this week.
Really?
I hadn't noticed 😉
Actually, we are quickly approaching summer and I am very happy about the prospect of the not-so-scheduled days and longer evenings to enjoy with the kids.
So this week, we grabbed a few supplies and started working on our Summer Bucket List.
Each year, we make a great list of all the adventures we'd like to have and fun things we hope to do together (plus a few things to learn too because during the summer, learning is always fun!)
---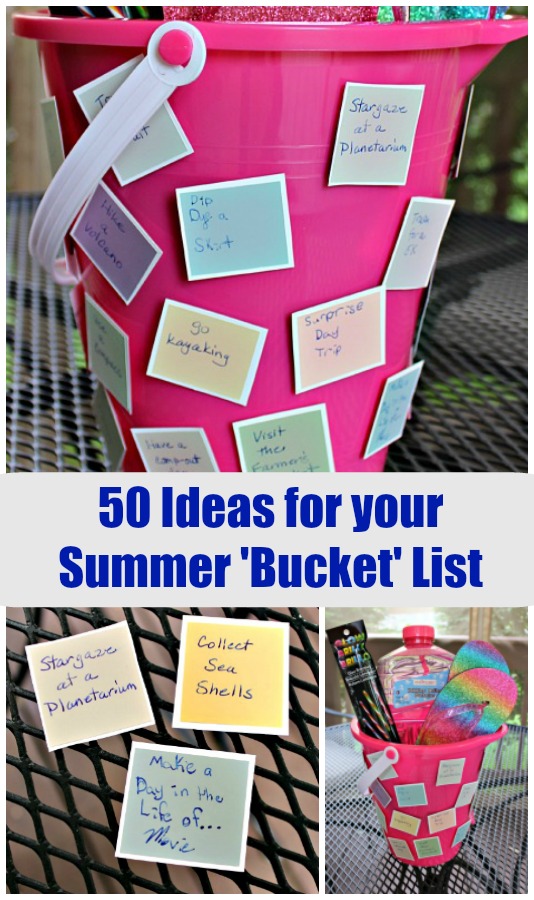 50 Fun Activities to do this Summer
Yep, a bucket list on a bucket!
This is where the kids mention said goofiness again while they were laughing at our ironic list.
But we really like it!
And to top it all off, not only does the bucket showcase all the items we'd like to enjoy this summer but it also holds some summer fun inside too!
I even like it better than last year's summer bucket list which resembled a periodic table for my science-loving kids.
So how do you make one of these bad boys?
Super duper easy and your kids will LOVE to help! We've included a step-by-step tutorial along with affiliate links for items you may find useful as you create your own bucket-list-on-a-bucket.
And if you don't care for that term (a 'bucket list') — let's just call it " A Pail full of Summer Adventures" 🙂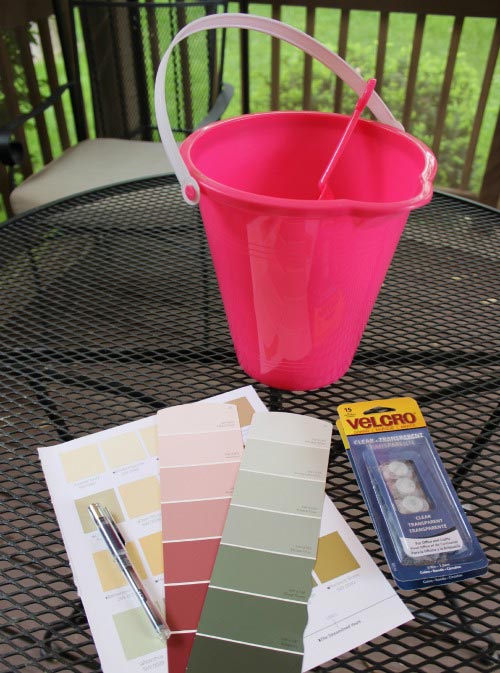 Summer Bucket List on a Bucket
Here's what you'll need:
Large sand bucket — depending on what items you want to include, the larger the pail, the better
Paint chips/color cards — we had a bunch lying around from our last painting project
A list of all your summer fun ideas
First, cut the paint chips into the size you'd like – we used squares because I had a huge assortment of small square paint samples from when we were deciding on what color to paint the kids' bathroom.
You can also use a large fun shaped hole punch and punch out shapes for each of the items on your list.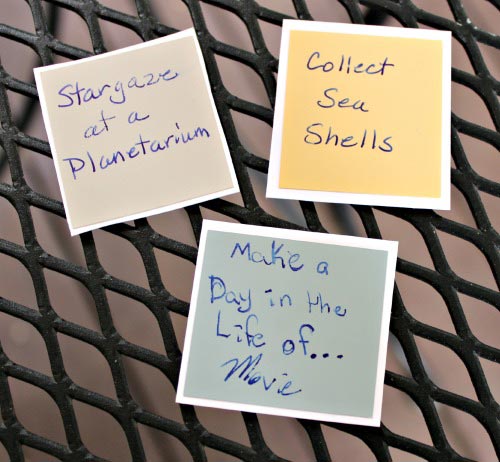 Next, write one summer activity on each of your punched out or cut out shapes.
My daughter helped with this step (which I assume is because she thinks I would probably leave off some of the good things like "Have a Lemonade Stand" or "Fondue Dinner").
Now take the Velcro dots and stick the soft-side of the Velcro on the bucket. You can place them all in a line so your bucket looks like it is striped or just randomly stick them on in a polka-dot pattern.
We're not much for 'precision' at our house so we went with random 😉
Then the rough side of the Velcro dots is put on each of your summer activity paint chips which are then attached to your bucket.
See, super duper easy!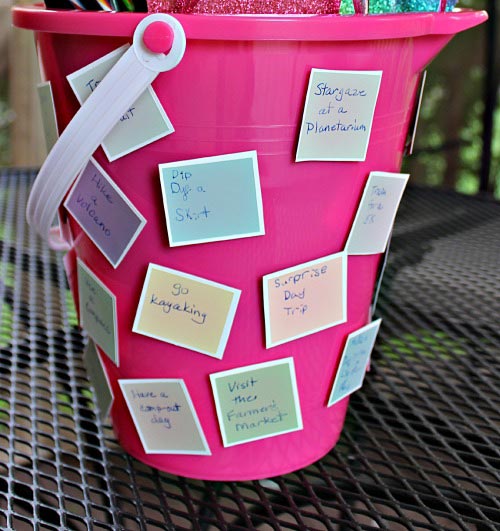 Now each time you check off an item from the list, your kids can pull off that square and toss it into the bucket.
If you'd like, toss some cool & inexpensive summer supplies into your bucket! Things like:
Hmm… I wonder if this could work as a chore chart too?
May have to try that – or maybe I can sneak in a chore square on the bucket and they'll never know.
Haha!
So what creative ideas & activities can you add to your summer list?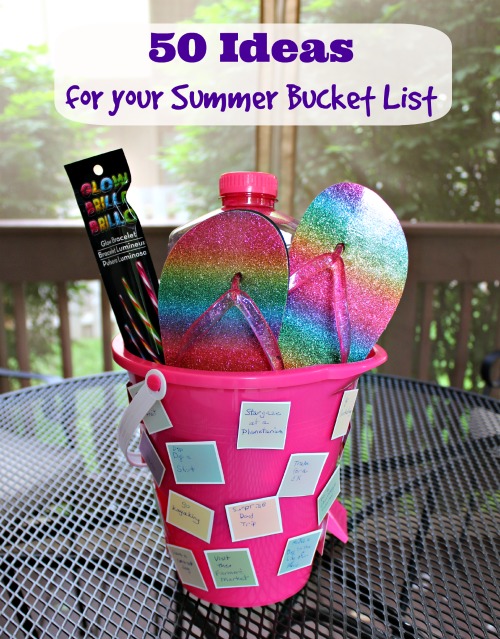 50 Fun Activities for Your Summer Bucket List
Here are some of our plans for this summer!
1. Hike a new trail — we're a big hiking family 🙂 Try these 7 Tips for Family Hikes
2. Go kayaking — 5 Tips for Kayaking with Kids
3. Have a picnic lunch
4. Build a reading fort and complete the Genre Reading Challenge log (print yours for free!)
5. Make s'mores over a campfire (we love to have these super-long S'more Skewers on hand!)
6. See constellations at the observatory
7. Learn to surf
8. Create a travel sign for the garden (this is a family project)
9. Have a "read in the hammock" afternoon — try these 15 Favorite Books about Summer
10. Make campfire pies (super fun to do! Try these Campfire Pie Irons this summer)
11. Train for a 5K – my daughter is running in one so we're all helping her get ready
12. Have a Fondue Dinner
13. Make homemade granola
14. Visit the new science museum
15. Take a surprise day trip! Here's a free list of 40 Fun Ideas for Day Trips with Kids
16. Produce a "Day in the Life of … " movie
17. Go snorkeling and take underwater photos
18. Learn to use a compass
19. Explore a tidepool
20. Spend a day at the zoo – grab a copy of the FREE printable Zoo Scavenger Hunt
21. Have a water balloon fight
22. Set up a backyard challenge course
23. Bike to the library (take along this free Library Challenge too!)
24. Visit the farmer's market
25. Pick berries and make a fun dessert with them
26. Catch fireflies
27. Collect seashells on our trip to the beach
28. Create a family land art project on vacation
29. Walk a labyrinth
30. Have a few family movie nights — We love the ones on this 25 Kids Books made into Movies list!
31. Have a make-your-own-pizza bar
32. Go out for ice cream (a lot!)
33. Visit a farm or petting zoo
34. Update the kids' bedrooms with new decorations
35. Try shaved ice
36. Have a lemonade stand
37. Explore a pond — 20 Activities for a Day at the Pond
38. Hike a volcano
39. Make a sundial
40. Do some cool outdoor science stuff
41. Have a camp-out day
42. Visit 3 new places around town
43. Try grilled fruit
44. Do some scavenger hunts (try some of these 20 free printable Summer Scavenger Hunts)
45. Learn about ocean animals — we do this every summer with fun projects like our
46. Try a new backyard game (maybe Jarts or croquet)
47. Have breakfast out at a resturant
48. Get involved in the summer reading programs
49. Go to the movies
50. See an outdoor theater show
So what's on your bucket list for this summer?
More Summer Activities for Families
20 Things to do on a Summer Night