Enjoy these DIY Outdoor Easter Egg Hunt Clues with printable riddles to hide outside & Egg Hunt sign too!
We have so many people who LOVE our original Indoor Easter Egg Hunt with clues that can be used inside any home. But what about an outdoor egg hunt for when Easter falls late enough and we actually have nice weather?
Readers have been asking and now it's available — an Easter scavenger hunt to do outside!! It's so EASY to set up, perfect for the yard, park or garden & fun for kids of all ages — preschool, big kids, tweens & teens!!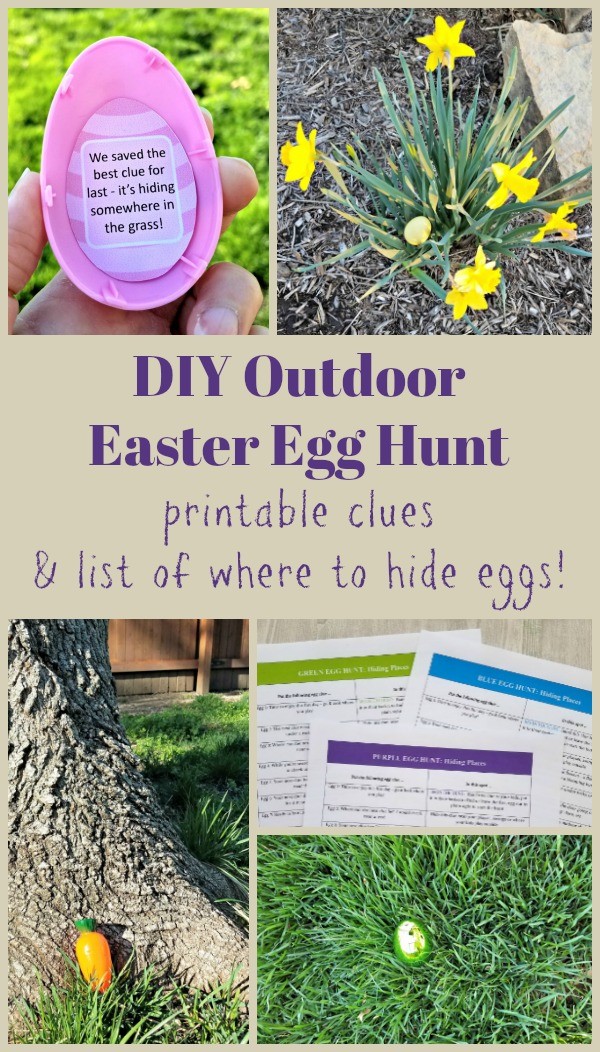 Outside Easter Egg Hunt with printable Rhyming Clues
Some of my favorite Easter memories involve egg hunts!
When we were growing up, my Mom would keep us busy by hiding a handful of pennies, nickels and dimes (+ one quarter) in Easter eggs. My brother, sister & I would search like crazy to find all the eggs and coins!
As we got older, the hunt became more and more challenging. But we loved that tradition and looked forward to it every year.
I remember the first time we took our toddler to our church egg hunt — which was outside in this huge, grassy area. It was a cool morning and there were a LOT of kids all lined up with baskets.
You know how toddlers don't move very fast, right?
Well, when the whistle was blown and we told him to "go find an egg". He toddled out into the field looking at all the eggs, walked past a BAZILLION of them and FINALLY picked up one he liked.
He then put down the basket he was carrying and walked all the way back to show us his egg 🙂
Needless to say, we went home with only one egg that day which held a small chocolate tootsie roll inside — but he was thrilled!
Since I love helping families to create these types of traditions & memories, today we're sharing a *NEW* Outdoor Egg Hunt with everything you need to make this easy & fun (plus, it's super flexible and can be used at Easter or any time of the year!)
We've included everything you need for this AWESOME activity —
5 sets of color-coded eggs to use for up to 5 people or groups,
easy-to-follow directions (cheat sheets!) on where to hide the eggs in your yard or outdoor area,
blank, editable clues so you can customize the hunt
and a printable "Egg Hunt" sign too!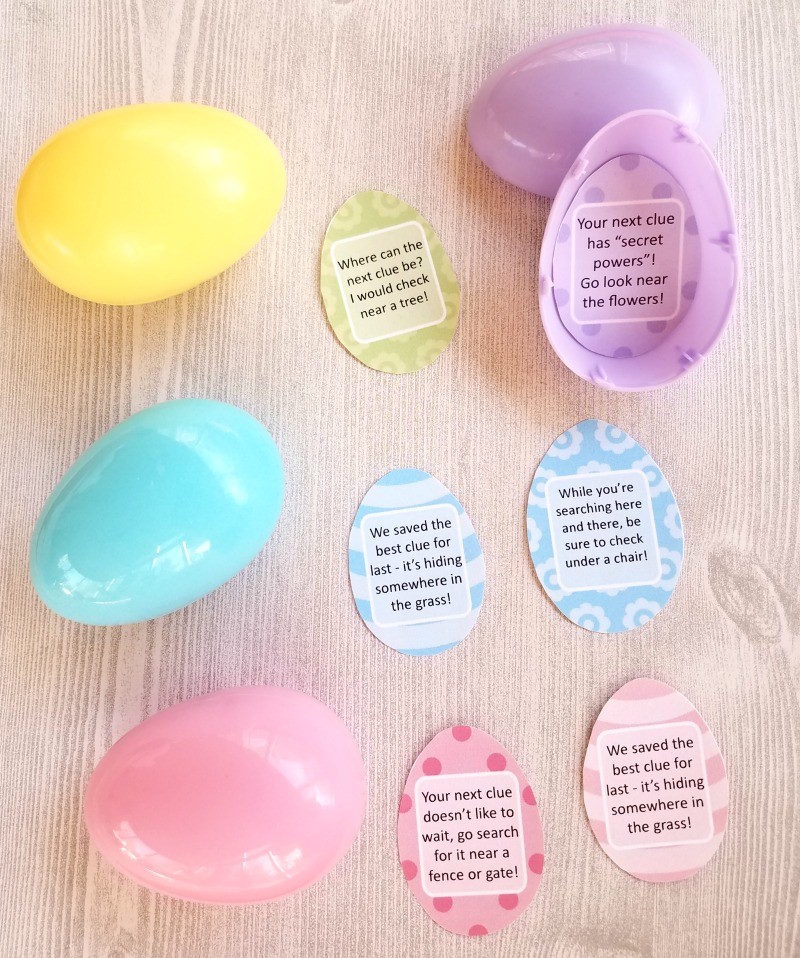 Outdoor Easter Egg Hunt Riddle Clues
You'll get SO much in the Easter Egg Hunt Pack:
5 color-coded sets of Egg Hunt clues (9 pre-typed clues & 9 blank ones you can tailor to your hunt)
Detailed lists (cheat sheets) of where & HOW to hide the riddle clues!
and a printable Egg Hunt sign to kick off the fun 🙂
The done-for-you Egg Hunt tells you EXACTLY which clues to hide where!
No thinking or guessing on your part. You can focus on other things like dinner prep, snapping photos or just relaxing & watching all the fun 🙂
I'll walk you through where to hide all your egg clues. PLUS we even give you an extra set of blank egg clues in case you want to add a few personalized hiding spots to your hunt.

All you need to do for this hunt —
First, print the egg hunt clues! I use white card stock paper so they're sturdy and can be used more than once.
If you want to customize your hunt, use the blank editable eggs to create your clues
Then follow the details on the "Hiding Places" cheat sheet to hide the eggs!
That's it! Easy peasy Easter fun 🙂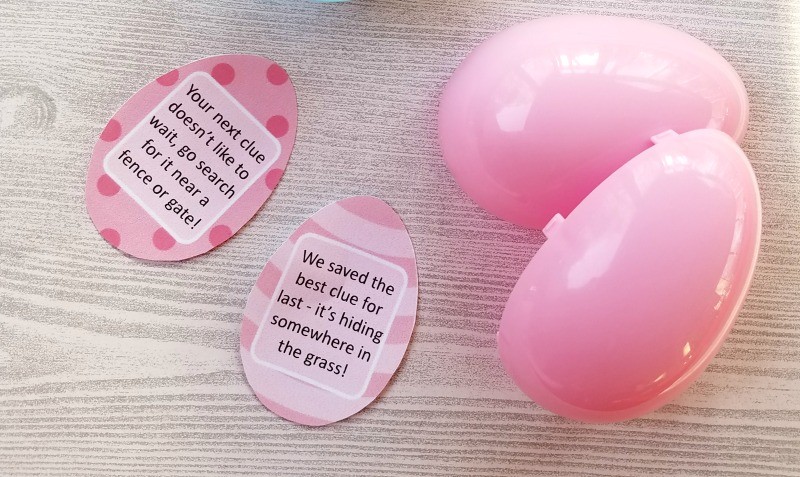 Color-coded Clues: Easter Egg Hunt For Family or Small Group
One of the reasons that I LOVE this outdoor Easter egg hunt idea is because you can set up an individual hunt for EACH of your kids!! Meaning the first person to find an egg won't spoil the hiding places for other kids who are still looking 😉
You can have different hiding spots and kids will look for their eggs in a totally different order. So while your oldest is running to find an egg 'under a chair', your youngest can be looking 'in the flowers'.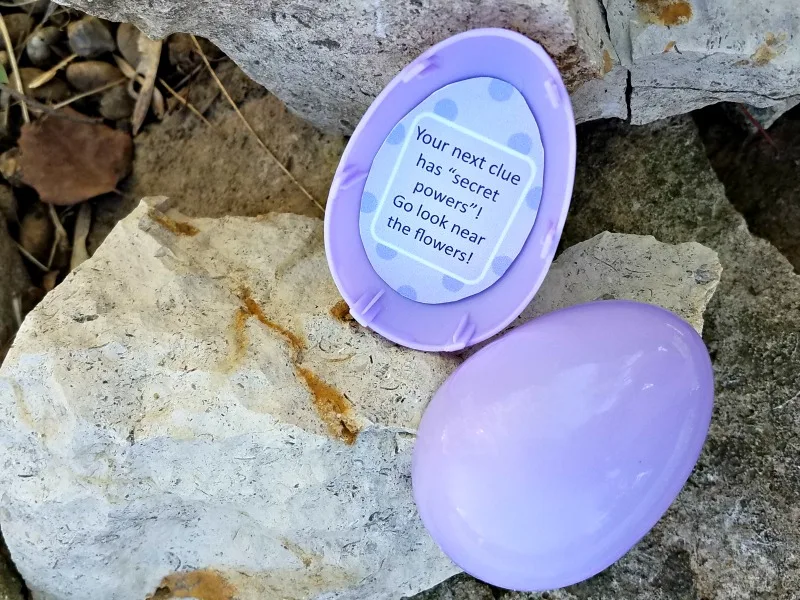 Easter egg treasure hunts can be set up in a variety of ways:
If you have only one person doing the hunt, you can mix & match the colored clues OR
Set up 5 different hunts — one set for Easter morning, one set to do as an after-dinner activity, etc. OR
Use one color for each person or team doing the hunt (the hiding 'cheat sheets' we include will tell you where to hide each color egg!)
If you have 3 kids, each one will have their own individual hunt to follow — just assign a color so they know which eggs they are looking for as they search.
You can places the clues inside plastic eggs or just hide the clues in the locations (I cover them with packing tape to make them water resistant when using the clues on their own).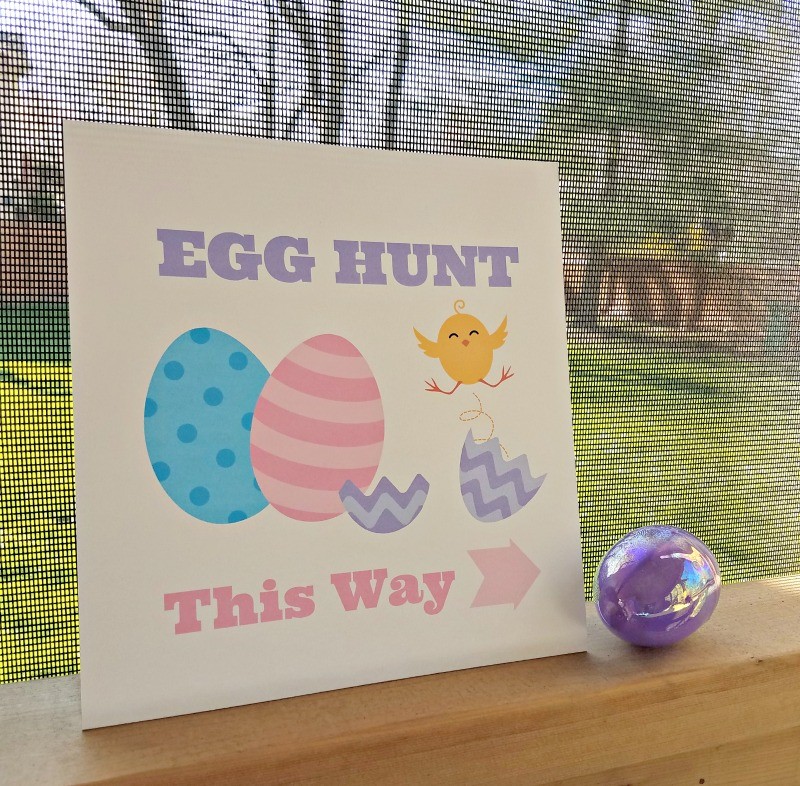 Where to Hide Easter Eggs Outside
One of the AWESOME items we've included in the Outdoor Egg Hunt Pack are Hiding Places cheat sheets for all of the eggs & clues!!
Seriously, this is just SO simple to set up!
The outdoor Hiding places for the pre-printed Egg Clues are already listed on the cheat sheet and include:
in the grass
under rocks or bushes
near a tree
in a water area (with ideas like "near the hose" or "in a watering can"
in the flowers
near a gate or fence
under a chair
next to a door
where kids play (this is a very flexible clue — think near the toys, playset or sandbox)
Oh! And if you want to do this as an nighttime activity, these egg hunt clues also work with a Glow in the Dark Egg Hunt too (adults and teens LOVE those!)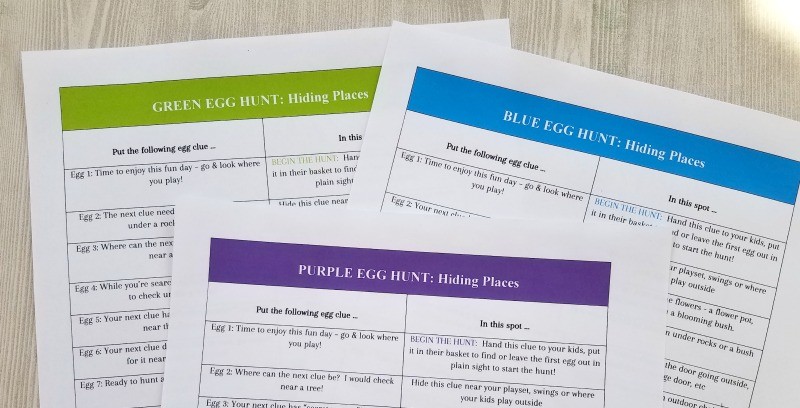 Choose which color clues you'll be using and follow the details on the cheat sheet – each of the Egg Hunt Hiding Places pages outlines exactly where to hide each clue for that color.
The hiding places for each color are also set up in a different order so you can easily plan your hunt for up to 5 people or teams!
PLUS, you'll receive a set of blank clues for each color so if you'd like to add more hiding places or a specific location, all you need to do it type or write that clue on the printable egg and add it to your hunt!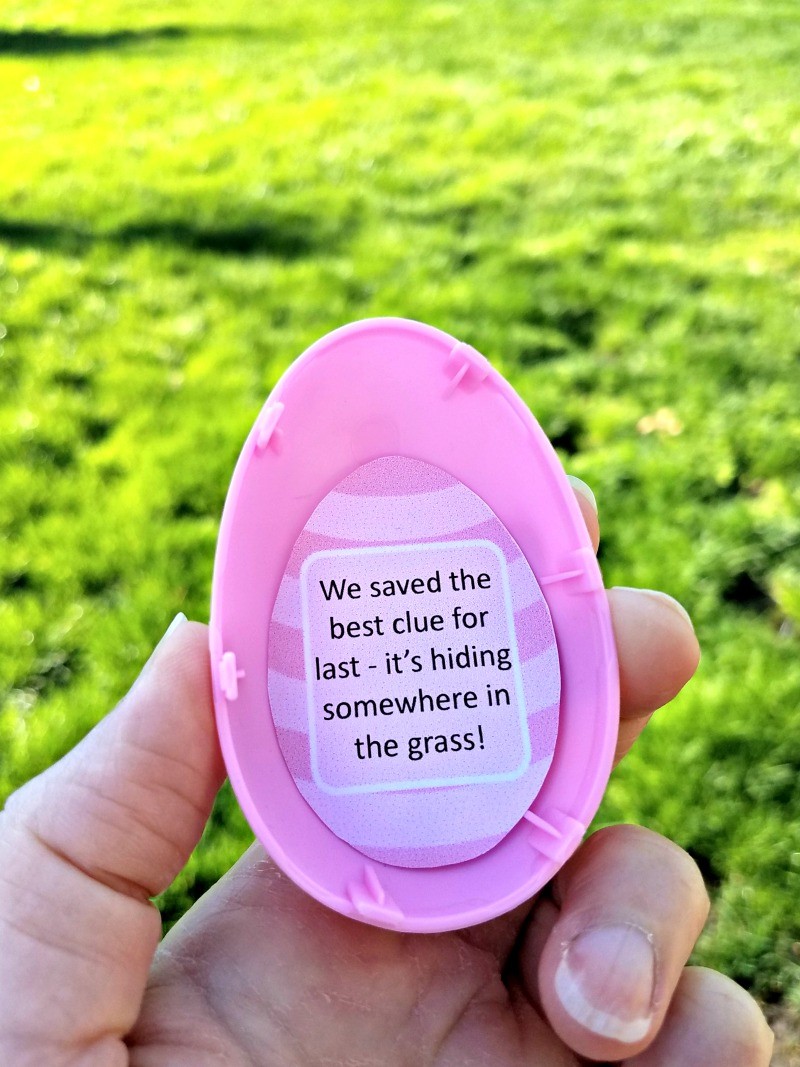 Easy Easter Egg Scavenger Hunt Rhymes & Hiding Spots
We made the rhyming clues very generic to fit almost any yard, park or outdoor area!
The Egg Hunt Clues can be hidden in plain sight for preschoolers or young kids. Or you can make it a challenging treasure hunt for tweens & teens and really hide those eggs!
This hunt is even great for adults since the clues are generic (and let's face it, even us "old folks" like to get in on the fun 😉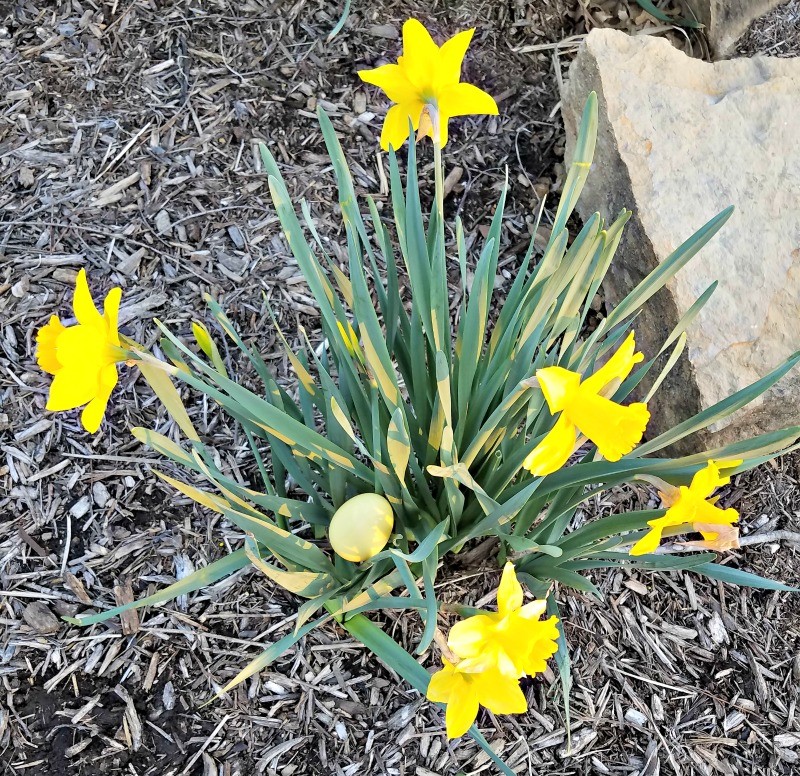 More Rhyming Clue Ideas for Your Easter Egg Treasure Hunt
It's easy to omit a clue or add in your own using the blank/editable eggs in the Outdoor Egg Hunt Pack!
Here are a handful of other outside hiding spots you might have in your yard or outdoor area along with ideas for rhyming clues for each one:
In a Shed: It seems your next clue has fled, I would peek in the shed!
In the garden: This clue received a pardon & is now strolling in the garden!
Near a swing: Flying high is a fun thing; your next clue must be near the swing!
On a slide: This clue didn't know how to hide – go & search on the slide!
Next to a rake: Your next clue is a piece of cake, look around to find the rake!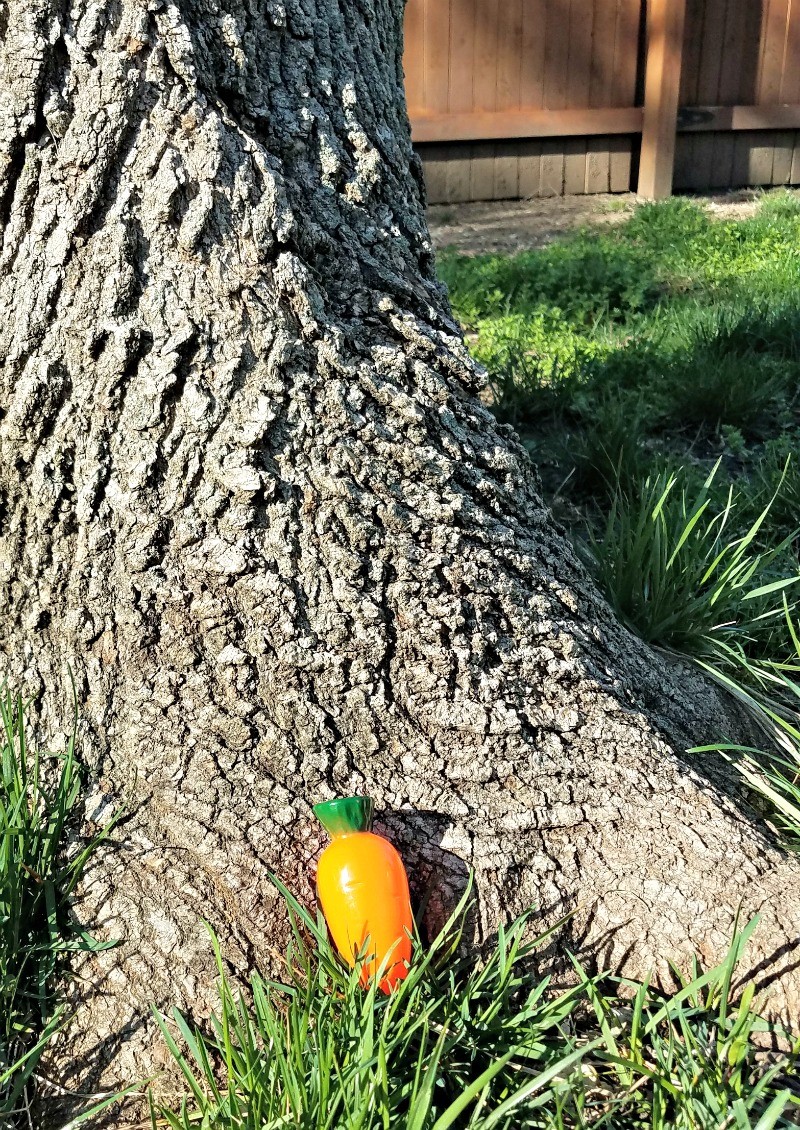 Can You Hide Easter Eggs the Night Before?
Definitely!!
Although you may want to learn from my mistakes with our first Easter Egg Hunt 😉
You have to consider things like backyard animals, family pets with a good sense of smell and the weather. I would suggest NOT adding anything edible to your eggs if you'll be hiding them the night before.
If you'd really like to include some candy, I would hide those in the morning. Just make a note on the Hiding Places pages of which eggs you need to hide in the morning. You can duck out and get them hidden super quick!
What Can You Put in Easter Eggs Other than Candy?
You could add non-candy items like these printable Easter Activity coupons for kids, tweens & teens to the eggs to make them less appealing to roaming critters 😉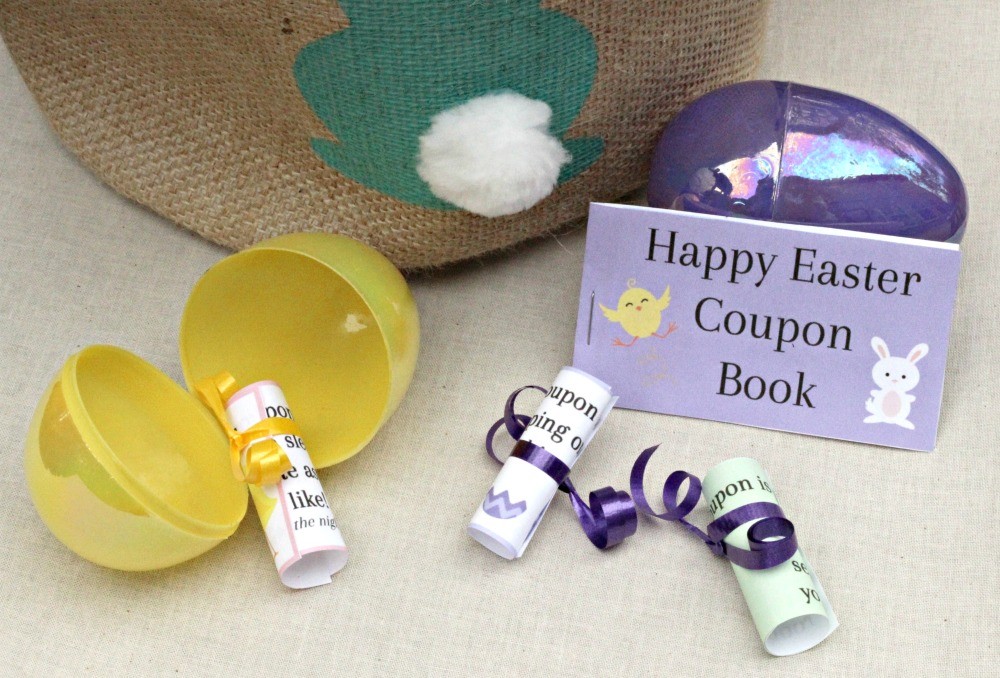 The coupons can be included with the clues or you can hide all the eggs and have the hunt lead to the Easter Coupon Book!
Or add in small toys or items such as Easter stickers or tattoos. Check out our extensive list of 80+ Easter Egg Fillers and Basket Stuffers in our Amazon storefront for some awesome ideas!!

I hope this makes Easter at your home a little easier this year 🙂
Wishing you a wonderful Easter holiday!
More Easter Ideas:
50 No-Candy Easter Basket Stuffers
8 Classic Easter Stories for Kids