Grab this free printable Earth Day Scavenger Hunt activity and inspire kids to learn more about our environment!
Today's activity combines both fun and learning like so many of our scavenger hunts for kids! When most of us were young, environmental issues weren't as well discussed or researched. Now, our kids learn about them in school as part of the curriculum and are inspired to do small things that will benefit the environment.
So we created an Earth Day Scavenger Hunt that mixes both the how's & why's of choosing to 'go green'!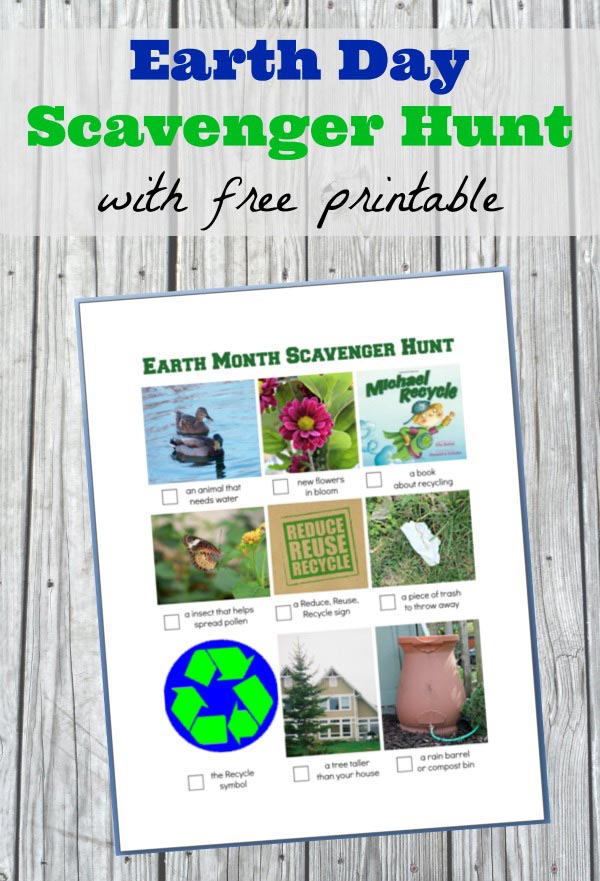 Earth Day Scavenger Hunt & Activities
The goal of this Earth Day activity is to not only find the items listed but also discuss how they relate to being Eco-friendly. We're including links to Earth Day activities along with affiliate links for items items we've found useful when discussing the topic. Plus a FREE printable for you too!
April is a great time to teach our kids about going green. Learning Eco-friendly behaviors, watching movies with environmental themes and ways kids can help the Earth.
As we introduce environmental behaviors to our children, it's not only important to teach them HOW to do the behavior (such as recycling a plastic bottle) but also critical that we share with them WHY we are doing these things.
Teaching Kids about the Environment
We sometimes miss the opportunities to discuss the impact our behaviors can have on the world around us. For example, just remembering to turn off the lights each time you leave a room can make a HUGE difference in how much energy is needed. And yet, it's such a small act that anyone can easily do.
If you'd like to pair this activity with a book, I would recommend these Earth Day favorites:
Why Should I Recycle? is a great book for teaching kids the "why"
And both I Can Save the Earth and 10 Things I Can Do to Help My World are perfect reads when talking about the "how"!
As you can see, some of the items pictured can easily be connected to the "HOW" we protect the Earth (throw away trash, look for the recycling symbol before throwing something away, etc).
Other pictures show more of the "WHY" we want to adopt these behaviors (so insects can help pollinate plants and we will have trees taller than our house).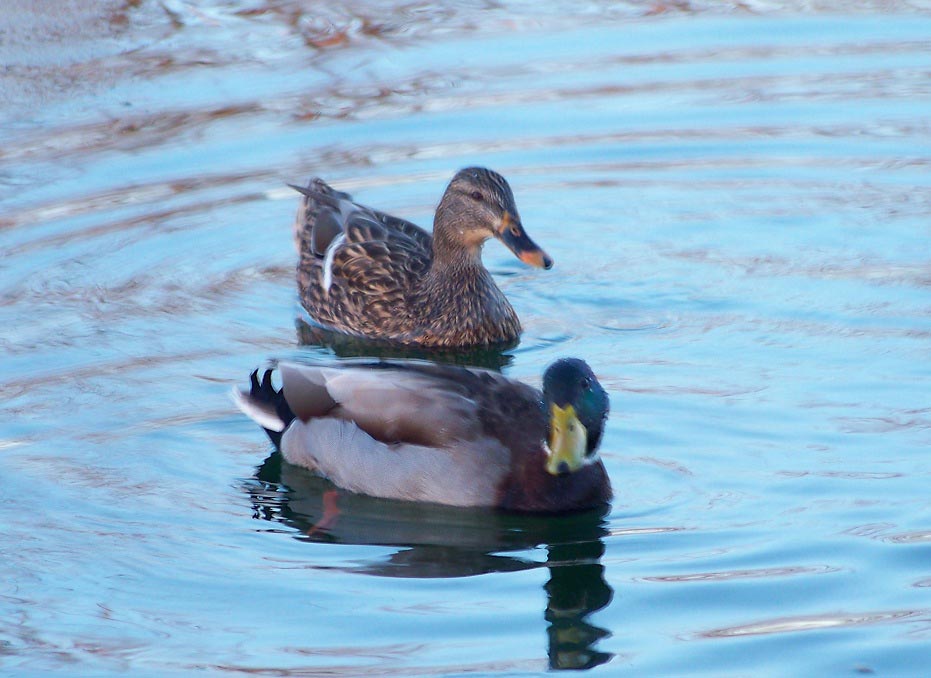 For example, one of the items listed is "an animal that needs water". That's kind of a tricky statement, isn't it?
ALL animals need water whether it's to drink, bathe or use for swimming. Which is a great point to discuss with kids as they search for an animal who needs water.
You can also talk about where the water comes from using this fun Build a LEGO Water Cycle activity (also with a free printable!) Older kids will be able to 'school' you on the water cycle, I'm sure. 😉 And how we can all help to keep the water clean and usable for animals.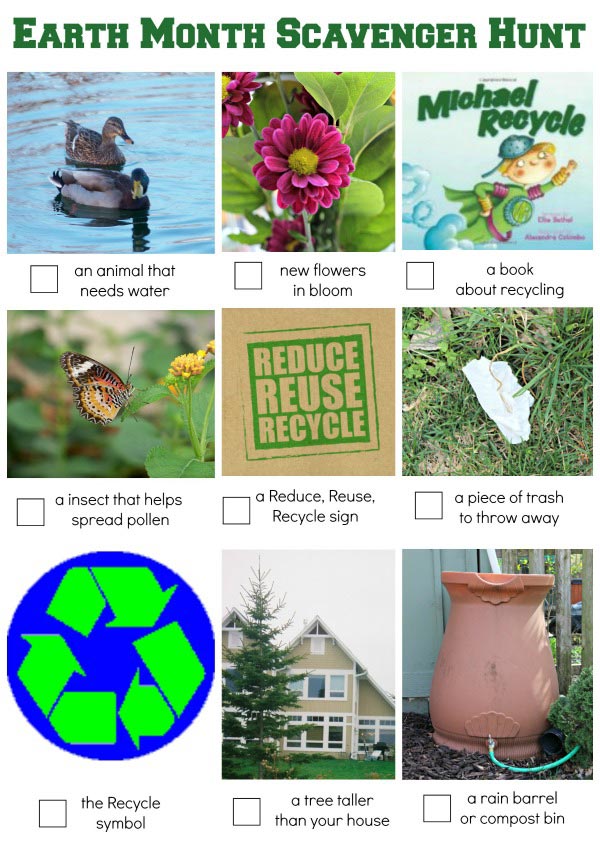 Earth Day Scavenger Hunt Ideas
Each item on the scavenger hunt is a prompt that can lead to a discussion. Here are a few questions kids may ask about environmental issues:
"What does it mean to 'reduce' in the phrase 'Reduce, Reuse, Recycle'?"
"Why can we recycle this type of plastic but not all plastic?"
"Why are insects so important to the Earth?" or
"What's a rain barrel?"
Don't have a rain barrel yet? Here's a great selection of rain barrels (they ship right to your door!) if you're considering one for your yard. We've been SO pleased with ours since now the kids don't have to drag the hose around to water the garden! Setting up a rain barrel is an easy thing to do and great family activity too.
If you want to dig deeper into a few of these ideas with your kids, try this list of books & websites about ecology & the environment.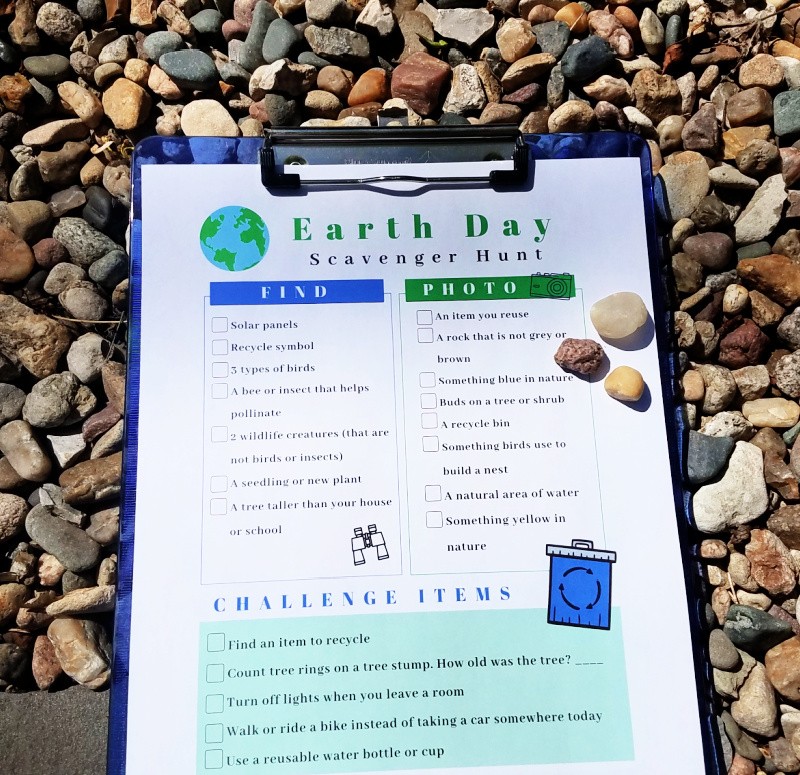 We also have a *NEW* Earth Day activity that's perfect for older kids if you're looking for one! (grab your FREE printable pdf of the Earth Day Scavenger Hunt & Challenge here!)
More Earth Day Activities
Books are always a super start to introducing kids to new topics. Many times, a story will spark kids to become more aware of how to be earth friendly. And also why we should all adopt these behaviors.
We titled the hunt an "Earth Month Scavenger Hunt" because it might take more than a day to find them all. Kids can complete it over the course of a week or during the entire month of April.
Print off your copy of the Earth Month Scavenger Hunt and encourage your kids to be observant as they learn, play and explore this month!