This FREE printable Earth Day Scavenger Hunt is a great way to inspire kids of all ages to learn about environmental activities and earth-friendly behaviors! See if your kids can find, photograph and complete all the challenges during Earth Week!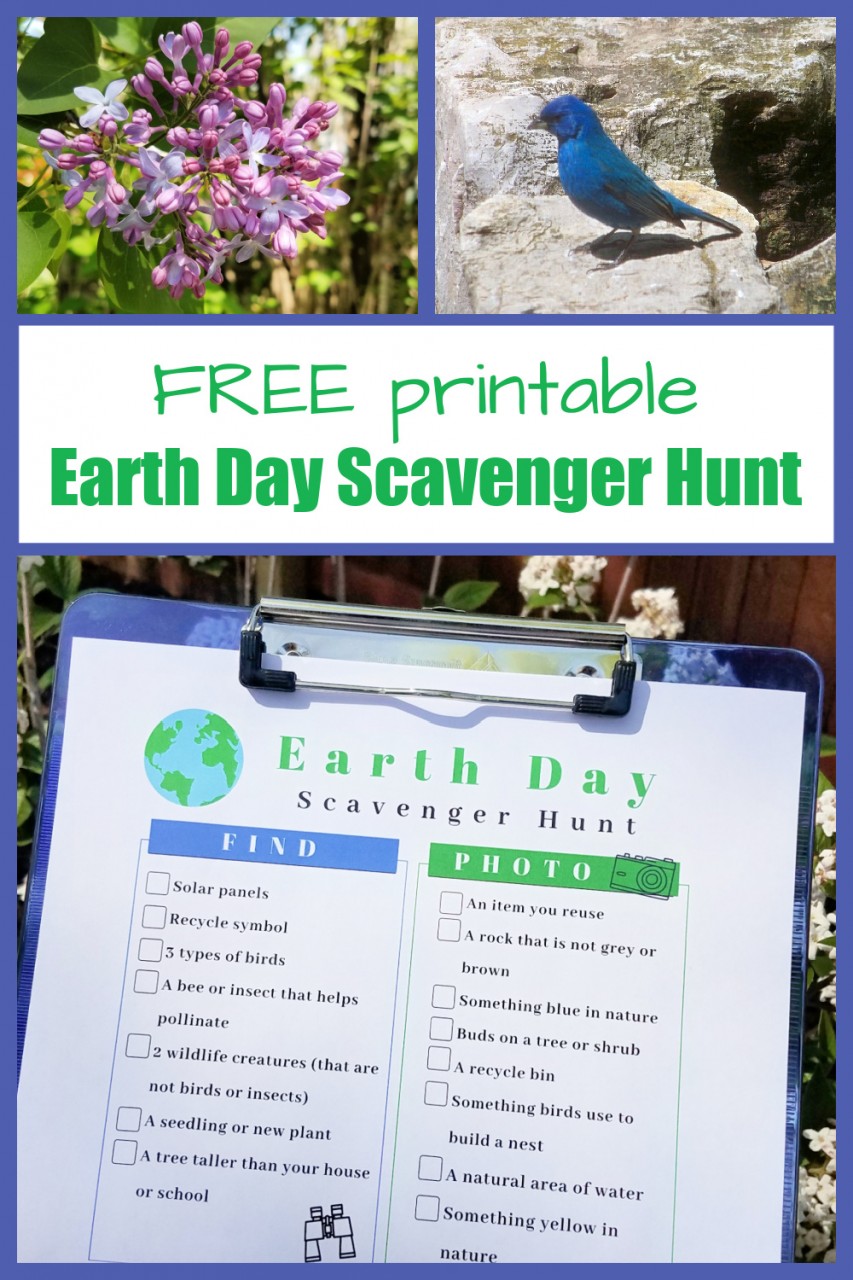 Earth Day Scavenger Hunt (free printable!)
While we all know that we should focus on making our daily lives more environmentally friendly, let's face it — sometimes life just takes over and 'old habits die hard' 😉
Which is why Earth Day is such an important time to bring us back to the basics. Creating new habits that focus on reusing, recycling and reducing our carbon footprint (just to name a few things that we can all easily do). National Geographic has some great detailed articles and tips for Earth Day.
I'll be the first to admit that sometimes the words that we need to use for many of these topics can be a little overwhelming to kids — conservation, ecosystems, environment, resources — whew! quite a mouthful. Which is why it's great to be sure we break things down into bite size chunks. This is where a few great books about Earth Day for kids will go a long way with helping them to understand more of the vocab and ideas.
Earth Day Scavenger Hunt Ideas
It's also important to create some fun hands-on learning where kids can quickly SEE how they can have a positive impact on the world.
And what's more fun than a scavenger hunt, right?!
While we've already shared a fun picture-themed printable Earth Day Scavenger Hunt that's perfect for preschool and elementary ages. But, I really wanted to create something a little more advanced (for middle school and high school students) too. This hunt can also be considered a STEM activity since we're integrating some science, tech and math with this one.
Today's hunt is so much more than just a 'find these items' type of hunt. Because it's spring and spending more time outside is always a good thing! So our *newest* hunt is a combination of find/photo/do types of challenges. It's a great idea for kids, tweens, teens, families and classrooms to do together!
I think it's especially great for upper elementary and middle school kids and is perfect for any ecology or nature unit. Also be sure to take a peek at these Ecology Activities for Kids too.
And don't worry about finishing the hunt in one day — this is one of those games you can play until you find or complete all the items 😉
You can also find some more awesome printable Earth Day Activities, games and worksheets at Etsy too!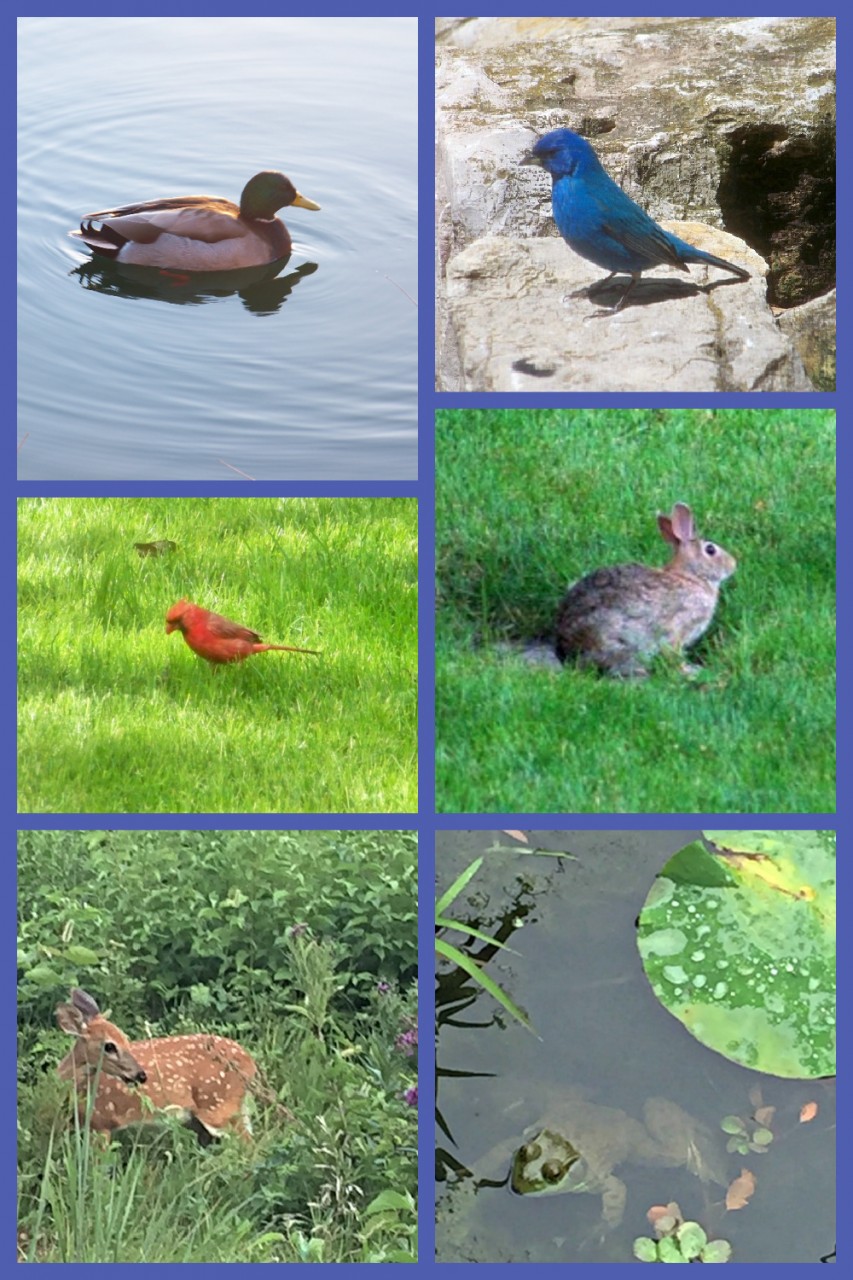 Environmental Ideas for Earth Day Scavenger Hunt
First up is the list of items to "FIND" for the hunt and I'll tell you right up front, these are NOT so easy to find! We made sure to include items that kids really need to search for — two different wildlife creatures (that are NOT birds or insects), a seedling or new plant, solar panels, etc.
Speaking of solar panels – did you know they make portable solar panels that are perfect for charging cell phones or using on a camping trip?!!
Plus, each of the items offers a great discussion component during the hunt too.
For example, when kids are looking for the 3 types of birds, that's a great time to talk about biodiversity. If this is a new topic for your kids, check out the FREE printable Biodiversity Worksheet and Project activity!
Another item on the hunt — a bee or insect that helps pollinate — has one of those vocabulary words that might stump kids. They may ask:
"What does pollinate mean?"
"Why do we need bees for this?"
Which is a perfect opportunity to share some of these fun Books about Honeybees! Or kick start a new discussion.
Plus these 10 Family Friendly Movies for Earth Day are also the perfect way to initiate discussions about environmental issues. They're great to use in the classroom too!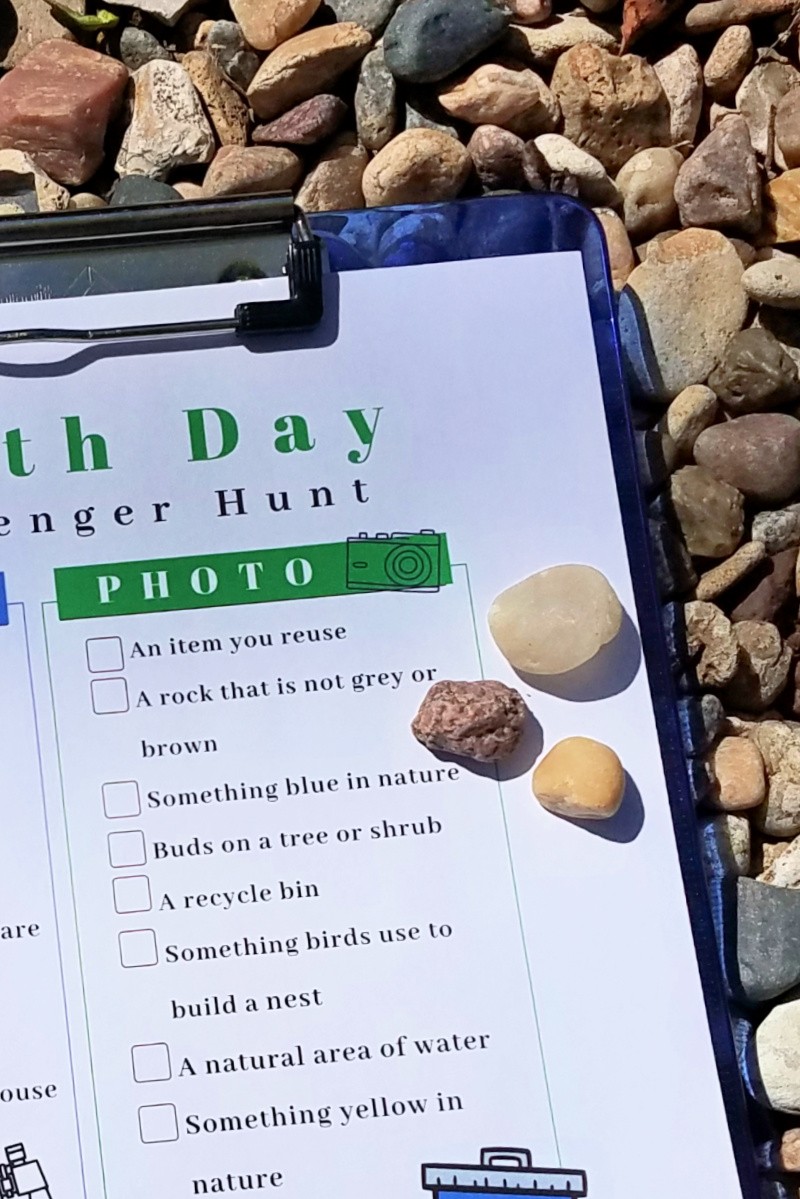 Earth Day STEM Activity: Photo Scavenger Hunt
The second part of the hunt includes a photo challenge for kids! I love photo challenges for a few reasons – first, you get to see the world from someone's perspective and second, it's a great way to integrate some 'tech' into a STEM activity.
Here's what I mean when I say "see the world from someone's perspective" — the first item on the photo hunt is an item you reuse. I guarantee that if you have 30 kids do this hunt, you will get 30 different photos for that item. 😉
Once you start thinking about it, there are a LOT of items we can reuse. Which is exactly that point you want to make on Earth Day, right? Why buy something new when there's an item that can be reused or repurposed?
The environmental items to photograph will challenge kids to both think and search! The list includes:
an item you reuse
a rock that is not grey or brown
something blue in nature – yes! there are blue items like the bird in our top photo 😉

buds on a tree or shrub
a recycle bin (could be a blue bin or a home composting bin!)
something birds use to build a nest (I love this item!)
a natural area of water – this could be a pond, stream, lake, wetland, etc.
something yellow in nature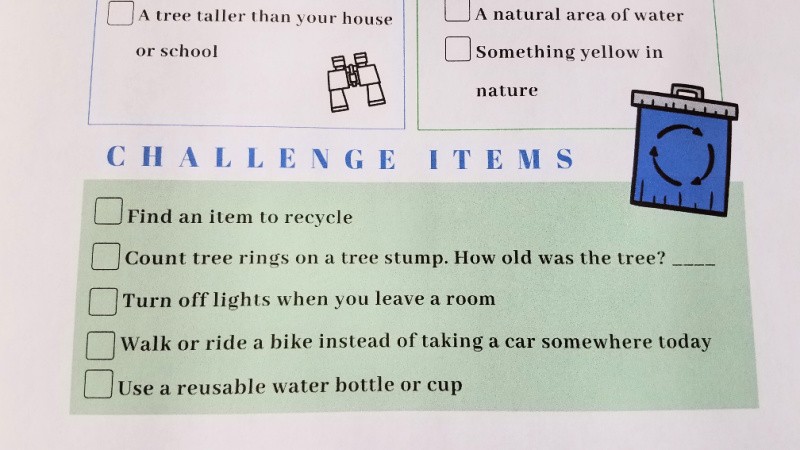 Earth Day Challenge Ideas for Kids, Classrooms and Families
The third section of the scavenger hunt includes some hands-on challenges for you to do! Nothing too hard but I wanted to have a way kids could actually make a direct impact on the environment while they are doing the hunt.
See if you kids/students can complete the following:
Find an item to recycle
Count tree rings on a stump and date the tree
Turn off the lights when leaving a room
Walk or ride a bike instead of driving somewhere
Use a reusable water bottle (instead of a plastic one)
If you're looking for more earth-friendly activities and challenges, see these 20 Inspiring Nature Activities for Kids with a FREE printable mini-poster too!
Get your FREE Earth Day Scavenger Hunt now!
More Earth Day Activities & Ideas
12 Earth-themed Lego STEM Projects