Enjoy these creative Dr. Seuss & Cat in the Hat games with your kids and inspire a love of reading!
There's nothing like a game to encourage a child to pick up a book!
And some of the best books that lend themselves to being turned into a game are those created by Dr. Seuss — like these Wacky Wednesday activities & If I Ran the Zoo game — so creative, colorful and full of fun ideas.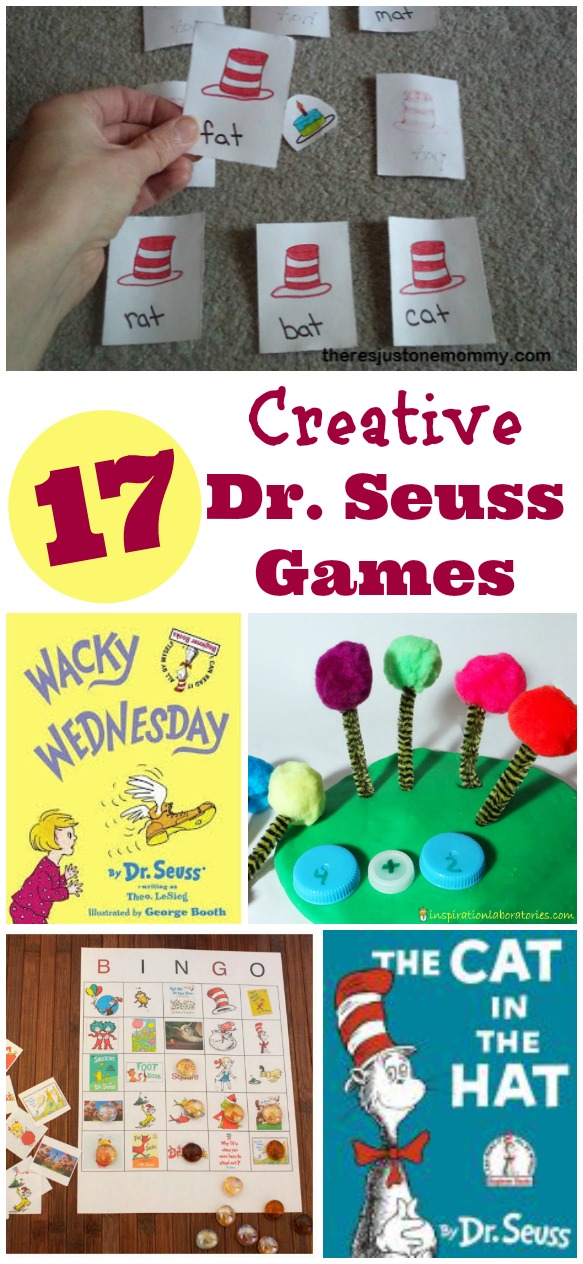 17 Dr Seuss Games & Cat in the Hat Activities
With the coming months having a TON of reading events and activities (including the celebration of Dr. Suess' birthday – Read Across America on March 2nd!) – it's time to pull out your favorite Seuss books! Quite a few of these games also have FREE printables to use with the book and we're including affiliate links for items that will lend to an AWESOME story time activity or reading celebration!
While we LOVE the nonfiction Cat in the Hat's Learning Library series — we are pairing some of those Dr Seuss books with science activities for kids — almost everyone has a favorite 'classic Seuss' book from childhood.
For today's post, I thought a collection of Dr. Seuss games for some of these favorites was in order! Kids learn so much while playing a game. In addition to practicing their reading, writing and math skills, they also learn about negotiation, communication and social skills too.
And these games are so much fun to play! Spend some time reading & exploring a few of these Dr. Seuss stories and then enjoy a creative game together. And in classic Seuss style — if kids want to change the rules or mix things up, let them 😉
Also, be sure to check out the HUGE selection of Dr. Seuss Printable Games and Activities on Etsy too – great ideas for classroom parties here!
Dr. Seuss Games with Free Printables
Read What Pet Should I Get? (one of the newest Dr. Seuss books!) and play this free pet matching game from Sunny Day Family.
I love this Dr. Seuss Name that Book FREE word scramble game from Minds in Bloom!
Kids of all ages will enjoy this FREE printable Create their Own Zoo Game after reading If I Ran the Zoo!
Enjoy a fun game of Dr. Seuss BINGO with these printable boards from A Sparkle of Genius.
Dr. Seuss is famous for his rhyming text! Learn about rhyming words with this free printable activity from Tot Schooling.
Turn math into a fun game with these 19 free creative math printables from iGame Mom that pair with The Lorax, The Cat in the Hat and more wonderful Seuss stories.
Inspire your kids to act out favorite Dr. Seuss books with this fun Dr. Seuss Charade game with free printable from Sugar Bee Crafts!
Classroom Freebies also has a wonderful single and double digit Hop on Pop themed printable addition game for the kids to play!
And if you're planning to use these games for a Cat in the Hat or Dr. Seuss celebration, this Dr. Seuss book character Balloon set and these Cat in the Hat Character window clings are a great addition to any party!
Cat in the Hat Games: Reading & Math

Practice your letters with this fun ABC matching game from Growing Book by Book.
Kids will enjoy learning their site words by crafting their own Suess-inspired Site Word cards from There's Just One Mommy.
Practice color, shape and pattern skills with this colorful Dr. Seuss Pattern Party game!
Let the kids get creative while learning with this fun Dr. Suess inspired sight word game from One Creative Mommy.
Build your own Cat in the Hat hat while also building word families with this rhyming game from The Pleasantest Thing.
We love colorful games and math has never been so much fun as with this Truffula Tree Math game from Inspiration Laboratories!
Get Up & Moving Dr Seuss Games
Get the kids help 'clean up' with this Sweep up the Rhyme game & free printable from Inspiration Laboratories.
Read Wacky Wednesday and then set up your own wacky activity with these creative ideas!
And the perfect get-up-and-move game — Cat in the Hat "I Can Do That!" Kids Activity Game!
Learn your ABC's in an active way by reading Hop on Pop and then hopping around the alphabet with this game from Cutting Tiny Bits!
ObSUESSed has a great round-up of Carnival Games for favorite Dr. Seuss stories!
And the Thing 1 & Thing 2 Hide and Seek game is a great way to inspire kids to be active while they play!
Plus check out these favorite Cat in the Hat non-fiction books & STEM activities for more fun ways to learn!
More Fun Dr. Seuss Activities:

40 Habitat Projects with the Cat in the Hat books

Learn about Ecology with The Lorax