Explore science this Spring with these fun Dr Seuss science experiments and activities!
Read Across America and Dr Seuss week is coming soon – last week we shared some free printable Dr. Seuss games for kids. This week, we're focusing in on some fun science activities. Kids of preschool, kindergarten & elementary age will LOVE learning about weather, gardening, space, trees and the human body with the newer Dr. Seuss non-fiction series along with more than 50 easy hands-on science projects that are perfect for Spring.
I want to give you a peek inside some of our favorites along with some great activities you can do to bring the books to life!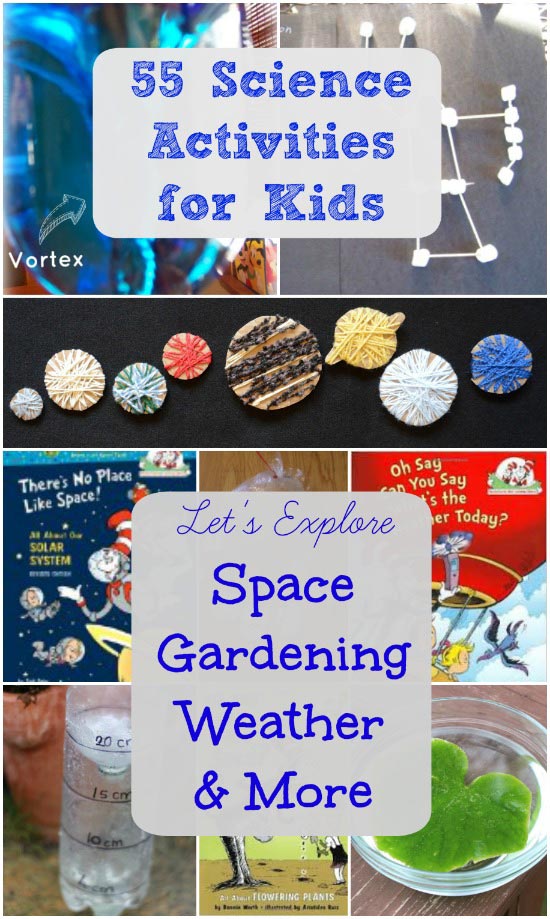 55 Dr Seuss Spring Science Activities & Experiments
There are so many books in The Cat in the Hat's Learning Library that I knew we would have to highlight them in more than one post — so today's focus will be on the science-themed book in the series.
These books make it so easy to introduce science, geography, money and other real life concepts to kids —
just take one familiar and loveable book character (The Cat),
insert TONS of cool facts and details on a non-fiction topic,
add in some kid-sized humor 😉
and you have the perfect books that transition kids from picture stories to non-fiction reading!
Today's post is part of a 3-week series featuring books from The Cat in the Hat Learning Library along with crafts, science experiments, learning activities and other hands-on fun!
For each title in the series, we've highlighted some super Spring-themed science activities, suggestions for 'field trips' and affiliate links for science-related materials and the books themselves so you can decide if it's one you'd like to add to your home library.
These books make SUPER gifts (I'm sure you always have family members asking "What can I get the kids for their birthday this year?" 😉
There's No Place Like Space
Explore the stars & planets as you take a trip through our solar system in There's No Place Like Space: All About Our Solar System. The constellations, moon, sun and details of the environment of the various planets are all discussed. Reading this book before or after a visit to a Planetarium would be a great tie-in to space. If you're lucky enough to live near one of the space centers or a science museum with a space exhibit, those would be awesome to see too!
Science Activities & Projects about Outer Space
5 Ways to Learn about the Phases of the Moon
Make a set of yarn-wrapped Planets — And Next Comes L
Create Marshmallow Constellations and learn about the stars
Have an edible solar system snack (YUM!) — Creative Kids Snacks
Discover some solar system printable activites — 3 Boys & a Dog
I adore this set of free printable Solar System Trading Cards — Amazing Space
And if your kids are like mine, they'll want to use these Glow in the Dark Constellations
to decorate their bedroom ceiling 🙂
Plus more great Books about Space for kids too!
Oh Say Can You Say What's the Weather Today
Everyone's always enthralled with the weather but it's so much better to READ about it than it is to experience some of the crazy things Mother Nature sends our way 🙂 Oh Say Can You Say What's the Weather Today?: All About Weather shares about everything from rain, snow and thunder to hurricanes, tornadoes and weather-measuring instruments. It's the perfect book to pair with a week of weather observations.
Spring is one of the best times to dig into the science of weather! If you're looking for a field trip experience, contact your local weather center or one of the local news stations to see if you can schedule a visit to observe how they track the weather.
Weather Science Experiments for Kids
Track the daily weather with this free printable weather chart | Notebooking Nook
Create a Tornado in a Bottle | Edventures with Kids
Learn How to Make Lightning | Learn, Play, Imagine
DIY Science Project: How to Build a Barometer | Edventures with Kids
Make your own Rain Gauge | Imagination Tree
Create a hurricane in a bowl | Inspriation Laboratories
Learn more about how to dress and predict the weather with these great weather apps for kids!
And create your own weather science with the SmartLab You-Track-It Weather Lab.
Oh Say Can You Seed?
Oh Say Can You Seed?: All About Flowering Plants
is the perfect introduction to how plants & flowers grow. If you're planning to get the kids involved in gardening, this is a great read!
The book discusses pollination, photosynthesis and the parts of a plant. In addition to using the book in conjuction with growing some potted plants or a backyard garden, it's also a great read after visiting a garden store or local arboretum.
Garden & Seed Science Activities
Plant a garden this Spring and try a few of these activities:
Browse these fun activities that explore plants & seeds for early inspiration.
See what's inside a bean seed | Buggy & Buddy
Ready to do some gardening? Here are 30 Great Gardening Activities & Crafts!
Create your own 'Garden in a Glove' and track seed growth | Full Circle Gardener
The Toysmith Garden Root Viewer gives kids a close-up look at plants & how they grow.
If it's Fall in your area, enjoy these leaf & seed activities for kids.
Track your plant's growth with this free printable activity!
Inside Your Outside! All About the Human Body

A book that answers so many of the questions kids ask out the body — Inside Your Outside: All About the Human Body
teaches kids about the various body systems, the skeleton and how our bodies work. This is a pretty eye-opening book for younger kids as many haven't really thought about what's inside their body and how it might work.
A 'body' field trip could be as easy as your regular visit to the doctor. Some science centers also have great exhibits on the human body and how it works too.
Human Body Science Activities
Learn how your body works with some hands-on science:
Make Your Own Stethoscope | Fantastic Fun & Learning
Use this fun activity to learn How Long are Your Small Intestines!
Learn how you hear with this Science of Sound Waves experiment!
12 Hands-on Ways to Learn about the Human Body | I Can Teach My Child
Skeleton Activities & Crafts | Carrots are Orange
If kids want a hands-on peek inside the body, I highly recommend the interactive Uncover the Human Body Book
.
Use this Fingerprint Science Activity to learn more about your fingertips!
And try some of these Human Body Experiments too | A Spectacled Owl
I Can Name 50 Trees Today!
I Can Name 50 Trees Today!: All About Trees
is an interesting look at something that many kids might not notice — there are a TON of different types of trees! While the book focuses on trees in North America, kids will also learn about trees from around the world and the various seeds and fruits produced by trees.
Taking a 'tree field trip' should be easy — any visit to a local park, nature center or even your own backyard would be perfect! Some parks and nature centers also have tree guides available to help you identify each type.
Tree Science Experiments & Projects
Watch the trees come alive in Spring & try a few of these experiemnts:
Take a Tree Walk and Learn How the Serve as Habitats
Free printables about tree rings, bark and tree seeds | International Paper
Learn about leaf science with this fun How Does a Leaf Breathe? experiment!
Make a Neighborhood Tree Guide | Kid World Citizen
Create some art with this Paint Trees through the Seasons activity!
Learn about dendrochronology with this tree ring science project.
And I just love this one! Estimate the Height of a Tree | Science Sparks
See more in Part 2 of the Dr. Suess series as we explore habitats — 40 Animal Habitat Projects!
More Science Activities for Kids:
20 DIY Outdoor Science Experiments