Great ideas for non candy Easter egg fillers or Easter basket stuffers — This colorful set of Easter Coupons for kids, tweens & teens are perfect!
In our house, everyone gets an Easter basket no matter how old you may be! I guess the Bunny doesn't keep track of age where we live 😉
I'm definitely more of a 'include something other than candy' type of parent — there are so many other AWESOME non candy ideas for egg fillers and Easter basket stuffers!
It was the same in our house growing up — baskets & egg hunts were the norm well into our teen years — and I love carrying on that family tradition. And one of the BEST things (I'm told by my munchkins) are Easter Coupons!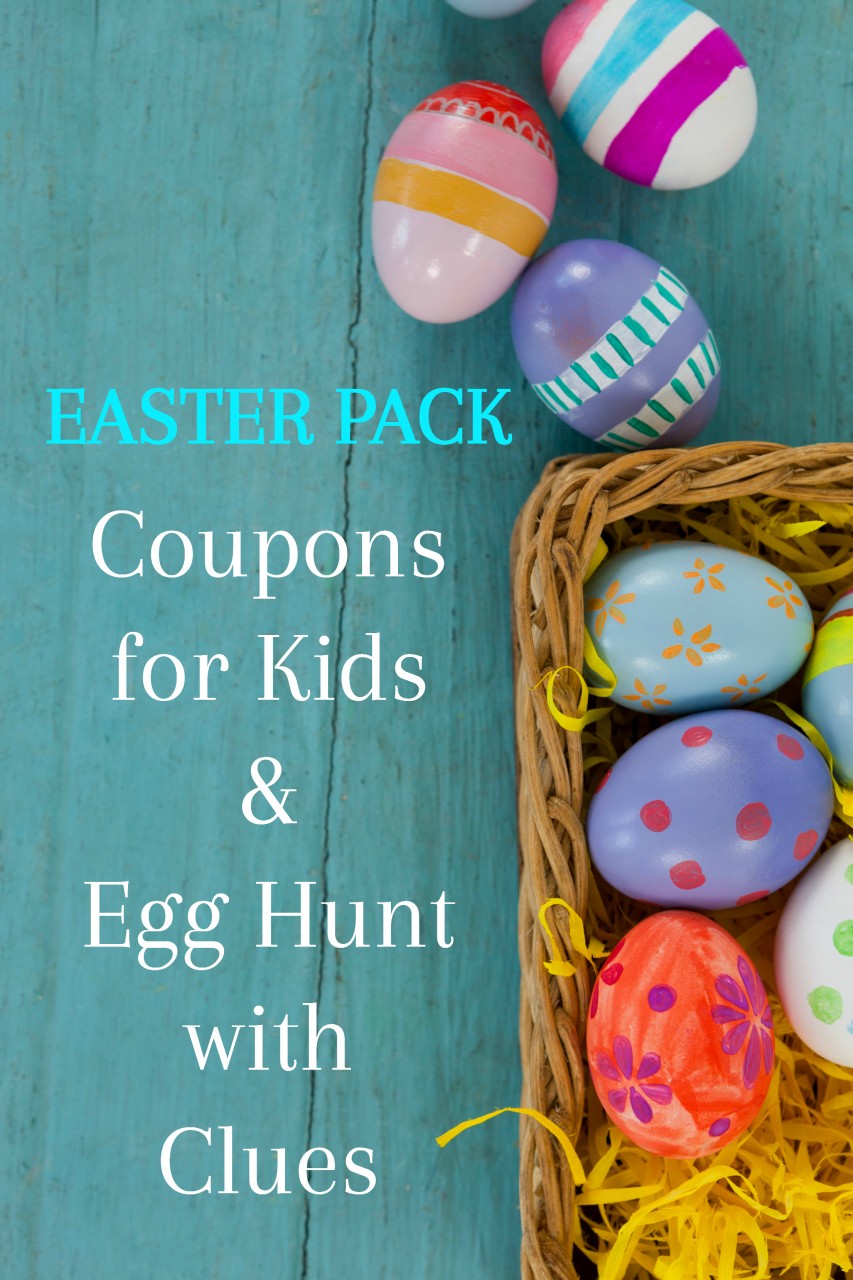 Non Candy Easter Ideas: Egg Fillers & Basket Stuffer Coupons
I'm telling you — kids LOVE holiday coupons!
We do them at Christmas, Easter and birthdays too.
And parents love them too because they're EASY to put together, super inexpensive & they make wonderful non-candy options for the holiday! Plus they are great if you're needing a few last minute items for Easter to round-out the baskets 😉
Our kids will hold on to those things until just the right moment and then turn them in with the biggest smile saying "Remember, I have the coupon Mom!"
Like the 'get out of doing a chore' coupon — oh yea, it's always for something like cleaning up after the dog 🙂
So with Easter coming soon (yikes!), I thought we'd pull together an Easter Pack for you!
These are PERFECT if you're looking for non-candy items to use as egg fillers.
Or if you're pressed for time and want to include something extra in your baskets without having to run to the store again 😉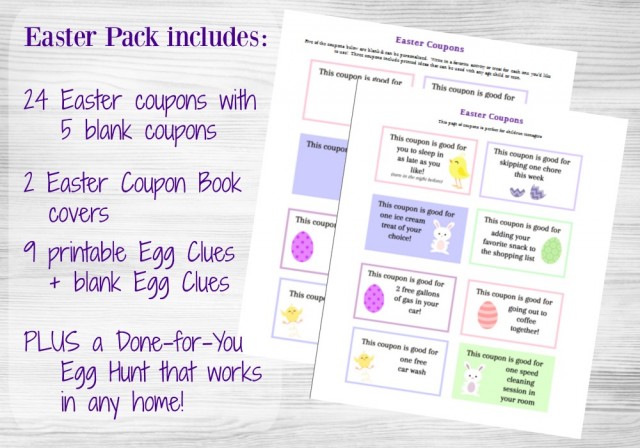 Easter Activity Coupons for Kids, Tweens & Teenagers
The Easter Pack includes:
the free Egg Hunt Clues AND
two BONUS items:

a done-for-you Egg Hunt that will work in any home
a blank set of Egg Hunt Clues if you'd like to create a personalized hunt in your home or backyard.
PLUS, the blank coupons, coupon covers & blank egg hunt clues are now fully editable using your computer!!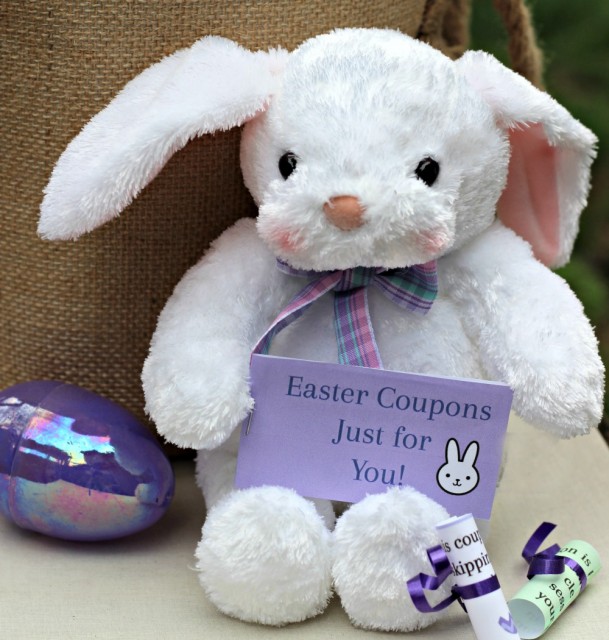 First let me tell you about the Easter Coupons —
You'll receive 24 printable coupons each along with your choice of 2 Easter Coupon Book covers.
Choose the ones that fit your child — which means you can personalize EACH coupon book for EACH of your kids!
If you're like me and need some last-minute items in your baskets — you can have these done in less than 5 minutes!
We've included 8 coupons for kids ages 3 – 12 years with items such as:
Staying up 30 minutes past bedtime
Story time with your favorite book (see the list of Classic Easter Books for ideas!)
A visit to the playground and
Wear your pj's all day long
And another 8 coupons that are great for teenagers including fun things like:
Add your favorite snack to the grocery list
Let's go out for coffee together
Two free gallons of gas for your car and
Sleep in as late as you'd like today!
Mix and match any way you'd like — include as many as you'd like in each of your hunts or coupon books — so much flexibility for you 🙂
PLUS you'll also receive
5 blank coupons that you can personalize too (either by hand or on your computer) and
an additional 3 flexible coupon activities that can be used for kids of any age!!
And the whole pack is currently on SALE for just $1.99!
If you have two kids, that's less than a dollar a basket (Easter on a budget so we can all save for those college years, right 😉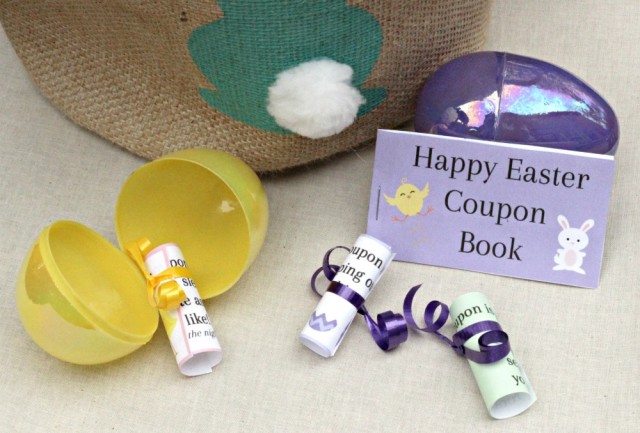 You can use the coupons individually (for example, put them in plastic eggs for your egg hunt).
Need ideas for a hunt? Check out these 12 Indoor & Outdoor Easter Egg Hunts for inspiration!
Or choose the ones you'd like to give your child or grandchild and easily pull them together into an adorable Easter Coupon Book!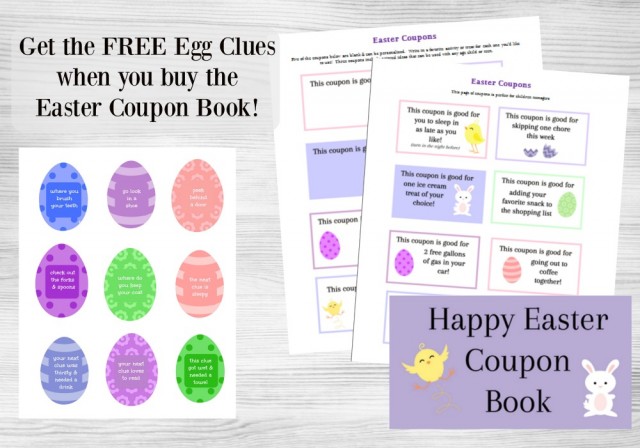 Easter Egg Hunt Clues BONUS Item!
We're also including our super popular Egg Hunt Clues in the pack along with 2 BONUS items:
a detailed done-for-you Egg Hunt outline that works in any house (ONLY available with this pack)!
PLUS a blank set of Egg Hunt clues you can personalize & edit to fit your home or a special event if you'd like to add custom clues!
The pre-printed Egg Hunt clues are generic and list hiding places that can be found in any home — for example "your next clue likes to read" or "find this clue in a shoe".
Yet, we were kinda clever to leave them open-ended so that you can make them easy to find or super hard for those kids who love to do egg hunts 🙂
And because I know life gets busy around the holidays, we've included a perfectly detailed Egg Hunt and listed where to hide which clues.
Literally, you can get this set up in less than 10 minutes because we tell you EXACTLY where each egg needs to go!

The Easter Pack including Egg Hunt clues & BONUS items will be delivered right to your inbox and is perfect for kids from ages 3 to college!!
Print as many coupons as you need for your family and personalize your Coupon Book by only including the ones you'd like to give.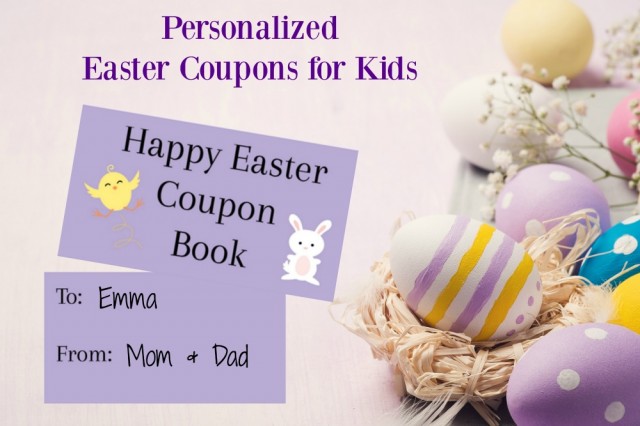 You can also use the "To" and "From" area on the back of the book so that no one gets confused on which book belongs to which basket.
I hope this makes Easter at your home a little easier this year 🙂
Wishing you a wonderful Easter holiday!
More Easter Ideas:
50 No-Candy Easter Basket Stuffers
8 Classic Easter Stories for Kids