We're so excited about this Printable Activity Pack with TONS of fun summer activities for kids!
And right now, you can get it at a special price (50% off) for a limited time!!
Because it's never too early to start preparing for summer break, right 😉
Since we're all about helping to make family life easier while your raise curious kids, we've combined those two goals to create a Summer Printable Activity Pack with activities the kids will LOVE along with time-saving printables for parents!
20 Printable Summer Activities: Scavenger Hunts, Road Trip Games & Life Skills
The Summer Pack includes some of our most requested summer activities, awesome new ones that are ONLY available here and will keep your kids engaged & busy for HOURS this summer!
Think about it – time to read that book you've wanted to finish!
Drinking a WHOLE cup of coffee before it gets cold!
Relaxing in the hammock while your kids run around exploring & learning (and not asking you what they should do)!
Ahhhh … now that's Summer 🙂
The Summer Activity pack is delivered right to your inbox in minutes!
No waiting — your kids can get busy right away!
We've included super fun activities along with things that will help your kids to become more independent too.
→ Challenge your kids to a Scavenger Hunt in the Dark!
→ Or pull out the printable list of Pond Activities and spend the day exploring near the water.
→ Headed to the library? Bring the Library Challenge and help your kids learn WHERE to find their favorite non-fiction books instead of just wandering through the stacks.
→ Kids need a tech break? Print the "Start Your Own Club" pages and inspire your kids with some retro play ideas!
This packet is perfect for those days when you need to quickly grab an engaging activity and it's wonderful to use on vacations or for that trip to Grandma's house.

The Summer Fun & Learning Pack is chocked full of independent activities –
Printable Summer Activities for Kids
Here's a detailed list of what's included:
√ 3 Summer-themed Scavenger Hunts
√ 3 Outdoor nature exploration activities
√ 2 Summer reading & book challenges
√ 4 Life skills activities
√ 4 'Start Your Own Club' play printables and
√ 5 games for the kids to play in the car or during quiet time
The activities included are perfect for kids ages 5 – 12 years old and since the packet is yours, print out one sheet for each child (no sharing necessary – which means less arguing 😉
And because we want you to get started on the right foot,
we're currently offering it at a special price!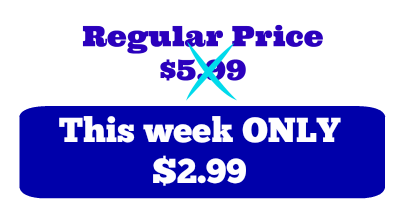 Limited Offer – Save 50% NOW &
Get all 20 activities for only $2.99!
That's less than 15 cents per activity!

It's time to make summer a little easier —
gets yours today!