Our *newest* printable, a set of FREE St. Patrick's Day Charades, is fun for all ages!
This quick & easy printable St. Patrick's Day game is a great way to enjoy some 'get off the couch' time with kids, tweens, teenagers and even adults! Plus it brings the whole family together for lots of laughs 🙂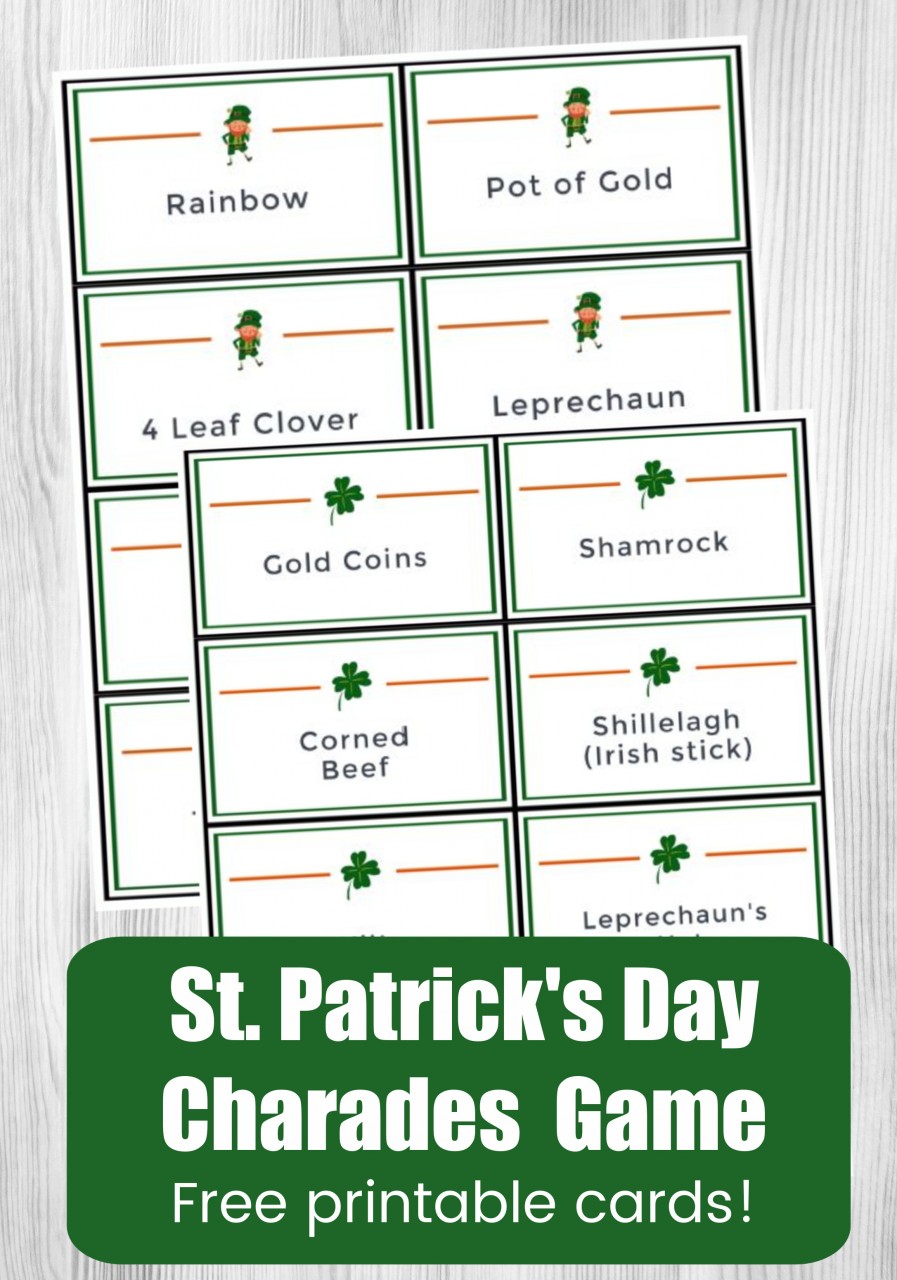 FREE St. Patrick's Day Charades
Similar to our Easter Charades cards and game, this activity is perfect for family gatherings, class party or just something fun to do in March.
When you have kids around, you'll quickly learn that celebrating holidays is a big deal to them. So I always like to have a fun game or activity ready and on hand. Especially this year since our local St. Patrick's Day parade was cancelled 🙁 so spending some time playing a printable St. Patrick's Day game is a great way to celebrate!
Charades are a great game to play when your kids have a little too much energy and may be bouncing off the walls 😉
Younger kids always like the 'surprise' of which card they will choose & then the chance to perform the word for a crowd. Tweens and teens let down their guard while they play. And even adults love to get into the act — they're aren't too many games that put everyone on the same playing field, right?!
This is also a quick game to have on hand for classroom parties, play dates and is easy to play during virtual visits and online school too. Below you'll find a set of FREE charades cards, directions on how to play the game and affiliate links to a few items we used to prepare our game at home.
St. Patrick's Day Charades Cards
Next to mad-libs (check out these Luck of the Mad-libs word games!), one of our favorite family games is charades! To prep the game:
Grab your FREE set of St. Patrick's Day themed Charade cards below!
Use the blank cards to add any of your own words or phrases
Cut out each of the clue cards and place them in a basket (or something green like a hat!)
You could even turn this into a 'pot of gold' scavenger hunt activity too! Just hide the clue cards around the house and after they are all found, each player can act out the clues.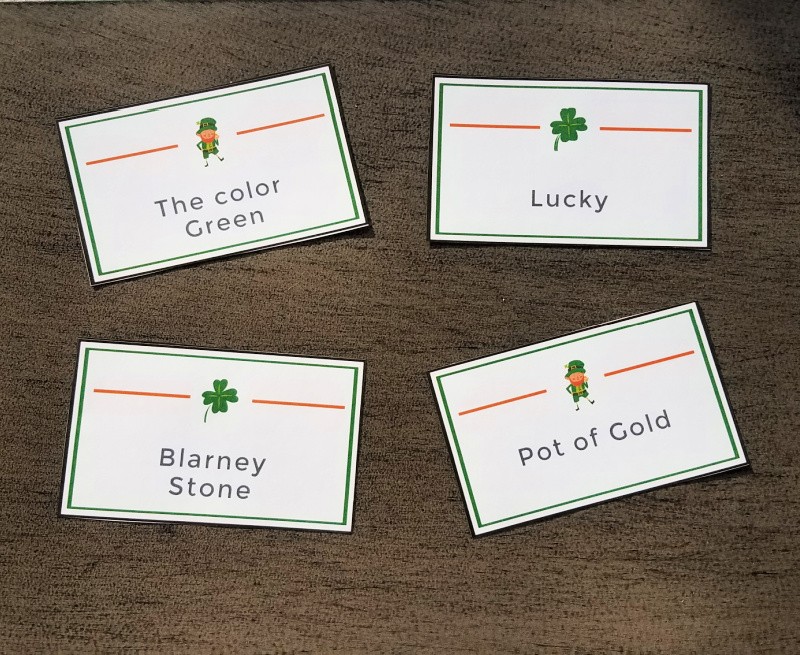 How to Play Charades
Here's a quick refresher if you haven't played charades in a while —
Each player chooses a slip with a St. Patricks-themed word on it (we've got a few easy ones and a few doozies to make things challenging 😉
Without saying the word or talking, the player must act out the word for others to guess.
Whoever guesses the word correctly earns the next turn to choose a card!
If you want to be sure everyone gets a turn, just allow each player to choose a card instead of letting the person who guesses the word to take the next turn.
How to Play Charades as a Pictionary-themed Game
There are actually 2 sets of FREE cards with the printable — the Leprechaun cards have words that are perfect for charades (acting out words) and the Shamrock cards are great words to use for a Pictionary-themed game! If you've never played any type of Pictionary game, the idea is to draw out the word/clue instead of acting it out.
Drawing games are fun if you have limited space (for example, you can play them in the car) or have players who aren't able to act out the words.
To play the picture-drawing game:
Print out a copy of the Shamrock cards.
Turn all cards face down on a table or place them in a basket.
Have each player choose a card and without sharing the word or talking, the player must draw the clue for others to guess. You can also use a timer if you want to keep things interesting, especially with teens and adults.
Whoever guesses the item correctly earns the next turn to choose a word!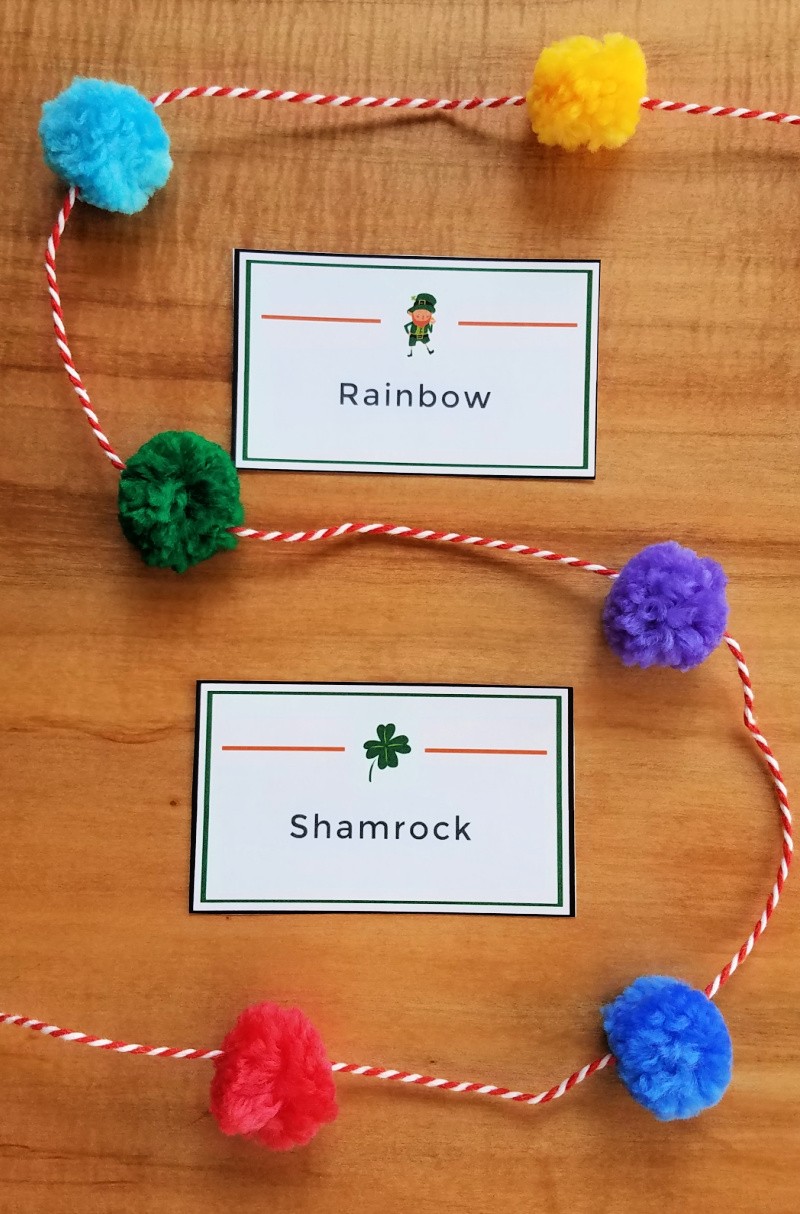 St. Patrick's Day Charades Word List
We wanted to include some traditional words as clues along with other activities that might be more challenging to act out or guess.
Can you image your family trying to act out "parade" or "rainbow"?!
Yep, those will get them thinking before they get started 😉
A few of the fun words we put on the picture-drawing set of cards include "Shillelagh" and "Blarney Stone" — so the game is also a great way for kids to learn more about Irish culture & folklore too!
Don't forget, the cards are free to print, easy to play and perfect for thinking on your feet!
Grab your FREE St. Patrick's Charade cards & enjoy the holiday!
More St. Patrick's Day Activities
FREE St. Patrick's Day Scavenger Hunt